Who doesn't want their closet to look tidy and eco-friendly? The well-organized closet will make you fell fresh with the neat and tidy look. To save the earth, you can always look for eco-friendly products. There are many environmental friendly storage bins/bags for your closet which are safe for your hands and clothes.
These storage bins/bags are made from natural materials which are sustainable. Try your best to incorporate Eco friendly interior design in your home. Below mentioned are 5 best eco-friendly clothing storage options for your closet.    
Looking for ways to make the most of your limited space? These bookshelf designs for small room are a great way to jazz up your space.
Cotton and Jute Storage Bin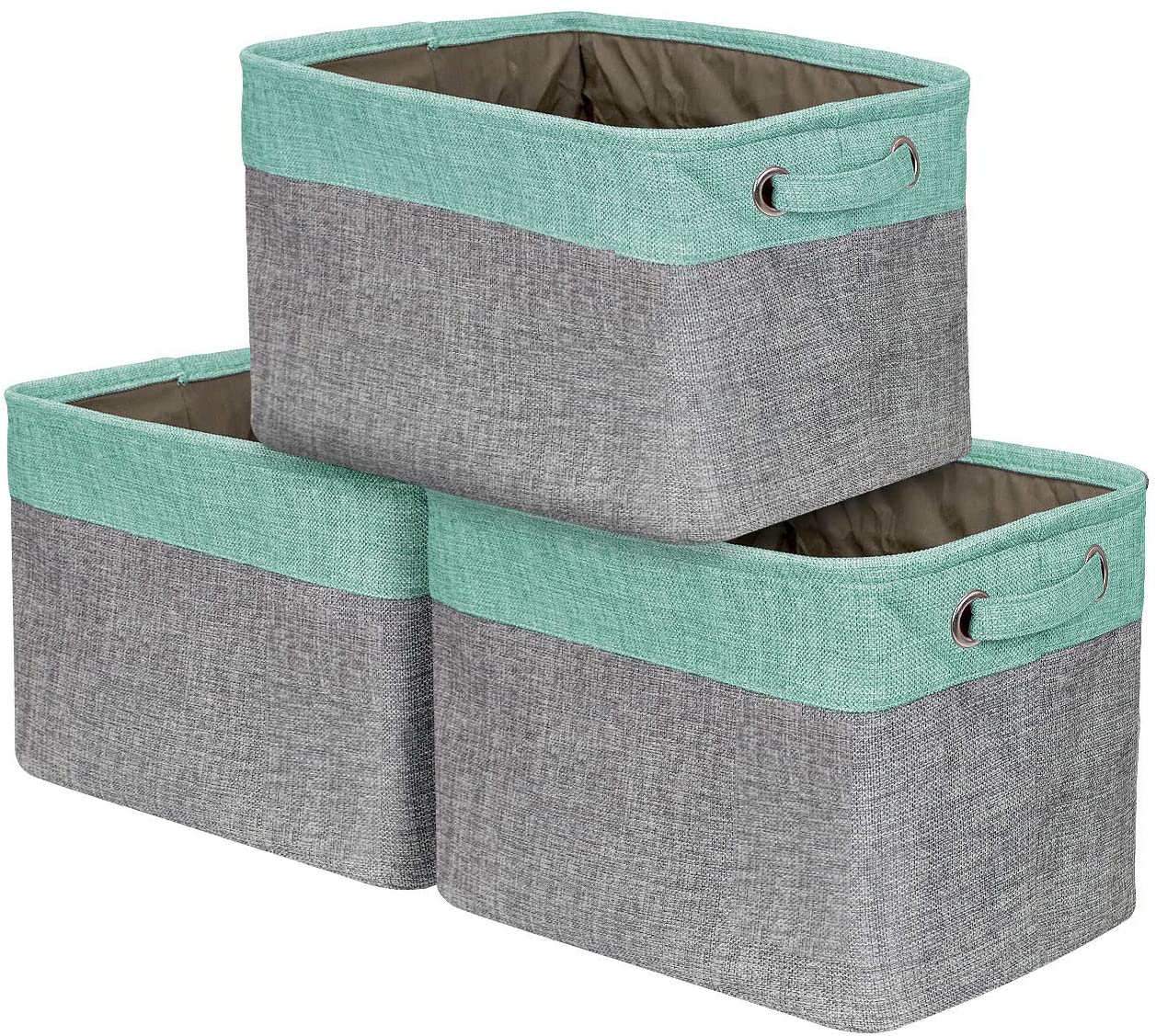 Organize your clothes in the closet with these eco-friendly storage bins. It comes in a set of three and you have various colour options to choose. It is made of cotton and jute fabric and the inner bin has a linen fabric. Two sturdy handles are provided for easy carry. It is a great space saver as it is collapsible when not in use. It is easy to clean with dry or damp cloth.
As it is made from eco-friendly materials and it is very soft, it is safe to use in kids room. Just put your clothes in these bins and slide in the closet to keep your house clean and organized. The natural grey colour gives you the rustic look and it can be the ideal gift option for your loved ones.
Everyday non-woven Fabric bins that can be tucked with adorable styles and colors a perfect addition to any of your room.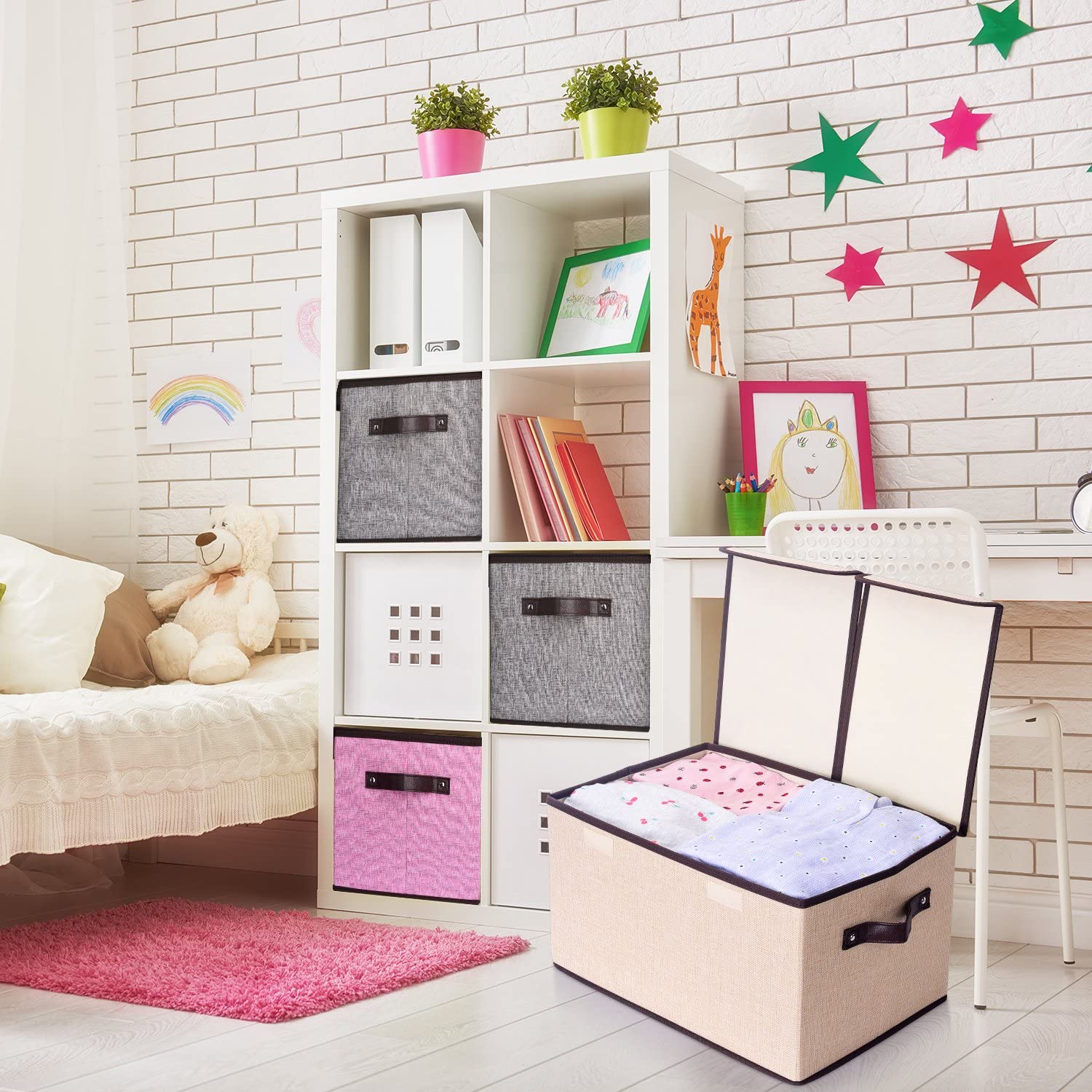 This collapsible storage basket is made of linen and non-woven fabrics which is the best eco-friendly closet storage basket for clothes. It does not contain any harmful chemicals and pungent odor. It is very safe to use and is highly durable. It comes in a set of four with different pleasant colours. There are even various colour options that you can choose from. It is easy to assemble and easily foldable when not in use to save the space.
Each bin has a removable divider which provides you two compartments for easy sorting of clothes. The reinforced handle helps you to easy carry the bin. These storage bins can be stacked up to save the space. Apart from closet storage, it can also be used to store books, a good idea for storing toys, cosmetics and many more. These beautifully coloured storage bins are not only eco-friendly, but also adorn your closet and keeps it well organized.
Jute Collapsible Storage Bin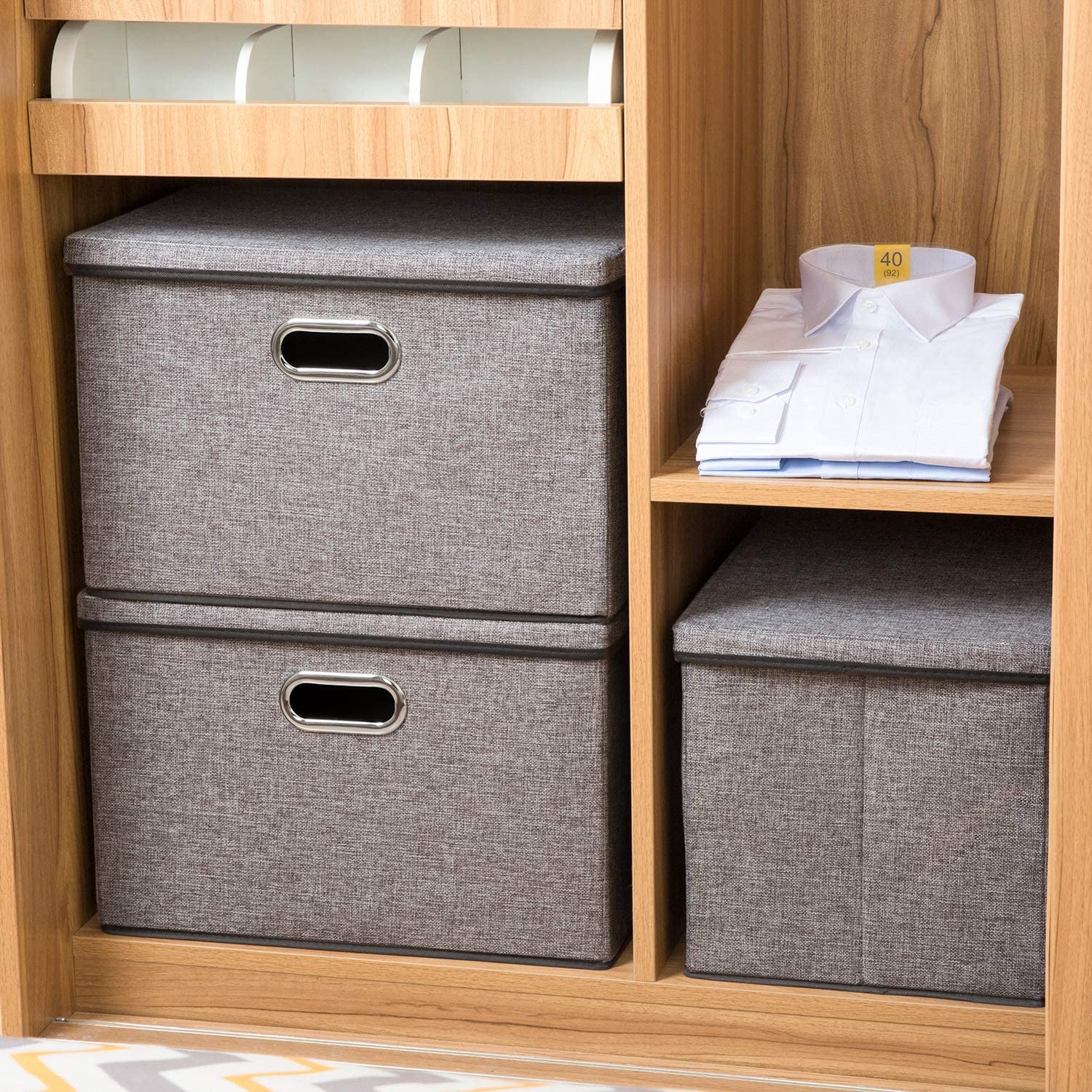 This elegant storage bin is made of high quality jute fabric and is eco-friendly. The handle is made of rust-free stainless steel. This jute storage basket does not contain any odor and is highly durable. It comes in a set of three and you can store all your clothes in these eco-friendly bins and slide in the closet. These bins are stackable as they have lids.
The bins are sturdy and one bin has a storage capacity of 11 kg. It can be easily collapsed when not in use and thus, a great space saver. You can even use these bins to store toys, books, grocery and many more. Give your closet the antique look by using these adorable jute storage bins.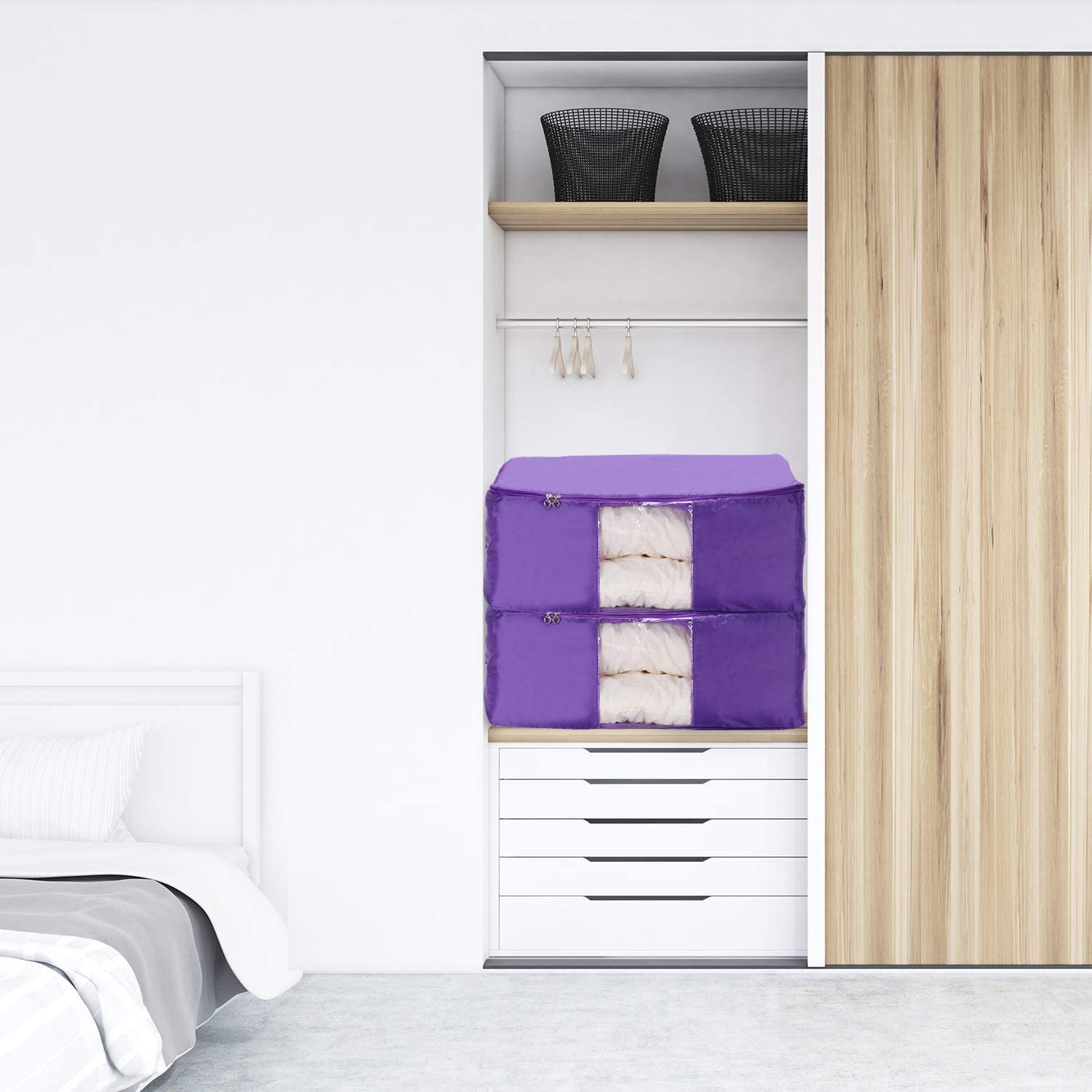 Organize your clothes or blankets in this beautiful eco-friendly oxford fabric bag which is highly durable. It has a transparent window to clearly see the inside clothes and it has a sturdy handle which is very comfortable to carry. It has a special zipper which is strong and durable and protect your clothes from dust. It can easily be folded when not in use.
It comes in a set of two and you get options to select from various vibrant colours. Sizes range from S to XXL. You can select the required size. XXL bag can hold large blankets and pillows. These eco-friendly vibrant bags will adorn your closet and can also be the best option to gift your loved ones.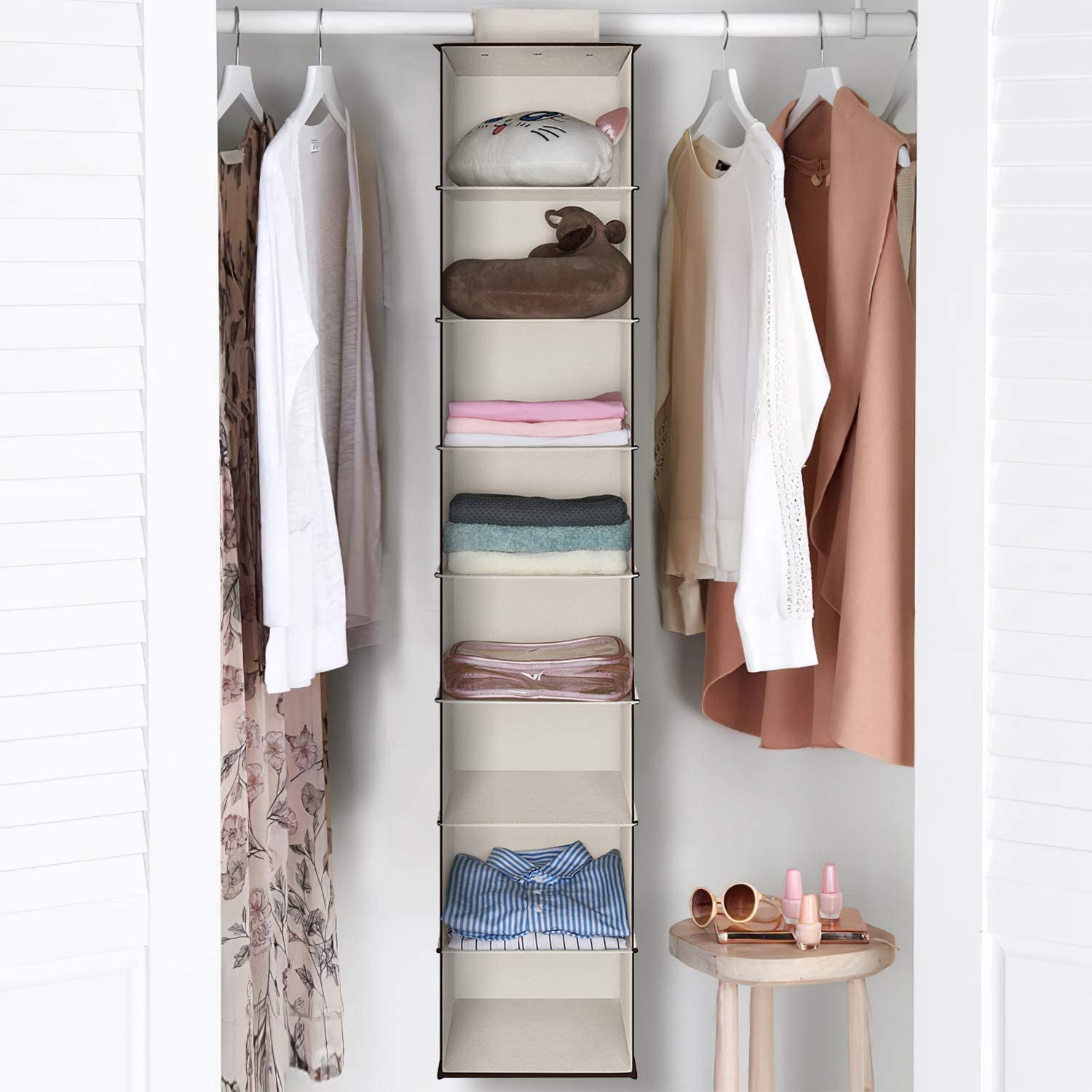 Organize all your clothes in this beautiful 8 shelf hanging closet organizer. It is made of non-woven fabric which is eco-friendly and durable. The fabric is very soft and breathable and is safe to both hands and clothes. Each shelf has ample space to store your clothes. You can well organize your sweater, daily wear, ties, towels, socks and many more in this hanging shelf in your closet. It has the extra wide strap at the top which fits all standard closet rods and gives good grip when the weight is added. It can easily be collapsed when not in use. Make your closet look neat and tidy with this elegant eco-friendly hanging shelf.
By owning these eco friendly product for your home, you benefits the planet by making a better lifestyle choices. It is beneficial for the environment in the long run, and take up more eco-friendly habits to make for better living standards.
These storage bins are non-toxic and are completely safe to use. Save your closet space with these
eco-friendly clothing storage. They are not only safe, but also make your closet look tidy and adorn your closet with their unique design.
This post contains affiliate links, which means we may receive a small commission, at no additional cost to you, if you make a purchase through these links.