Are you facing compact bedroom problem? Thinking which cupboard design suits your small bedroom? Then, this post helps you to select cupboard design for you small bedroom. Follow these small tips, tricks and designs for your cupboard and thus, make your bedroom look wider. These stunning cupboard designs well suits for all décor styles and make your small bedroom look more appealing.
Go for Sliding Door Design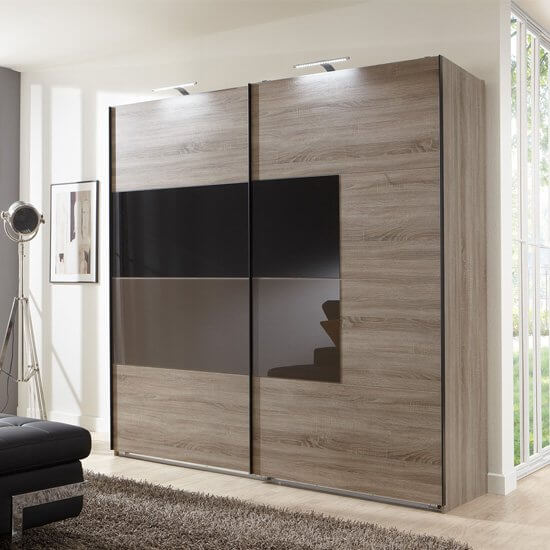 Not only cupboards acquire floor space, the doors of the cupboards also grab space when opened. In small bedroom it is difficult to use doors. Therefore, a sliding door for the cupboard is a great space saver for your small bedroom. A full height sliding wardrobe holds all your clothes and makes your bedroom clean and neat.
Floor to Roof Cupboard Design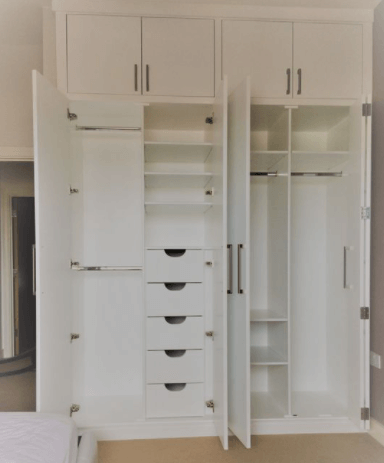 Extend the height of the cupboard till the roof as did by J.C.A so that, all the extra items like suitcases, bags and unused articles can be kept at the top of the cupboard.  
Organize your closet with these space saving hangers where you can hang clothes wringle free.
Light Colour Design Goes Well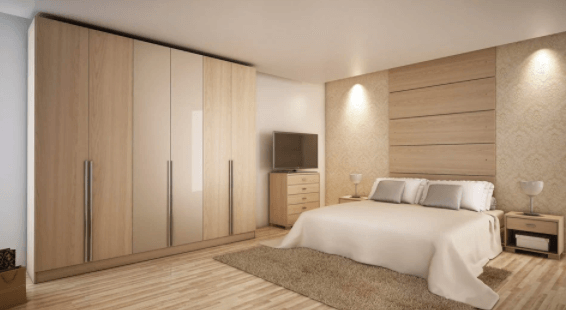 Colour plays a vital role in making your place to look big or small. Darker shades always make your room appear crowded. A lighter shades of colour provide your room a wider look. Therefore, go for the lighter shade cupboard design and give a minimalistic style for your small bedroom.
Use Mirrors on the Cupboard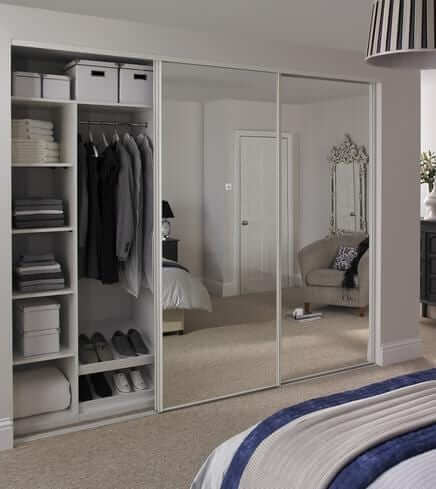 If you use mirrors on the cupboard, then no need to buy an extra mirror in your room. This helps you to save space in your small bedroom. A cupboard with mirror design also gives you the classy look and reflect the light which makes your small bedroom appear large.
Utilize the Wall behind the Bed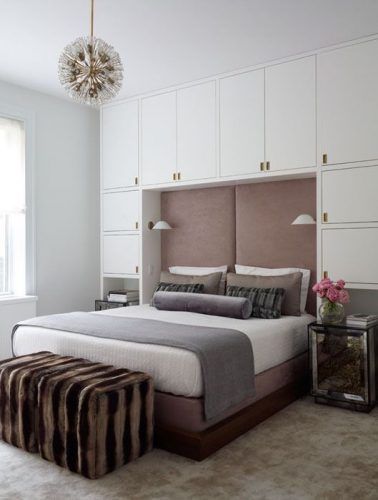 Make use of the wall behind the bed and design a wide cupboard which provides you the luxurious look. This cupboard design is the ideal design for your small bedroom and also adapts to any kind of décor.
Do not waste a tiny space when you have these useful storage organizers. Get these and store your expensive handbags and shoes dust free.
Design the Cupboard Interior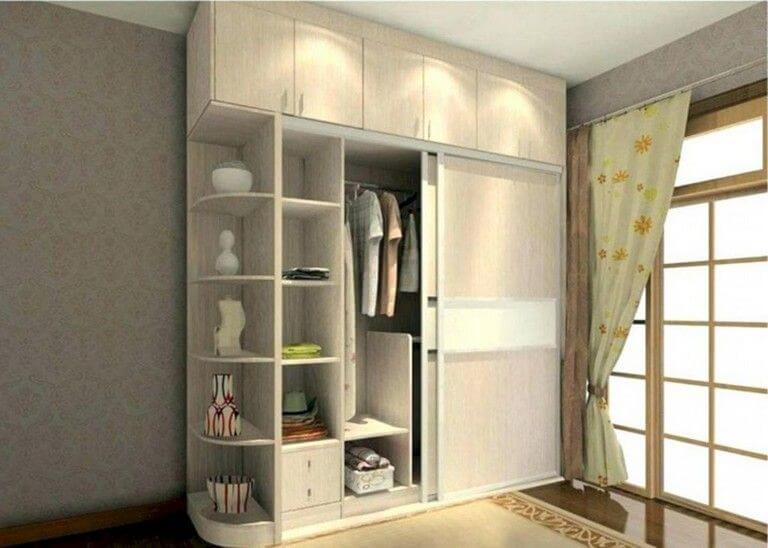 Go creative and install drawers and compartments in the cupboard so that, all the clothing and accessories can be organized in the cupboard. Customize your cupboard interior design as per your needs and it will be the best cupboard design for your small bedroom.
Open Cupboard for Bold Look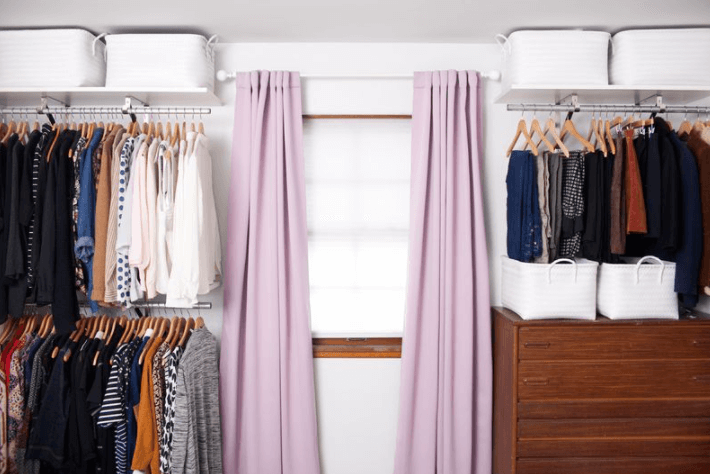 It is not at all a bad idea to have an open cupboard in your bedroom as nicely done by abeautifulmess. But, always remember to keep all your clothing and other accessories neatly and should be organized as all your items will be displayed.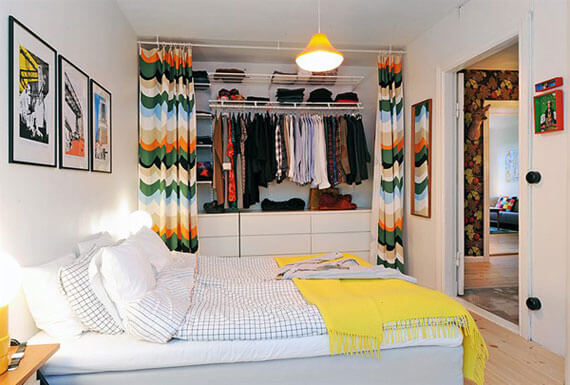 If you do not want to display all your items in the open cupboard, then hide your cupboard with the curtain. This cupboard design is great for your small bedroom as it holds everything inside without a door and makes your small bedroom clutter free. Check out some of the beautiful designs at ofdesign.
Seperate your undergarments in these tiny storage so that it doesn't go unnoticed with big clothes. If you are storing any documents between your clothes, use the divider, so that it does not get messed up.
Make use of the Corner Space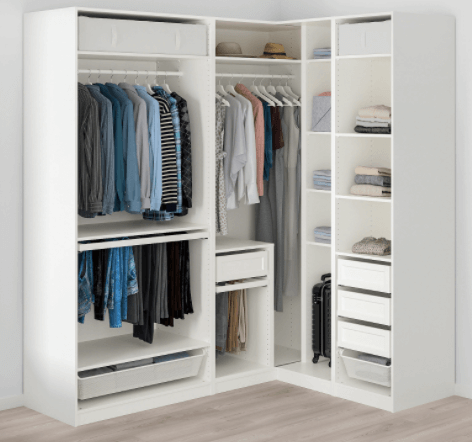 Make the most of the space available including the corner space. A corner place in your room will always become the dead space. Think creatively and use an L shaped cupboard design so that no space in your room is left dead.  
Install a Pull Out Rack for Pants and Ties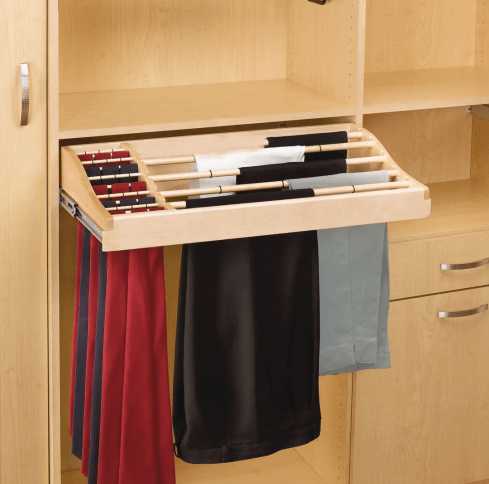 There is no need of cluttering hangers for pants, if you install pull out rack it in your cupboard. Yes, you heard it right! A sliding pull out rack inside the cupboard is a great space saver for your small bedroom. Go little creative and design your cupboard such a way that, it can hold a sliding rack for storing purpose.
This post contains affiliate links, which means we may receive a small commission, at no additional cost to you, if you make a purchase through these links.