Stavanger is the beautiful historic city located along the western coast of Norway. The traditional wooden houses are eye catchy and never to be missed to experience iconic hikes and fjords. The white sandy beaches and mountain cliffs of Stavanger attract tourists worldwide. If you plan well, then you can visit all the major sites of Stavanger in just two days. Below is the two days itinerary to explore Stavanger.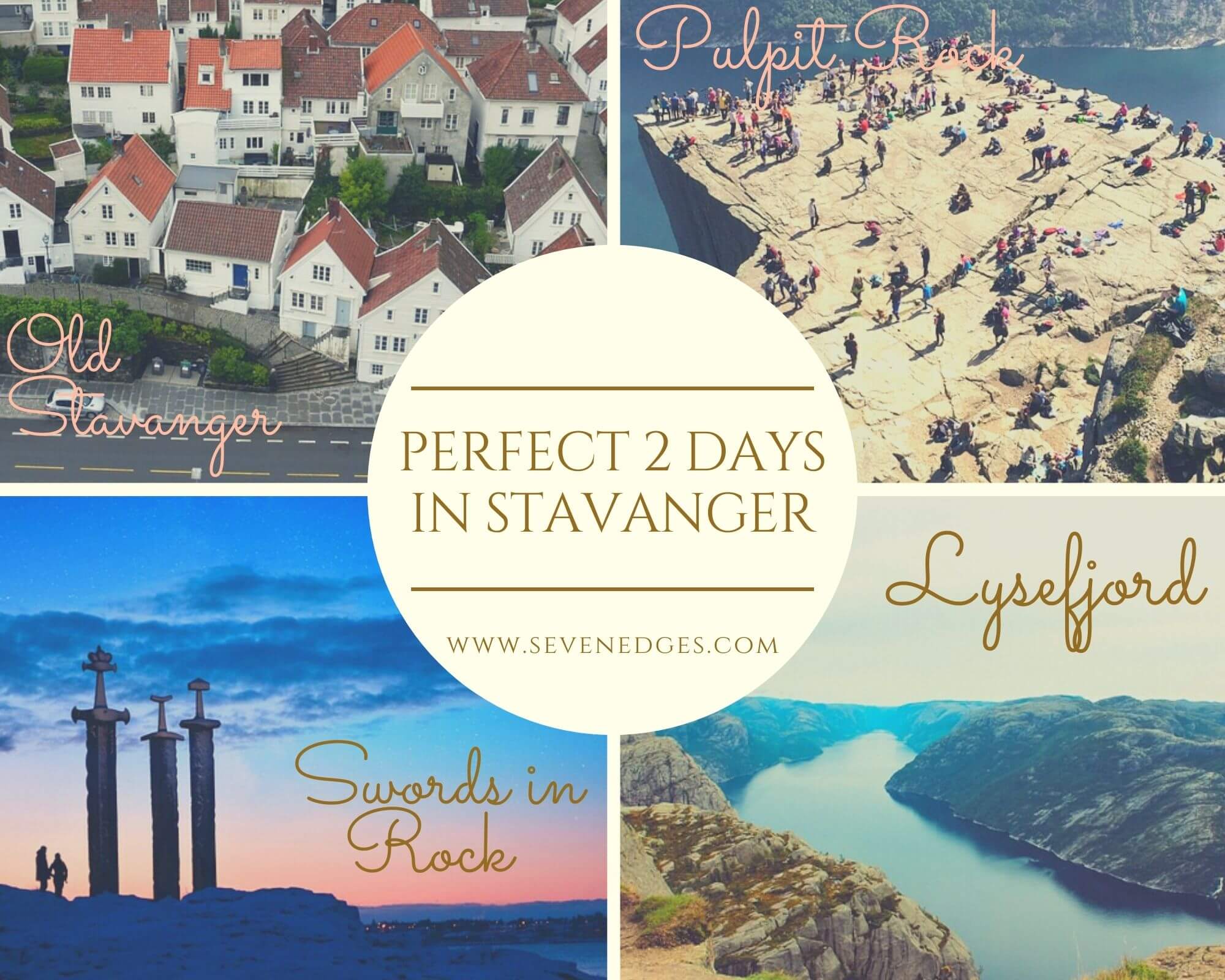 Start your day by visiting Old Stavanger, also known as Gamle Stavanger which has largest collection of 18th and 19th century wooden houses. It is located near Strandkaien cruise ship terminal. More than 170 houses have been restored in this area. Stroll around the narrow cobbled streets by witnessing old lanterns, white washed wooden houses, colourful flowers and empty benches which will be nostalgic.
Never miss to visit Norwegian Canning Museum which is located at Old Stavanger area. It is the historic museum of Stavanger, where you can learn the importance and process of canning industry and also indulge yourself in fun activities like, threading sardines, laying them in cans and even taste smoked sardines. For more information, visit Norwegian Canning Museum. There are many hotels and restaurants where you can have some quick bytes or can sit down for a lunch to taste delicious sea food.
Head towards Lysefjord, which is the most attractive place of Stavanger. It is the one of the most beautiful fjords of Norway. There are many ways to explore Lysefjord. The finest way is to go for boat tour. From Stavanger, board a Lysefjord cruise and sail deep into the fjord and witness captivating sheer walls, waterfalls and caves around you. For more information, visit Rodne Fjord Cruise. It takes around 3 hours to complete a cruise ride. As Lysefjord cruise is most famous tour, it is always recommended to book in advance.
Wind up your day by going for a hike on the Pulpit Rock or Preikestolen. It is the most famous hike in Norway and takes around 4 hours to complete the hike. It is the moderate hike and be prepared to take your hiking gear. Capture some breathtaking pictures from the Pulpit Rock and this will be the wonderful experience in Stavanger. For more information, visit Pulpit Rock.  
After finishing the hike, head towards your room and relax.

Heavy-duty double-zip seals and triple-seal turbo valve for lasting airtight protection. Includes hand pump for efficient suction of air and convenient use while traveling. Vacuum storage bags are very useful when traveling to long distance for a longer duration. It allows to carry more.
Kick start your day by visiting Norwegian Petroleum Museum. The unique architecture of the museum which is the replica of oil platform will attract you. This museum will give you the information on influence of oil and petroleum industry in Norway. It also gives complete information on production and usage of oil. Children love the museum visit as it has a themed playground, where they can build their own oil platform. For information on opening hours and tickets, visit Norwegian Petroleum Museum.
Head towards Swords in Rock if you are a history lover and need to know about the Vikings. You can witness huge majestic 3 swords of 10 meters height which was created in the year 1983. These swords are the symbol of tribute to the battle fought in 872 AD in which Norway became a kingdom. Capture some pictures here and take along the historic memories of Stavanger.
Then, explore Flor & Fjaere, the exotic palm tree island which can be accessed only by boat. Walk in the beautiful garden and witness thousands of varieties of floras. You can have your lunch in the restaurant here which serves you the local delicacies. For more information, visit Flor & Fjaere.     
Later, relax at Sola Strand which is located on the Solastranden beach. The cool breeze makes you feel fresh and is a perfect place to unwind the day. There are hiking trials on the sand dunes that you can choose or can go for surfing or else just sit on the shore and relax.
Finally, head towards your room or depart from Stavanger by carrying beautiful memories of your travel. 
Best Hotels to Stay in Stavanger
Stavanger has plenty of accommodation facilities for tourists and many are in the old town which are near to bus station and sightseeing places. Below are few best hotels to stay in Stavanger.
Scandic Stavanger City
: Reidar Berges gate 7, 4013 Stavanger, Norway
Known for its great location as the dining and shopping districts can be reached within 5-minutes on foot.
Thon Hotel Stavanger: Klubbgata 6, 4013 Stavanger, Norway
Contemporary hotel set next to the shops, cafes and eateries of the city center, this laid-back, modern hotel is 7 minutes' walk from Stavanger train station and 5 km from Stavanger Golf Club.
Hotel Victoria
: Skansegaten 1, 4002 Stavanger, Norway
Waterfront hotel is situated in a Victorian-style building, dating back 1900. Old Stavanger's picturesque wooden houses are about 10 minutes' walk from the hotel. The Norwegian Petroleum Museum is only 300 m away.