On the southern coast of Italy, the Amalfi Coast is a breathtaking stretch of rugged coastline known for its stunning vistas, charming towns, and rich history. If you're considering a trip to this region, you're in for a treat. This article will guide you through the perfect Amalfi Coast itinerary, helping you make the most of your visit.
Is the Amalfi Coast Expensive? What Makes It Special?
The Amalfi Coast is often considered an expensive destination, and it's true that costs can add up, especially during the peak tourist season. However, the region's unparalleled beauty, quaint towns, and delectable cuisine make it worth every penny. The dramatic cliffs, crystal-clear waters, and colourful architecture offer a unique and unforgettable experience.
How Many Days Are Required in Amalfi?
To fully savour the Amalfi Coast, plan to spend at least 3-5 days. This timeframe allows you to explore the charming towns, take in the stunning coastal views, and relax on the beaches.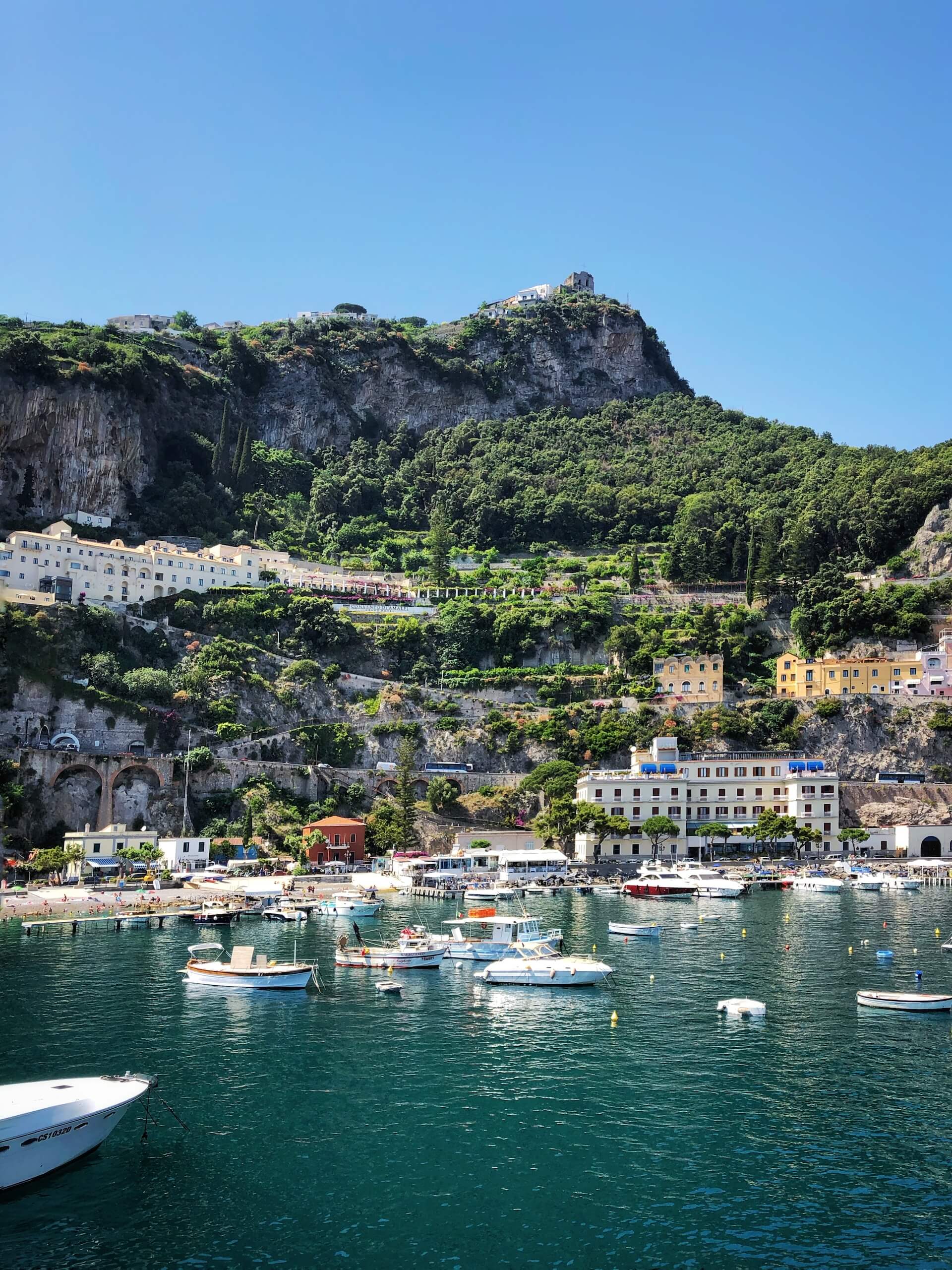 The Closest City to Amalfi
Naples is the closest major city to the Amalfi Coast. From Naples, you can easily reach the Amalfi Coast by bus, train, or car. The journey from Naples to Sorrento, the gateway to the Amalfi Coast, is about an hour.
Beautiful Towns on the Amalfi Coast
The Amalfi Coast is dotted with picturesque towns, each with its own unique charm. Some of the must-visit towns include:
   – Amalfi: The namesake town is famous for its historic cathedral and quaint streets.
   – Positano: Known for its pastel-coloured houses and stunning beaches.
   – Ravello: Perched high above the coast, offering incredible views and lovely gardens.
   – Praiano: A quieter option with a local atmosphere.
   – Maiori: Home to a beautiful beach and historic sites.
How to Reach Amalfi from Rome
To reach the Amalfi Coast from Rome, you have a few options. The most convenient way is to take a high-speed train from Rome to Naples and then transfer to a local train or bus to reach Sorrento. From Sorrento, you can easily explore the Amalfi Coast by bus or hire a taxi.
Nearby Must-See Places Around Amalfi
While you're in the Amalfi Coast, there are several nearby attractions you shouldn't miss:
   – Capri: A stunning island with the famous Blue Grotto and beautiful beaches.
   – Pompeii and Herculaneum: Ancient Roman cities buried by the eruption of Mount Vesuvius.
   – Mount Vesuvius: Hike to the top for panoramic views of the Bay of Naples.
Picture-Perfect Places to Photograph
The Amalfi Coast is a photographer's paradise. Some top spots for capturing memorable moments include:
   – The viewpoint from Villa Rufolo in Ravello.
   – Positano's colourful houses seen from the beach.
   – Amalfi's Duomo and its grand staircase.
   – The Path of the Gods trail with its breathtaking panoramas.
   – Sunset views from Furore's Fiordo di Furore.
While the Amalfi Coast can be costly, there are ways to keep your trip budget-friendly:
   – Visit during the shoulder season (spring or fall) when prices are lower, and crowds are thinner.
   – Opt for local trattorias and pizzerias for affordable dining.
   – Use public transportation to get around instead of expensive taxis.
   – Stay in budget-friendly accommodations like hostels or guesthouses.
Beautiful and Budget-Friendly Stays
Some budget-friendly accommodation options on the Amalfi Coast include:
– Hostels like Hostel Brikette in Positano.
– Guesthouses and B&Bs in Amalfi, Maiori, and Minori.
– Apartment rentals, which can be cost-effective for groups or families.
Scams to Be Cautious About
While the Amalfi Coast is generally safe, be aware of common tourist scams like overpriced goods, fake souvenirs, and dishonest taxi drivers. Stick to official transportation services and always check prices before making a purchase.
Amalfi Coast is a dream destination with its stunning landscapes, charming towns, and rich culture. With the right planning and some budget-friendly choices, you can make this magical Italian paradise accessible to all travellers. Enjoy your journey along this breathtaking stretch of the Mediterranean coastline!
Please leave a comment below, if you enjoyed or find the information helpful. 
This post contains affiliate links, which means we may receive a small commission, at no additional cost to you, if you make a purchase through these links.