Italy has huge collection of souvenirs starting from world-class designers, local food items to artisan products. You get various souvenirs in each region in Italy. You can go for limitless shopping and souvenirs from Italy are the best things to buy that reminds you the most memorable days spent in Italy.
Below listed are few best souvenir collection to bring home from Italy that you can gift your loved ones.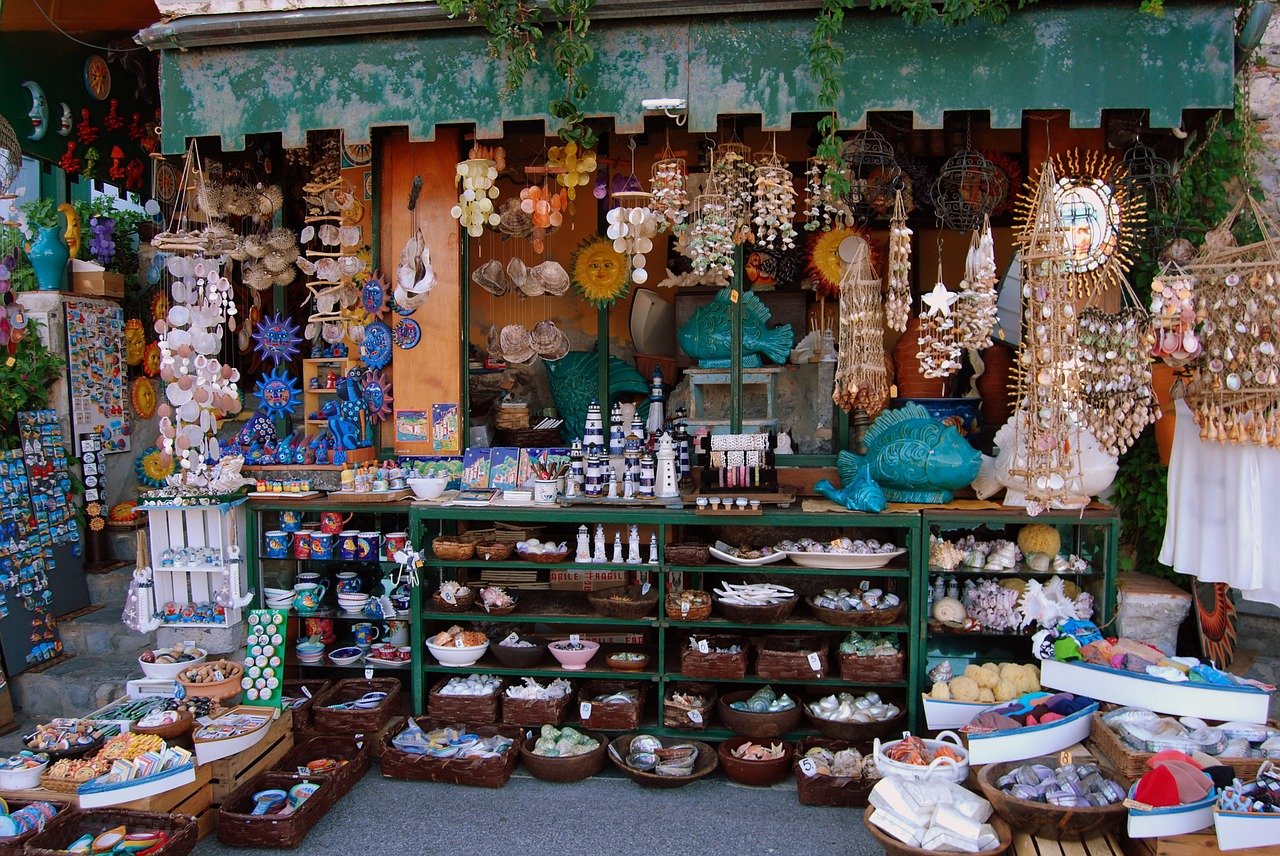 Why you Need to Buy a Souvenir?
A Souvenir is something every traveller owns from the places they have visited. Every places have its own beautiful piece or something special that can be acquired from that place. So it can be memories of the places you have visited and can be gifted to your loved ones or can have a collection of it or can best used for home decor.
Italy is famous for traditional hand painted ceramics. You can find pots, plates, tea sets, bowls, jars, glasses and many more which are beautifully hand painted with vibrant colours. These colourful ceramics enhance your home décor. You can get these ceramics along the Amalfi Coast and Tuscany. These are the best traditional souvenirs to gift your loved ones.
Spode's Blue Italian is one of the most important designs in British ceramic history.
Blue Italian, the beautiful blue and white collection for which Spode is famous for, was launched in 1816.
Each piece features a beautiful countryside scene.
Chocolates are the best sweet souvenirs and traditional artisan chocolates of Italy are famous not only for producing delicious chocolates but also showcasing their art. You can find wide variety of chocolates in colourful shapes and packages. Gianduia is the oldest chocolate brand of Italy, which has hazelnut combination with chocolate. Caffarel, Venchi and Perugina are some other famous chocolate brands of Italy which are famous for high quality standards. These beautifully packed artisan chocolates make an excellent gift for your loved ones. 
To taste freshly made chocolates, you can visit the artisan shops in Rome like, La Bottega del Cioccolato and Cioccolata Artigianale.   
Buy Online, Italian Artisan Food from giannettiartisans and buy Italian chocolates online from ciocomiti
Italy is one of the biggest and finest quality wine exports in the world and has the rich wine tradition. The local wines are produced with high quality standards with various flavors, colours and types. Castelli Romani in Rome is famous for producing excellent wines. Sardinia, Puglia and Tuscany also produce best wines. These local wines are available in almost all the grocery shops in Italy and they are the classic souvenirs for wine lovers.
Use winesearcher to get the wine you are looking for from Castelli Romani
Pasta is one of the Italian staple foods and is the best food souvenir to take back with you. There are many varieties of pastas with different shapes and flavors. These pastas are widely exported to many countries around the globe. When you are in Abruzzo, do not miss to visit Delverde and De Cecco, which are the pasta factories. The price of pasta in the pasta factory is much cheaper than in super markets.
You can get pastas in supermarkets in almost all places of Italy. Some of the best brands are Voiello, Afeltra, Alfieri, Antignano, Alce Nero, Verrigni and Benedetto Cavalieri. Never miss to carry these nutritional rich pastas from your Italy trip.
Truffles are the root like structures same as mushroom and are the typical Italian delicacy. The truffle products such as, truffle oil, flakes and sauces are used to seasoning pastas. Truffles are the key ingredient which are used in almost all the local dishes in Italy. These truffle products are beautifully packed in containers and exported worldwide. You can shop these truffle products in almost all the grocery shops in Italy and they can be the best souvenir for foodies.
Buy Italian Souvenirs Online by clicking on the image
Italy is one of the world's leading countries in fashion and style. When it comes to clothing, Italy has many famous brands such as, Valentino, Dolce & Gabbana, Versace and Trussardi. They are the most renowned brands which have beautiful varieties of collection. When you are in Rome, walk around the Via dei Condotti near Piazza di Spagna, where you can find these branded clothes. These elegant clothes make a perfect fashionable souvenir. 
Italian footwear is unique and are famous for the top brands. You can find best collections of footwear in Italy. Some of the famous brands such as, Gucci, Casadei, Albano, Café Noir and Igi & Co have trendy collections. Italian made footwear are appreciated all over the world for their classic look and incredible design. You can find both expensive and affordable ones all over Italy and they are worth buying a pair form your Italy trip.
Buy their italian sandals online from capripositano
Italy is known for leather and you can get amazing leather products such as jackets, shoes, belts, wallets, purses, bags, gloves and many more. Gucci bags are most famous around the globe and you can get varieties of other brands in Rome. Tuscany and Florence are the places where you can find finest leather products. These accessories are loved by women and will enhance the appearance. They are the elegant souvenirs to gift your loved ones.   
Italian cheese is famous worldwide and cheese making has long history in Italy. Different varieties of cheese are made in different regions of Italy. There are over 450 varieties of cheese made in Italy by using milk from cow, sheep, buffalo and goat. Some of the best cheese are Pecorino Sardo from Sardinia, Pecorino Romano from Rome, Gorgonzola from the northern town, Burrata from Puglia, Parmigiano Reggiano from Emilia Romagna, Grana Padano from Lombardy and many more. If you want to carry cheese to your home country, then go for dry and hard cheese instead of soft and raw cheese. These Italian cheese are the best souvenirs to bring home from Italy.  
Limoncello is a lemon liquor originated from Amalfi Coast, southern Italy. It is made of zest from lemon and is the best drink to serve your guests after a meal. It is bright in colour and has the strong smell of lemon. It can be used in various cocktails. You can find limoncello in almost all stores in Italy. This will be the perfect souvenir to gift your friends.
Olive oil is the staple ingredient used in most of the Italian cuisines. If you visit Italy during the fall season, then you can witness harvesting olives and you would definitely buy fresh olive oil. The world's best quality olive oil is produced in Italy and it will be the ultimate souvenir to bring home from Italy. 
Unique varieties of glass are found in Murano, which is located less than a mile from Venice. Murano glass showcases rich cultural heritage of Venice. Glassmaking was started during 13th century and today it is famous for its craftsmanship. Silica, lime soda and potassium are melted together to form a beautiful glass. Varieties of glasses such as pots, jewellery, chandeliers, cups, clocks, lamps and many more lit up the Italian market with vibrant colours. You can get these glasses throughout Italy but, to buy the authentic one, you should visit Murano or Venice. This is the best souvenir to enhance your home décor.
Venetian mask has the long history where the masks were worn by the higher-class people to hide their identity. The masks were made of leather or glass and decorated with gold, silver and precious gems. During the annual festival in Venice know as Carnival of Venice, these traditional Venetian masks are celebrated. You can find these masks throughout Italy. You can get different sizes of masks decorated with beads and stones. These masks are the ultimate souvenir that reminds you the Italian culture.
Please leave a comment below, if you enjoyed or find the information helpful. 
This post contains affiliate links, which means we may receive a small commission, at no additional cost to you, if you make a purchase through these links.
Image by Gianni Crestani from Pixabay