About Bohemian Interior
Boho or Bohemian interior design is an unruly unique style which is a combination of colours, patterns and objects from all over the world. It is inspired by people who led unconventional lifestyle such as, constant travellers and artists. The Boho look is colourful and eclectic. If you are looking for your own interior design, then Boho is for you.
Easiest Way to Achieve Boho Look
If you go opposite to minimalist interior design, then you are a boho. You do not have a particular color in your mind, or do not have a theme for your room. Just that you do not have enough time to sort these decorative stuffs. You are in the right place and ready to go Boho.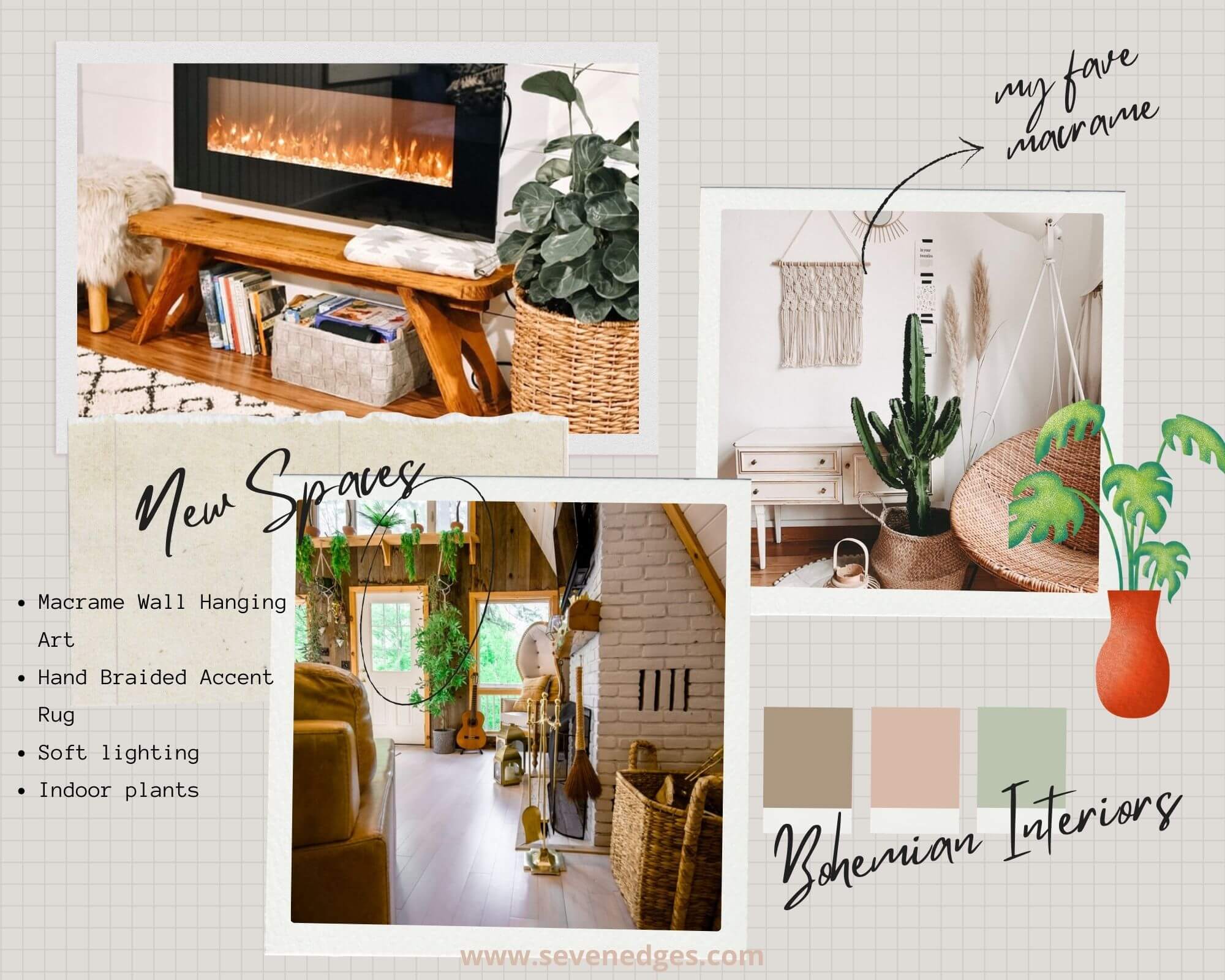 Focus on these Tips for Bohemian Interior
You already have collected a lot of souvenirs. Hang it, place it, wherever you can instead of storing it. Each souvenir will have a tale of where they come from. You can display any souvenir such as art, pillows, books and many more of your wish to make your space look brighter. Bring your creativity to place these souvenirs and change your house interior to Boho style or try bohemian interior design.
Wall Shades, Don't Overthink
Boho is all about colours. All colours are welcome in Boho design. The combination of colours and patterns create magic to your interior. Bold colours and patterns add luxurious look to your house. White coloured wall with a beautiful pattern gives you the pleasant feel. Don't go in a conventional way, just mix colours and patterns as your wish and make your house look unique with the Boho décor.    
Pick anything you find colourful, do not stick to a standard color or matching shades with other items in your room. Second hand and vintage furniture also goes pretty well with the Boho décor. Add throw pillows and throw rugs on the couches. Choose furniture like, daybed, butterfly chair, French style side table, distressed mirror, bean bag chair, swing chair or anything made from wicker, wood or natural materials. Go for low levelled sofa if you are looking for an authentic Bohemian interior design style.
Pick rugs with meaning less pattern and abstract color. Tibetan Geometric Rug would be a best bet. You can even layer different rugs to give unique pattern and colour. Try mixing vintage rug with jute rug and see the outcome. It looks equally stunning when you layer rugs instead of using it single.
Pothos & Ferns, Bring It In
You do not find a Bohemian house without plants. Plants are the best Bohemian addition to your house. You can use hanging plants, potted plants, large or small plants. They equally look stunning and gives you the fresh and Bohemian vibe. If you have empty corner, then place a large potted plant. If you have less space, then hang some plants. These indoor plants not only gives you the Boho touch but, also purifies the air. Breathe fresh with the plants around and feel relaxed.
You already got loads of books. Save a wall without out any frames and hanging. Get a wooden cupboard, or ladder shelf will also do the work, a modern wooden style or traditional. Boho style is a combination of both, so you can select any. Fill in with your books, a few Golden Pothos hanging from the top, wooden or brass candle stand and pick any decorative terracotta pots if you have any at home. And your bookshelf is done with a boho look.
Someone Said Flea Market, Go Dig In
Flea Market is a perfect place for getting some vintage style bohemian flair treasures that you can showcase at your Boho home. Hunt for some unique vintage furniture or any other decoration items in a flea market. Fill your space with the second-hand items which equally look stunning. Grab anything as your wish from the flea market and place it in your home to give a Bohemian touch.    
Sculptures, Keep It Crowded
If you own many sculptures, or antique items keep it wherever you feel like. Boho style is all bout looking crowded. One could not recognize what theme you have got or what interest you the most. Because you have everything at one place LOL. You have got little coastal decoration, a bit of vintage, a bit of antiques, a lot of souvenirs, books which makes one think what are you all about and that is Boho.
Lighting, Use Multiple Light Sources
A good lighting enhances your house décor. When it comes to Boho décor, you are free to mix any lights as your wish. You can mix different light sources of your choice such as, candles, lanterns, chandeliers or string LED lights. Don't feel shy to mix the light sources, they give you the best Bohemian interior design look to your house.
Try These Brands for Bohemian Interior Products
There is no limit for shopping when you choose Bohemian décor. It's all about mixing things and giving your house a unique look. There are many brands that sell chandeliers, woven baskets, hammock, mirror, vintage flower vases and many more décor products for Boho home that you can shop from. Few among them is White Bohemian, Jungalow, Joss & Main. Based on your requirement and budget, you can choose the products. Check out these brands that sell beautiful products for your Boho décor. Amazon is also not behind in selling these interior decor products. Try these at your home if you are looking for budget friendly options.
This post contains affiliate links, which means we may receive a small commission, at no additional cost to you, if you make a purchase through these links.
Photo by Andrea Davis,  Alyssa Strohmann on Unsplash