Farmhouse style is inspired from country living and traditional look, and when it got to the modern hands it came out to be a clean and fresh look to your interiors. A fresh look to your home is everyone's dream so is farmhouse ideas.
Now-a-days, farmhouse Ideas or style décor is becoming trendy. To transform your house into farmhouse look, you need to balance both old and new look. Here are few ideas to freshen up your house with the rustic décor.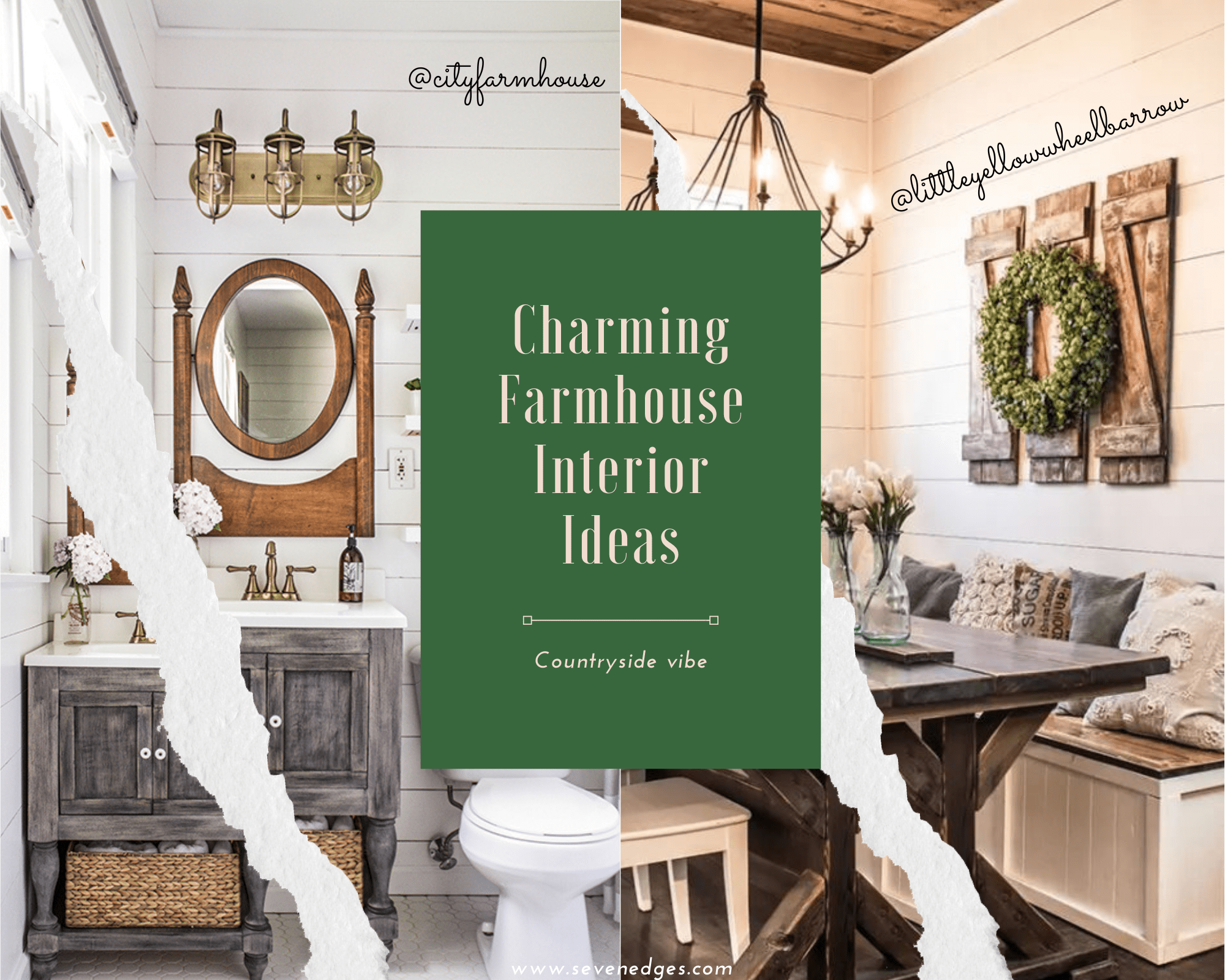 Little Yellow Wheel Barrow has made this decorative shutters so easy to make by the detailed step by step instructions. Get the farmhouse look by adding these
decorative shutters
.
City Farm House by Jen, is an inspiration to farmhouse decor ideas. She have given a vintage touch to all her rooms, you can check how she have decorated each room in her home tour pics with a vintage farmhouse touch.
Quick Way to Get a Farmhouse Look To Your House
Keeping antique furniture in your house gives the farmhouse look. You can place these furniture in kitchen, bedroom and living room that gives the rustic look.
Use reclaimed ceiling beam and lanterns for a classic farmhouse décor is a perfect farmhouse idea you have to make use of.
Avoid dark or bright color on the walls. Instead, use neutral colors. Use colors like grey, cream or beige. These colors not only give rustic look, but also makes you calm and relaxed.
Use natural area rugs which are made of jute, wool or sisal. You can also use braided rugs which are equally elegant. These natural rugs provides you the farmhouse look and also keeps you warm.
Metal usage in your house will give you the farmhouse vibes. You can use galvanized steel buckets which reminds your granny's house. Using tin lettering is also the best option to create farmhouse décor.
Green plants create a perfect farmhouse look. You can use pots which can be grown indoor and wreaths. These green plants not only provide farmhouse look, but also keeps you fresh and relaxed.
Using wooden rocking chair in your front yard gives you the rustic look. Enjoy your evening on the rocking chair with a cup of coffee and feel relaxed with the farmhouse look.
Keep old books in the open shelf which is made of barn wood. You can also distress the wood to give the perfect time-worn look.
Use wicker and rattan furniture to create rustic décor. You can use wicker baskets in kitchen or bedroom and rattan furniture in dining area which gives you a perfect farmhouse décor.
How to Re-use Your Old furniture Or Other Items At Home to Give a Farmhouse Touch
Use jute rope to old lamp stand, bottle, flower pot and that gives a fresh and rustic look to it.
Hang the used glass desert jar with twine and fill some pebbles, soil and planters. The hanging jars gives you the perfect farmhouse décor.
Old metal grater can be used to fill utensils. This can be kept on the kitchen countertop or can be wall mounted to give the rustic look.
Transform the vintage TV to a rustic shelf. Using old TV as a shelf is a great idea to give your house a farmhouse touch.
Old guitar can be reused as a beautiful shelf. You can even use LED lights in the guitar to make the shelf more attractive.
Use old Mason jar and create vintage light by fixing a bulb in the jar. This gives the perfect farmhouse look.
Used wine bottles make a beautiful vintage flower vases. Keep these bottle flower vases everywhere in your house and transform your house to rustic décor.
Use oversized empty cable rings as a table. This round wooden table gives your house a farmhouse touch.
Create a shelf using old ladder. Place some small pots on the ladder to give it a natural look.
Transform your old suitcase to a wall cabinet. Fixing the suitcase on the wall is the best idea to give your house a farmhouse touch. This suitcase wall cabinet will attract guests and make your house a unique one.
Old bicycle tyres make a perfect farmhouse décor. Use bicycle tyres on the walls and give your wall a vintage look.
How to Paint Your House to Make It Look More Like a Farmhouse
Use distressed beige colour to get the perfect farmhouse look.
Creamy white colour will also give you the cottage vibes. This colour will not only create farmhouse look, but also gives you peace of mind with its pleasant colour.
Mild wheat colour will give you the traditional look. This colour well suits in kitchen with brown countertops.
Grey colour is the best option to transform your house to farmhouse décor. This colour can be used everywhere in the house to give a rustic touch.
Green colour is perfect for farmhouse décor. This colour will make your feel fresh and is more natural. Hence, it is the best colour to choose for a rustic décor.
Which Brands Do Justice to Farmhouse Décor Style
There are many brands that you can choose for your farmhouse décor. Some of the best brands that do justice to your farmhouse décor style are Antique Farm House, Birch Lane, Décor Steals and Kathy Kuo. In these brands you get everything to transform your house to a vintage style. Antiques for your bedroom, living room, kitchen, bathroom and dining room are available in these brands. You can choose the best ones to suit your house décor and enjoy living in farmhouse style. 
Go back to your olden days by using the rustic décor ideas. This décor makes your house unique and will be attracted by guests. It spreads farmhouse vibes and also encourage others to make use of old items at home and give a farmhouse touch. 
This post contains affiliate links, which means we may receive a small commission, at no additional cost to you, if you make a purchase through these links.