Swiss Alps is the famous and must see holiday destination. From the south of Luzern and Bern and east of Geneva Lake, lies the great alpine heart of Switzerland which is covered with high peaks, landscape sceneries, beautiful valleys and captivating lakes. Hiking in summer and thrilling snow sports in winter is heaven in Swiss Alps. You can enjoy numerous activities and attractions here. Escape from the city's hustling life and enjoy in the beautiful nature of Swiss Alps. Here are some ultimate tips if you are planning a trip to Swiss Alps.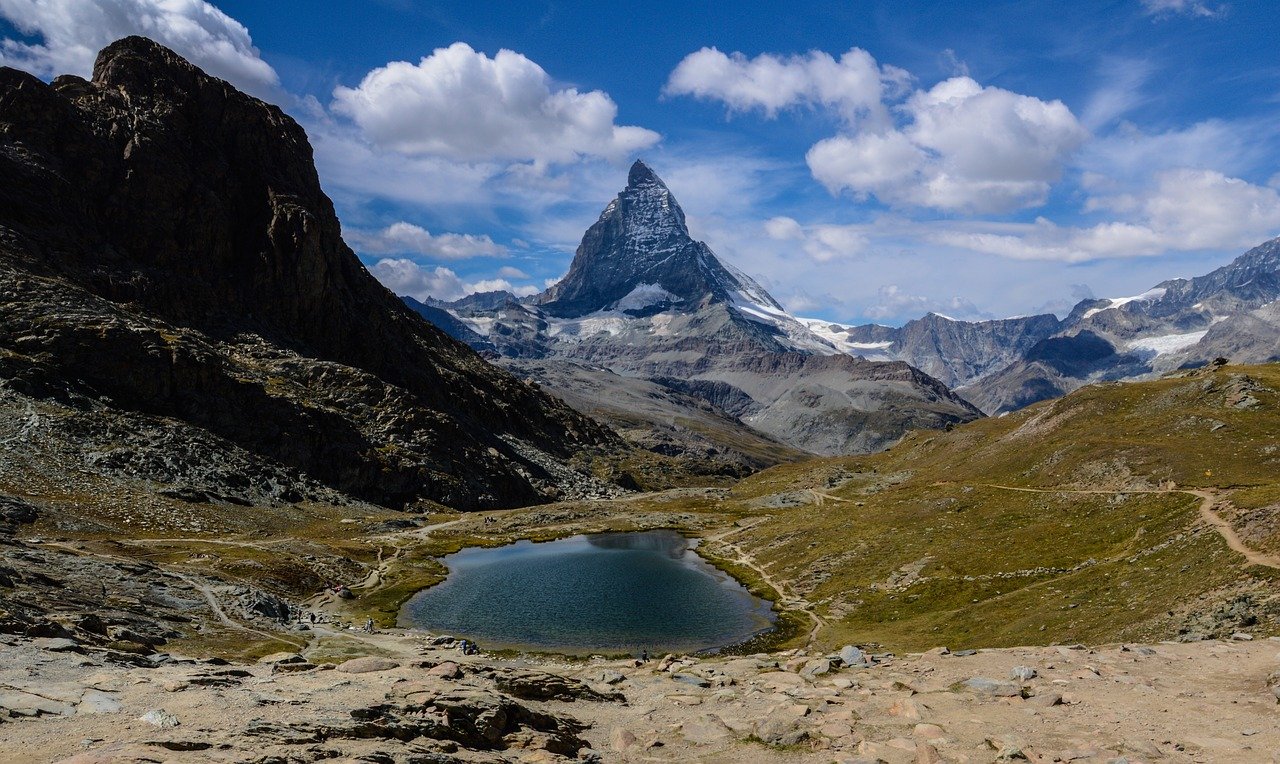 Swiss Alps Tour from Zurich
You can reach Swiss Alps from Zurich trough air, railway or bus. The easiest way is through air. There are many flights from Zurich to Swiss Alps. If you want to have a panoramic view of the beautiful mountains and valleys, then take train from Zurich. Travelling through train is the best way to witness the Swiss Alps. Train journey will be filled with full of excitement and thrill. You can even reach Swiss Alps by bus. Buses ply from Zurich to Swiss Alps frequently.
Here are the Top 10 Swiss Alps Day Trips from Zurich
Why You Should Visit Swiss Alps?
There are numerous reasons suggests you that you must visit Swiss Alps once in a lifetime. Swiss Alps are formed over 45 million years ago and is a home for many mountain peaks like, Matterhorn, Monte Rosa, Monch, Eiger and many more. The Europe's largest glacier, Aletsch glacier lies in the Swiss Alps. You can witness old villages, calm lakes and beautiful valleys. You can explore wide variety of flora and fauna. Around 30,000 wildlife species are present here. Swiss Alps is the best destination for thrilling snow sports in the world. There are about 300 ski resorts which attracts tourists.   
You can visit Swiss Alps throughout the year. To enjoy hiking, the best time is summer. Swiss Alps have pleasant summer with the temperature ranging from 25-28 degree centigrade. Winter is the best time to indulge yourself in skiing, snowboarding, cable car ride, ice climbing and many more snow sports. Winter is the peak season which attracts tourists worldwide and is the best time to enjoy being in the Swiss Alps.
Top Attractions in Swiss Alps
Matterhorn
Matterhorn is the largest ski area in Europe. The Matterhorn Glacier Paradise is the best destination for adventurers and is a must visit place in Swiss Alps. From this peak, you can have a spectacular view of many mountains and glaciers. You can enjoy the highest cable car journey and indulge in thrilling snow sports like, skiing, trekking, mountain biking and many more. This ski area is open throughout the year.
Jungfraujoch
Jungfraujoch is known as "Top of Europe". It is the Europe's largest glacier and the highest train station in Europe which is located here, which is 3,454 m above the sea level. It is recognized as World Heritage Site by UNESCO in the year 2007. At Jungfraujoch, you will feel that you are on top of the world. This place is loved by both adventurers and nature lovers. At Jungfraujoch peak, admire the enthralling snowcapped mountains. Alpine Sensation is an adventurous tour, which attracts the tourists. Walking in the crystal tunnels of Ice Palace will leave you with wonderful memories to Jungfraujoch. In Sphinx Observation Terrace, you can have a breathtaking view of Aletsch glacier. You can have a panoramic view of majestic snowy mountains from this place. On a clear day, you can even have a view of France and Italy beyond the mountains.
Mount Titlis
Mount Titlis is 3,020 m above the sea level. The rotating Titlis Rotair Gondola will give you 360 degree panoramic view of beautiful snowy mountains. This is the first rotating cable car in the world. Ice Flyer Chairlift ride is an adventurous ride for breathtaking view of snow covered Alps. Walking in the glacial landscape of Mount Tillis with the crunchy snow under your boots is heaven. Glacier Park offers many adventurous activities at the summit. Walk across the Europe's highest suspension bridge, Cliff Walk for thrilling and adventurous walk. Explore the Ice Grotto, the glacier cave to witness millions of ice crystals.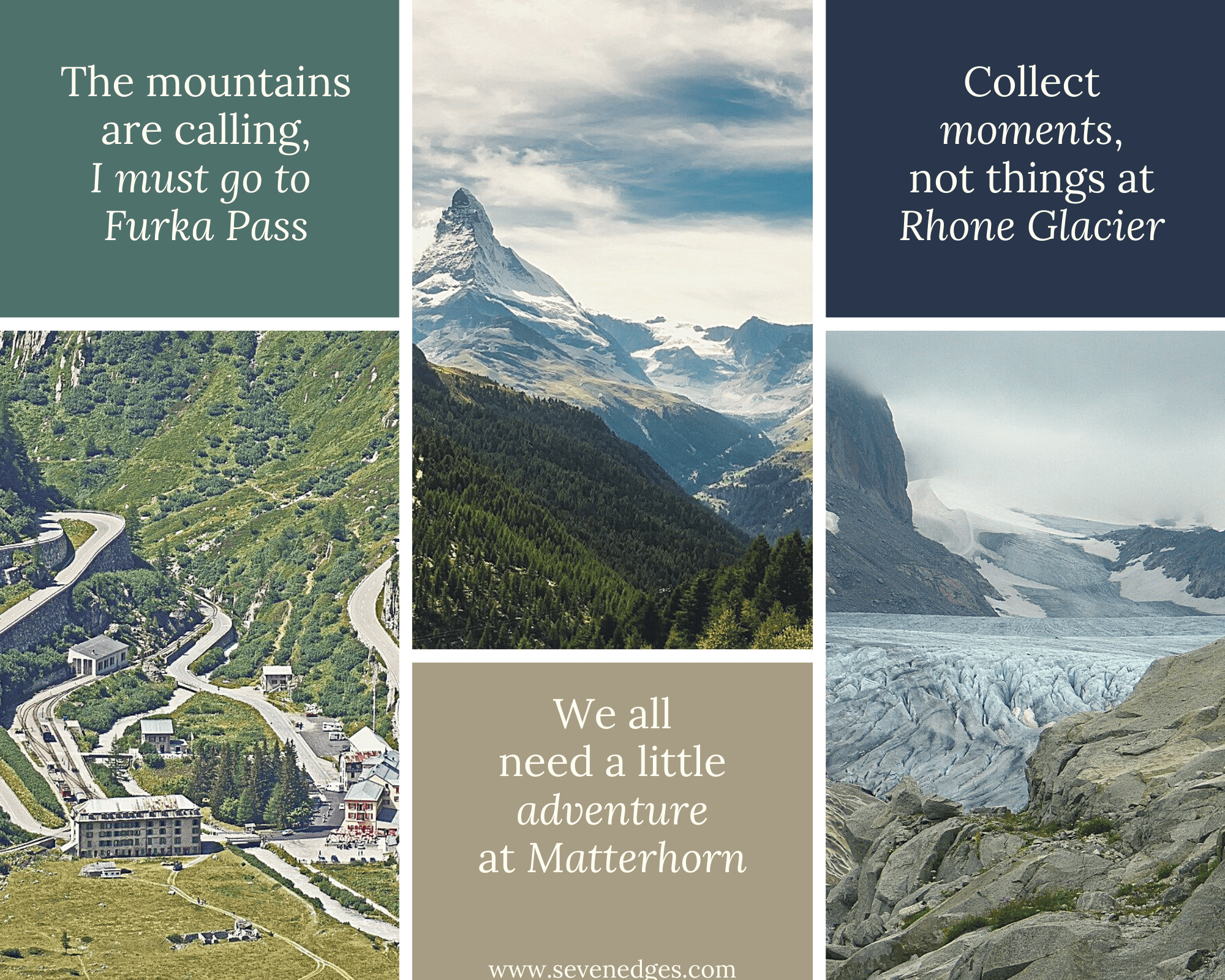 Rhone Glacier
Rhone Glacier is the largest glacier in Urner Alps and is located 11,910 feet above the sea level. It is the source of the River Rhone and River Geneva. The ice cave, grotto is created every year in which the sun's angular rays falls on the grotto and create bluish shades. This is the major attraction in Rhone Glacier. During summer, locals cover this glacier with large UV resistant fleece blankets to protect from melting due to global warming. Read more about Rhine river and Black Forest tour from zurich.
5. Furka Pass
Furka Pass is one of the highest roads in Europe and is elevated at 7969 feet height. It is one of the best picturesque passes in the world. You can have the breathtaking view of Alps, meadows and forest while traveling along the Furka Pass. The journey along the Furka Pass include many hairpin curves which offers an excited and thrilling journey.
Charles Kuonen Suspension Bridge
This bridge is the longest suspension bridge in the world and is 494 m in length. Grandiose Vantage Point is the highest point at 85 m. Walking on this suspension bridge will give you adrenaline rush. You can cross Zermatt and Matterhorn on the walkway and can have the stunning view of many mountain peaks, meadows and forests.  
Interesting Things to Do in Swiss Alps
Go for Hiking
Swiss Alps is the dream destination for hikers. There are many marked paths in the mountains, valleys and forests of Swiss Alps which is enjoyed by hikers. Eiger Trail and Faulhornweg Trail at Grindelwald, Charles Kuonen Suspension Bridge Trail at Zermatt, Matterhorn, Lac de Louvie at Verbier, Murren Trail at Lauterbrunnen are some of the best hiking trails in Alps.
Enjoy Winter Sports
Skiing in Alps is a lifetime experience. There are many ski resorts and snow parks in the mountain peaks of Swiss Alps which offer many thrilling snow sport activities. Other than skiing, you can even enjoy tobogganing, snowboarding, sledging, snow horse racing and many more fun filled activities.
Taste the Traditional Alpine Food
When you are in Alps, do not forget to try some local alpine delicacies like, cheese fondue, crozets, diots, tartiflette, mountain butter, sheep cheese and some of the delighted desserts like chocolates, local berries, bugnes and many more. Enjoy these local cuisines in some of the restaurants like, Café du Pont, Saas-Fee's Restaurant, Horli Hitta, La Cabane Bella-Tolla, Zum See and Thyon's Alpage Restaurant.
Enjoy the Train Ride
Board the Bernina Express to enjoy the captivating and breathtaking views of stunning glaciers, calm lakes, snowcapped mountains, meadows and forests. This railway line is declared as the World Heritage Site by UNESCO. During this train journey, you will pass through 55 tunnels and cross 196 bridges. You can have the scenic journey through this train ride in Swiss Alps.
Things to Carry to Swiss Alps
Swiss Alps can be visited year-round. Here are some checklist that you need to pack when you are planning to visit Swiss Alps in summer and winter.
Checklist for Summer Visit
Light and loose T-shirts

Cotton trousers

Cotton socks

Sunglasses

Sunscreen lotion

Hat

Scarfs

Umbrella

Light weight floaters

Light sweater
Checklist for Winter Visit
Heavy fleece jacket

Woolen sweater

Woolen socks

Hiking boots

Woolen mittens

T-shirts for layering

Windproof jacket

Woolen head cover
Many hotels in Swiss offer landscape view of beautiful mountain peaks. Here are some hotels mentioned, where you can plan to stay in Swiss Alps. Kulmhotel Gornergrat is located 10,170 feet above the sea level. You can view 29 mountain peaks from this hotel. It is one of the highest hotel in Alps. Hotel Belalp offers the stunning view of Aletsch glacier and is one of the luxurious hotel in Swiss Alps. Hotel Riffelhaus provides panoramic view of many highest mountain peaks and valleys.
You must check these 15 best hostels in Switzerland with stunning location for backpacking.
Please leave a comment below, if you enjoyed or find the information helpful. If you are looking for a beautiful stay in any other location, please let us know in the comments below. We would be happy to help you out in that, by listing few after reviewing.
Image by Jonathan Reichel, David Mark & Erich Westendarp from Pixabay