What Is Contemporary Style?
The simplicity, subtle elegance, deliberate texture, and clean lines define a contemporary design style. Most interiors place a greater emphasis on space than on stuff.
While "modern" interiors are commonly perceived as chilly and minimalist, contemporary interiors in today's houses are warm and welcoming without being cluttered or dark. Today's contemporary style works well in businesses, retail, loft, apartments, and classic residences.
Items that are new and are in line with the current fashion trends are referred to as contemporary style. Because they stress more toward color, space, and shape, contemporary interiors are sleek and modern classic design interior. To accomplish the look of a contemporary home, some essential criteria must be followed.
This blog has everything you need to know about the fundamentals of contemporary style interior, starting with:
The primary colors of contemporary style interiors are neutrals, black, and white. In a contemporary design room, black is frequently used to ground and define the space. Bright and vibrant colors that contrast with neutrals are frequently used to spice up and emphasize the palette.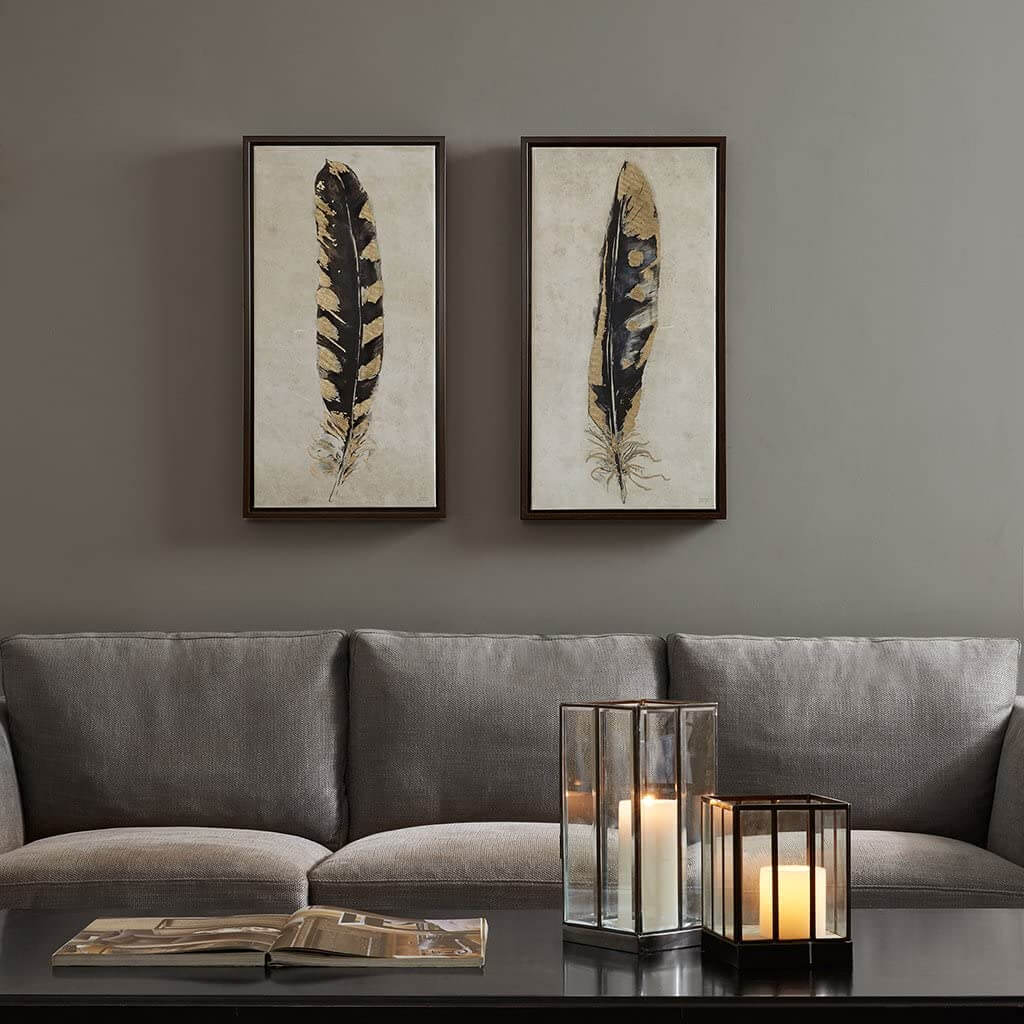 Gilded Feathers is a stunning art piece, printed canvas with gold foil that will add drama to your home.
You have a beautiful backdrop for bold-colored accessories with walls painted in a basic neutral. The trimmings should be neutral if the walls and windows are painted in pastels. If one wall is painted in a bright, brilliant color, the remainder of the room should be painted in neutrals.
In contemporary interior design, the line is the most obvious and defining element. Strong visible lines, whether straight vertical or horizontal, or curved shapes can be found in any contemporary-style home. The series includes architectural components, vibrant color blocks, high ceilings, naked windows, and geometric shapes in wall art and sculpture.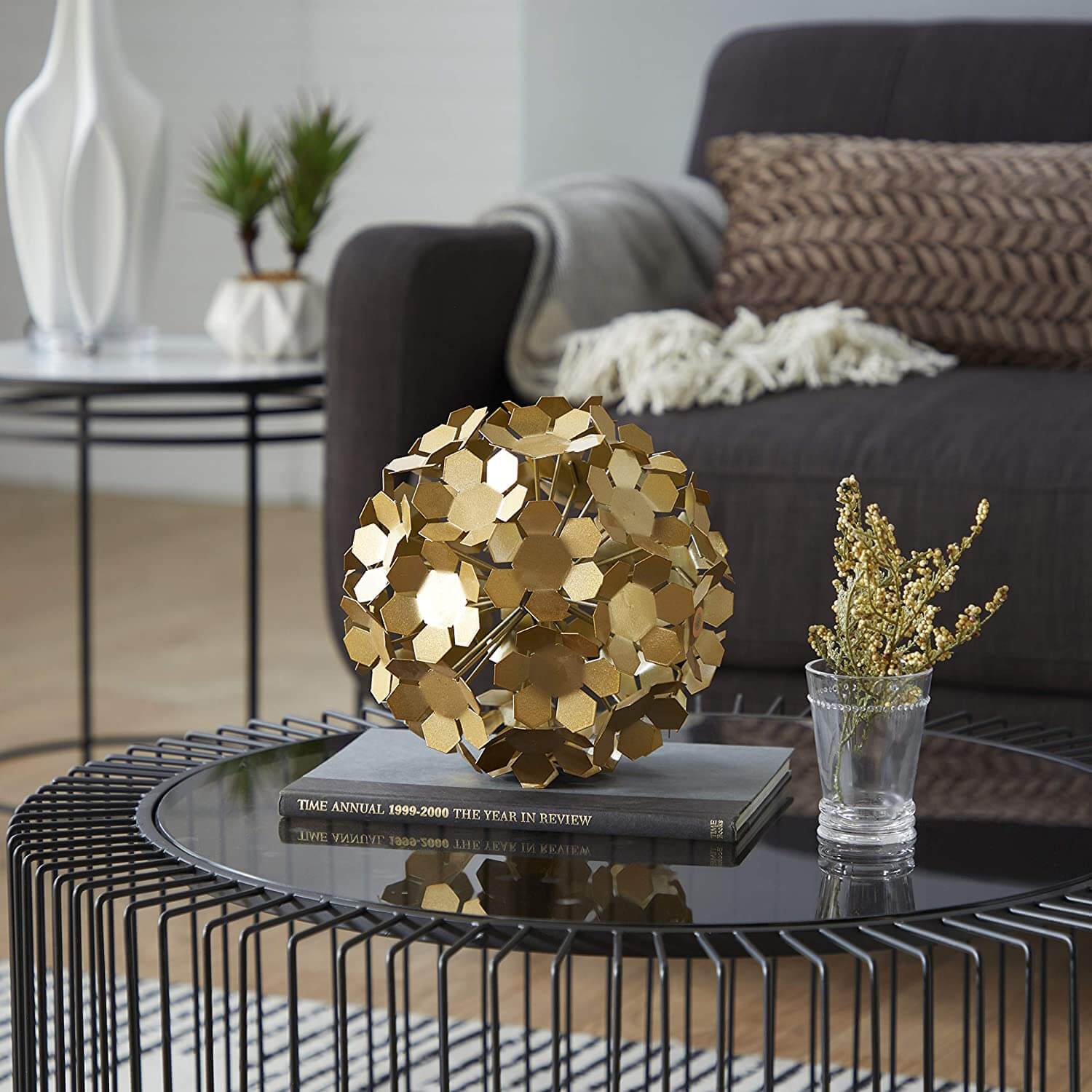 A little whimsy sculpture is an accent piece that provide a sense of style to your home atmosphere.
The open and empty space on walls, between and above the furniture pieces are also just as significant as the areas decorated. Less is more when you think about in contemporary interiors. This way, each piece shines out as distinct and one-of-a-kind.
You can use structural factors to your advantage. In a classic contemporary style interior, air ducts can be suspended from the ceiling, cracked bricks add texture and solidity, and exposed plumbing lines also contribute to the style. You can paint these structural components in vivid contrasting colors to capture the eye, or mix them with the walls to minimize their relevance.
Furniture in a Contemporary Style
Furniture should make a big statement while remaining plain and uncluttered, with no curves or decorations. Shapes that are smooth, clean, and geometric are crucial. Natural fibers like wool, cotton, linen, silk, and jute are commonly utilized to give upholstered furniture in black, white, or other neutral tones a tactile appeal. Color and texture are added to the room by pillows and cushions with simple geometric motifs.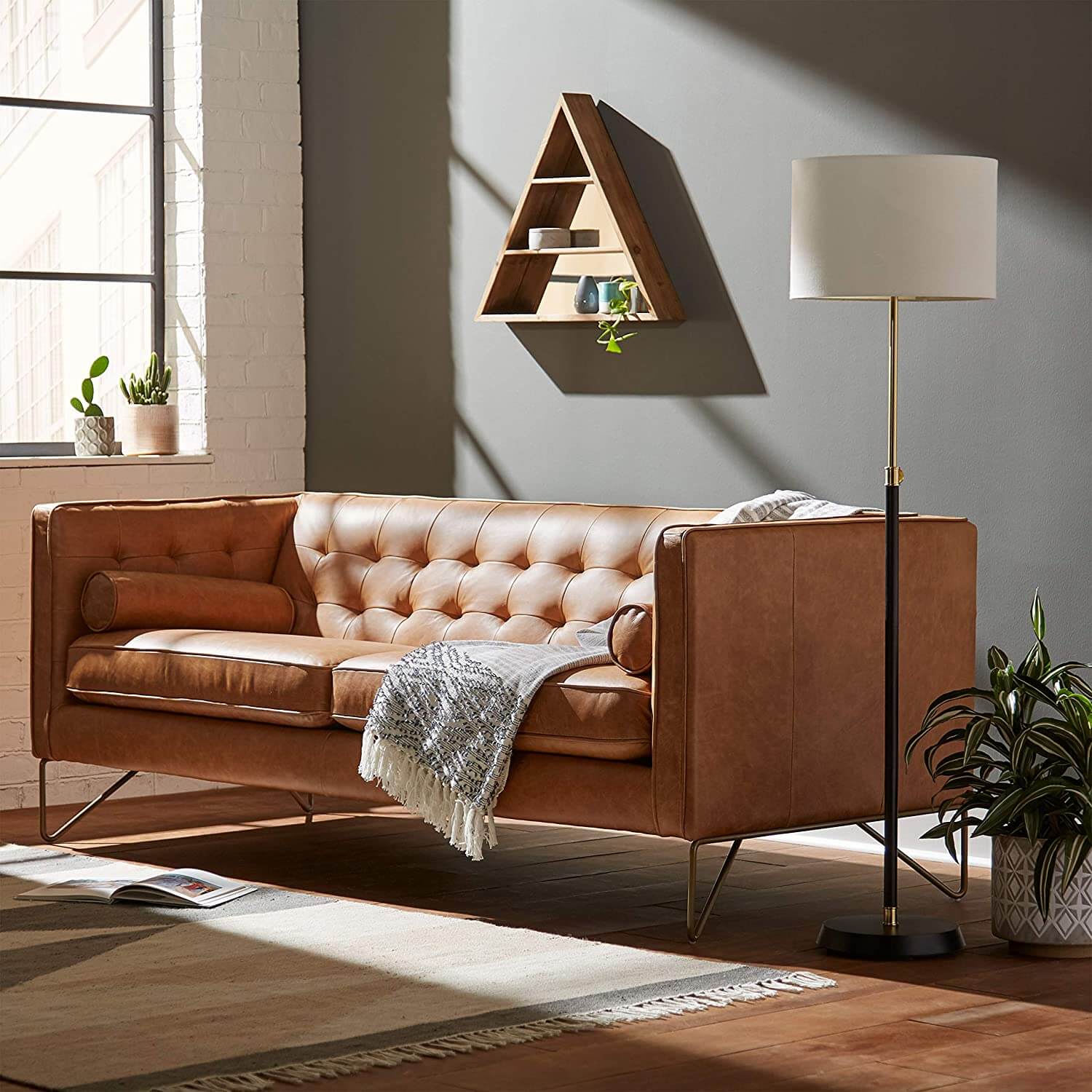 Striking sofa mixes contemporary mid-Century inspiration with touches of modern glam with its tufted tight back cushioning and metal legs that lend an airy, modern feel.
You can utilize your favorite color to make a statement on a distinctive piece of furniture against a basic background. Exposed legs are standard on sofas, chairs, and ottomans. Skirts, trims, fringes, and tassels are frequently absent from beds and chairs. Try to avoid ruffles, carved detailing, fringe, and floral designs. Abandon cute and little in favor of simple, raw, bold, and substantial designs.
In a modern home, the wood, tile, or vinyl floors should be bare and smooth. If you need carpet for sound control or warmth, go for commercial grades. In Contemporary Style Interior, area rugs with geometric patterns or plain colors give color and texture.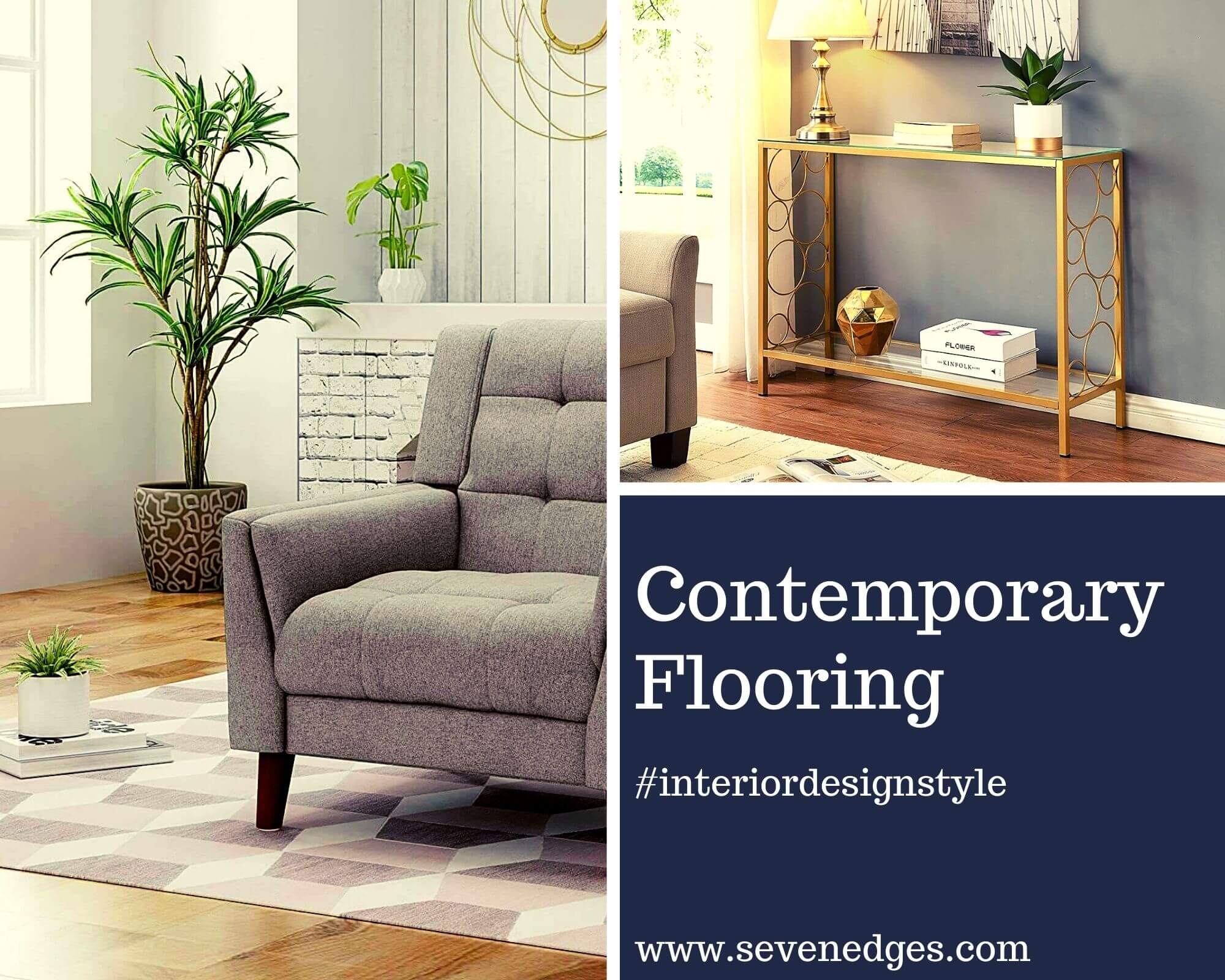 An exceptionally crafted piece of furniture, with a fun, retro look that makes you go gaga over this armchair.
A Contemporary Console Sofa Table with Lower Shelf and Circle Designs is a great addition to your home decor and an exptra space for storage as well.
Hardwood flooring, for example, is a timeless modern flooring option for any design style. It is an all-natural material that gives warmth instantly. Contemporary wood flooring is a natural choice since it promotes a neutral color scheme centered on rich browns and mild beiges. Hardwood is also a flexible flooring option that will adapt to any future changes to your home's interior design style.
The contemporary design style is ideal for homeowners who like to stay up to date with the latest trends in décor and ornament trends, and who are willing (and have the financial means) to adapt to the times. If you are fascinated by this interior décor option; go ahead and use these fundamental tips to get your dream home.
This post contains affiliate links, which means we may receive a small commission, at no additional cost to you, if you make a purchase through these links.