The mid-century modern style of décor is one long praised by enthusiasts, but few really understand what it really is. Well, much like the name suggests, mid-century modern refers to art styles and furniture from the 40s, 50s, and 60s, which have undergone extraordinarily little transformation to this day.
With summer settling in well, it is now time for many design enthusiasts to spruce up their home's look in preparation for the months to come. Want to know how? We will tell you! Here are some of the top guidelines on how you can recreate the whimsical mid-century modern living room of your dreams!
1. Bring The Outside, Inside.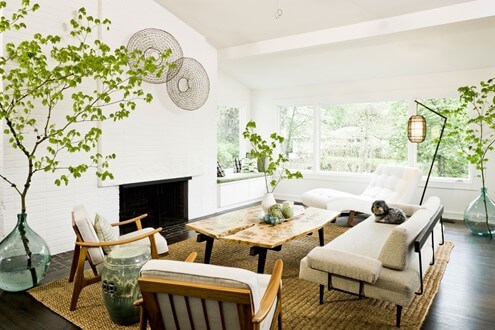 If you want to truly channel the mid-century modern vibes in the hearth of your home, think outside of the box when designing for the inside. A good mid-century modern living room is always connected to the outdoors in some shape or form.
You can achieve this by inserting wooden frame chairs and wood-paneled wall ornaments to capture that forest-y look. Glass pots with house plants and a soft, brown-toned center rug can also help with the outdoorsy look for your home. Make sure to use lots of jade, white, soft browns, and other earthy tones to take the outdoor theme to the next level, as is done in this stunning design by Jessica Helgerson.
Get this beautiful look by shopping the Industrial Floor Lamp with adjustable head, Oversized galss vases and thick jute area Rug.
2. Sometimes, Less is More.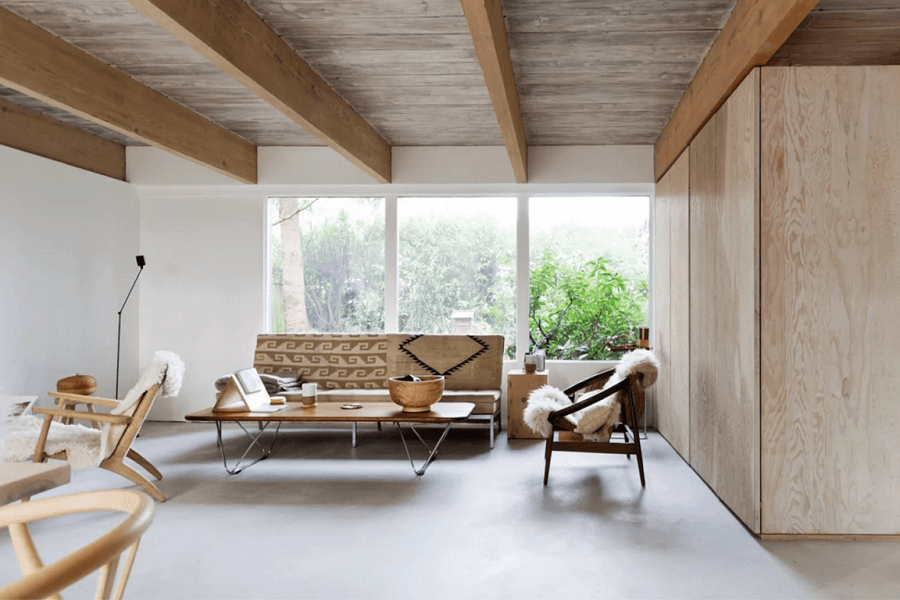 One of the biggest mistake's homeowners tend to make when designing a mid-century modern living room is stuffing it with oversized furniture and lots of knick-knacks. Sure, ornaments and artwork never did anybody any harm, but you need to make your space functional as well as attractive.
Look at this design inspiration, for example. It is a simple, minimalist, and sophisticated take on mid-century modern design. This design is by Scott & Scott Architects, and focuses mainly on using contrasting strengths and working around the home's original architecture. You can use plenty of mid-century-inspired furnishing with a clean and neutral palette to help your home achieve a similar classy, low-clutter look.
3. Don't be Afraid to Play around with Colors.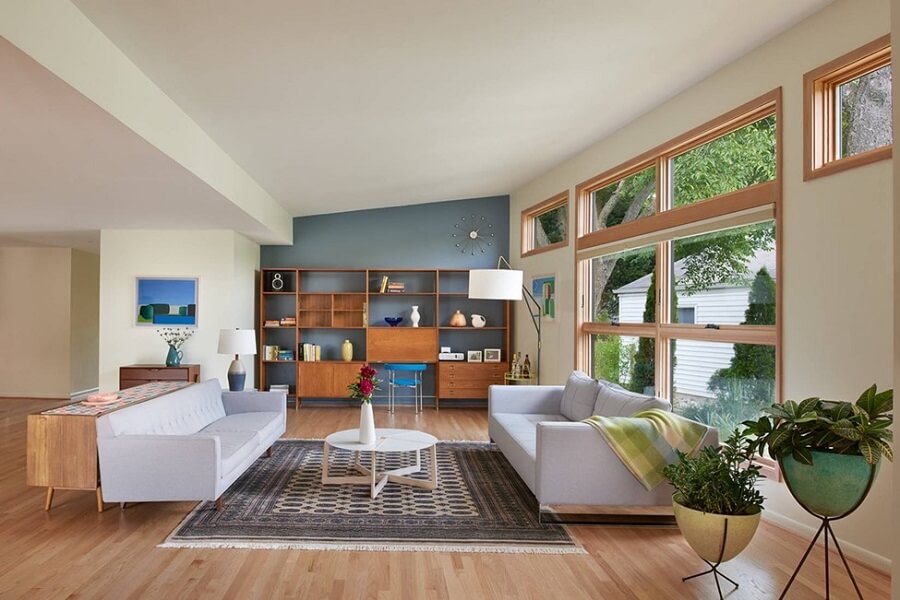 Nothing says mid-century home décor more than bold, deep, rich tones. If you're one of the homeowners looking to divert away from the usual neutral grey and brown, pick out a strong color palette. Deep greens, vivid tangerines, violets, and other statement colors can be paired with simpler creams and greys, coming together to form a unique, eye-catching mid-century modern living room.
You can take this living room design by Balodemas Architecture as a guideline, using a statement blue wall, a softwood bookcase, and natural green to give your living room the mid-century modern glamming up it needs!
Intrigued? Then do not waste another moment! Grab a pen, get shopping, and prepare to convert your boring living room into something straight out of a magazine. These classic mid-century design tips will take your home straight back to the 50s, and trust us, there is no coming back!
This post contains affiliate links, which means we may receive a small commission, at no additional cost to you, if you make a purchase through these links.