Switzerland is a country known for its breathtaking landscapes, and one of the most iconic destinations within the Swiss countryside is Zermatt. Nestled in the heart of the Alps, Zermatt is a charming alpine village surrounded by majestic peaks, including the famous Matterhorn. This day trip guide will take you on a journey through the Swiss countryside to explore the enchanting town of Zermatt and its natural wonders.
Getting There to Zermatt, Suisse
Starting Point:
Your journey to Zermatt begins in the Swiss city of Zurich. You can easily reach Zurich by train, plane, or car. From Zurich, take a scenic train ride to Zermatt.
Train Travel:
Switzerland's efficient train system offers a comfortable and picturesque way to reach Zermatt. The train journey from Zurich to Zermatt takes approximately three and a half hours, passing through some of the country's most stunning landscapes.
Car Travel:
If you prefer driving, you can rent a car in Zurich. However, keep in mind that cars are not allowed in Zermatt, and you will need to park in nearby Täsch and take a shuttle train into the village.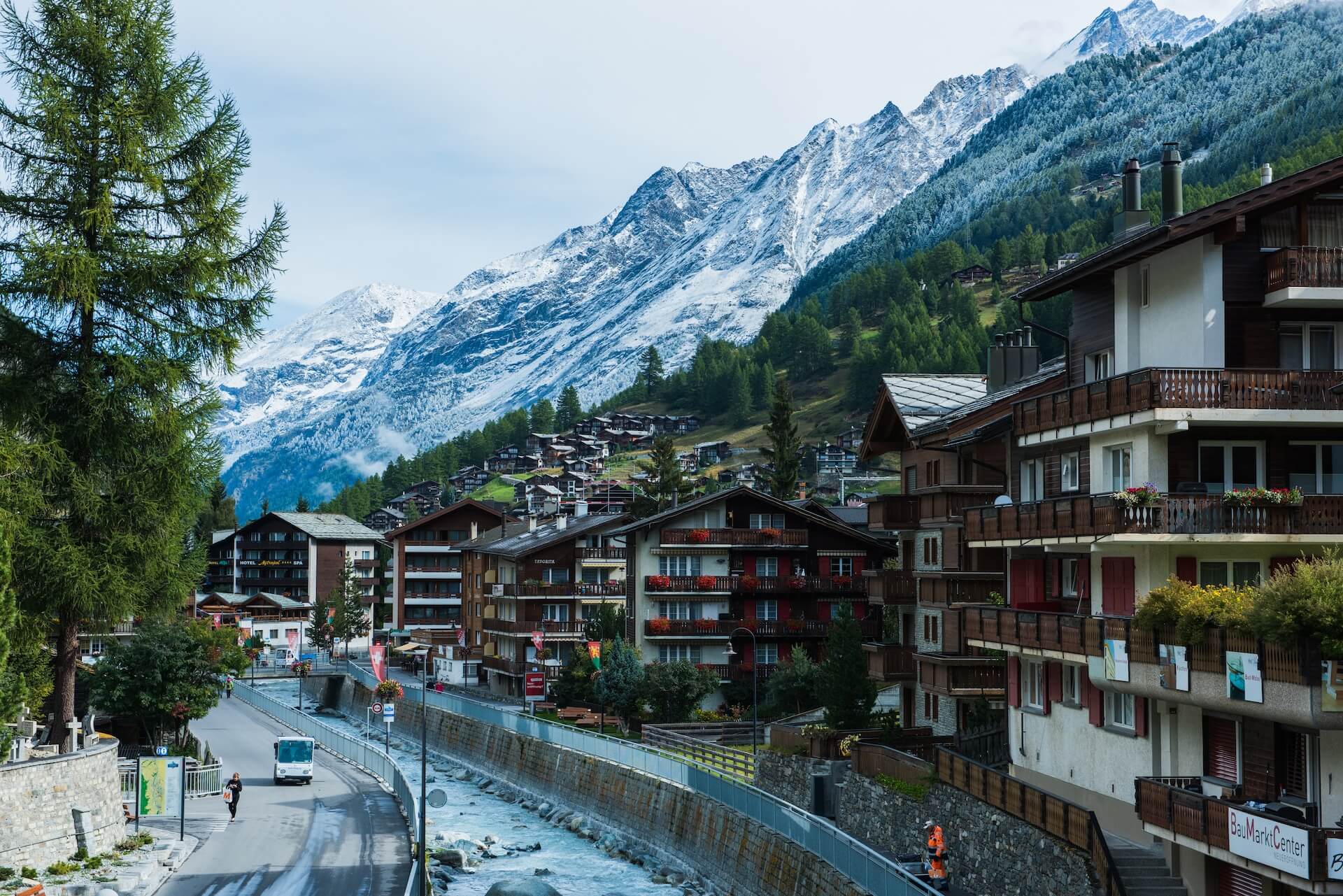 Early Departure:
Start your day early from Zurich to maximize your time in Zermatt. Aim to catch a morning train to enjoy the scenic journey.
Arrival in Zermatt:
Upon arrival in Zermatt, you'll be greeted by fresh mountain air and a charming car-free village. Begin your day by taking a leisurely stroll through the town's pedestrian-friendly streets. Admire the traditional Swiss chalets, boutique shops, and cozy cafes.
Matterhorn Museum:
Dive into the local history and culture by visiting the Matterhorn Museum. Learn about Zermatt's mountaineering heritage and the challenges of scaling the Matterhorn.
Get the tickets to the Museum.
Lunch with a View:
Enjoy a delicious Swiss lunch at one of the many restaurants in Zermatt. Opt for a restaurant with a terrace for stunning mountain views as you dine.
Gornergrat Railway:
After lunch, embark on a scenic train journey to Gornergrat, one of Zermatt's most famous vantage points. The Gornergrat Railway offers panoramic views of the Matterhorn and surrounding peaks. Spend some time at the observation platform and capture the breathtaking scenery.
Hiking or Skiing:
Depending on the season, you can either explore hiking trails or hit the slopes for skiing or snowboarding. Zermatt offers a range of outdoor activities suitable for all levels of fitness and experience.
Rothorn:
If you're an adventurous hiker, consider taking the cable car to Rothorn, which offers more hiking opportunities and outstanding vistas.
Dinner in Zermatt:
Return to Zermatt in the late afternoon, and after freshening up, enjoy a delightful Swiss dinner at one of the village's many restaurants. Savor traditional Swiss fondue, raclette, or other Alpine specialties.
Starry Night:
On a clear evening, take a moment to gaze at the starry sky, which is often brilliantly visible due to the low light pollution in Zermatt.
Return to Zurich:
Finally, catch an evening train back to Zurich, allowing you to relax and reminisce about your day in the Swiss countryside as you make your way back to the city.
Tips for a Successful Trip
Weather Conditions: Be prepared for changing weather conditions, especially if you plan to spend time outdoors. Dress in layers and bring appropriate gear.
Train Tickets: Purchase train tickets to Zermatt in advance, and consider buying a Swiss Travel Pass for added convenience and discounts on train fares.
Dining Reservations: Make reservations at restaurants in Zermatt, especially during peak tourist seasons.
Hiking Gear: If you plan to hike, wear comfortable, sturdy hiking boots and bring essentials like water, snacks, and a map.
A day trip to Zermatt is a true Swiss adventure that combines natural beauty, rich culture, and outdoor activities. Whether you're captivated by the iconic Matterhorn, eager to explore hiking trails, or simply seeking a tranquil escape in the Swiss countryside, Zermatt offers an unforgettable experience. This charming alpine village is a testament to Switzerland's natural beauty and is sure to leave you with lasting memories of your Swiss adventure.
Please leave a comment below, if you enjoyed or find the information helpful. 
This post contains affiliate links, which means we may receive a small commission, at no additional cost to you, if you make a purchase through these links.