Despite what mainstream media says about Gothicism and everything attached to it, the origins of the Victorian Gothic design are rooted in the Middle Ages, where cathedrals and castles were heavily invested in creating architecture based on ecclesiastical inspirations and that is from where we poach the Gothic Interiors.
These days, it means something just slightly different: black walls and skulls, dark lipsticks, and is a popular phase that some teenagers go through. But if you stick to this version of Gothicism, you're sorely missing out.
Gothic architecture and Gothic Interior design are somewhere between
minimalism
and maximalist lifestyles. It incorporates a bit of both and does so in style.
So, if you're ready to add some flair to your home décor, here's what you need to know.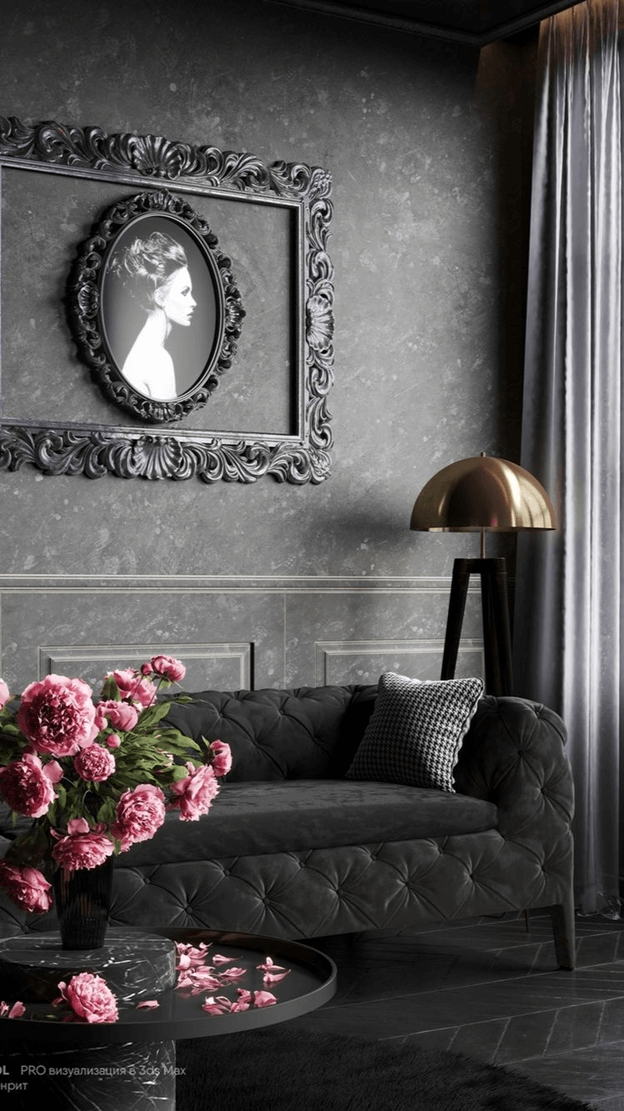 A dark wall with marbled texture, with a black velvet sofa and grey curtains. (
Source
)
It's not all black walls and symbols of darkness. For a little Gothic vibe, bring out warm, rich colors to create a statement look. Look towards your favorite gems: what hues speak out to you? Ruby, emerald, and sapphire are some examples of what can inspire you. However, if you're going for a more understated Gothic Interior look, opt for warmer,
earthy tones
.
Shop these modern Gothic home decor items, to get that Victorian Gothic vibe.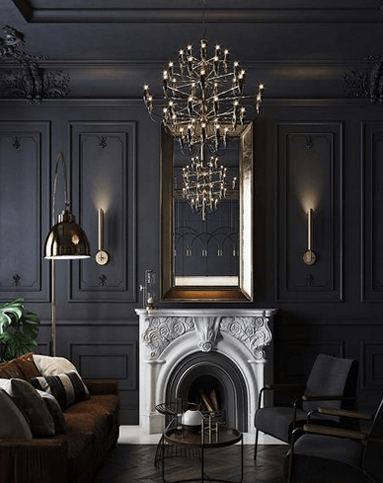 Dark, luxurious walls painted in black with a satin finish. (
Source
)
Patterned wallpapers are a staple in modern Gothic interior designs. They bring texture and dimension into the space and the right pattern for the right feel is vital for your room.
Floral patterns won't cut it. Damask, paisley, or brocade patterns are symbols of the Victorian era and give an elegant feel to a room. If you want a richer look on your walls, opt for something with a velvety, raised texture.
For those of you who don't want the hassle of wallpaper, go for raised wainscoting, preferably with a dark stain that fits the style.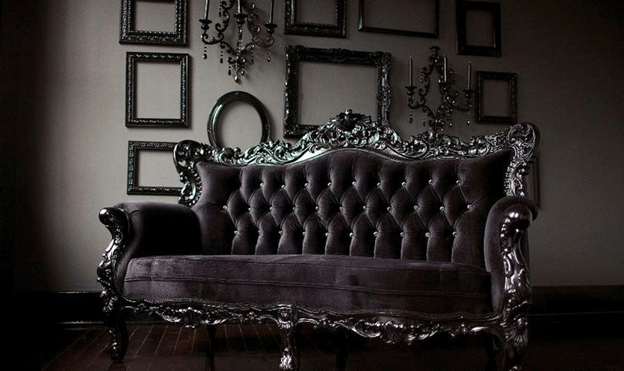 Black gothic couch with dark wooden detailing. (
Source
)
For the right Gothic ambiance or house interior, the texture is essential. Luxuriously sumptuous materials are the perfect fabrics, such as silk, velvet, and satin.
Use them everywhere: from upholstering furniture and bedding to have deep, richly colored velvet curtains and robes. Even the embellishments on your bedding or pillows can add a Gothic feel to your interiors, like fringes and tassels.
Shop these Gothic home decor necessary items, to get that Victorian Gothic vibe.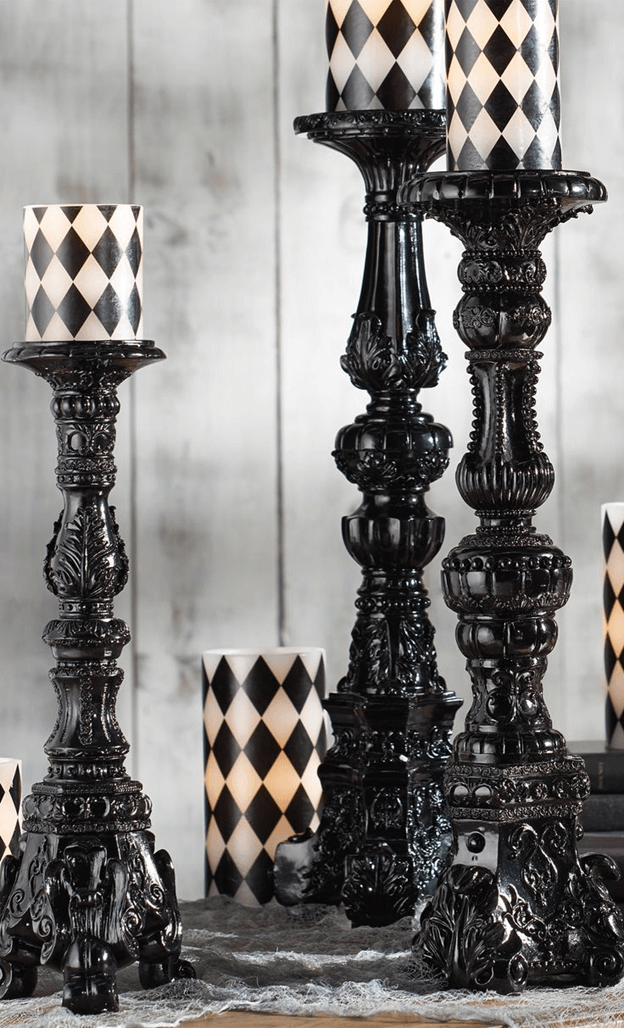 Intricately carved Gothic candle holders. (
Source
)
Nothing says Gothic interior like a dramatic accessory. Look for statement pieces to add to your home that you won't find in any old shop.
Wrought-iron chandeliers
, metal frameworks,
wooden sconces
are just some pieces you can hunt down.
You can also look for stone pieces and pottery to add a hint of flair to the walls and shelves. With flooring, go for richly colored Persian rugs, rather than anything plain or modern.
Cheap Fixes for a Gothic Vibe
If you want to add hints of Gothicism or modern Gothic style to your room without a full redecoration, there are some simple items or interior design ideas that you can incorporate into your room.
Ornately designed pieces such as mirrors or candleholders are a great addition to any space.
Dark stained and heavy wooden furniture, or metal furniture, add a sense of mysticism to an area.
Even something as simple as low-intensity lighting can immediately change up the ambiance, and make you feel like you're in a different space altogether.
If you want to accessorize your home with Gothic furniture, decorations, and upholstery and you are wondering where you can get them; we have got you covered. You can browse sites like Etsy to get unique, one-of-a-kind pieces and decorations. You can get stencils to help give your walls the look you are going for, or get eerie pieces such as a skull paperweight, or a dark lampshade with intricate embroidery, perfect for a dark, Victorian interior for your study or bedroom.
White Skeleton Hand Ring Holder can be addition to you gothic bedroom decor and it is usefull at the same time for placing your jewelry. 
White ringholder can be a highlight if the wall behind it is decorated with a black or dark gothic wallpaper.
Wayfair's collection of modern gothic-inspired interior designs will give you a blend of Victorian and Modern. You can browse through and get incredible deals on Gothic style wallpapers, rugs, furniture, lamps, shelves, and a lot of other things. You can even get doorknobs that are inspired by American Gothic interior design, to complete the look on a dark-colored door.
If you're looking for sturdy, long-lasting, and heavy wooden furniture for your home, then Gothic Cabinet Craft will give you what you need. You will find just about anything you want to, especially if you want a dark Victorian interior. Their pieces take inspiration from a Gothic-style house décor, which means dark furniture, wrought iron bedding, and custom radiator covers that will give your home the look you need.
If you're looking for more, such as Gothic antique mirrors, or stained glass windows, then you will need to keep an eye out for online and in-person stores that might sell them.
In addition to controlling natural light, all you need to achieve your gothic interior in addition to the elements mentioned above is a keen eye and approach towards decorating your home so it compliments you and your chosen style.
This post contains affiliate links, which means we may receive a small commission, at no additional cost to you, if you make a purchase through these links.