Bring in Victorian House Interior look to your space with minimal decorations and ornaments. You do not have to ditch your minimal decor theory to bring in the Victorian style. You can easily bring in small patterns, ornaments, a side table, corbels, wallpaper, wall frames as such to give the look to the tiny space and satisfy your cravings for Victorian interior.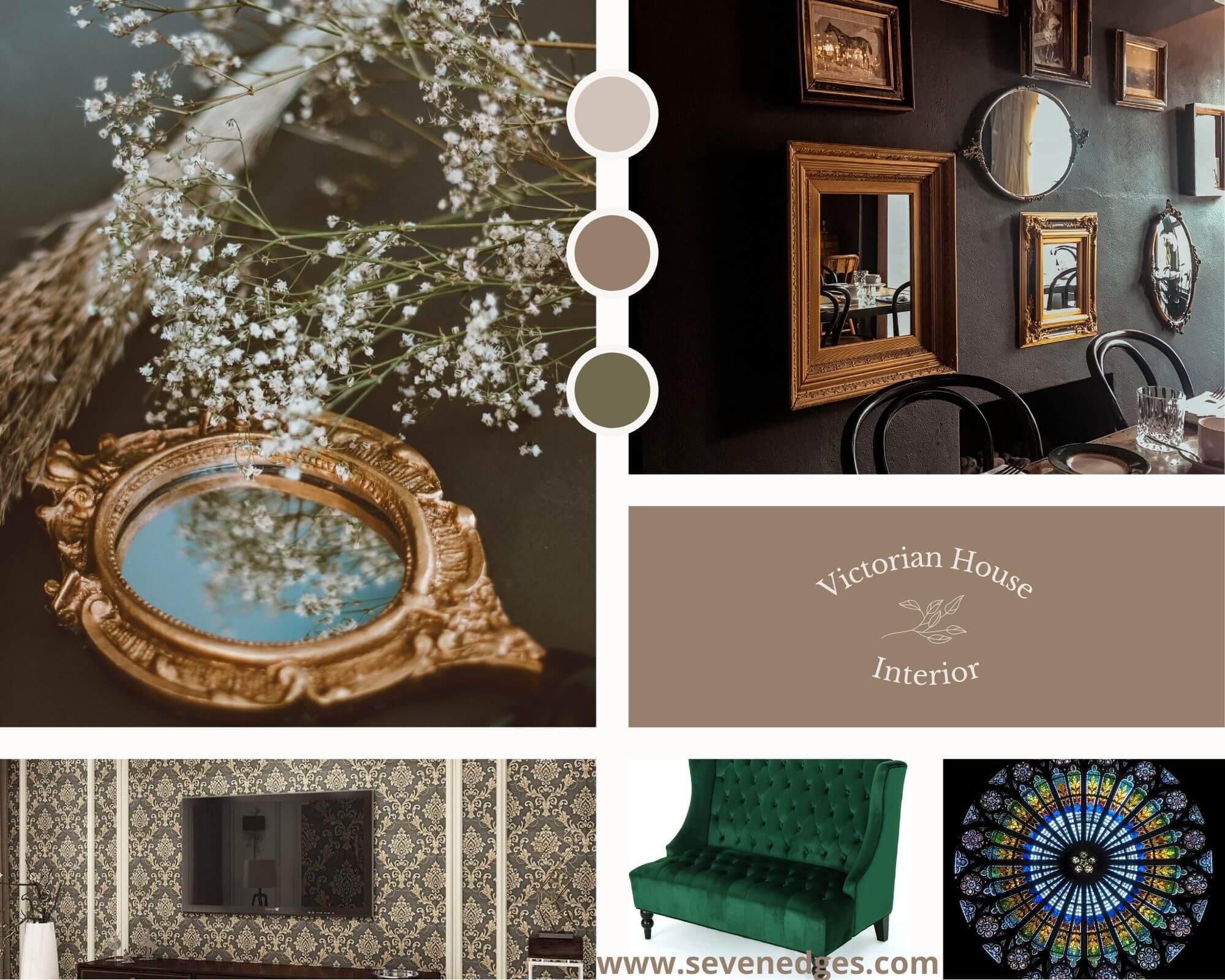 How to Make your Interior Victorian Style
Decorate your walls with wallpapers especially dark colors is one choice. Hanging big frames be it art or mirror, if the frame is in antique golden shade then that will be a good choice for Victorian style.
Choose furniture with rounded edge and corners, and a chest of drawers is a must for Victorian interior. Include a Divan to your living room corners or near the window to complete the look.
Move onto Dressing Table.
Vanity or dressing table that makes you look good, should look royal too. Get a Victorian style makeup vanity with ornate scrolls, rich gold color, and a plush chair. This one vanity table can be a centrepiece to your master bedroom.
Bathrooms cannot be Avoided.
Go with wooden or white tiles, or you can try a combination of white and the other half with Victorian style wallpaper. For fixtures you should only try brass or antique, a widespread faucet would be a good idea. Crystal Flush Mount Bathroom Bath Bar from the Elizabethan Collection will capture a grace look to your vanity mirror.
Bring in more furniture to the kitchen, so instead of an island you can prefer a table inside the kitchen and can have colorful cabinets. Prefer a porcelain kitchen sink with brass fixtures. Try including a Butler's Pantry with open cabinets, old is always new and when we want to bring in the taste of old era, let's try to fit these in.
Small Things can have a big Impact.
You do not have to spend a lot to bring in the royal look, everything can be budget friendly as small things can have or show a huge difference to every room. Your Cabinet knobs, a hanging light, a vase in the room or even a sculpture if selected with care or attention will give the look of whatever the style you choose for your interior. First you need to stick to the style and then carefully select, spend quality time in choosing the product that matches your budget. It is your house, and you have enough time to decorate it. When you have an idea in your mind, keep that and buy only when you come across the right one instead of hurrying and spending huge.
It gives a grand appeal to Porches, Porticos, fireplace and above the kitchen stove and matches the style perfectly with great finish.
A sculptural wooden side table for entryway which shows of your style at the beginning and can speak for itself what is coming next.
A loveseat qualifies for a traditional style with its buttoned, tufted back and seat, and winged sides and can fit in any room and any need.
With gorgeous frame design and its ornate pattern will quickly draws attention wherever you place it and will be a good addition to victorian style interior design.
Bring back that nostalgic memories with this curvilinear embellishment. Use it to decorate your Master Bedroom door or you can also try for walk in closet door if it is bigger in size.
Embellish your TV background wall or your Fireplace Wall. It also suits in bathroom but should be only on one side with lighter or white color combination on other walls.
Try these tips and and small decor items to get the Victorian house interior look in a budget friendly way at the same time, without cluttering your house. 
This post contains affiliate links, which means we may receive a small commission, at no additional cost to you, if you make a purchase through these links.