Indoor air is more polluted than outdoor air due to the materials we use at home. Therefore, to make your house environment friendly, always use sustainable products. You do have great options for eco-friendly rug pads. They are made of natural fibers and natural rubber which does not contain corrosive chemicals and are highly sustainable.
These rug pads reduce volatile organic compounds and are safe to use. Below mentioned are 7 ultimate rug pads which keep your rugs firm at one place and also provide best cushioning effect.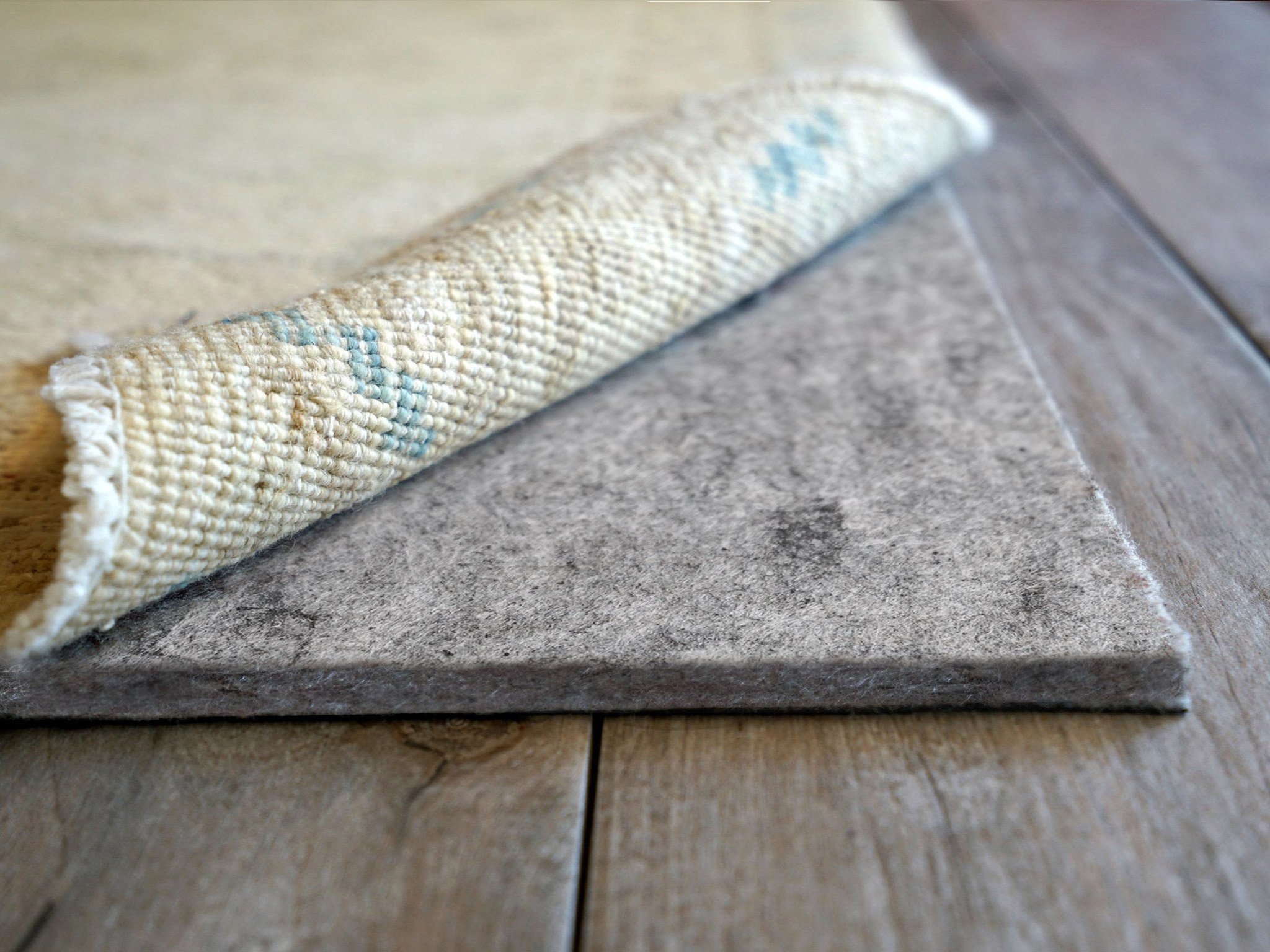 Eco-friendly rug pad coming with superior locks provides soft plush cushioning effect. It is made of natural rubber and provides better grip on glossy surfaces and prevents the floor from staining. Needle punched felt surface which makes it breathable and prevents curling, creeping and bunching of rugs. Rug pad coated with two layers of natural rubber which offers anti-skid property and prevents premature deterioration is odor free and safe for all types of rugs.
Rug Pad for Flat Woven Rugs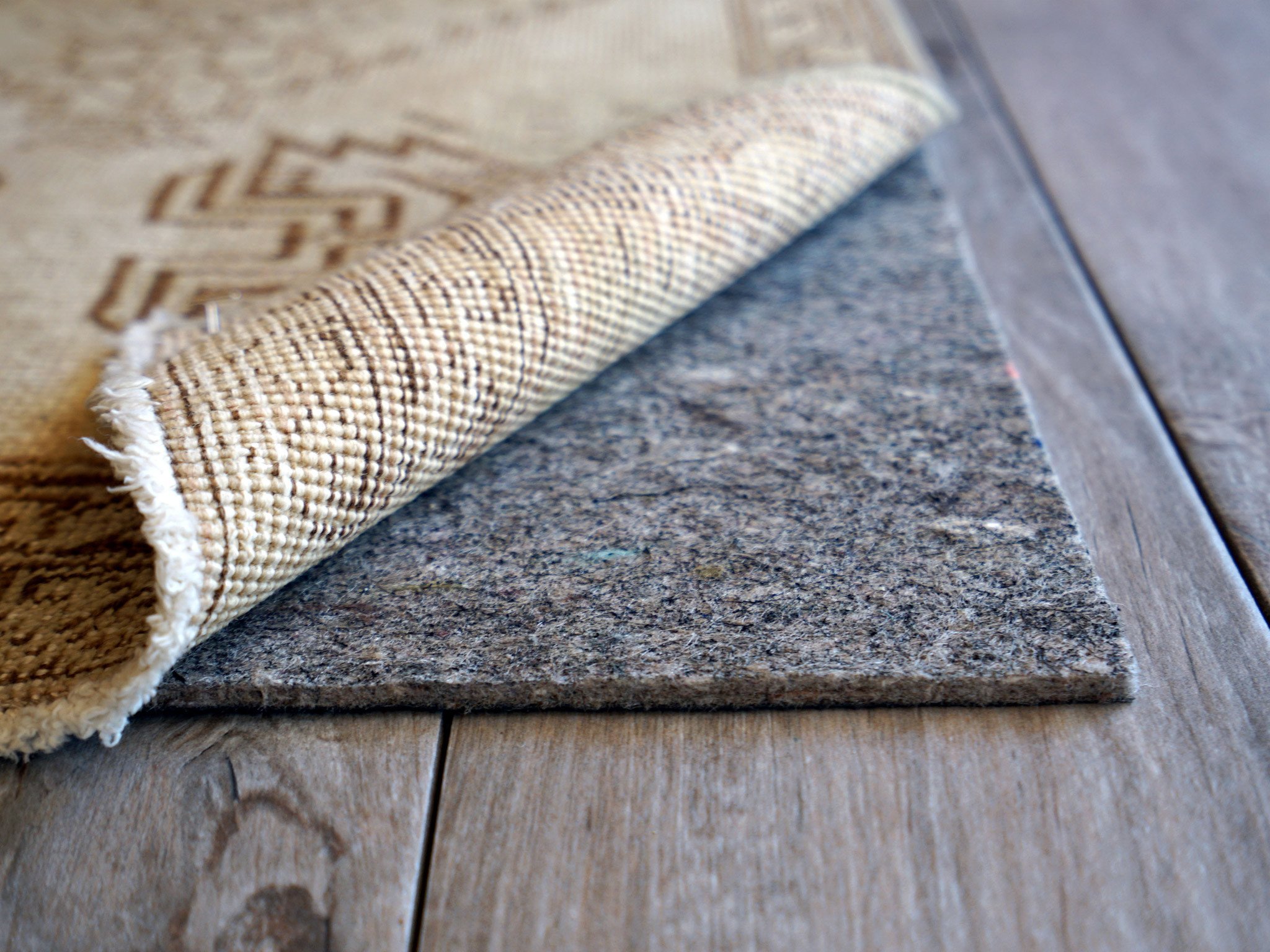 If you are looking for eco-friendly rug pad for flat woven rug, then Contour Lock rug pad is best suited for rugs like Kilims, Soumaks and Dhurries. This rug pad is made of recycled natural rubber that offers strong grip and best cushioning effect and make it suitable for bedroom floors. Helps prevents rug backings and scratching of the floor. The rubber backing contains less clay fillers to prevent breakdown of pad in high traffic area which is moisture resistant and safe for all floors.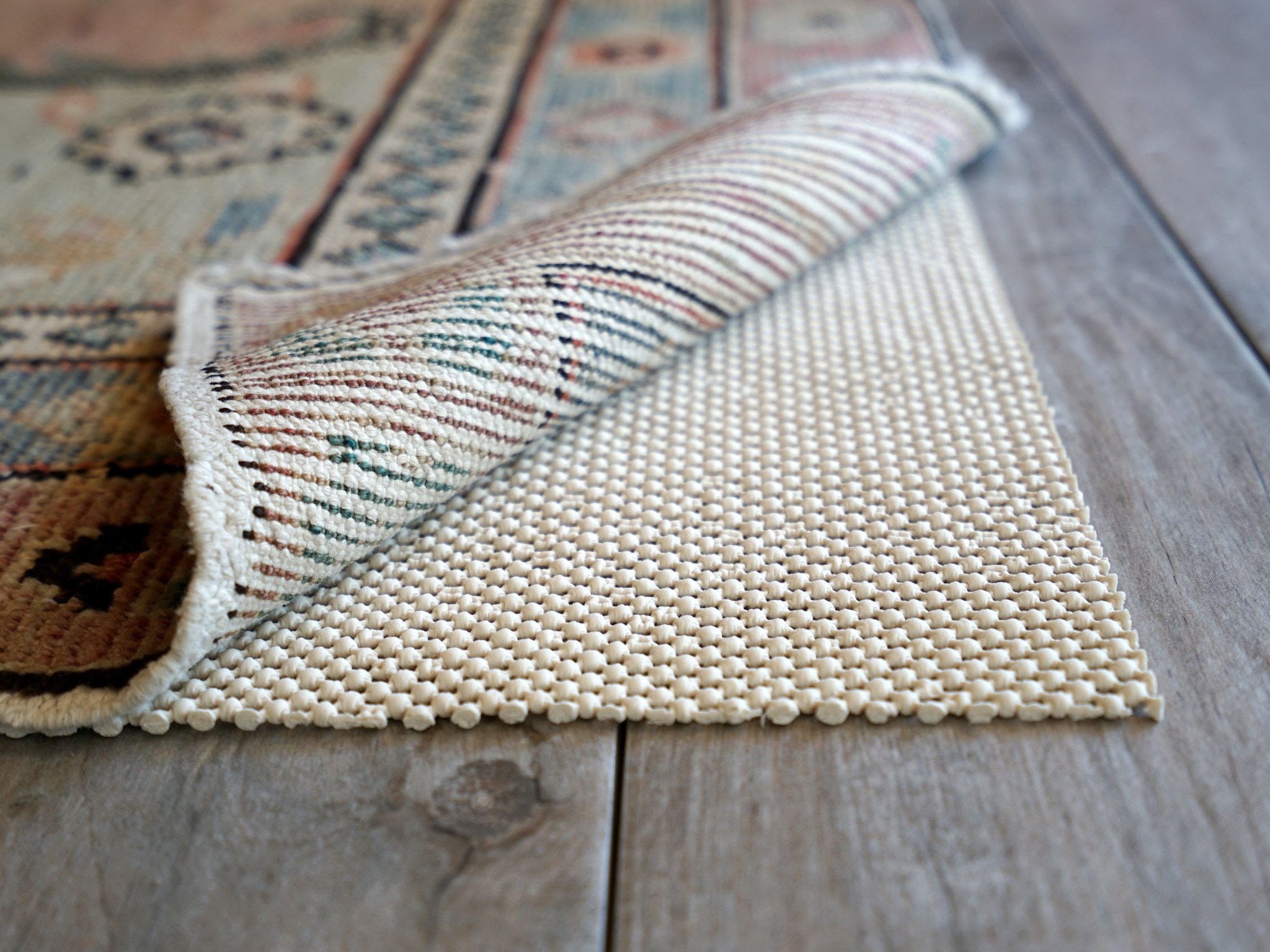 Super Lock Natural eco-friendly rug pad is made from natural rubber and is best suitable for high traffic areas. Free from glues, plastics or adhesives, it provides best grip and protects the floor from scratching. It is breathable and facilitates airflow between rug and flooring and prevents stripping and staining. Perfect for small rugs and runners which has high foot traffic. Easy to clean by just using sponge wash or hand wash is an added benefit of this pad. This sustainable rug pad is safe for all types of floorings.    
This low profile earth friendly rug pad has natural rubber backing and provides ultra-grip and prevents slippage. There are many sizes that you can choose from based on your requirement and is needle punched that makes it breathable. It also prevents dirt and dust. This eco-friendly rug pad is suitable for all floorings and can be used for all rug styles. Keep your ultra soft rugs safe with these rug pads.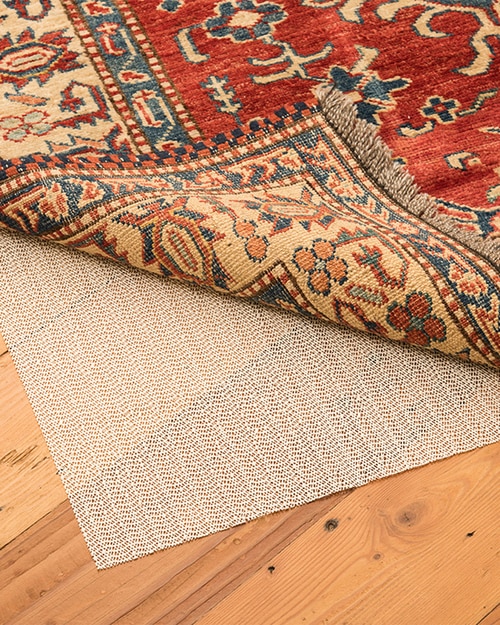 This eco-friendly rug pad is made from plant based oil with other high quality organic materials and is suitable for all types of rugs and provides you best cushion feel in your every step. This rug pad is reversible and is breathable so vacuuming is also easier. It can easily be cut to desired rug size and is non-slip and resist curling of the rug. Because of its washable nature with warm water and soap, its maintenance is quite easy. This eco-friendly rug pad is perfect for both indoors and outdoors.
Organic Jute and Rubber Non-slip Rug Pad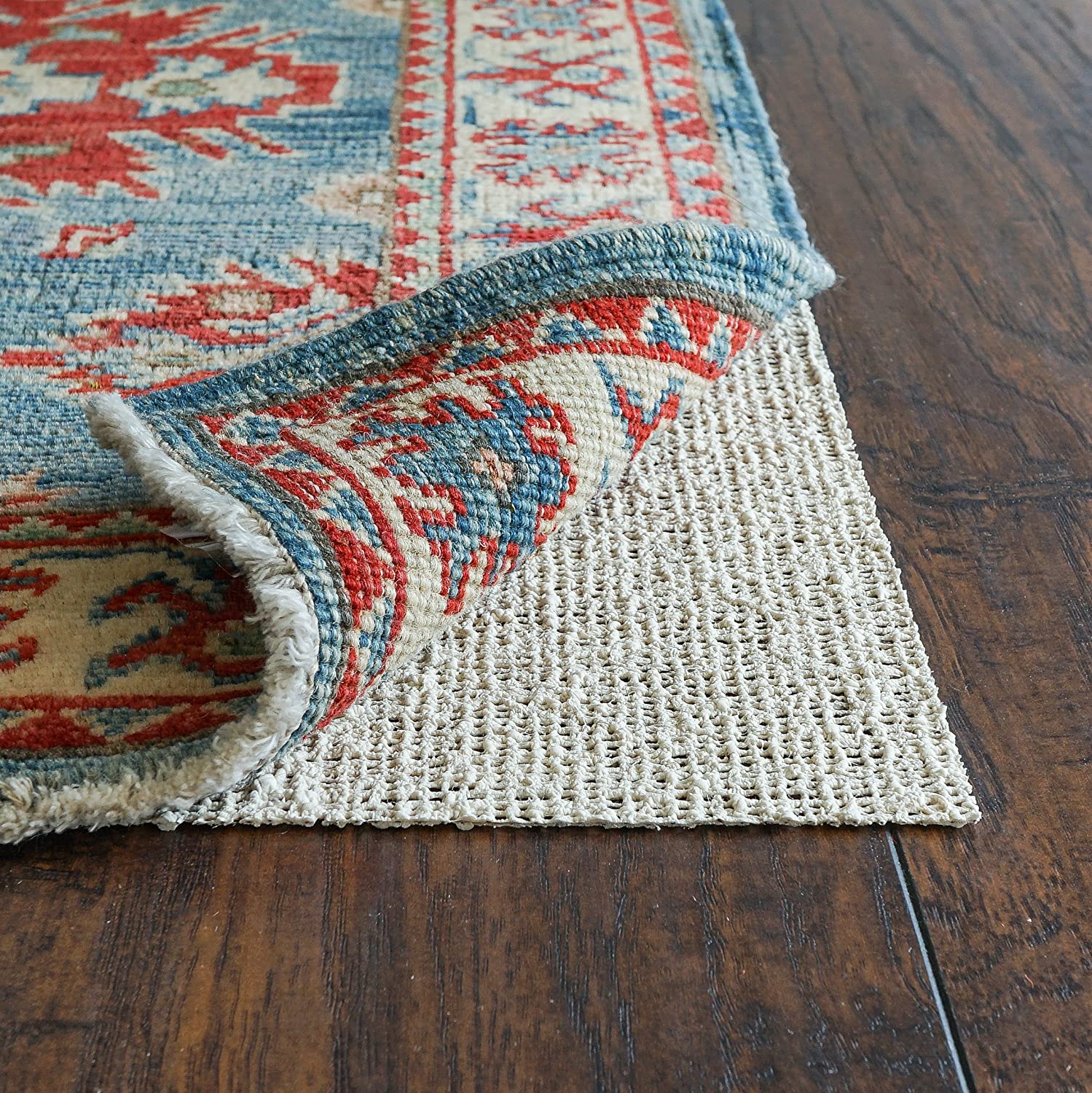 This low profile eco-friendly rug pad is great for your area rugs and runners of all sizes. It is made of hand woven organic jute fibers and has natural rubber coating to prevent slip. It does not damage the hard surface from foot traffic, heavy furniture and rug backings. As it is breathable it prevents moisture. The rubber grip is sturdy and durable and it is easy to trim according to your area rug measurement. This sustainable organic rug pad is suitable for all types of floorings. 
Ultra-Premium Thick Rug Pad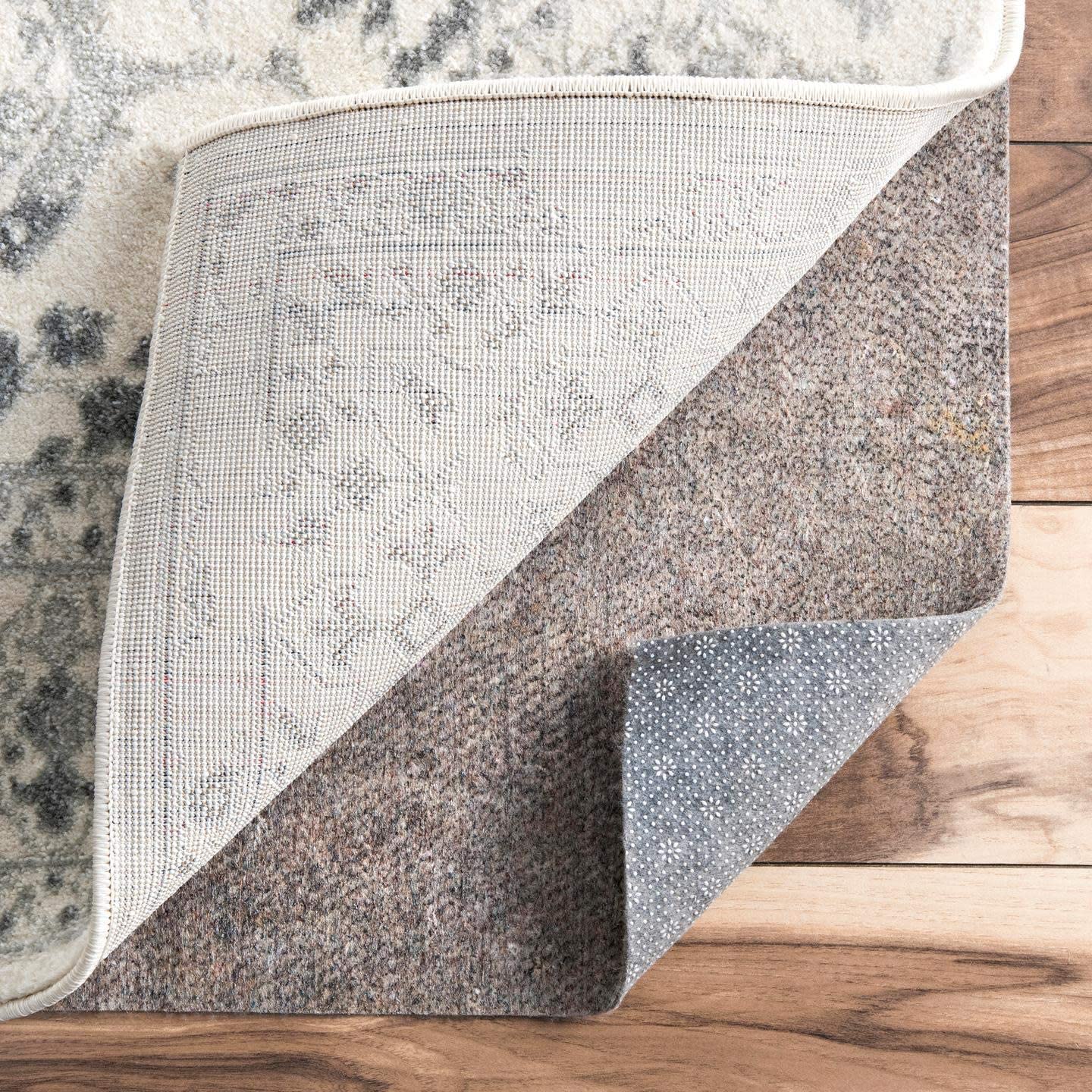 Plush thick rug pad adds comfort and  to your area rugs and keeps it secure at one place. This eco-friendly rug pad is made from recycled synthetic fibers and protect hardwood floors and tiles from friction due to foot traffic. It can be cut to your desired size by using household scissors. Rug Pads that are strong and durable prevents trips and bunching when walking or vacuuming. So this safe to use and can be greatly used for big area rugs.  
Keep your house safe and clean these non-toxic and odor free rug pads. They are not only eco-friendly, but are also very kind to floors and rugs. Selecting right rug pad for right flooring keeps your rug and floor safe and secure.  
This post contains affiliate links, which means we may receive a small commission, at no additional cost to you, if you make a purchase through these links.