The idea of traveling entices everyone but if you do not plan it well, it may not turn out to be as enjoyable as you had thought. The clothes you choose to take with you should be according to the weather and place you'll be visiting to be able to look your best in all the pictures and selfies you take in the new place without compromising on comfort.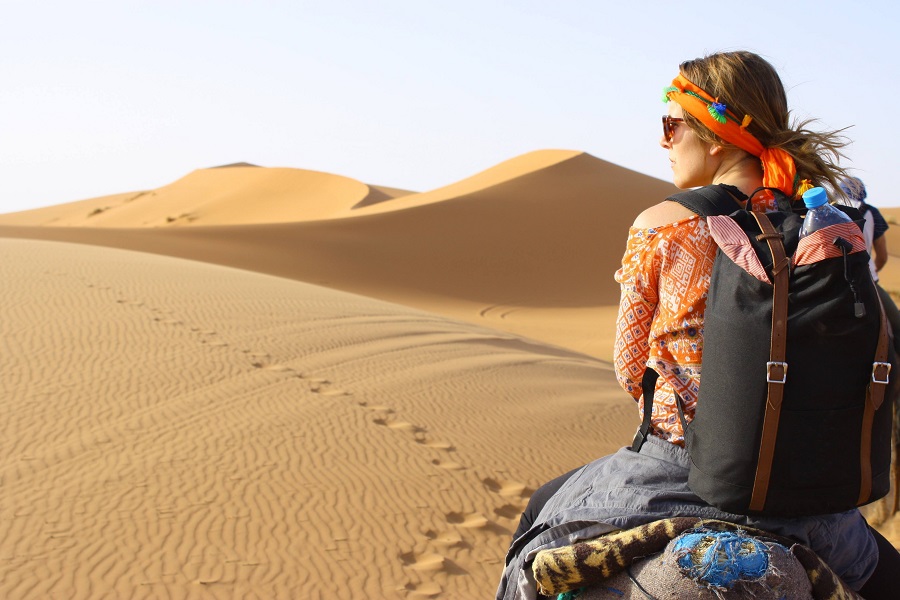 Traveling light is considered to be ideal when packing your travel luggage. However, it is a daunting task to pack just a few clothing items and still look fashionable and trendy. But if you select the right clothing items, you will manage to look your best without loading your travel suitcase with too many clothing items. Here are best travel clothes for women to pack in your bags for a fuss-free travel.
This versatile pant has lots of hidden pockets and is perfect for long stretches of travel. The fabric is crease free so no matter what you do, it remains put together. You can wear it with your favorite tops or tees. The fabric is lightweight and has quick drying ability. And in case you get any spills on it during your journey, you can easily spot clean it.
2. Athletic Denim Fitness Leggings
This denim print legging comes as a lightweight alternative to jeans. This pair is lightweight and can easily fit in your suitcase without taking up much space. The chic washed out blue hue of this legging looks great when worn with a black, white or red colored shirt or top. The fabric is soft and flexible to offer maximum comfort.
The military trench is a signature piece that creates a beautiful style statement. It features a structured collar, full sleeves and belted cuffs. It can be worn over a pair of jeans, shorts, and shirt. The dress is crafted from silky and wrinkle-free fabric and is a true travel companion and so is considered as the best travel clothes for women.
A breezy dress is another item you must carry in your travel suitcase especially if you are visiting a beach or any other warm place. This one-piece dress does not need anything else to jazz it up and looks complete on its own. You can wear it with a sheer legging or even jeans if you choose.
Kaftan Tops are one of the best travel clothes for women. These flowy tops are great for beach vacations. They are versatile and can be worn as a cover-up, as a top over jeans or over a pencil skirt to make a unique fashion statement. This top has a lovely intricate pattern to go with the beach look.
These are must-have pieces for every traveler as they make you feel comfortable and easy. You can choose a V neck shirt or a simple round neck tee and use it to create different looks with different cloth pairings. A graphic tee would be another great option to reveal your sporty side.
A lightweight jacket deserves a space in your suitcase no matter what weather it is. With this item, you will always be prepared to face any sudden changes in weather. Choose a waterproof jacket to keep you protected from sudden rains and carry it wherever you go.
Copper Compression products are made of safe and pure natural copper. It gives your protection against bacteria, fungi and other viruses. It is non-poisonous and can be worn in any temperature. It helps in developing the blood vessels and rejuvenates the skin. It is anti-odour and is completely durable and washable. It prevents fungal infections and reduces inflammation resulting in the healthier skin. Varieties of copper clothing are available such as pyjamas, briefs, long socks and toe socks.
Diana Is a working woman, Apart from her desk job, She is an Health And Fitness Blogger and is working with the leading Fitness Clothing Brand LIVE! Clothing UK, She has been very keen on building a better physique, so she always find time for her workout. Her motto is "Be better than you was yesterday and everything will be better tomorrow".

Did we miss anything, Please let us know through comments below. Let us know your needs, we would be happy to review and list it for you.
Photo by Savvas Kalimeris on Unsplash