India is a land of heritage and the nature is at its best. It is the best recommended country for cheap travel. From North to South and East to West, there are captivating mountains, blissful beaches, plain lands, desserts, breathtaking views at hill stations, buzzing cities and mouthwatering delicacies. Your trip to India will be a best cheap travel because, it offers cheap accommodations, cheap food, cheap shopping and many more. Here you cn find some of the cheap places to visit in India.
So What is Cheap Travel? The meaning of cheap travelling differ from person to person. So people travel with a purpose of sight seeing, they will not be interested in missing even one in the list. If they avoid one particular spot it keeps disturbing them. There are some other kind, who likes to taste the food from different places. I have read many travel experiences hearing that people like to stay at places and want to enjoy the local cuisine. So for them travel is about tasting. Some it is about experiencing culture.
Few of them travel to get relaxed from their busy schedule. They will not be much interested in running and checking out the rush tourist spots. And there comes the backpackers, some stay in places they feel good for a long time before they move to next comfortable location. So how does cheap travelling applicable in all these cases, I would say the one who is interested to relax can spend their money in a good resort with beautiful location. The one who is interested in tasting food can spend in that, rather than spending huge on stay/accommodation. We are of a kind that very rarely we spend in resort to be free from the busy schedule, just spend a day there and return, there will be not sight seeing.
But most of our trips are only into sight seeing, we will quickly try to cover almost everything, I have seen many travelers on my trips that they like to experience each tourist spots as well, they will slowly learn, hear about the history. They need to experience it. But we are just the opposite, seeing the spots, taking few clicks, heading to next spots. Food in between these quick trips are sometimes from street/roadside stalls. Will only have light food as well. So we don't spend much for food. Only after completing all the sight seeing and it is time to return we check for the specialty food in that place and try that. When it comes to accommodation, we prioritize safety, cleanliness and closed parking. This can be easily available all over India cheaply. Make sure to change the stay every day and book rooms through the hotel application. This will help you to gain points and discounts for the next booking. You can get a good hotel in discounted price.
If you are not travelling just to relax, you really do not have to book a hotel in advance. When you complete checking all the attraction and keep moving to different sites, at the end of the day try to stop by 5 or 6 pm that is a safety tip you have to consider while travelling. Check out the nearby stay and select a suitable one. Here you will have to research the places you are going to visit, and some likely places you are going to halt for the day. Try selecting some nearby town so you can get many lodges with cheap price and good environment.
Below are top few states to visit in India:
Kerala
God's own country, Kerala is one of the beautiful must see place in India for cheap travel. The beaches, backwaters and hill stations attracts the nature lovers. It is also known as "Spice Capital of India" for the varieties of spices grown here. A trip to Kerala cannot be said as completed in a week. The food, the culture, the language dialect everything changes every 50 to 100 km, so each one should surely visit Kerala at least once.
Travel Places in Kerala
Alleppey and Kumarakom: "Venice of the East" for beautiful house boats in the backwater. Alleppey trip cannot be completed without experiencing the houseboat stay at least for a day. Enjoy the Kerala food, Museums and temples nearby.  Do visit Ayurvedic Spa and Wellness Center.
If you are looking for a cheap resort in Kumarakom with houseboat facilities, Please check here
Munnar: Known as a hill station one cannot avoid the Munnar trip during your visit to Kerala. It is abundant in tea plantation and spices.
If you are looking for a Munnar stay or cheap hotels in Munnar Please check here
Cochin: Oldest European churches and fascinating beach.
Wayanad: The stunning hill station. Must visit wild life sanctuary, Eddakal caves and Soochipara falls.
Kovalam: To experience enchanting beach.
Thekkady: For wildlife lovers and adventurers.
Check this Resort Crown Valley, and get a stay here when you plan a visit to Thekkady. You will not have a reason to regret, beautiful location and excellent property to unwind.
Bekal: The stunning fort.
Kasargod: The coastal paradise.
Weather
Kerala has pleasant climate. Winters are delightful. Humid and warm summer and experience heavy rainfall during monsoon.
Best Time to Visit
September to March is the best time to visit Kerala.
Things to Carry
When visiting during monsoon, umbrella and raincoat are must.
Mosquito repellents are recommended during your visit to Alleppey or Kumarakom as backwater has many mosquitoes.
Carry sunscreen lotions and sunglasses when travelling beach side.
Check our Travel Gear which suits for all terrain.
Cheap Accommodations
Home stays are best for cheap travel in Kerala.
Beach huts and house boats are also budget friendly.
There are many affordable resorts which offer free WiFi, play area, pool and ayurvedic spas at low cost.
Tamil Nadu
Tamil Nadu is known as "Land of Temples". It is the heritage state with many temples. It also has stunning beaches, breathtaking views from hill stations and captivating wildlife. There are many cheap travelling places in Tamil Nadu.
The Adiyogi image was taken from a 2 day trip to Coimbatore. Just a half day is enough to cover the entire foundation if you are not into exploring more. You will not regret staying till dark, it looks beautiful at night.
Travel Places in Tamil Nadu
Chennai: The capital of Tamil Nadu, having iconic temples, churches and beaches.
Pondicherry: To explore French architecture and beautiful beaches. Must see: Aurobindo Ashram and Auroville.
Mudumalai: Beautiful landscapes of wildlife.
Hogenakkal: Stunning waterfalls.
Kanyakumari: The southernmost tip of India.
Chettinad: Foodie's paradise.
Madurai: Iconic temples with stunning architecture.
Coimbatore: Famous for its textile manufacture. Must visit: Adiyogi Shiva Statue which is 112 feet tall.
Ooty: Queen of hill stations.
Check out this beautiful resort in Ooty by Little Earth. Beautiful location and mouth watering food, just stayed here for a day. Its a back to nature experience after your bust city schedules. You will not have a WiFi facility and I say that you really do not need it.
Kodaikanal: Breathtaking hills, forests and waterfalls.
Check out this beautiful group stay in Kodaikanal at Villa Retreat-Boutique Hotel
Weather
Summers are at its peak, mild monsoon and winters are pleasant.
Best Time to Visit
As Tamil Nadu is tropical place, November to March is the ideal time to visit.
Things to Carry
During summer, carry some light cotton clothes, sunglasses and sunscreen lotions at beach side.
Umbrella or raincoat is recommended during travelling in monsoon season.
Carry your trekking gear items for trekking places in hill stations.
Cheap Accommodations
There are many home stays in Pondicherry and Madumalai starting at INR 600 per night.
Jungle camping, farm camping at places like Kodaikanal and Ooty are very reasonable. This makes your visit a cheap travel.
Karnataka
Karnataka is the historical place in India having loved by tourists for its temples, caves, lakes, waterfalls, beaches, hills and forests. You can explore many places in Karnataka like Bangalore a lively city and is one of the cheap places to visit in India.
Travel Places in Karnataka
Bangalore: The capital of Karnataka, known as "Silicon Valley of India" for its IT hub. It has many iconic heritage buildings like Vidhana Soudha and old but still existing parks like Cubbon Park and Lalbagh.
Check out this underground resort in Bangalore. Been here many times for day out.
Hampi: The city of ruins, world heritage site. Please check the Hampi post where I have shared the experience in detail.
Gokarna: Blissful beaches and captivating landscapes.
Chikamagalur: The coffee land of Karnataka. Those who love trekking, should visit this place, many budget friendly home stays available here. You need only 2 or 3 days the maximum.
Halebeedu: Iconic Hoysala architecture. Plan a weekend and you can cover everything.
Badami, Aihole and Pattadakal: To explore ancient architecture.
Mysore: The royal history.
Before leaving the historic place spend a day in this Beautiful and Budget Friendly resort in Mysore – Jal Mahal Resort and Spa
Weather
As Karnataka is located in South India, it is warm. There are mild winters, hot and humid summer and monsoon arrives early.
Best Time to Visit
October to April will be pleasant and is the best time to visit Karnataka.
Things to Carry
If you are planning to visit Karnataka in winter, carry few woolen clothes and scarfs.
If you are planning to visit in summer, get sunglasses, sunscreen lotions and umbrella to safeguard yourself from sun.
When visiting hill station, trekking gear items are suggested.
Cheap Accommodations
Hotel Mayura is the best option for accommodation for cheap travel. It is run by KSTDC (Karnataka State Tourism Development Corporation). It has many branches throughout Karnataka. It offers warm hospitality, delicious cuisine with luxurious accommodations for low budget. It can just cost you approximately INR 1100 per night.
Home stays are recommended when visiting hill stations like Coorg, Chikamagalur. You can feel at home with cheap accommodation.
Telangana
Telangana, the youngest state of India. It has iconic monuments, pilgrim places, numerous forts, temples, dams, waterfalls and much more for your cheap travel.
Travel Places in Telangana
Hyderabad: The capital of Telangana. The heritage city having iconic monuments like Charminar, Golconda Fort and Birla Mandir. You can spend a week here to explore everything. You will need a day at Ramoji FiIm City alone. Need a day at Golconda Fort, It's very hot so you will be tired enough for the rest of the day. Museums here are a must visit. Some of them will be shut down during weekend, so that has to be checked in advance. And another thing to note is that, there will be long queue in the ticket counters almost everywhere, so if you do not start early, half day will be gone standing in queue. Have been here twice. For food lovers, never return Hyderabad, without having Hyderabadi biriyani from Paradise.
Warangal: For its serenity and history, having many temples and forts.
Medak: The eye-catching fort for its architecture and wild life sanctuary.
Adilabad: Breathtaking waterfalls.
Nalgonda: Nagarjuna Sagar Dam, the highest dam in South India.
Weather
During winter, there will be sudden fall of temperature due to cold wave. Summers are moderate. During monsoon, Telangana experiences moderate to high rainfall.
Best Time to Visit
September to March is the ideal time to visit Telangana.
Things to Carry
Long sleeve shirts and pants, sweaters and scarfs are preferred during winter.
Carry lip balm and moisturizer when planning to visit during winter.
Sunglasses, hats and sunscreen lotions are recommended during your summer visit.
Waterproof foot wares are suggested during monsoon.
Check out the best travel clothes for women irrespective of location and climate
Cheap Accommodations
Hotels at Secunderabad, Nampally and Kacheguda are best for cheap travel.
There are even dormitory in Hyderabad which are of low budget.
Goa
Goa is known for its numerous beautiful beaches, Portuguese heritage and vibrant nightlife. It attracts nature lovers, trekkers and heritage lovers for its distinct sightseeing places. It is one of the best cheap travel destination in India. Goa is for beaches, for night life for bachelors, yes that's right but for me it is also about shopping. We had a week's trip to Murudeshwar, Goa and Mahabaleshwar. But I would suggest not to select a vacation season for Goa and Mahabaleshwar. If there is an another trip to Goa, I again have big list for shopping, you will get cool and colorful dresses there.
Travel Places in Goa
Stunning Beaches: Baga Beach, Calangute Beach, Colva Beach, Anjuna Beach and many more.
Forts: Aguda Fort, Chapora Fort, Cabo De Rama Fort and Reis Mogos Fort.
Churches: Se Cathedral, Bom Jesus Basilica, St. Francis of Assissi and St. Cajetan.
Party Hubs: Mambo's, Britto's and Tito's club.
Wildlife Sanctuaries: Mandovi-Zuari wildlife sanctuary, Salim Ali bird sanctuary and Cotigao wildlife sanctuary.
Market Places: Anjuna flea market, Saturday night market in Arpora and Mapusa market.
Weather
Winters are cool and comfortable. Summers are very hot and humid. Monsoon experiences moderate rainfall.
Best Time to Visit
November to February is the best time to visit and witness the best New Year celebration place in India.
Things to Carry
Swimwear or Sarongs for beaches are best.
Floaters are best recommended foot wear to walk along beaches.
Cotton clothes are preferred for this hot weather.
Sunglasses, hat, sunscreen lotions are must carry items.
Carry your trekking gear items for trekking places.
Cheap Accommodations
Beach huts and home stays are very budget friendly. They offer cheap accommodation with amenities like free Wi-Fi, complimentary breakfast and pools. This is the best option to make cheap travel.
There are even hostels for low budget.
Plan your trip in advance and visit during off season to avail cheap accommodations.
Rental bike are car facilities are available throughout Goa for low budget.
For a resort stay try Villagio Resort and Spa
For a Beach side experience Check out this budget friendly Tent – Agonda Paradise
Maharashtra
Maharashtra is blessed with Sahyadri ranges of Western Ghats on one side and Konkan Coast on the other side. It has rich history, pilgrims, forts, mesmerizing beaches, plateaus and entertaining hubs. It offers everything for cheap travel and one of the cheap places to visit in India.
Travel Places in Maharashtra
Mumbai: The capital of Maharashtra, also known as "Financial Capital of India". The cosmopolitan city has iconic old monuments, art, culture and many more scenic spots.
Mahabaleshwar, Lonavala and Matheran: Mesmerizing hill stations nestled in nature.
Meritas Countryside Resort in Lonavala is the perfect destination for peaceful and relaxed stay.
Shirdi, Pandarapur and Kolhapur: Pilgrim places.
Ashtavinak and Jyothirling: Famous divine places of old sacred temples.
Ajanta, Ellora and Elephanta: Captivating caves.
Alibaug, Malvan and Tarkarli: Less crowded beaches for water sports.
Kolad, Amboli and Durshet: Breathtaking waterfalls.
Panvel, Murud Janjira, Lohagad and Pratapgad: Old fort ruins.
Weather
Summers are very hot. Winters are extremely pleasant. Monsoon witnesses heavy rainfall.
Best Time to Visit
October to March is the great time for travelers to visit.
Things to Carry
During summer, carry light cotton clothes, sunscreen lotions and extra clothes as summers are extremely humid.
Raincoats and umbrellas are required during monsoon visit.
Trekking gadgets are must to carry for trekking places.
Cheap Accommodations
Hotels at Nasik and Ganpathipule offers accommodations at low price.
Homestays at Murud Janjira, Alibaug and Malvan are best to stay for cheap travel.
Go for beach huts near beaches.
Pilgrim places like Shirdi has cheap hostel facilities available.
Rajasthan
Rajasthan has royal heritage with old sacred temples, forts and stunning sand dunes and national parks. It has many places for heritage lover. There are many ruins of royal palaces. Rajasthan is also famous for its handicrafts.
This image of Jal Mahal was taken on our road trip to Ladakh, we stopped at various location to just see few important attractions. Jal Mahal and Hawa Mahal was one of them. I was of the impression that, they will take us inside this Jal Mahal, But it is all about just this view what you see in the photo. When we were having breakfast from a hotel just in front of this, we had a chat with the owner and he told us that, you cannot go inside, you see what you see from the road side, we were just asking where is the gate/ ticket counter to Jal Mahal.
The hotel served us Chole Bhature for breakfast and it was Awesome.
Travel Places in Rajasthan
Experience this colorful hostel for backpackers Moustache Hostel, Jaipur
Try Luxury stay at Laxmi Palace Heritage Boutique Hotel for family with beautifully decorated rooms and with a rooftop Jaipur view.
Udaipur: The land of lakes.
Jaisalmer: The blue city having many forts.
Ranthambore: To witness national park for its wildlife.
Shekhawati: Stunning architecture.
Bikaner: Remote dessert for camel safari and heritage hotels.
Weather
Winter is the peak season for tourism. The temperature will be very low and touches 0 degree Celsius. Summers are hot and humid. Monsoon are pleasant.
Best Time to Visit
November to February is the ideal time to visit Rajasthan.
Things to Carry
Carry sunglasses, sunscreen lotions and light cotton clothes during your visit in summer.
Thermal wears are preferred in winters.
Floaters are recommended in sand dunes.
Are you travelling with your kid/baby, carry these best mom gadgets.
Cheap Accommodations
Places like Jaipur, Jaisalmer and Udaipur have hotels with cheap accommodations.
Guest houses, hostels and dormitory are also good option for cheap travel.
Punjab
Punjab is known as "Land of Five Rivers". It is the fertile farming land of India with rich in its culture and simplicity. The religious diversity and scenic spots in Punjab makes the backpackers an interesting place to visit in India.
Same with Amritsar, we stopped here to visit Golden Temple, Wagah Border and Durgah. The hotel where we stayed took us to Durgah, you cannot take your vehicle, in fact only rickshaw can reach there. the hotel staff will ask you that if you need to visit or not, and they will make the arrangements and give you needed information to go there. If not I would suggest you to ask and then go. You will know once you visit. Please be careful to follow the rules and be calm whatever the situation is.
Same with Wagah border, Lot of security and crowded, be careful to stay with family. It is super hot here. The retreat ceremony starts at 5:15 PM in summer and 4:15 PM in the winter season. The total time duration of the ceremony is 45 minutes. So during this time it is very hot. Same with Golden Temple, but you have drinking water facilities inside.
Travel Places in Punjab
Golden Temple, Amritsar: The sacred pilgrim place for Sikh community. The temple's architecture and divinity attracts tourists.
Wagah Border, Amritsar: The road border between India and Pakistan. Must witness Beating Retreat (Flag Lowering) Ceremony to experience patriotic vibes.
Chandigarh: The creative Rock Garden and beautiful Zakir Hussain Garden.
Harike Wetland and Bird Sanctuary: The largest wetland in North India. It has exotic flora and fauna.
Ludhiana: The heritage place with iconic monuments.
Patiala: To witness the amazing architecture.
Bhatinda: Historic place and monuments. Must Visit: Bhatinda Fort.
Weather
Summers are extremely hot and not advisable to visit Punjab during this season. Monsoon witnesses moderate to heavy rainfall. Winters are pleasant at the beginning and reaches 0 degree Celsius at the peak of winter.
Best Time to Visit
October to March is the great time to visit Punjab.
Things to Carry
Woolen clothes and thermal wear are must when travelling during winter season.
Carry head covering cloth to visit Golden Temple. According to Sikh religion, head should be covered for both men and women while entering Gurudwar.
Visit during summer is not advisable due to its extreme hot temperature. If travelling in summer, then caps, sunscreen lotions are must. Always stay hydrated.
Organize your bag smartly with these kits.. Travel Bag for her
Cheap Accommodations
Every district in Punjab has cheap guest houses to help you to cheap travel.
There are many affordable hotels in Punjab which offers free WiFi, free valet parking and even free babysitting.
Jammu and Kashmir
Jammu and Kashmir is known as "The Paradise on Earth" for its enthralling beauty of nature, snowy mountains, blue lakes, splendid glaciers, trekking places and pilgrim places. It is one of the cheap places to visit in India compared to other snowy destinations.
Travel Places in Jammu and Kashmir
Srinagar: The stunning beauty of nature. Must do: Shikara ride on Dal Lake.
Leh/Ladak: Spiritual town having Buddhist culture with many monasteries. It is the adventurous place for bikers.
Gulmarg & Sonmarg: Paradise for snow sports activities like skiing, trekking, snowboarding and many more.
Check out the essential items to be taken while travelling to mountains.
Sonmarg: The meadow of gold, for its breathtaking view of vibrant flowers on the mountains.
Vaishno Devi and Amarnath: Sacred pilgrim places of Hindus.
Kargil: The historical place for the war in 1999. A must visit place in Jammu and Kashmir. Kargil War Memorial and many monasteries are worth visiting. Prime attraction of Kashmir for trekkers.
Panitop: Paradise for adventurous activities like paragliding, rock climbing and trekking.
Pangong Tso Lake: World's highest salt water blue lake surrounded by captivating mountains.
Weather
Summers are warm, monsoon receives average rainfall and winters receive heavy snowfall.
Best Time to Visit
October to March is the best time for travelers to visit Jammu and Kashmir.
Things to Carry
During your visit in winter season, you must carry heavy woolen clothes, sweaters, thermal wears, over coats, socks, hand gloves, muffler and warm cap.
Snow boots are recommended for snow sport activities.
Carry waterproof bag to keep all your important documents and gadgets like money, passport, and camera to save them from getting wet due to snow.
Carry ample cash as transaction in many places are cash only.
Must carry a basic medical kit.
Cold cream, moisturizers are preferred to carry.
Trekking gear items are recommended for trekking places.
Are you trek travelling with your kids, consider carrying these items..
Cheap Accommodations
Home-stays and guest houses are recommended to stay for your cheap travel.
You can even opt for camps in many places of Jammu and Kashmir.
For a camp stay near Pangong Tso Lake try, TIH Pangong Lake View Cottages and Camps
Are you planning to camp in any of these location, carry essential gadgets.
House boats offers budget friendly accommodations.
Book your stay in advance in order to avail cheap travel.
Uttar Pradesh
Uttar Pradesh is the land of cultural heritage. It is famous for its architectural monuments, history and rich culture. It is the spiritual place having many old temples, birth place of Lord Rama and Lord Krishna. There are many places which offer cheap travel in Uttar Pradesh. It is must visit budget travel destination in India to explore the rich culture.
Best Cheap Travel Places in Uttar Pradesh
Agra: Tajmahal, one of the Seven Wonders of the World which is well known for its beautiful architecture located on the banks of river Yamuna. Fatehpur Sikri is the UNESCO world heritage site famous for its historical fort of Mughal architecture.
Varanasi: It is known as Banaras or Kashi, the sacred place having many old temples is located on the banks of river Ganga. Must See: Vishwanath Temple and Ganga Aarthi (worshipping the River Ganga) performed at the river Ganga at night.
Mathura: Birth place of Lord Krishna has many scared temples and ruins of Buddhist monasteries.
Vrindavan: Place where Lord Krishna is worshipped. Heritage town having numerous old temples.
Lucknow: The capital of Uttar Pradesh, known as City of Nawabs.
Allahabad: Joining place of Rivers Ganga, Yamuna and Saraswathi, known for its Kumbh Mela, largest religious gatherings once in 12 years.
Sarnath: Sacred place for Buddhists having numerous monasteries and stupas.
Ayodhya: Birth place of Lord Rama. It is the paradise for spirituality.
Weather
Summers are very hot and humid, monsoon receives moderate rainfall and winters are very cold accompanied by dense fog.
Best Time to Visit
October to March is the best time to visit as it is pleasant.
Things to Carry
Light cotton clothes are preferred during your summer visit.
During summer, sunglasses and sunscreen lotions are must to prevent sun burns.
Carry many tissues as this place is humid during summer.
Heavy winter clothing is preferred during your winter visit.
Cheap Accommodations
There are many home stays in Uttar Pradesh which offers budget rooms.
Many ashrams in Varanasi and Ayodhya provide free dormitory to stay.
If you are looking for a cheap travel destination, India is one of the best country to explore. and here are some of the cheap places to visit in India. From Mountains to Valleys, from dessert to sea, finger licking food and cheap accommodation with fantastic views, you have got everything here cheaply if you got a little time to dig the information in advance. Here is your best guide for cheap travel destinations in India, it is impossible to include everything but this is a best try.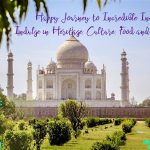 India Free Travel Greeting Card
Download Free Happy Journey Greeting Card, and greet your loved ones with the beautiful location travel e-card. Let them know that you care for them.
Click Here To Download India Happy Journey Greeting Card
Need more location, check here.