In the last two years, our world has undergone a massive shift in lifestyle. We switched from 9 to 5 office jobs to remote work, and from in-person gatherings to socially distanced ones, and almost every area of our lives has been altered due to the pandemic. Here comes the importance of eco friendly ideas for home or ecofriendly lifestyle for you to follow.
However, it is our relationships with our private lives and homes that have changed the most. Since 2020, as more people spend time indoors, we have looked at our private sanctuaries with another perception. This coupled with the current climatic crisis, people have begun to redesign keeping in mind eco-friendly ideas for home.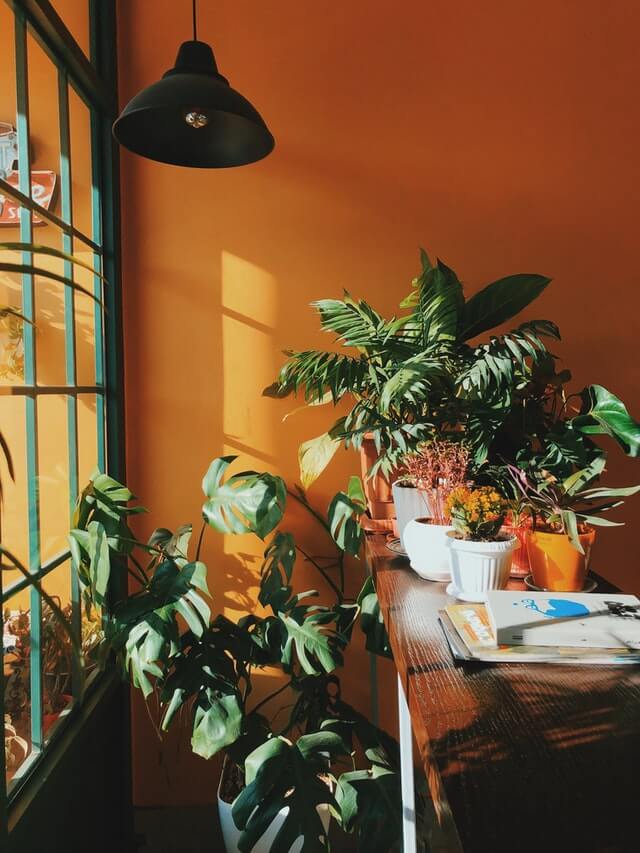 Eco-friendly design experts have illustrated the importance of outdoor green spaces in cities and neighborhoods. We have seen a rise in people maintaining rooftop gardens and growing their produce in the last five years. Similarly, indoor plants have become a staple in home decor.
There seems to be no shortage of advice on plant parenting on the internet.  It doesn't matter what kind of plant you get, if it's a fern, a cactus, or a gorgeous monstera it is sure to breathe a new life in the atmosphere and are one of the best eco-friendly ideas for home decor. As you can see in the picture above, Bahzad Ghaffarian in his photograph has used different shades of green with the planters, which refreshes the space and adds beautiful contrast against the orange tones of the wall.
When buying furniture, go for preloved items. There is a certain charm to furniture pieces passed down through different families and their attached histories. Not only this but investing in preloved pieces is a good step towards eco-friendly home décor as it will reduce the overall impact on deforestation.
You can find tons of beautiful items suited to your aesthetic and home's color palette on places such as Facebook Marketplace or regular garage sales. Thus it can contribute to an environmentally friendly lifestyle.
Changing the look and feel of your space sometimes feels necessary for a new chapter or fresh start in your life. If you're in the mood for this but can't find furniture pieces suited to your style in the preloved market, you can always DIY!
There are a number of tutorials on YouTube and Pinterest focused on upcycled furniture. Using materials such as chalk paint to accomplish that is an easy way to get the finished look. Not only will upcycling be a fun project for you to undertake, and help you create unique designs of your liking, but it's also a key eco-friendly initiative.
Country Chic Paint is a completely unique chalk-style paint formula that was created by Rosanne + Jan Korteland to make furniture painting easier and more fun.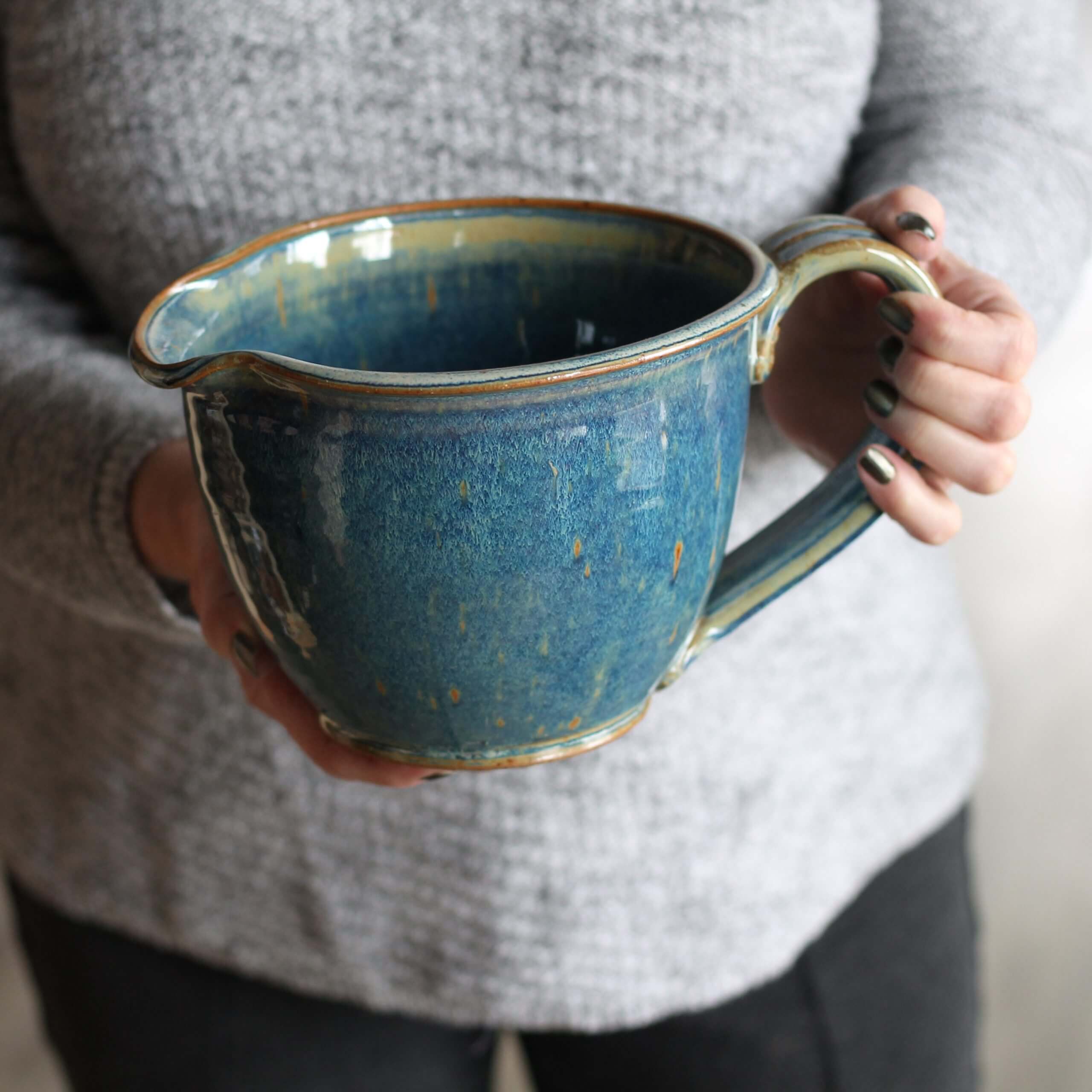 The beautiful picture above shows a hand mixing ceramic bowl from JK Creative Wood. Pottery from small businesses will not only add charm to your everyday meals. It will also be an eco-friendly idea for home, since you won't be buying any plastic-based products.
Whether it is a rustic painting gracing your lounge or a handmade ceramic mug from a small business to have your morning coffee in, these elements will aid in your sustainable lifestyle.
If you love this product from this image, you can get it from here.
Enhance Natural Lighting!
Natural lighting always makes a space feel more open, airy, and bright and is one of the greatest eco-friendly ideas for home. Make sure the windows are not blocked in your home. Use a light fabric curtain and keep the window trimmings white.
Another thing you can do is place mirrors close to the windows or a direct light source so that light reaches the darker areas of the room. These tips will make your home feel welcoming. It will also reduce your overall carbon footprint, as you won't need to use artificial lighting during the day.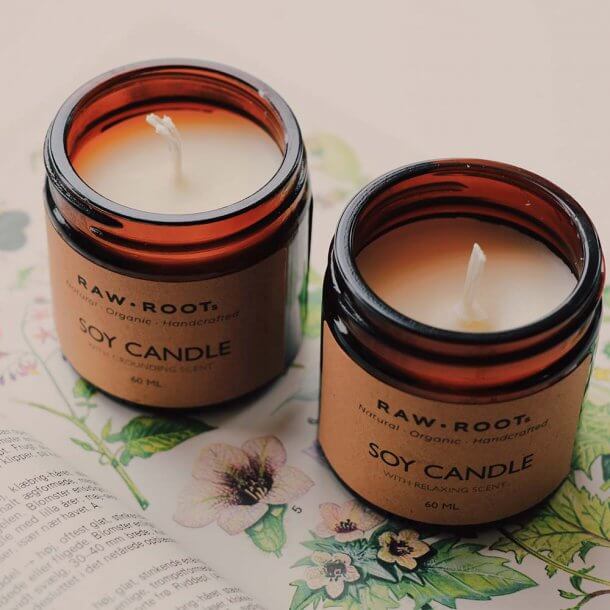 A home isn't just the look but also the feel of the atmosphere. For instance, if a place smells good, we automatically feel relaxed in it, and scented candles are just the way to do that.
However, it is best to go for beeswax or soy-based candles as opposed to paraffin ones. As shown in the picture above, you can find any scent of your liking in soy-based candles from places like Raw Roots, which specialize in organic items. Whether your scent of choice is fresh lavender, citrus burst, or coffee, investing in soy or beeswax candles. These delightful yet organic scents will make your space feel amazing in addition to being eco-friendly for your home environment.
You can buy the above product from here.
In conclusion, it has never been easier to live comfortably while also making sure that you aren't causing any harm to nature, till now. These eco-friendly ideas for home décor will hopefully enhance your home environment. And it help in your journey for living a sustainable lifestyle!
This post contains affiliate links, which means we may receive a small commission, at no additional cost to you, if you make a purchase through these links.