Your workroom, living room, or bedroom should be curated in a way that induces productivity inside you. Aesthetics have benefits far beyond just being eye candy; beauty is said to bring a change in your health for the better and it also induces positivity. Here are some aesthetic room ideas for you so that you can make the most of your space.
Utilize these and you will for sure witness a remarkable change in your mood and productivity!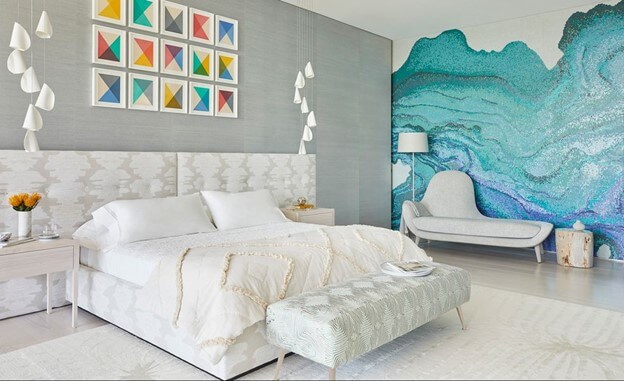 The easiest thing you can do to convert your room into an absolute artistic space is to change the theme and color of the place. If your room was previously painted in darker or richer colors then try changing them for a brighter option, perhaps even introduce some pastel colors. Pick the color that you felt a recent connection to and will incite a positive response from you.
Stick to the pattern of two or three colors. This makes the room look more put together and gives a cohesive feel instead of a messy one that can grate on the senses. The cheery artwork by Daun Curry in the photo above is a perfect example of this. The neutral and subtle color palette of the room allows you to add pops of color throughout the rest of the room.
Shop minimalist design decor that gives you the best aesthetic look and feel.
One of the best aesthetic room ideas is to get rid of all the unwanted stuff lying around your room. This includes cleaning out your closet and drawers and donating all the stuff you don't plan to keep.
The best thing you can gift your room is the gift of organization. Even if you skip cleaning for one reason or another, keeping it organized will do the trick since this is one of the most crucial aesthetic room ideas.
Add Fairy Lights and Candles!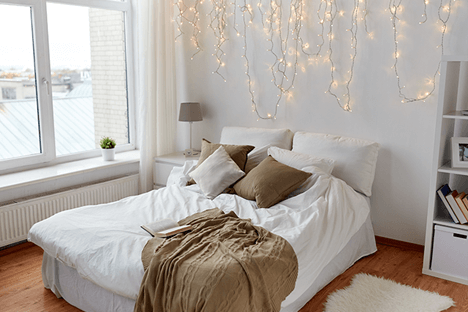 Adding
fairy lights
to your room in the appropriate places will show you the true power they hold! If you want to add oomph to your room, choosing strings of tiny lights is the right way to go. This is a simple and cheap
aesthetic room idea
and is perfect for when you want to change the mood of your space and take a break from hash LED lights.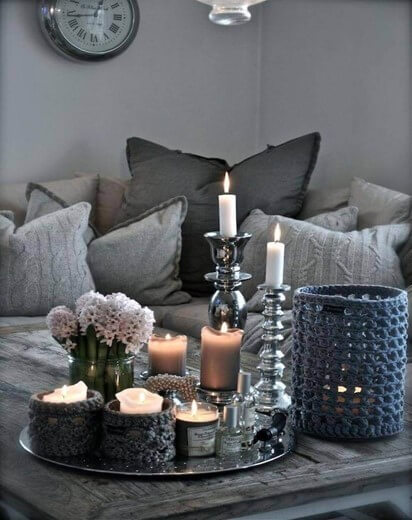 Aesthetics are not just confined to sight, but also include touch and smell. Scented candles will bookend your room's makeover and bring them to the aesthetically pleasing side. There are so many kinds of scented candles so choose a fragrance that works best for you, your mood, and your personality!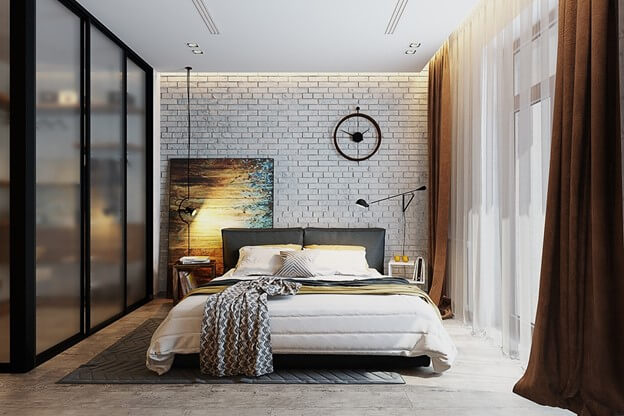 This aesthetic room ideas blog is all about minimalism and simplicity. Always remember that while aesthetics are important, the most important thing is comfort, so choose bedding that brings you comfort.
Adding brick walls adds a classic style to a bedroom. Paint the wall a lighter color to keep its texture intact. The elegant design below is visualized by Elena Zhulikova.  She cleverly changed the vibe of the room so it gives off a cozy and chic feel all the while the bedding is simple, yet elegant. A minimalistic wall clock also adds character to the room.
What are you waiting for? Follow this guide, diffuse your favorite scents, bring in a plant or two, get your feet up, and create a safe space for yourself!
This post contains affiliate links, which means we may receive a small commission, at no additional cost to you, if you make a purchase through these links.