Renovating the existing interior of your home, especially the bedroom is a favorite hobby for most of us, as making constant changes keeps the room alive. In this modern era, numerous trends are born, but it is seen that with most of these trends, modern man has become more disconnected from nature. However, to solve this, the idea of biophilic interior emerged and has become incredibly popular in recent times.
The interesting news is that the condos are NYC Luxury Tower is incorporating biophilia by introducing self-irrigating gardens in their residential buildings as seen in the picture below. They want to bring the outside in through the biophilic principles. This shows how the trend is becoming increasingly acceptable and beneficial in the long run.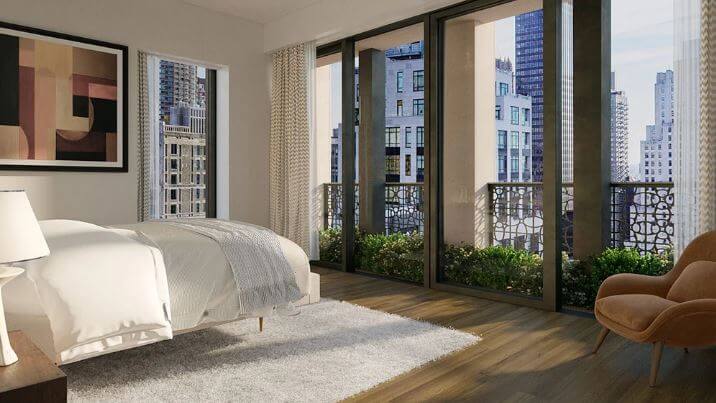 This article will help you to build the lost relationship between man and nature by creating a biophilic bedroom. When considering decorating the bedroom, a lot of things need to be considered, including the budget. So, let's look at ways to create a biophilic bedroom while going easy on our pockets!
A bed is the essence of the room. The perfect way to bring in a biophilic element is to switch to a wooden platform for your bed. These can be easily accessible from stores or even online shops at a reasonable price. You can easily get your hands on a bed platform made from relatively cheaper wood; not only will that be a nice place for your mattress but will also prove to be stylish for the room's entire look.
These wooden bed platforms with queen sheets can be supported by a wooden side table, giving you an absolute biophilic bedroom. To add on, you can place a miniature artificial pot on the side table and even a tall potted plant in the corner of the room. Potted plants are the easiest way to incorporate biophilia and, of course, not costly!
The bedsheet covers for the bed are another accessory for the biophilic bedroom. Use the patterned sheets that represent nature; for example, flowers, birds, water, twigs, etc. Or use solid colors like green, blue, red, and purple that will brighten up your room while giving nature's effect.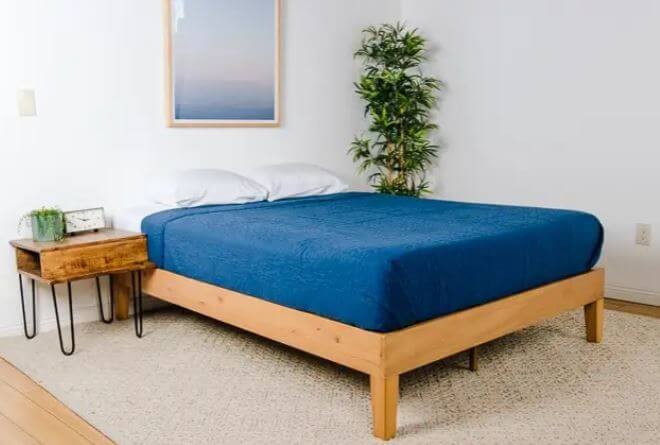 Another easiest and cheapest way is to pick up a bucket of green paint and color your walls. Painting your room in a single or maybe two colors is not difficult or time-consuming. So, you can color your room with any shade of green, and you are good to go. It will look appealing and complement the features mentioned above. It will make your room a happier place!
To make it look more attractive, put up a frame of any picture depicting nature. Making a frame will not cost you a lot. Test your photography skills and develop any photo you took from the phone, of your garden outside and add to your wall! Isn't it simple and exciting to do?
Wallpapers also don't cost big bucks. If you like to include something different, go with patterned or textured wallpapers. They will improve the overall impression of your biophilic bedroom.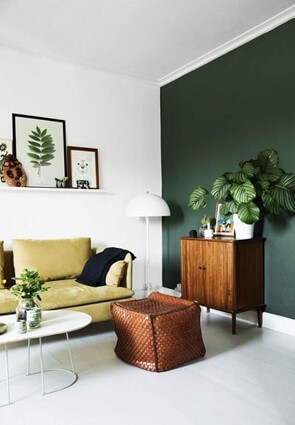 One of the long-term and economical things to add to your biophilic bedroom is the use of music and scents. Stimulating all your senses is an essential feature of biophilia. So, playing calming music and tones is vital and will help you enjoy your bedroom time. You may use the sound of the birds chirping in the morning time and the sounds of running water around bedtime to make you feel comfortable and at peace.
Scented candles are an inexpensive indirect element of nature that will provide a soothing fragrance that will make you feel better and closer to nature. They are readily available online. A number of flavors are on the market and you can easily find your favorite smell. To make it even more affordable, you can make one yourself. Several tutorials are available on YouTube to help you create the fragrance you desire.
Creating a budget-friendly biophilic bedroom is not difficult. Just simulate the natural environment and incorporate the indirect or direct elements of nature and you will boost up the ambiance of your bedroom in no time and with little effort!
This post contains affiliate links, which means we may receive a small commission, at no additional cost to you, if you make a purchase through these links.