Nestled in the heart of Switzerland's stunning Bernese Oberland region, Interlaken is a haven for nature enthusiasts and adventure seekers. Known for its breathtaking landscapes, picturesque lakes, and a myriad of outdoor activities, this charming town is a must-visit destination. If you're short on time and planning a day trip to Interlaken, this guide will help you make the most of your visit while staying on a budget and being eco-conscious.
Switzerland's picturesque landscapes and charming towns have long been a magnet for travelers seeking natural beauty and outdoor adventure.
Getting There – Planning Your Day Trip
Before you embark on your adventure, it's essential to plan your journey efficiently. Interlaken is well-connected by train to major Swiss cities like Zurich, Bern, and Lucerne. If you're arriving from Zurich, the journey takes roughly two hours, making it feasible for a day trip. Check the train schedules and ticket options in advance to maximize your time in Interlaken.
Start your day early to maximize your time in Interlaken. The town is easily accessible from major Swiss cities like Zurich and Bern, thanks to efficient train services. If you're traveling from Zurich, you can reach Interlaken in just over two hours.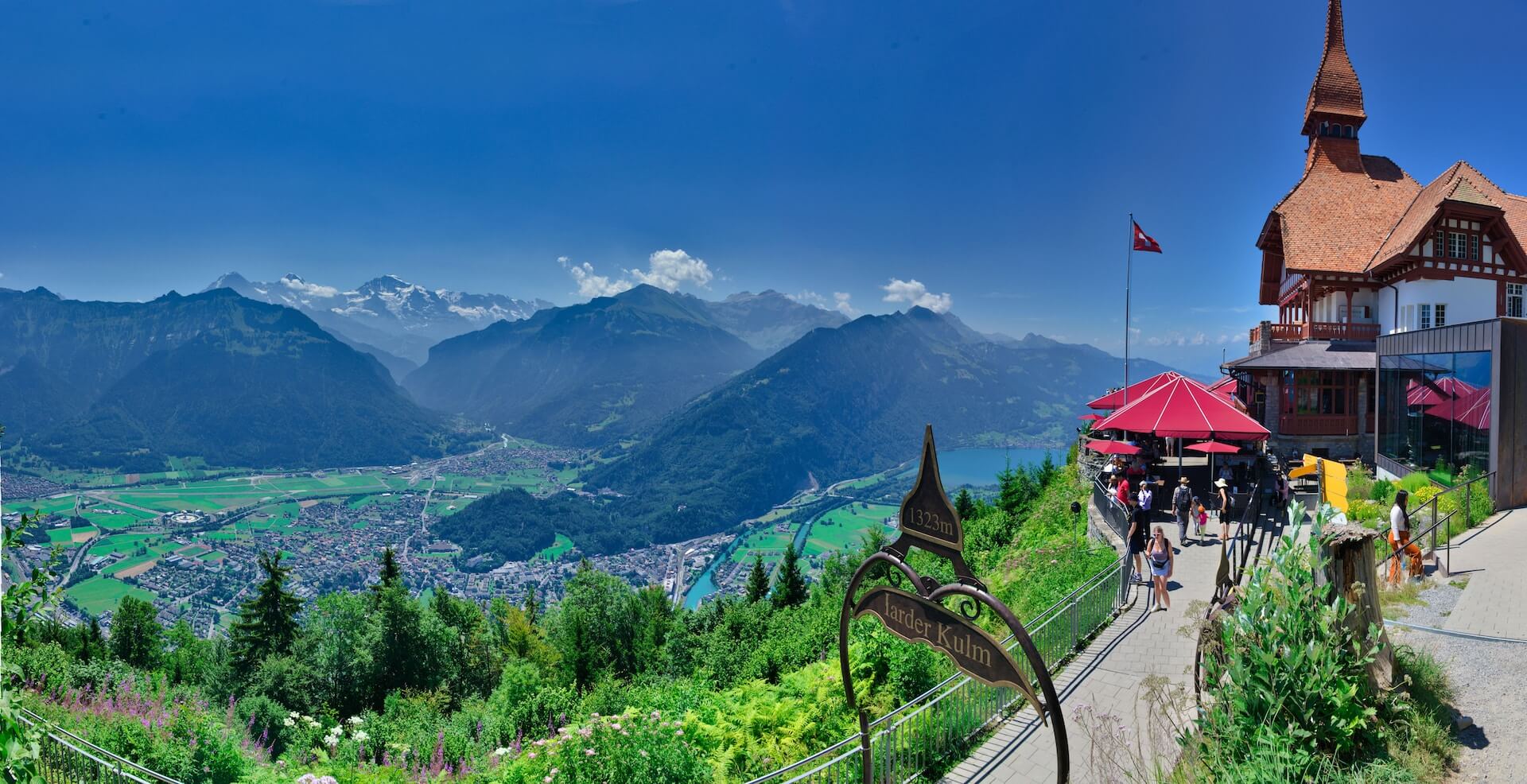 @Harder Kulm, Interlaken, Switzerland
Morning: Explore the Highs of Jungfraujoch
Start your day early to make the most of your Interlaken day trip. One of the must-visit destinations in the region is Jungfraujoch, often referred to as the "Top of Europe."
Begin your adventure with a visit to the "Top of Europe." Take a train to Kleine Scheidegg and then transfer to the Jungfrau Railway, which will transport you to Jungfraujoch. This high-altitude wonderland offers stunning views of glaciers, ice caves, and the surrounding peaks. Don't forget to take the elevator to the Sphinx Observatory for a panoramic view.
Here's how to make the most of your morning:
– Take a train to Lauterbrunnen, known for its stunning waterfalls, and from there, transfer to the cogwheel train that ascends to Kleine Scheidegg.
– At Kleine Scheidegg, board the Jungfrau Railway, which will carry you up to Jungfraujoch. The train journey itself offers breathtaking views of the surrounding mountains.
– Once you arrive at Jungfraujoch, explore the Ice Palace, Sphinx Observatory, and take in the awe-inspiring vistas of the Aletsch Glacier, the largest glacier in the Alps.
Afternoon: Lakes and Leisure – Lake Thun and Lake Brienz
After descending from Jungfraujoch, it's time to savor the serene beauty of Interlaken's lakes and enjoy a leisurely afternoon:
– Head to Lake Thun and Lake Brienz, both easily accessible from Interlaken by train or boat. These lakes are surrounded by picturesque villages and offer opportunities for relaxation and water-based activities.
– Consider renting a paddleboat or kayak to explore the crystal-clear waters up close. Alternatively, take a lakeside stroll and admire the stunning mountain backdrop.
– Hohematte Park: This sprawling park in the town center is perfect for a leisurely stroll or a picnic. Admire the vibrant flowers, and if you're visiting in summer, you might even catch a paragliding show as adventurers land nearby.
For a taste of Swiss craftsmanship, head to Höheweg Street. You'll find an array of boutiques selling everything from Swiss watches to chocolates. Souvenir shops line the street, offering unique mementos to take home. Don't forget to pick up some Swiss cheese or a traditional cowbell.
Here's what to look for:
– Swiss Watches: Switzerland is famous for its precision timepieces, and Interlaken offers plenty of opportunities to shop for Swiss watches.
– Unique Souvenirs: Browse the souvenir shops for traditional Swiss cowbells, handcrafted items, and other mementos to remember your day in Interlaken.
Must-Try Swiss Delicacies
Exploring Interlaken wouldn't be complete without savoring some Swiss delicacies. Try these local delights:
Fondue: Head to a local restaurant and indulge in a traditional cheese fondue. It's a creamy, gooey delight best enjoyed with crusty bread.
Rösti: Often considered Switzerland's answer to hash browns, Rösti is a Swiss potato dish that's crispy on the outside and tender on the inside. Pair it with sausage or vegetables for a hearty meal.
Swiss Chocolate: Switzerland is renowned for its chocolate, and you can't leave without trying some. Visit a chocolate shop and sample their handmade pralines and truffles.
Interlaken is known for its commitment to sustainability. To make your day trip eco-friendly:
Use Public Transportation: Switzerland's public transportation system is highly efficient and eco-friendly. Opt for trains or buses to get around.
Carry a Reusable Water Bottle: The tap water in Switzerland is safe to drink, so bring a reusable water bottle to reduce plastic waste.
Respect Nature: When exploring the outdoors, follow the "Leave No Trace" principles. Dispose of your trash properly and stay on marked trails.
Traveling on a budget in Switzerland can be challenging, but with some savvy choices, you can enjoy Interlaken without breaking the bank:
Lunch Picnic: Instead of dining at a restaurant, pack a picnic lunch with local cheese, bread, and fruits from a grocery store. Enjoy your meal at a scenic spot by the lakes.
Discount Cards: Consider purchasing a Swiss Travel Pass, which offers unlimited travel on Switzerland's public transportation network and free or discounted entry to many attractions.
Free Activities: Take advantage of the stunning natural beauty around Interlaken by hiking, swimming, or simply enjoying the outdoors, which won't cost you a dime.
Local Transport Pass: If you plan to use local transportation extensively, buy a local transport pass, which can save you money on bus and train fares within Interlaken.
Interlaken offers a wealth of experiences for day-trippers, from stunning mountain vistas to mouthwatering Swiss cuisine. Interlaken's natural beauty, outdoor adventures, and Swiss charm are within your reach, even if you have just a day to spare. By planning your visit wisely and embracing eco-friendly and budget-conscious choices, you can create lasting memories without straining your wallet or the environment. So, embark on your day trip to Interlaken and immerse yourself in the Swiss wonderland waiting to be explored.
Please leave a comment below, if you enjoyed or find the information helpful. 
This post contains affiliate links, which means we may receive a small commission, at no additional cost to you, if you make a purchase through these links.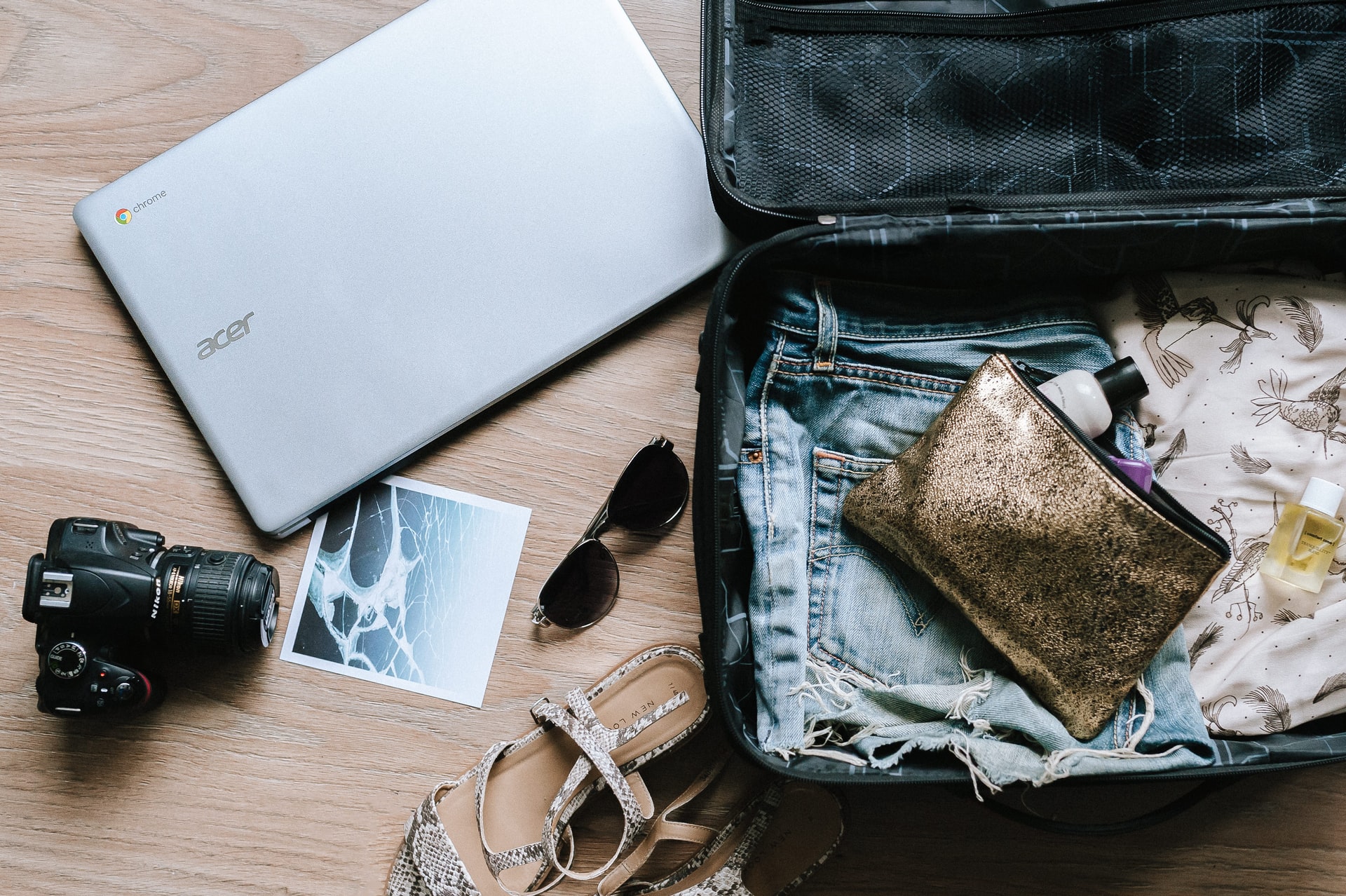 Get these travel gadgets and accessories according to your needs, and select the gear items suitable for the location you visit.