Nestled along the northwestern coast of France, Mont Saint-Michel is a fairy-tale destination that captivates visitors with its breathtaking beauty and rich history. Often referred to as the "Marvel of the Western World," this UNESCO World Heritage site is an architectural marvel and a must-visit for travellers exploring France. In this article, we'll guide you on a day trip to Mont Saint-Michel, offering tips and insights to ensure you make the most of your visit.
Getting There at Mont Saint-Michel, France
Starting Point:
Most day trips to Mont Saint-Michel begin from Paris, which is approximately a 3.5 to 4-hour drive away. You can also take a train from Paris to Rennes and then a bus to Mont Saint-Michel.
Tour Options:
Consider joining a guided tour from Paris, which includes transportation, a knowledgeable guide, and sometimes skip-the-line access to the abbey. Alternatively, you can rent a car or take public transportation.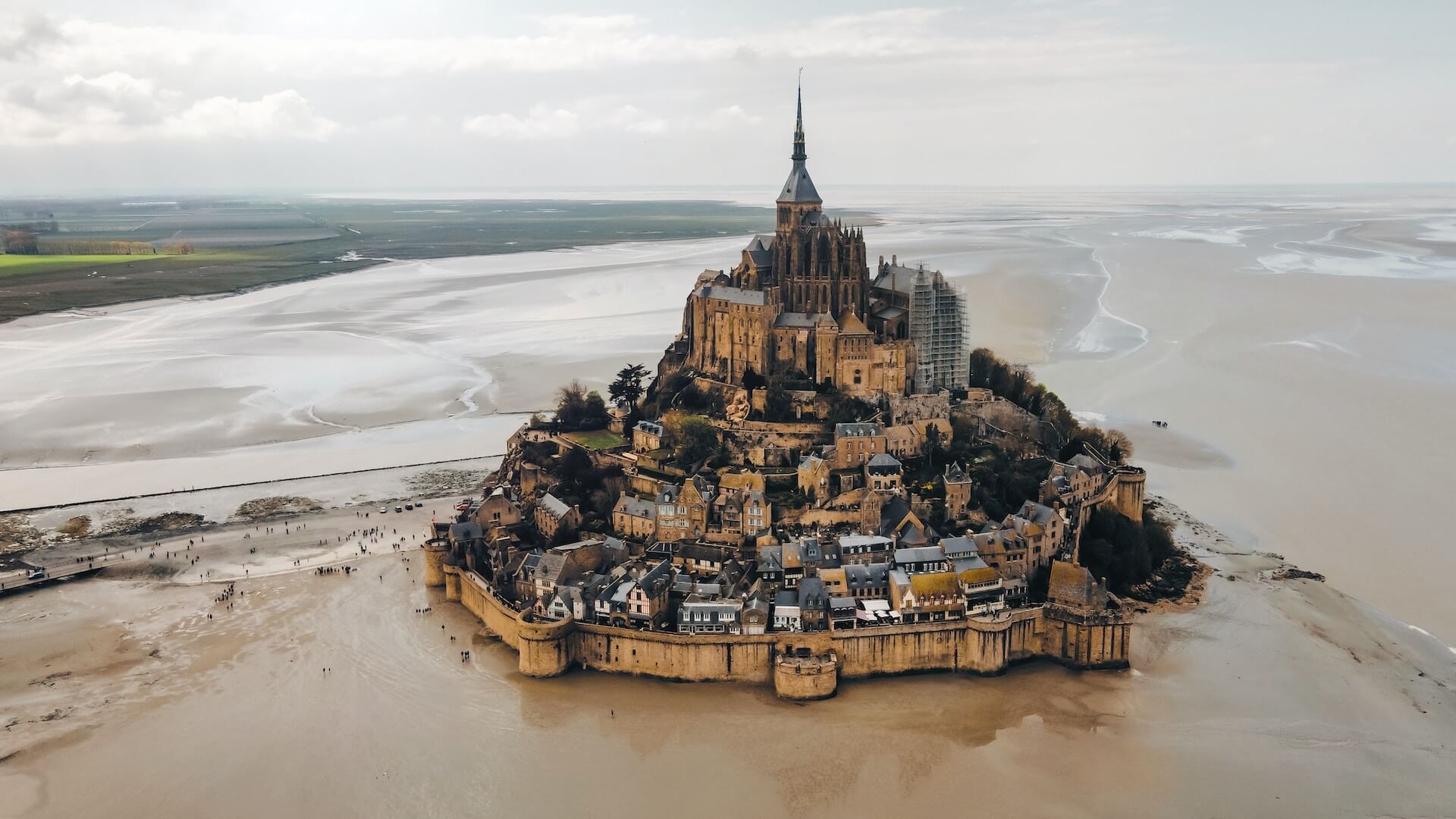 The Itinerary to Mont Saint-Michel, France
Early Departure:
Start your day early to maximize your time at Mont Saint-Michel. Leave Paris in the early morning to ensure you arrive at the island around mid-morning.
Parking and Shuttle:
If you're driving, park your car in the designated parking area on the mainland. From there, take a shuttle bus that will drop you off at the entrance to Mont Saint-Michel.
Abbey Visit:
Begin your exploration of Mont Saint-Michel by visiting the awe-inspiring abbey. Admire its Gothic architecture, medieval halls, and stunning views of the surrounding bay.
Village Stroll:
After the abbey visit, explore the charming medieval village that surrounds the abbey. Meander through narrow cobblestone streets, browse boutiques, and savor local cuisine at one of the quaint restaurants.
Lunch:
Enjoy a delicious meal featuring regional specialties such as omelets, seafood, and buttery pastries at one of the island's restaurants. The view from many of these establishments is simply stunning.
Museum and Exhibitions:
Take some time to visit the various museums and exhibitions on the island. The Maritime Museum and Historical Museum offer insights into Mont Saint-Michel's history and maritime heritage.
Bay Walk:
If you have the time and energy, consider taking a guided walk in the bay during low tide. It's a unique opportunity to learn about the bay's ecology and experience Mont Saint-Michel from a different perspective.
Souvenir Shopping:
Before leaving the island, pick up some souvenirs such as locally made crafts, postcards, or traditional Normandy sweets.
Sunset:
If your schedule allows, stay on the island to witness the breathtaking sunset over Mont Saint-Michel. It's a magical experience as the lights on the island come to life.
Return to Paris:
Finally, make your way back to the mainland via the shuttle bus. If you're traveling by public transportation, catch the bus back to Rennes and then take a train back to Paris.
Tips for a Successful Trip
Weather and Tides: Check the weather forecast and tidal schedule before your visit, as the landscape and access to the island can vary significantly with the tides.
Comfortable Shoes: Wear comfortable walking shoes as you'll be exploring the abbey and navigating uneven terrain.
Respect the Environment: Be mindful of the fragile ecosystem of the bay and follow any guidance provided by tour guides regarding bay walks.
Crowds: Mont Saint-Michel can get crowded, especially during peak tourist seasons. Plan your visit accordingly and consider visiting on weekdays for a quieter experience.
A day trip to Mont Saint-Michel is an enchanting journey into a world of history, architecture, and natural beauty. This picturesque island offers a glimpse into medieval France and provides an unforgettable experience that will leave you with lasting memories and a sense of awe. Whether you're a history enthusiast, a nature lover, or simply seeking a romantic escape, Mont Saint-Michel is a destination that will capture your heart and imagination.
Please leave a comment below, if you enjoyed or find the information helpful. 
This post contains affiliate links, which means we may receive a small commission, at no additional cost to you, if you make a purchase through these links.