Have you ever come across a situation where you needed to convert a Visio page to png? It is okay use the save as type if you have less number of pages to convert.
Suppose you are creating hundreds of images using Visio- for example, drawing the non verbal reasoning training material or similar to it, it is difficult to perform the conversion. Method 3 shows an easy way to achieve it.
Here are the methods.
Method 1 : Go to File–> Save As–> Select the Location–> In the dialog box, Select Save as Tpe = Portable Network Graphics


This is ideal when you have less number of pages
Method 2 : Copy the drawing and paste it in paint, snagit or other tools and save as PNG.
This is ideal when you have less number of pages
Method 3 : Here is a method we can do if we have hundreds of images to be converted.
Suppose I need to create images with file names – Rotation001, Rotation002, Rotation003,….I will create a visio file with file name "Rotation". Then create pages 001, 002, 003, etc…
Now you can use the below script (Zip) that I attached.
Drag your Visio file on to the VB Script file

Click Open to continue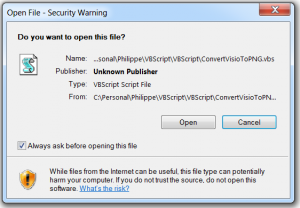 That's it. You will get the images that you needed!!
Open the VB Script and change the image dimension as you want…mine is 650 X 150 px now.
Hope it helped you…Let me know if you have any queries..