From its Atlantic Mountains to the shores, Morocco is a beautiful country with varied landscapes. One of its most famous destinations is the Morocco desert, which is one part of the vast Sahara Desert in the North African Region. While most of the Saharan landscape consists of rocky stone plateaus, the Moroccan desert ditches the rocks for glorious dunes that shimmer and change colors from gleaming orange to blush pink under the sun as this picture from Shiny Days shows.
Therefore, the Morocco Sahara Desert is the perfect destination where travelers come from far and wide to experience Morocco desert camping and to ride Morocco camel into the sunset.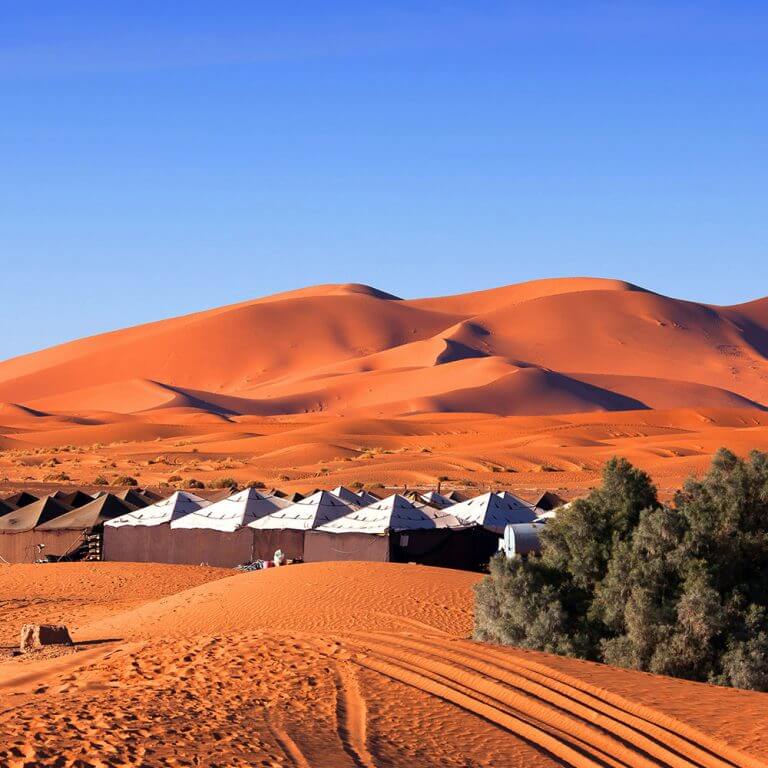 Sustainability in Travel
Morocco is an ideal vacation spot for those looking for a sunny summer vacation. Since the Moroccan Kingdom is dedicated to providing travel and sustainability to tourists, adapting to the global change has been high on the list of the Moroccan public. As awareness spreads about the global conservation movement, more and more countries are moving towards both animal preservation and traveler's sustainability when it comes to tourism.
To help in this movement, simply research eco-friendly travel options and practice conservation when you take your trip to Morocco.
One of the ways you can make your stay more environmentally friendly is by staying at hotels such as the Jnane Tamsna, Marrakech, which is known for its recycling and reusing initiative, or the Les Terres D'Amanar in the Atlas Mountains which is constructed in sustainable materials.
Morocco is home to two major Saharan dune locations or ergs, as the locals call them. Just a distance of 20km from the Algerian border is Erg Chebbi. Stretching a whopping 50km from North to South, it showcases iconic dunes, which reach up to 150km in height. On the other hand, Erg Chegaga is situated 50km west of M'Hamid and is less easy to get to than Erg Chebbi. You'll need a camel or a 4×4 to reach it but in our opinion, it is worth making an effort for the scenic view, unadulterated silence, and an unforgettable experience.
Due to the vast distances and the need for a 4×4, it is best to join a small group as a means to travel the Morocco desert. An advantage of choosing an organized tour is that they will have contacts amongst the local Berber community that will give you a rich opportunity to learn about their lives and culture. Additionally, they will arrange for accommodations, set up camp, and cook, leaving you completely free for the 'fun' part of your Morocco Desert tours. For information on tours, you can visit Morocco Tours.
If you have made the journey to see the Sahara desert Morocco, here are four things to do for an ethereal experience:
Highlight of Sahara – Sahara Desert Camping
The Moroccan desert shines under the sun during the day, but the night as this gorgeous Stargazing in the Sahara Desert, Morocco shot by Murray Moran illustrates is equally breathtaking. If you want to get the most out of your experience, we recommend staying overnight here.
Camping in Morocco at night is a unique experience, you'll get to witness a glorious sunset followed by a drop in temperatures as the hours slowly pass. The complete silence that befalls the Sahara at night is sure to provide a sense of calm and eeriness.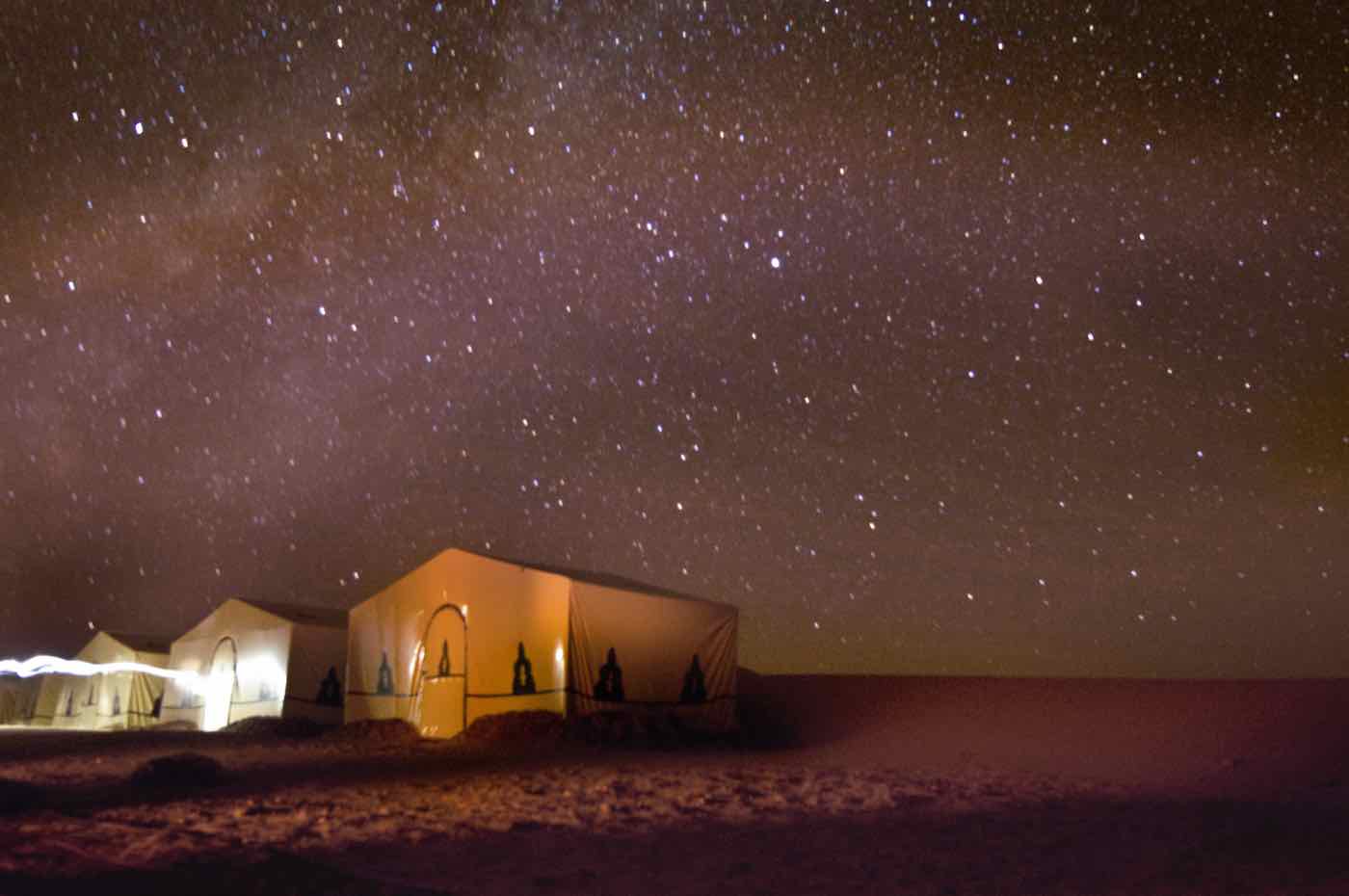 Of course, remote desert camping means toilets won't be spa-like, tents will be temporary, and the overall experience would not be luxurious. However, people who choose this destination want a taste of the authentic Saharan experience and that's exactly what they get.
If you're lucky, you can also witness traditional singing and dancing by native Berber folk around a campfire.
Shop your essentials before packing to Marrakech Desert Tours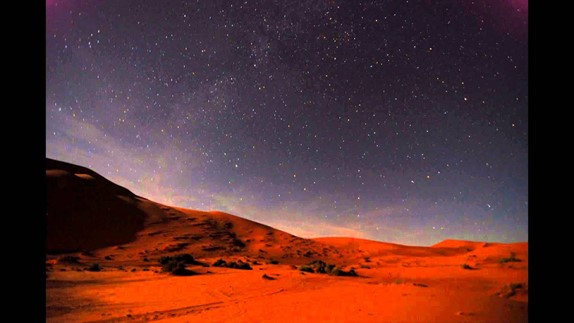 Free from light pollution, the Moroccan desert night sky, shown in this picture from
Youtube
, offers a sky full of stars! Witness the majestic star-studded sky and the silver light of the luminous moon covering the desert. Simply put, it is a sight to behold and we highly recommend it!
Another way to experience the Morocco Desert trips is through a camel sunset ride and trek with the local nomads. These rides can be a little uncomfortable, but the views from the top are worth it as Mathew Williams has beautifully captured. Plus, if you decide to trek for more than two days, you can get a sense of the nomadic lifestyle. These rides are an excellent way to experience the desert and not just witness it from a 4×4.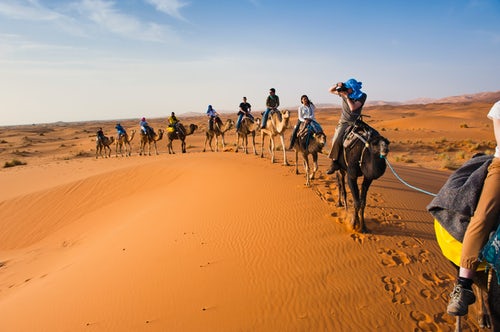 In our opinion, this is a peaceful way to see the varied ecosystems of the Morocco Sahara Desert. You can collect water, prepare mint tea and enjoy it with the shepherds, feed animals, and sleep under a starry sky. If all this doesn't sound appealing, a good travel photo of you riding a camel is sure to be a unique souvenir to take home!
Berbers are native to the desert and have lived there for centuries. Therefore, staying with a Berber family and getting to know the desert through them is an incredible way to experience the Moroccan sahara desert life. You'll be whole-heartedly welcomed into a family home and will get to learn their ways such as feeding the animals, cooking flatbread, and brewing tea.
With our suggestions, you can experience life in the desert by sleeping under the open skies and traveling on a camel, all within a span of four days. With stunning landscapes and mysterious tourist spots like the Morocco Sahara desert, Morocco is a great place to spend your vacation.

Please let us know if you found this post useful and what you are looking for through comments, we would love to help you out in that..
This post contains affiliate links, which means we may receive a small commission, at no additional cost to you, if you make a purchase through these links.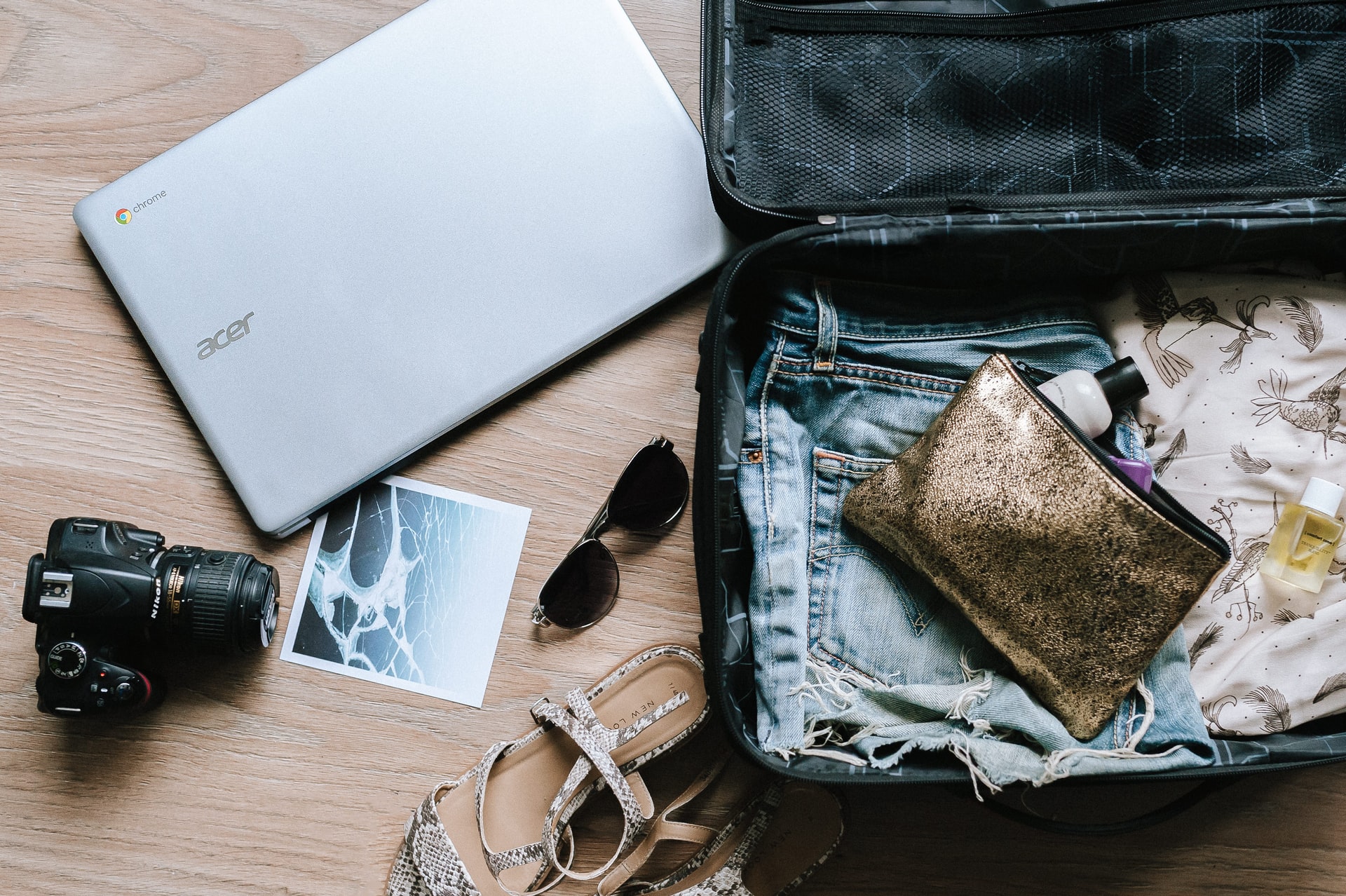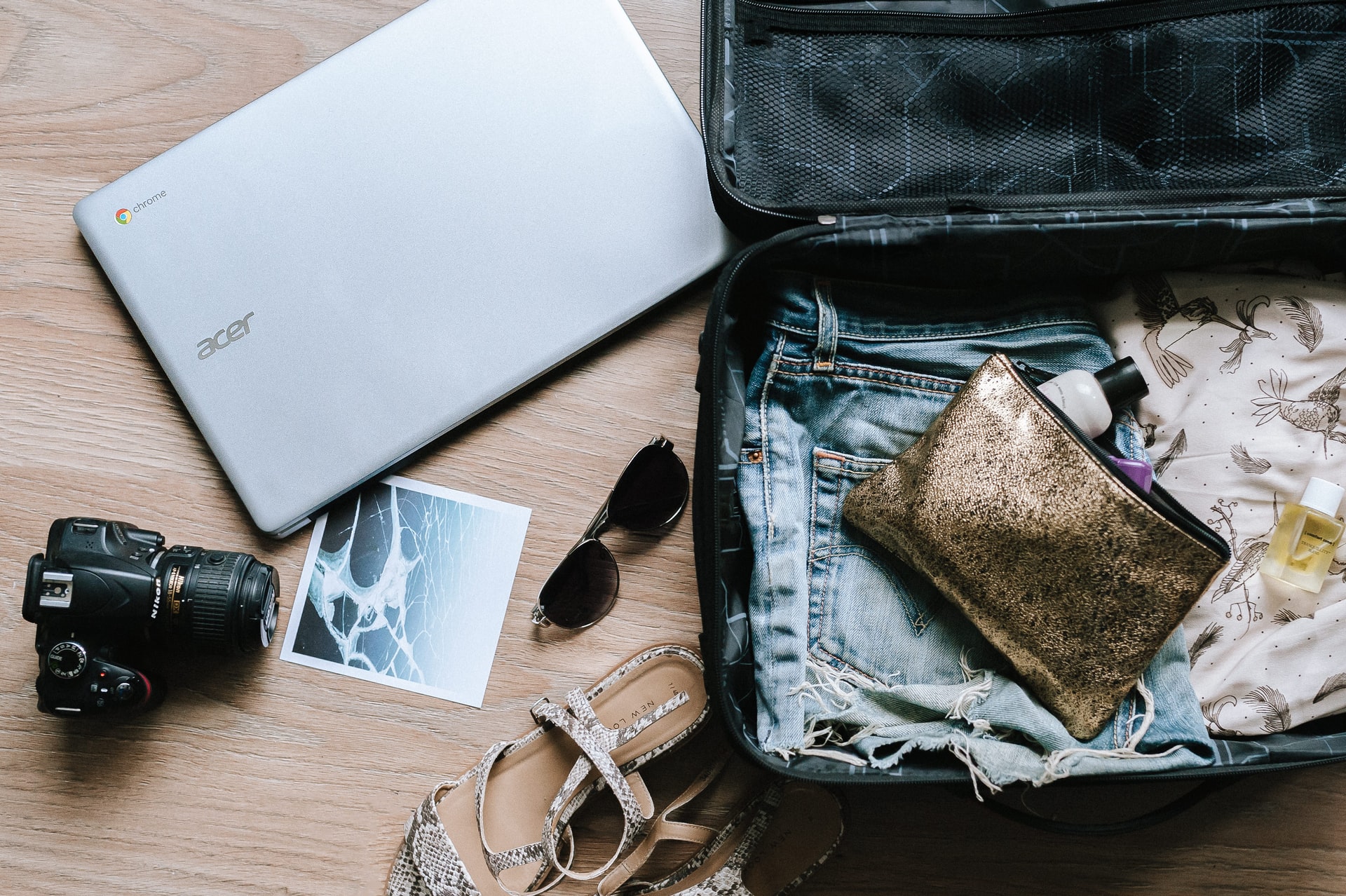 We are with you, here are the essential gadgets to get you covered before you start one. Globetrot untroubled!