Curating a home office according to one's needs has become increasingly important as work from home becomes normalized in this pandemic impacted world. It is proven scientifically that having a prescribed work setup helps boost productivity and leads to better work-life balance. Setting up your own office space, no matter how small, provides the perfect opportunity to design an alluring home office interior according to your aesthetics and specific work needs.
Following are 5 awesome ideas to create an inviting home office interior design.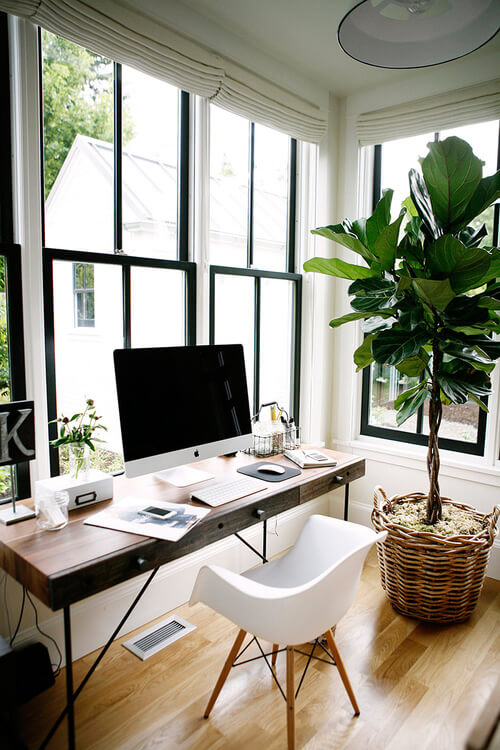 We all know that natural light is an incredible mood booster; it makes us feel more present and awake. We recommend locating the light source in your space and setting up your desk in front of or adjacent to it.
It will also provide you with a view and no, you don't have to live in the Australian Alps to enjoy it, any view is more interesting than facing a bland wall whilst you work. It is also a great way to feel like you have company whilst also working in your private space.
This beautiful home office interior from hiimkelly illustrates this quite well. It instantly makes you feel excited to work here and that is exactly what your own office space is meant to do!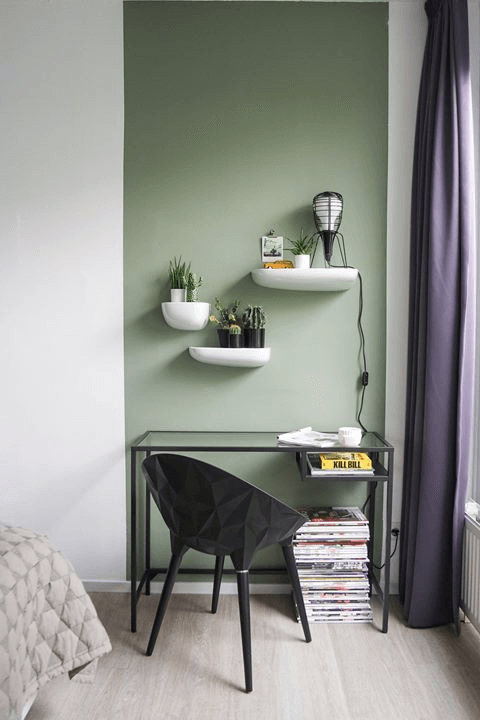 The next step to setting up your home office interior is choosing the right color palette. It will help you set the tone and feel of your space. If you want an open look, consider opting for whites, greys, or beiges. If neutral tones sound boring, you can go for yellows or oranges for a more fun look. You can decide on greens or blues if you require curating a calming workspace setup, distant from the hustle-bustle of the outside world.
You also have the option of creating an accent wall as shown in this gorgeous picture from Pinterest. An accent wall will imbue uniqueness into your space and is also an interesting way to play with your chosen color palette!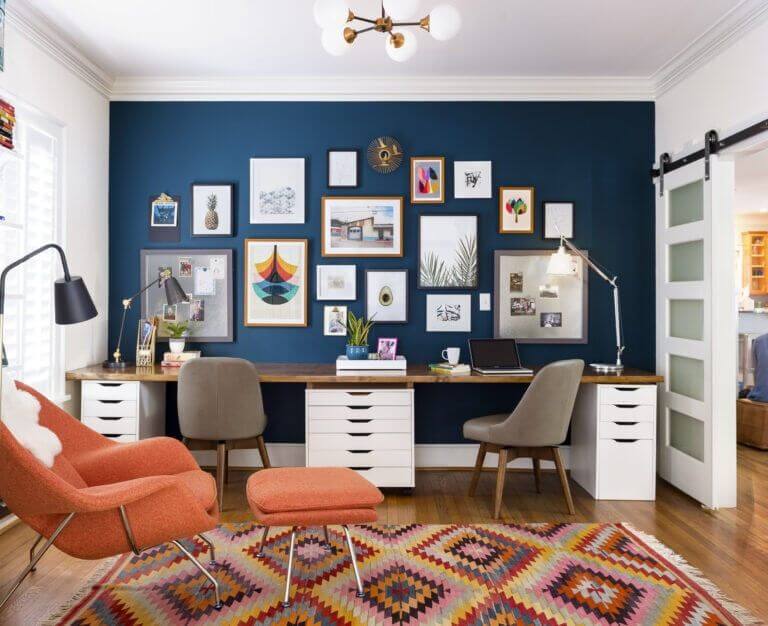 If you have ever closely analyzed a well-designed space, they are usually divided into sections/zones. We talked in the first suggestion about the placement of your work desk but what if you also want to set up a meeting zone for zoom calls or in-person client meetings?
This is where you incorporate a coffee table and a couch. I know it sounds boring but choosing the right couch that compliments your color palette will add to the overall appeal of your home office interior. As the office space from Designer Trapped shows, the navy blue of the wall complements the deep rust of the sofa beautifully, making the entire space have so much more character.
You can also set up a chic background so your zoom calls look more professional and organized!
Walls Aren't Meant To Be Bare
Picture walking into your favorite restaurant or cafe and the walls are bare. There are no cozy illustrations of coffee or pretty artwork adorning the walls, just a plain look. Sounds dull right?
One way to make sure your home office interior doesn't radiate a meh vibe is to put up artwork of your choice. If prints or paintings aren't your jam, you can use motivational quotes that really inspire you or put up shelves and set up your books there.
There are no hard and fast rules just don't go for a blank slate! 
Seeing this motivational art painting can let you always remember to work hard and always keep smiling, slowly you will thank you for everything you have struggled. Do not have your home office wall empty.
Essentials with a Touch of Beauty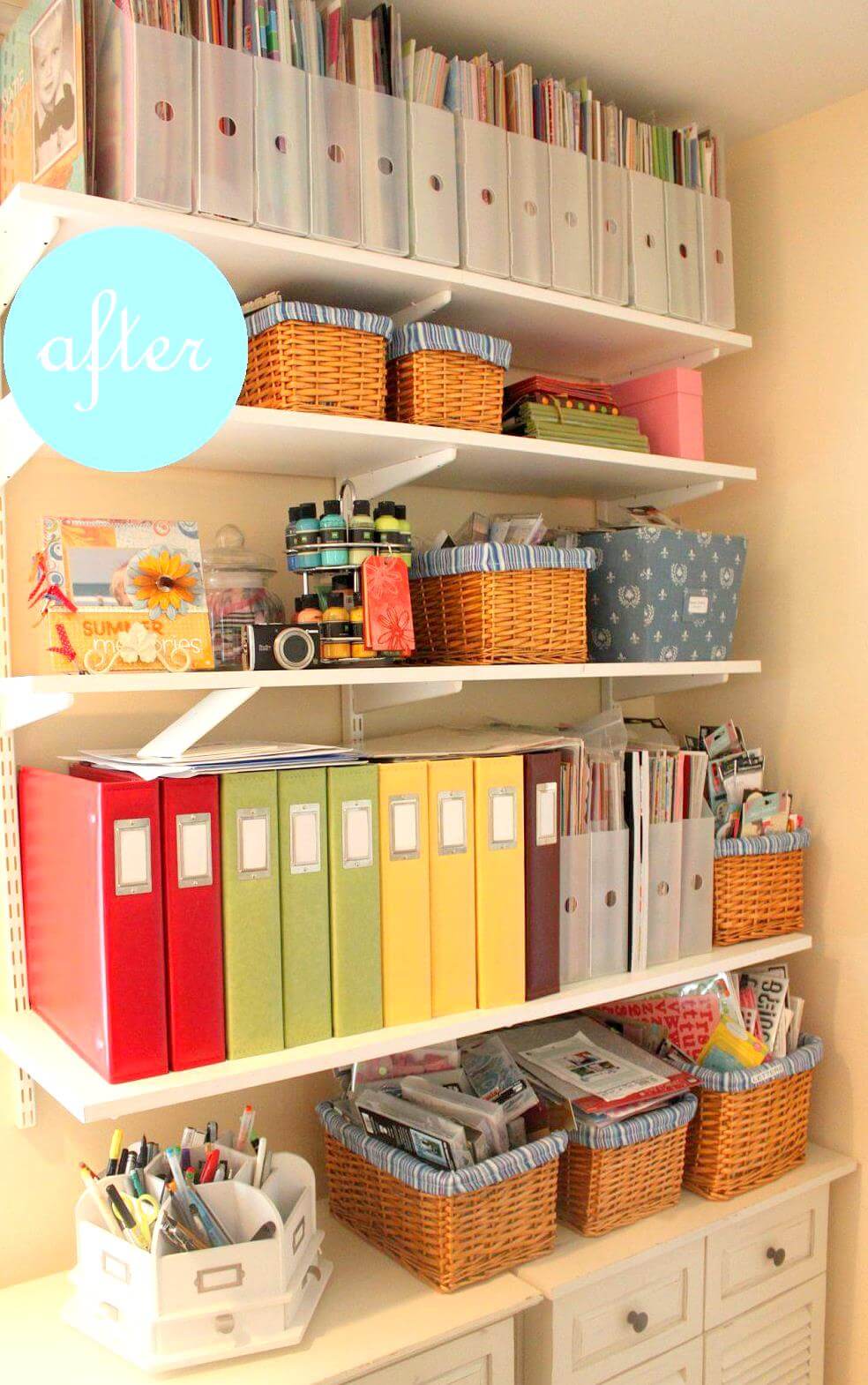 We all have stared in awe at those perfect desk pictures with captions of "Worklife balance" on Instagram and other social media. What makes these so pleasing to the eye is not a specific camera angle or filter but the personal touch.
One person's favorite mug will be different from another's, notebooks will vary in style and color, and calendars will have themes unique to every individual. I know these are everyday essential items that we don't ruminate too much over, but they add as much to the charm of our spaces as any art on walls, just like this gorgeous shot from Deliciously Organized shows.
They make our home office interior uniquely ours. So, don't forget these essential beauties because they are more important than you think.
Lastly, add fresh or dried flowers to your workspace. The choices are countless, dried lavender for stress relief or sunflowers for a touch of joy.
This post contains affiliate links, which means we may receive a small commission, at no additional cost to you, if you make a purchase through these links.