The Covid-19 pandemic has reshaped our lives, if not permanently, then for an extended duration. In these difficult times, most of us are working from home. Hence, it seems beneficial to make the best out of these unfortunate circumstances and reach peak productivity. Even if you are staring at your laptop screen all day or crunching numbers, it is important to have a home office desk décor that speaks to you and reflects your unique personality.
This will keep you energized and let your vision and ideas flow just as they normally would in an office setting, maybe even better!
Let us walk you through five brilliant ideas for work from home desk décor that will not only be economically feasible but also inspire productivity to help you reach your set targets in your respective job domains.
When it comes to creating your wfh space, it does not necessarily require a large space. While you can make use of a spare room, a small corner in your bedroom would work just fine too! Small profile writing desks with minimalist designs are great if you're setting up an office in your bedroom; since most of them can double up as a nightstand or vanity.
It is always best to keep your options open and hence, it is advised to consider accommodating a standing desk.
A 2019 study by the University of Pittsburgh suggests that 'sitting is the new smoking.'
Sit-to-stand desks make it convenient to switch positions throughout the day. It is known to decrease back pain and keep blood pressure healthy.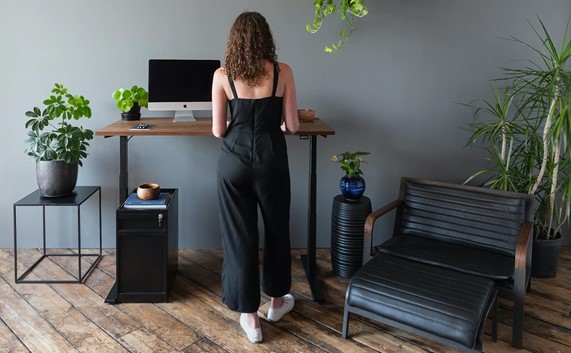 We love how cozy and chic this work from home desk décor shared by gadgetflow looks.
Keep it Organized and Clean
If you like your desks organized and believe that productivity and cluttered desks don't work well together, then you are correct. Opt for a desk that will provide you with a storage capacity where you can place your office stationery.
While keeping in mind the architecture of your room, see if you can add wall storage. By attaching a vertical pegboard or a cabinet shelf with units to make more space for your office must-haves.
The lighting you choose is bound to set the mood for the room. It is said that brightly lit rooms bring about bright ideas. Hence, it is essential to find a spot near your window or somewhere that is illuminated by direct sunlight. The vitamin D produced by your body in response to sun exposure will improve your immunity and bone health.
If you can't seem to angle your work desk to receive direct sunlight, it is time to turn to other sources of light. Choose a soft LED table lamp or floor lamp surrounding your workspace that emits a soft warm glow. Investing in a natural light therapy lamp to brighten up your work space will be even more efficient. In any case, keep your wall colors light and fresh. A plain old white or light wood tones to compliment your work table decor ideas.
It is proven that greenery refreshes your senses and brings out your inner talent and creativity. It is recommended to place small, low-maintenance potted plants on your desks to make sure you spend less time tending to them and more on your actual work. Small ceramic planters are a good work desk decoration items. A Mid Century Modern Tall Metal Stand with a minimalist pot next to the table is also a good option.
An example of plants that require non-specific soil type and low to bright indirect sunlight. It includes air plants that turn from light green to coral pink and eventually bloom into a vibrant purple.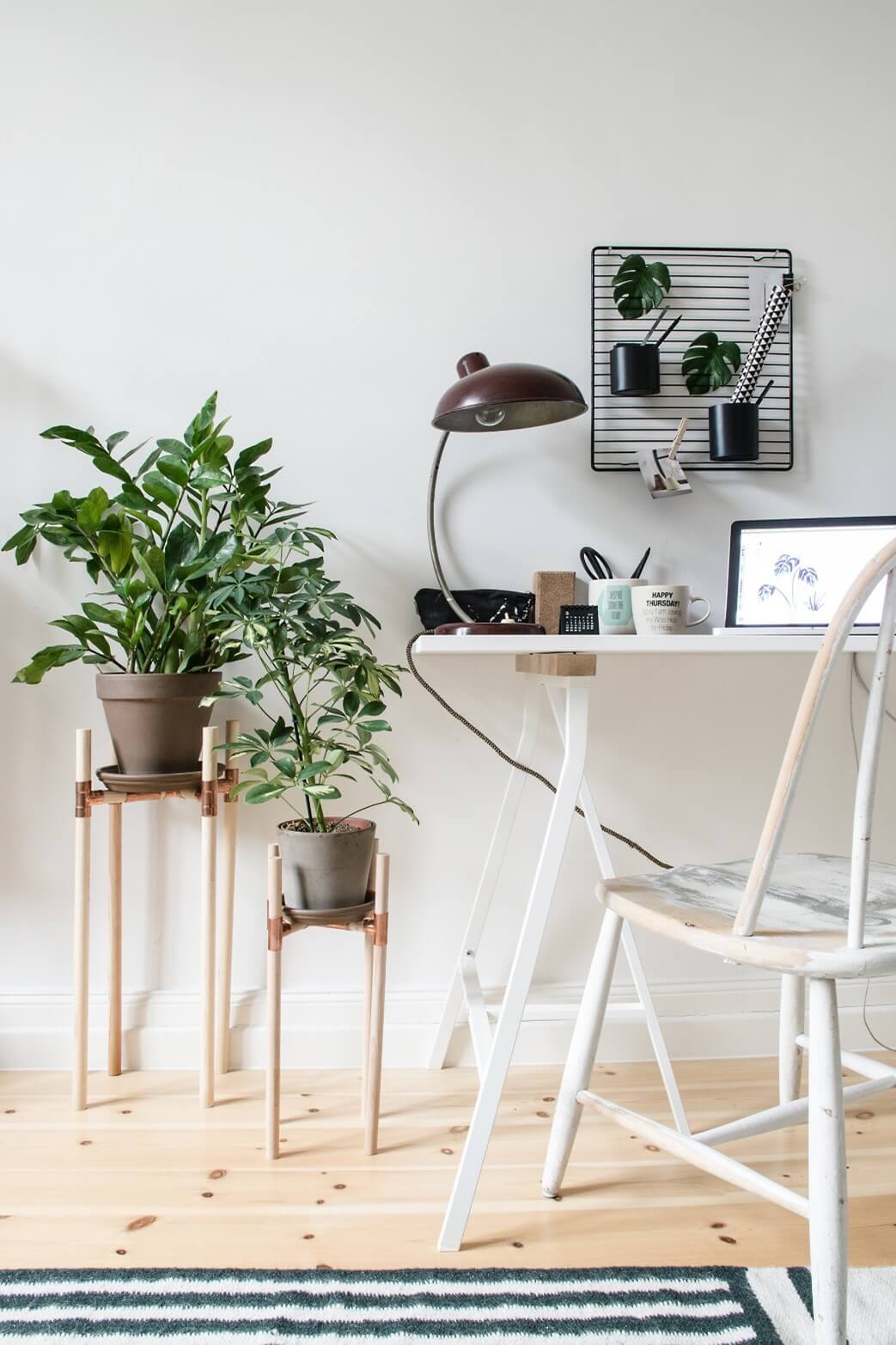 This minimalist and modern design for plant placements in your work from home desk décor by BestWorkplaces will inspire you to get one for your home office desk as well.
It is key to not overlook the details. Small details such as a wall hanging Mesh, framed posters, or a minimalistic organic wallpaper right above your desk can add to the modern look you are going for. You can also consider hanging a vibrant or simple calendar, whatever suits best to spruce up your working space.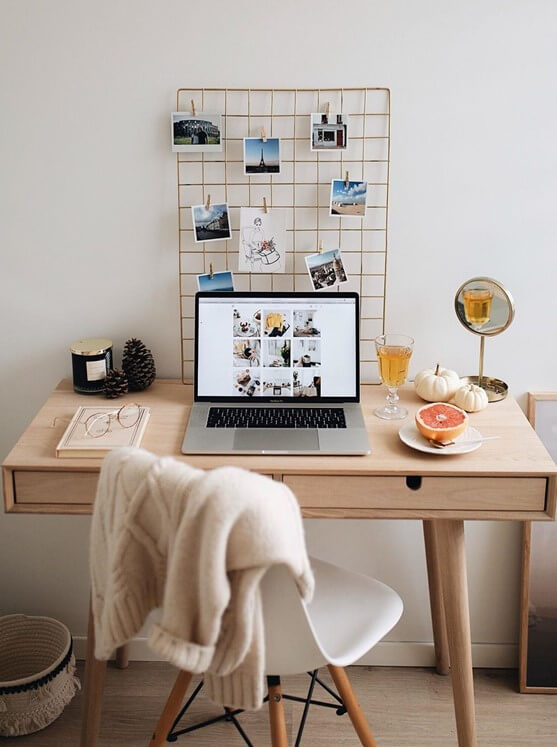 Get an idea for ways to incorporate accessories in your very own work from home desk décor by mygreyhome below.
If you keep these five tips in mind while decorating your home office desk, you will notice that you have become more energized, amidst the ongoing global pandemic, and will be able to reinforce your ideas into your work in a better way.
This post contains affiliate links, which means we may receive a small commission, at no additional cost to you, if you make a purchase through these links.