If you are looking for innovative upcycled furniture, or upcycled home décor then Gigantiques Décor is the right place to choose upcycled furniture to your home/office/restaurant.
Why to Choose Upcycled Furniture?
What you get in Gigantiques?
Gigantiques have excellent upcycled furniture collections to give your house/office/restaurant a new unique look. All the furniture manufactured here are made from either old barrels or used vehicles or tyres. Recycled Home Decor or furniture will give a vintage touch to your living space.
Few Collections of Gigantiques Upcycled Furniture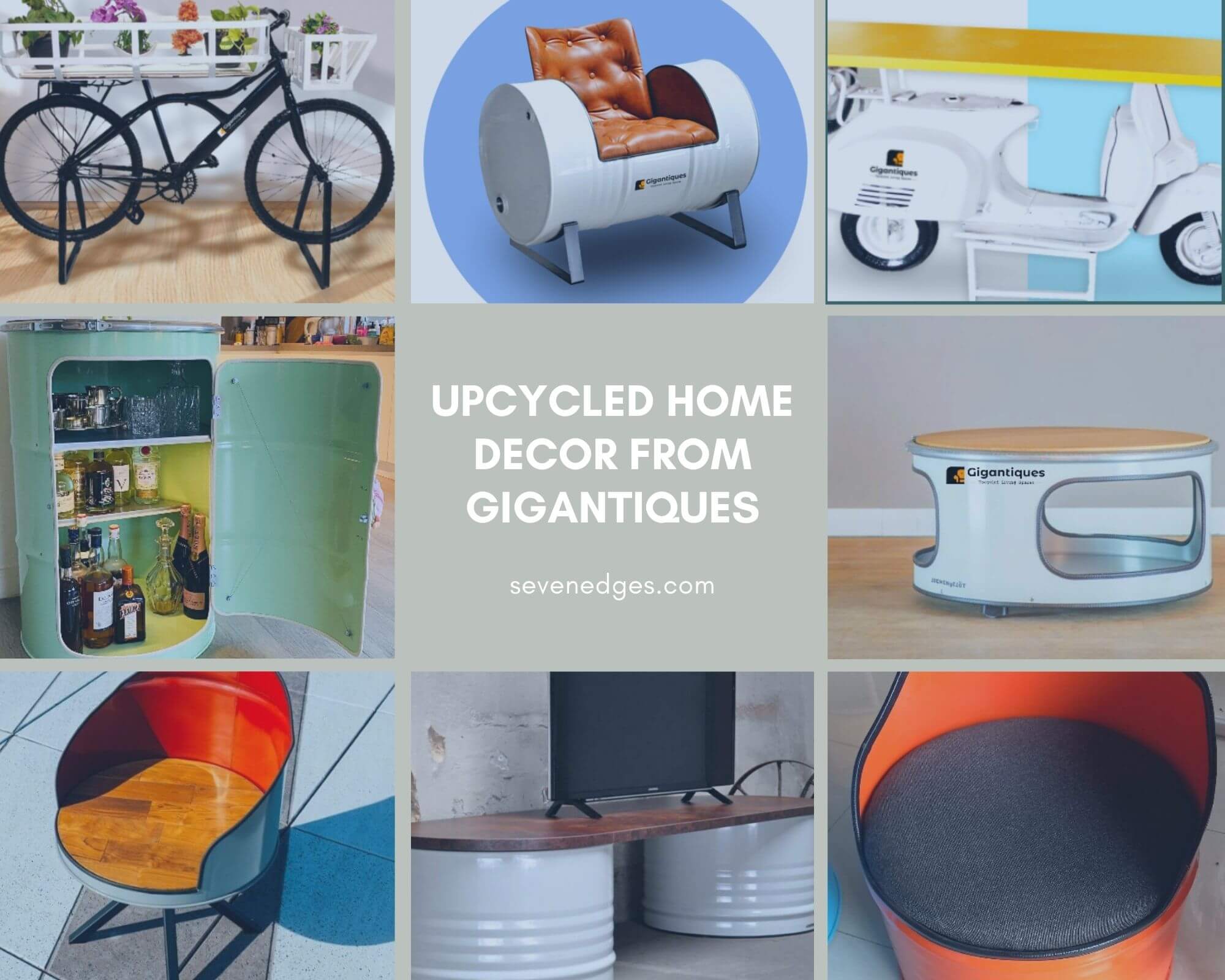 Barrel Sofa, Chair and Table Set
Did you ever think of using old barrel as a sofa, chair or table? Gigantiques has the creative idea of using upcycled barrel as a new elegant furniture. They are unique and equally comfortable. Upcycled barrel furniture transform your living space to a farmhouse décor.  
Unique lights using old tyres is truly a creative idea. Place these amazing tyre hanging lights in your dining room and make it more attractive.
The upcycled wall clocks using barrel drum and drum top give your house a new look. These clocks also look amazing when used in office or restaurants.
Automobile Furniture Scooter Dining Set
Make your dining fun by using the upcycled automobile furniture. These upcycled furniture will be an eye catcher and gives your dining room a new look. Some of the creative upcycled automobile furniture are:
Auto Rickshaw Table
Scooter Table
Bicycle Table
Old bicycles can be transformed into a showpiece. Colourful potted plants are placed on the bicycle. Bold and beautiful upcycled showpieces fills your space uniquely and makes it attractive.
Your kid will definitely love to sit on this tractor miniature which is made of old tyres.
This upcycled barrel washbasin gives you the chic ambience. It is functional and equally a brilliant idea to use as a washbasin.
You get all the furniture in affordable price and are sturdy and equally elegant. More interesting part is, you can even customize your furniture set as per your requirement and décor style.
Make your workspace livelier by using these unique upcycled home décor. If you have a restaurant, then keep these furniture and make your restaurant a themed restaurant. I am sure that these upcycled furniture definitely attract customers and your restaurant will be famous for its uniqueness.
You can also bring farmhouse look to your home by having these upcycled furniture and have a pride of giving back to the environment and thus, leading an eco-friendly life. 
This post contains affiliate links, which means we may receive a small commission, at no additional cost to you, if you make a purchase through these links.