Got bored with the old bedroom design? Then, just change your room to a minimalist design and see the magic. You will be astonished to see the room simple yet elegant. Bedroom is the place to relax. Throw out all the unnecessary things in your bedroom and make it clutter free.
Let some fresh air and natural light come in and you can see the dramatic change in your bedroom. By choosing cozy minimalist interior design to your bedroom, you can feel freshness and get relaxed.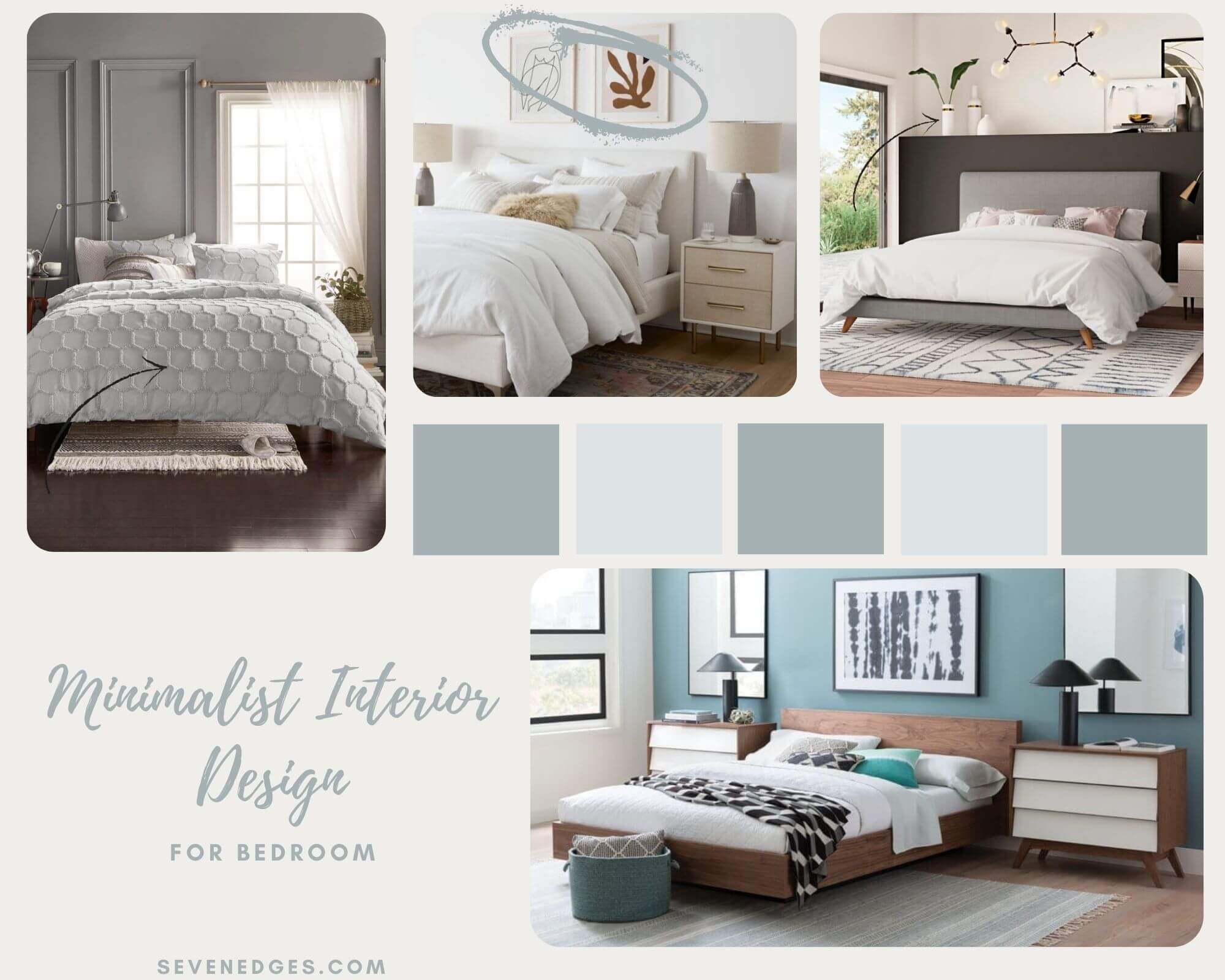 How to Make your Bedroom Minimalist Style
Go green in your bedroom and breathe fresh air. You can have some potted plants either on the bedside table or can be hung on the wall.
Let the walls speak. Give your wall a new minimalist look by painting it with either shark white or deep blue colour. You can also use neutral colours like greige, which is the combination of grey and beige. These colours are trendy and perfectly give your room a minimalist look.
Use Boho rug when you have ample light in your bedroom. This gives you the tropical inspired minimalist design.
Hang some beautiful pictures having wooden frame. This is the best way to have a minimalist décor in your bedroom. Just a single wooden frame changes your bedroom décor and makes it look more beautiful.
Use some old wooden or handwoven baskets to organise your clothes. These wooden baskets give your room a vintage minimalist décor.
Hide all your chargers which are used to charge your phones and laptops. Declutter your room by making some storage arrangement for the chargers near the socket.
Use a single shelf to keep your book, art pieces, mementos, etc. But, make it simple. Do not stuff everything on the shelf.  
Benefits of Having Minimalist Decorating Style
Going minimal means saving money. You can save a lot by not purchasing unnecessary items when you choose minimalist décor.
When you purchase less, you can go for buying high quality products.
Your bedroom looks clean by removing old stuffs. This reduces dust accumulation in your bedroom.
Minimalistic bedroom helps you to de-stress your mind, sleep better and get relaxed.
Your bedroom becomes a heaven where you get peaceful decluttered environment.
Minimalist Interior Ideas for Bedroom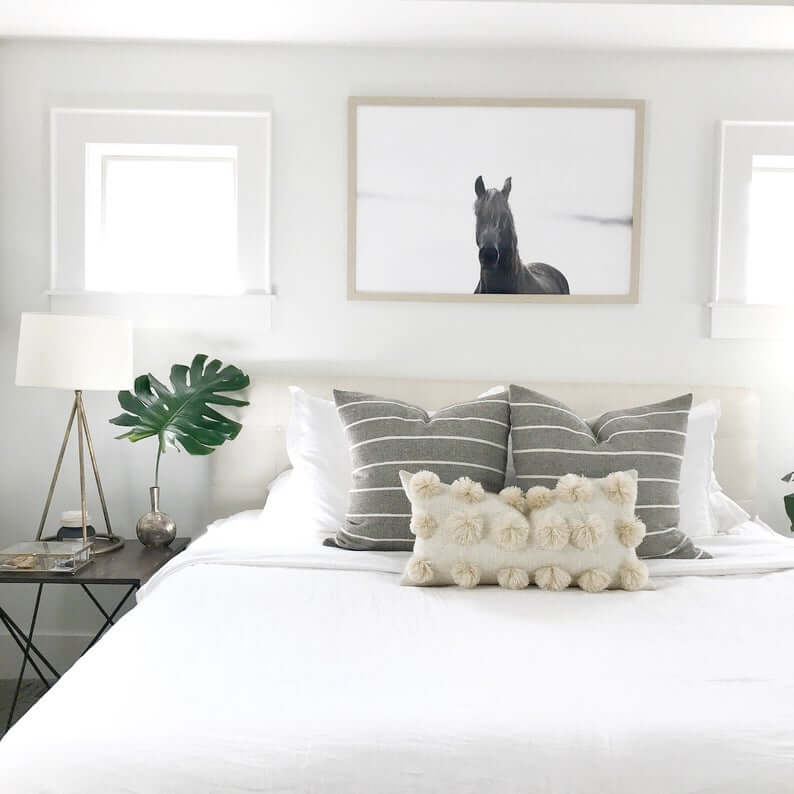 Bringing the essentials and your favourites in minimal decorating style is difficult but not impossible, shows this wall frame with horse, the trendy hats, and the wooden stand night lamp. You also do not have to leave your green buddy aside. Reuse an old glass bottle and add your favourite from your backyard. Pillows are a show off here with that contrast grey shade in the white background.
It's Grey but, Dome Ceiling Lamp Dominates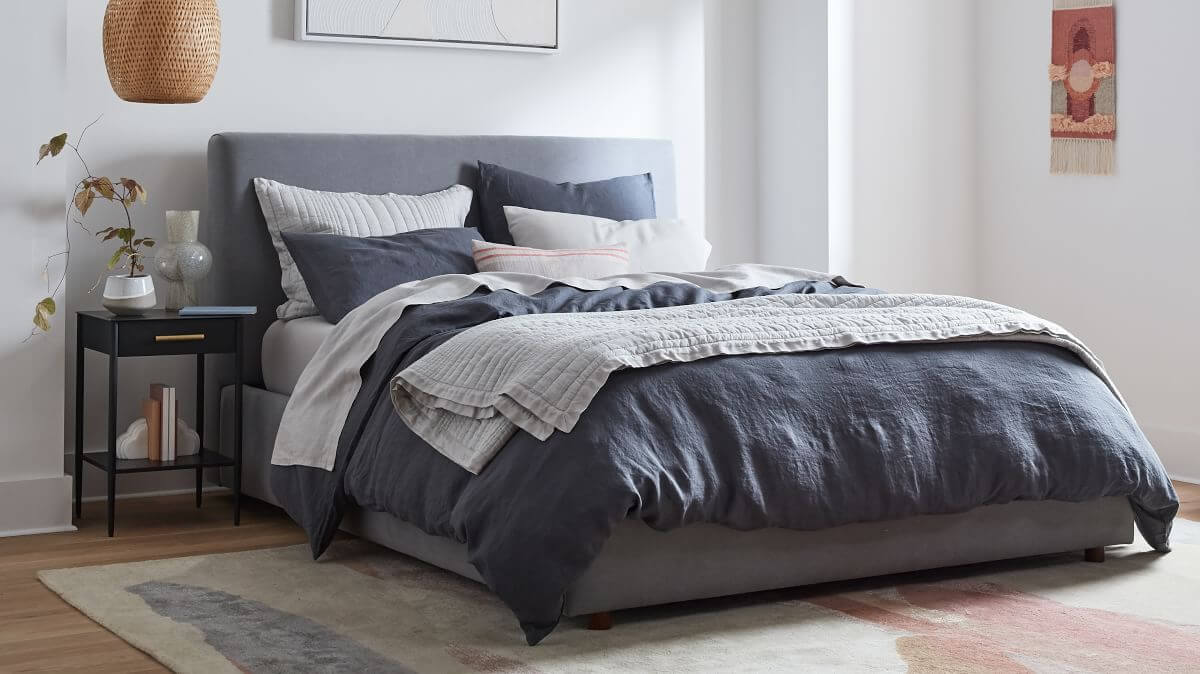 When you pick a color that gives a minimal look with a touch of that jute shade on pillows and lamp will make the boredom away from your bedroom. Even with that European Flax Linen bedding is bit crowdy there, this is still a cozy minimalist decorating style.
Combine Chestnut and Beige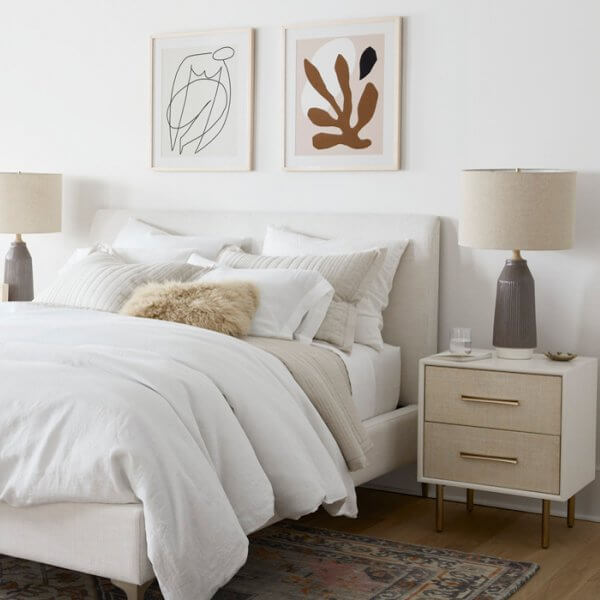 The Minimalist Line Art Prints along with that Chestnut wall art is the only thing needed to adorn the bedroom wall. The color just matches with few other items of the bedroom like side table, the Buff color Fur pillow and Beige clock. The Slate and Beige shade night lamp with that Distressed Vintage Traditional Textured Area Rug completes the look of the minimal bedroom décor everyone dreams for.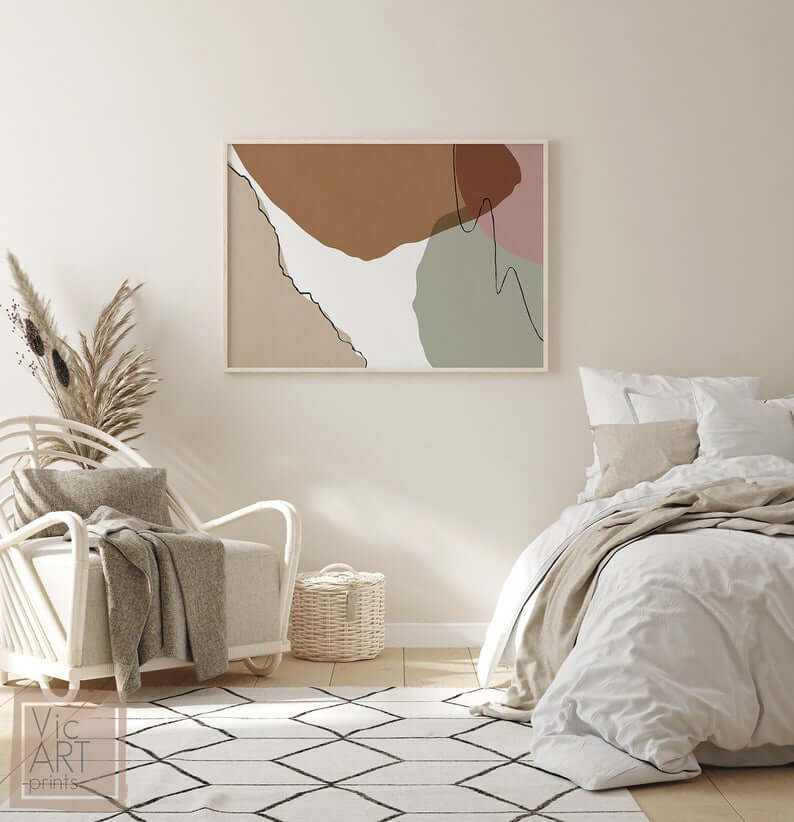 A piece of wall art is just enough to decorate your bedroom with minimalist design. Go for modern abstract prints which gives your wall a neutral contemporary look. This wall art perfectly goes well with any wall colour and adorns your wall.
Let Little Things Get Highlighted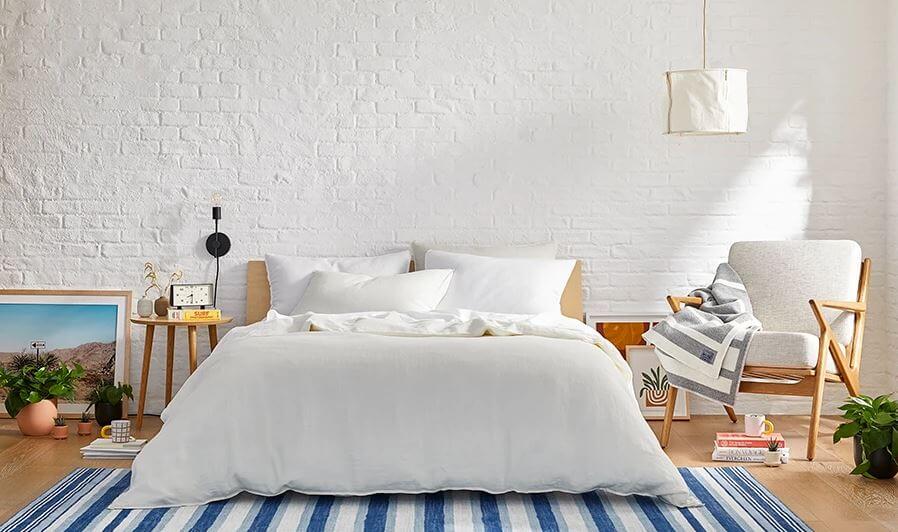 The vintage alarm clock on the side table looks elegant. You can even place some books on the side table with a coffee mug to enjoy reading with a cup of coffee on the wooden lounge chair. Solo sconce and slouch shade pendant lamps are also equally attractive.
Blue and white stripped area rug
adorns your bedroom and small little potted plants makes your room fresh.
Get this style from Brooklinen
Go for Low Profile Bed with a Grey and Black Background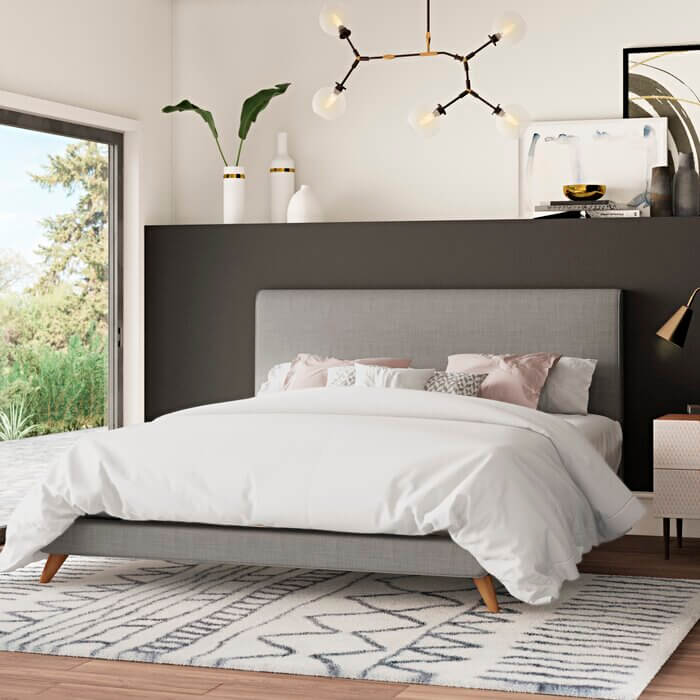 Bring mid-century modern style design to your room by using upholstery low profile platform bed and display the mixture of grey, black, and white coloured throw pillows which suits the bed. Fill some green plants in the white ceramic vases and place it on the headboard along with some unique wall arts. The beautiful lighting enhances your bedroom décor. The geometrical shaped black and white area rug perfectly matches the minimalist bedroom design.
Fusion of Modern and Rustic Design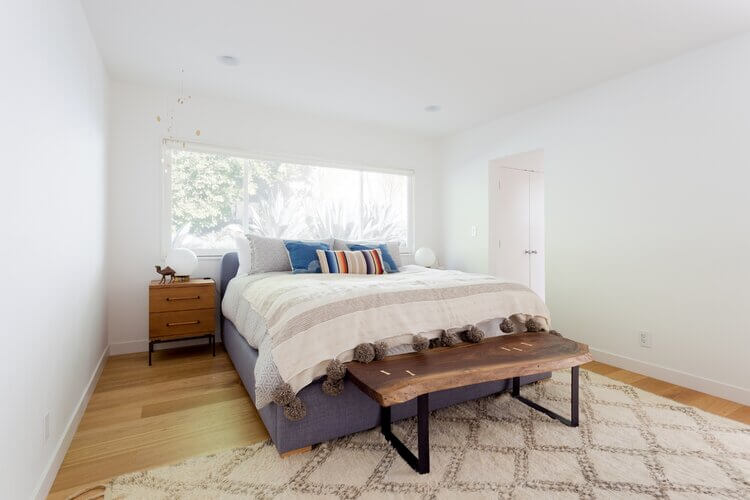 Club both modern and rustic design to have a best minimalist decor. Use colourful throw pillows on the white bed. The wooden nightstand can not only be used to store things, but also brings you the vintage vibes. To have a minimal light at night, place a silver table lamp. The retro walnut wooden bench adds glory to the room. The geometric cream area rug makes your room look more spacious and clean.
Focus on the Bold Geometric and Disintegrated Design with Contemporary Mirrors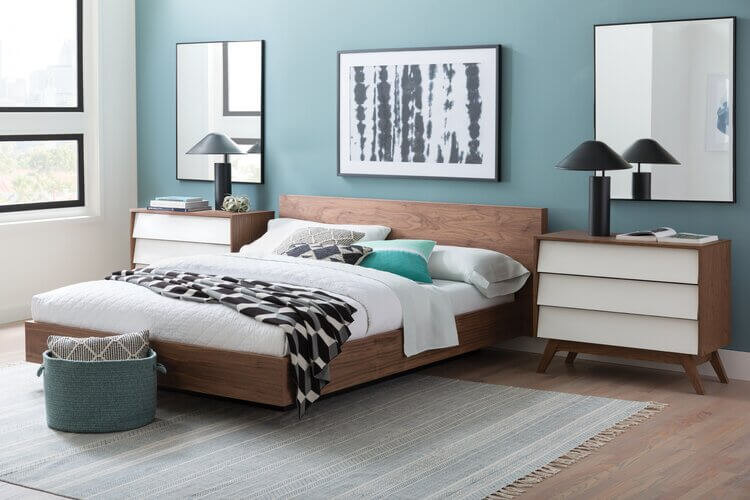 The simple black and white disintegrated painting is eye catching. The contemporary wall mirror is equally stunning and makes your room look wide and spacious. The black and white bold geometric design cotton throw and cotton lumbar pillow dominates the room décor. Spread the handwoven natural grey area rug and arrange your clothes or organize throw pillows in the Bristol woven storage fabric basket.
Go for a Simple Honeycomb Design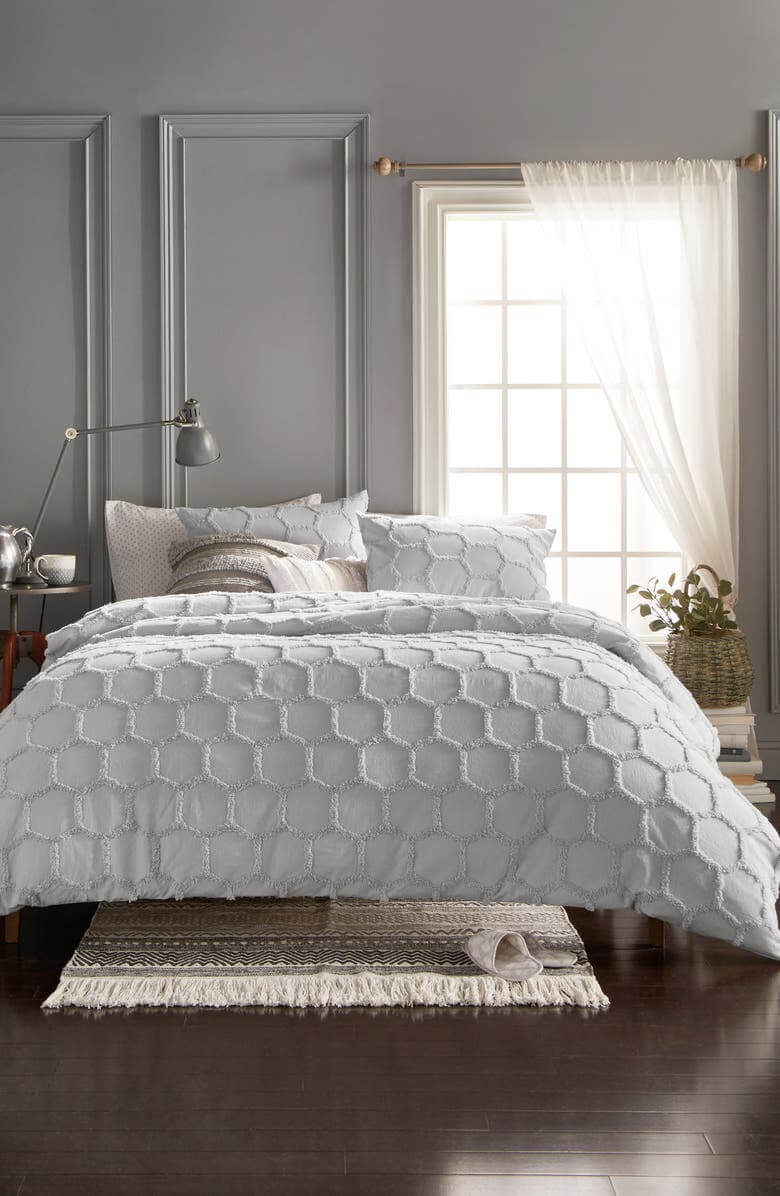 A simple honeycomb design can change your room to a minimalist look. Use a white comforter and shams of honeycomb. The antique silver lamp gives you the vintage vibes and a wicker basket with plants create an awesome minimalist atmosphere in your bedroom.
It's Duvet Cover but, Circular Mirror and Glass Lamp takes the Centre Stage.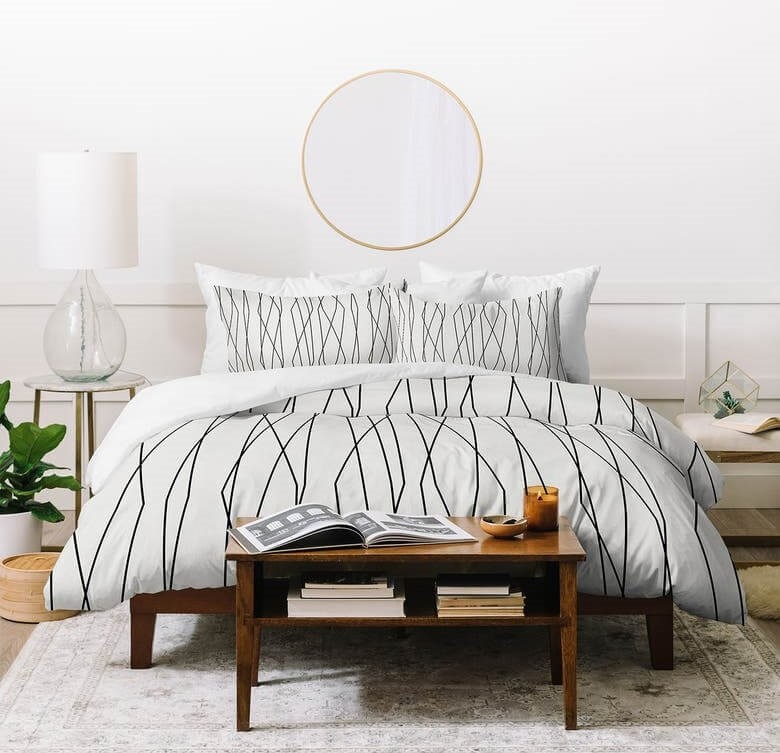 The black and white geometric design duvet cover and shams gives your room a minimalist touch. The circular mirror and bulb shaped glass table lamp are equally stunning and suits the room décor. Keep your favourite books on the vintage wooden stand and bring some greenery inside by having a small potted plant for a minimalist decor.
Go for these outstanding minimalist bedroom design ideas and enjoy living in a peaceful, warm and cozy bedroom.
This post contains affiliate links, which means we may receive a small commission, at no additional cost to you, if you make a purchase through these links.