As the air turns crisp and the leaves rustle with a hint of mystery, the time for Halloween approaches, and with it, the opportunity to immerse yourself in captivating themes and styles that bring your festive spirit to life. In this guide, we'll delve into popular Halloween themes and styles that allow you to transform your space into an enchanting realm of spooky delights. From classic to contemporary, each theme brings its own unique charm, along with the essential elements required to make it work.
Embrace the timeless allure of the "Classic Spooky" theme, where bats, witches, and ghosts reign supreme. Create an ambiance that transports you to a vintage haunted mansion.
– Essential Elements:
– Decor: Black candelabras, faux cobwebs, witch hats, skull figurines, and antique-style picture frames.
– Colors: Black, orange, and deep purple.
– Costumes: Ghosts, witches, vampires, and classic monsters.
– Crafts: DIY paper bats, silhouette cutouts, and potion bottles.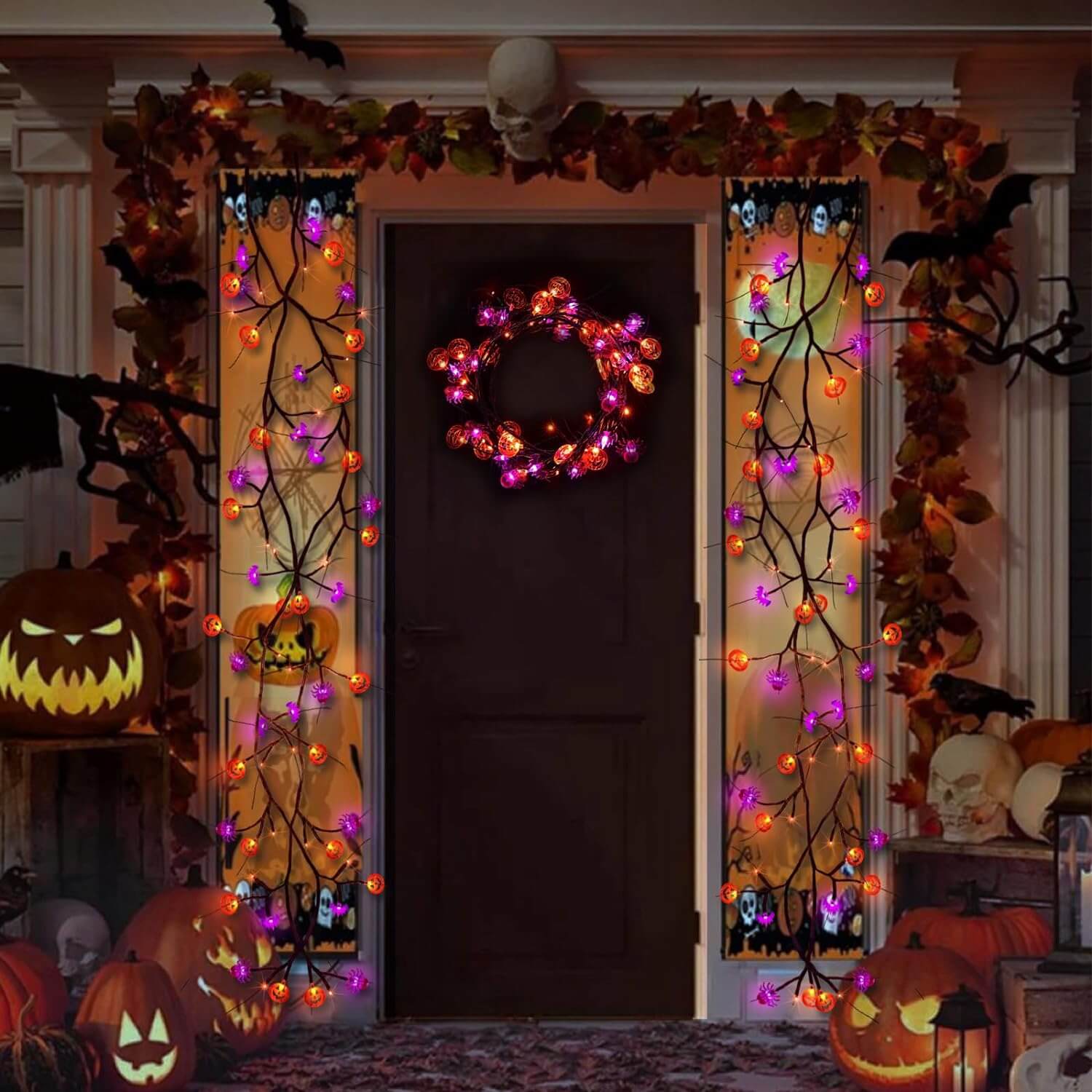 Combine dark elegance and opulent mystique with the "Gothic Glamour" theme, where candlelight and lace intertwine to create a luxurious and bewitching atmosphere.
– Essential Elements:
  – Decor: Black lace tablecloths, ornate candelabras, velvet drapes, crystal chandeliers, and antique mirrors.
  – Colors: Deep red, black, gold, and rich burgundy.
  – Costumes: Victorian vampires, elegant witches, and mysterious masquerade attendees.
  – Crafts: DIY faux crystal ball, ornate picture frames, and lace-covered candleholders.
Step into a mystical realm with the "Enchanted Forest" theme, where woodland creatures, fairy lights, and rustic charm combine to create a magical atmosphere.
– Essential Elements:
  – Decor: Faux branches, moss-covered table runners, fairy lights, lanterns, and animal figurines.
  – Colors: Earthy greens, browns, and deep blues.
  – Costumes: Woodland fairies, mythical creatures like centaurs or fauns, and forest spirits.
  – Crafts: DIY fairy light jars, felt animal masks, and enchanted potion bottles.
Step right up to the "Haunted Carnival" theme, where eerie entertainment and vintage charm collide in a delightfully spooky spectacle.
– Essential Elements:
  – Decor: Vintage circus posters, striped tents, old-fashioned ticket booths, and creepy sideshow displays.
  – Colors: Red, black, and vintage gold.
  – Costumes: Circus performers with a sinister twist, creepy clowns, fortune tellers, and strongmen.
  – Crafts: DIY carnival signage, ticket stub garlands, and creepy clown masks.
Transport yourself to a bygone era of B-movie thrills with the "Retro Sci-Fi Horror" theme, where alien invaders and mad scientists take centre stage.
– Essential Elements:
  – Decor: Vintage sci-fi movie posters, UFO props, laboratory equipment, and retro-futuristic gadgets.
  – Colors: Neon green, metallic silver, and deep blue.
  – Costumes: Alien creatures, retro space explorers, and mad scientists.
  – Crafts: DIY UFO decorations, retro sci-fi posters, and lab specimen jars.
From the classic charm of "Classic Spooky" to the opulent allure of "Gothic Glamour," each Halloween theme and style offers a unique way to celebrate the season. By incorporating the essential elements of each theme, you'll create an atmosphere that captivates and enchants, making your Halloween celebrations truly memorable.
Whether you're drawn to the elegance of gothic decor, the whimsy of enchanted forests, or the nostalgia of retro sci-fi horror, there's a Halloween theme for everyone to explore and embrace. Let your creativity flow as you transform your space into a realm that reflects your Halloween spirit and captivates all who enter. Happy haunting!
This post contains affiliate links, which means we may receive a small commission, at no additional cost to you, if you make a purchase through these links.