As the nights grow longer and a sense of mystery fills the air, it's time to embrace the magic of Halloween outdoor decorations. From eerie yard displays to captivating pumpkin arrangements, these decor ideas will turn your home into a bewitching masterpiece that captivates the entire neighbourhood. Let's explore the enchanting world of outdoor decor that will set the stage for a hauntingly delightful Halloween.
Ghostly Graveyard Spectacle
Transform your yard into an ethereal "Ghostly Graveyard." Scatter lifelike tombstones throughout, adorned with names like "I. B. Scared" and "R. U. Next." Complete the scene with faux wrought-iron fencing, fog machines, and eerie blue LED lights to create an otherworldly ambiance.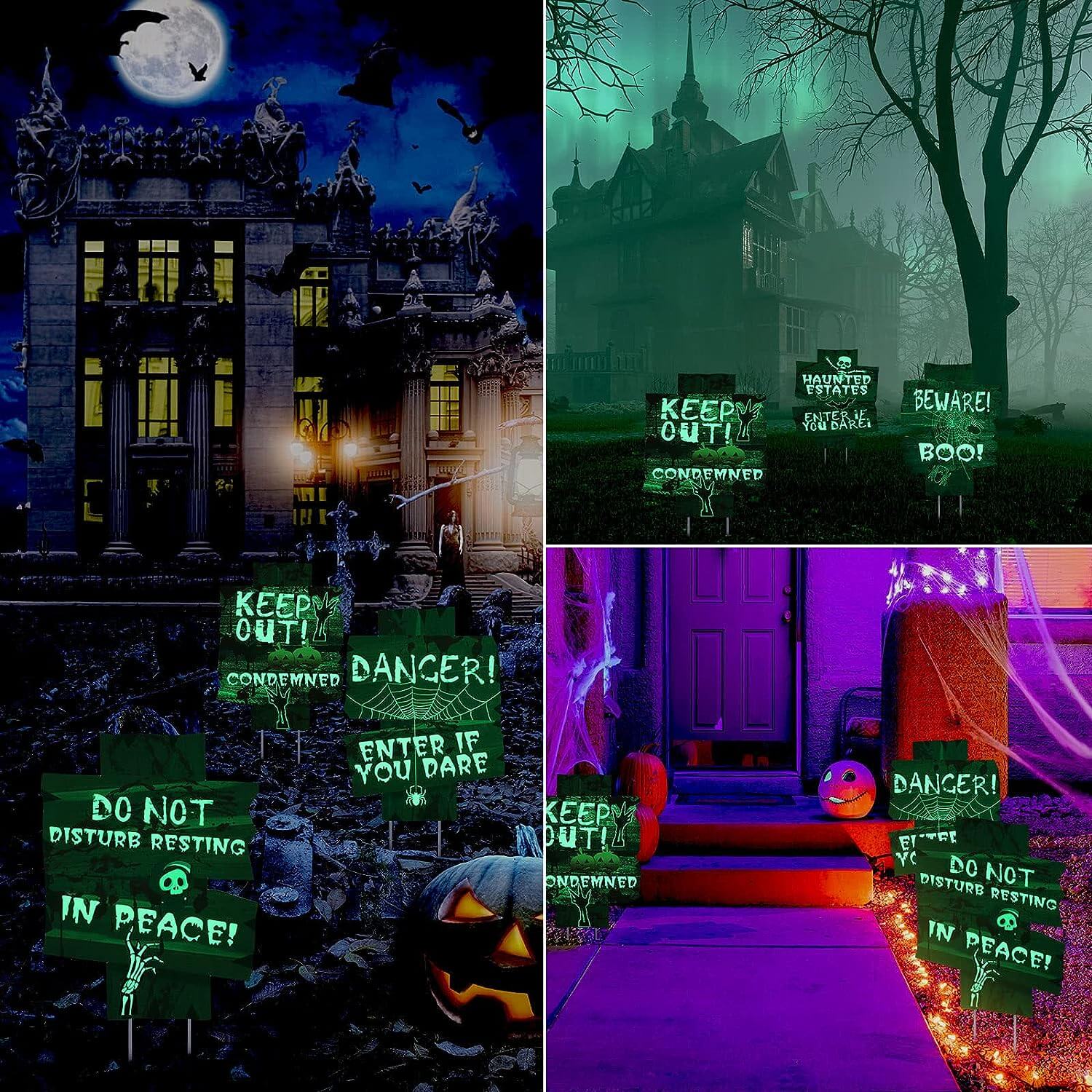 Pumpkin Path of Enchantment
Guide visitors along a "Pumpkin Path of Enchantment." Line your walkway with carved Jack-o'-lanterns that showcase intricate designs like stars, moons, and witch hats. Nestle them among autumn leaves and illuminated with LED candles for a warm and welcoming glow.
The Halloween metal outdoor stacked pumpkins consists of 6 pumpkins would be a perfect decor for haunted ambiance, spreading charming festive atmosphere. Place them in your garden, lawn, yard or anywhere you want, they will create a scary feel to your decorations.
Create a captivating focal point with the "Witch's Brew Cauldron." A life-sized cauldron surrounded by stacks of spellbooks, gnarled branches, and flickering candles adds an air of mystical charm. Fill the cauldron with dry ice for an enchanting mist effect that mesmerizes passersby.
Spooky Inflatable Extravaganza
Bring a touch of whimsy with a "Spooky Inflatable Extravaganza." Enlist playful characters like giant inflatable ghosts, grinning skeletons, and mischievous witches that sway in the wind. Illuminate them with multicolored LED lights to create an eye-catching and delightful display and can be a perfect decor for Halloween outdoor Decorations.
Craft an eerie "Haunted House Façade" that intrigues onlookers. Cover your front porch and windows with weathered boards and faux cobwebs. Add gothic accents like oversized doorknockers, ornate sconces, and flickering lanterns to create the illusion of a ghostly dwelling.
Create a sense of arachnid wonder with a "Spider's Lair of Delight." String lifelike oversized spiderwebs across your porch, complete with furry spiders. Add a giant glowing spider to your lawn for an attention-grabbing focal point that blends spooky and playful elements.
Come with 200″ Triangular giant spider web and 59″ Halloween spider, huge size make it looks real from far away, great addition for around the house. Placed it in outdoor yards & homes, give your neighbors and friends some surprises! So affordable pack to save time, why not get it?
Illuminate your garden with "Ghoulish Garden Lanterns." Hang mason jar lanterns adorned with spooky silhouettes like bats and owls. Place them along pathways, trees, and fences, and light them up with battery-operated tea lights for an enchanting glow.
Wickedly Whimsical Inhabitants
Transform your porch into a whimsical scene with the "Wickedly Whimsical Inhabitants." Fill your space with life-sized witch figures, cackling cauldrons, and broomstick parking signs. Add a playful touch with oversized candy corn decorations and glowing spell bottles.
With these captivating Halloween outdoor decoration ideas, your home will be a focal point of wonder and delight for the entire neighborhood. From ghostly graveyards to pumpkin pathways, each carefully crafted display invites visitors into a realm of magic and mystery. Embrace the spirit of Halloween, transform your outdoor space, and become the talk of the town with a bewitching display that captures the essence of the season.
This post contains affiliate links, which means we may receive a small commission, at no additional cost to you, if you make a purchase through these links.