If you are looking for ways to revamp your living space, then you need an excellent planner and guide. Whether you want to create a space with more storage or a room that reflects your personality, taking advice from the experts will always help.
Regardless of what your aesthetic is, you deserve places that promote relaxation and a sense of belonging. This is especially true for your bedroom. Choosing the right hues, comforting and luxurious bedding, carefully selected accessories, and storage all add to choosing the right look for your room. However, if you are unsure of how to change the layout of your room because it has an odd shape, then the IKEA Bedroom Planner is the solution you need.
You are sure to be inspired by the ideas an IKEA Bedroom Planner suggests, so read on to find out just how to give your uniquely shaped bedroom the upgrade it needs.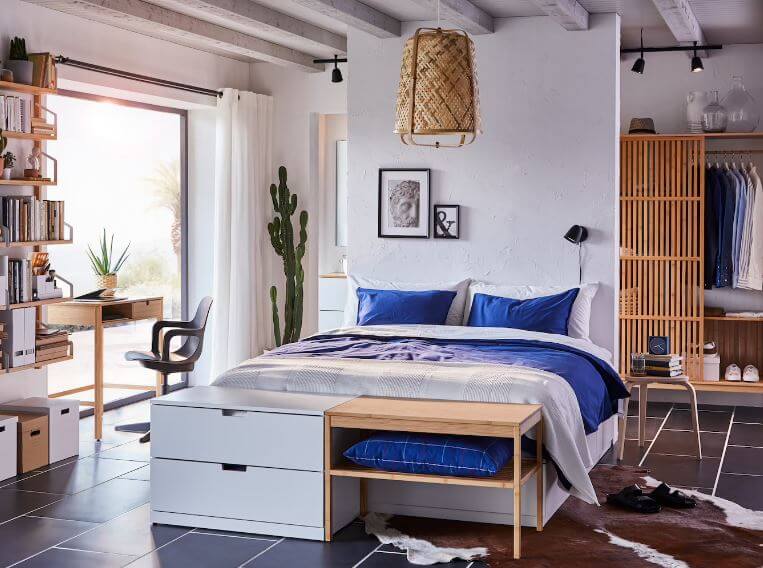 When you have an oddly shaped bedroom, you will need to make the most of it by compromising where needed. The very first thing you need to do is to establish the functions that can take place in the room.
For your bedroom, you will need separate spaces or 'zones' for storage, sleeping, and relaxing. Once you have recognized the zones, you must divide the space according to those needs. Since the room will be uniquely shaped, you might have to accept that you cannot enjoy all the activities in that room. For example, working or watching TV in your bedroom might not be possible.
If you have sharp angles in your room, you can soften them by installing shelving or cubbies, both of which are available at IKEA. This gives the room a softened look and changes a difficult corner into a nice, functional storage space.
When you have an odd or uniquely shaped bedroom, then chances are that certain features, especially windows, are awkwardly placed, too. Instead of figuring out a way to change that, embracing uniqueness also helps.
By adding larger pieces of furniture such as a table and lamp, a wardrobe, or a chest of drawers, you can balance out the awkwardness. You can choose different styles of furniture from IKEA, till you find the one that resonates with you.
Use Rugs to Define the Different Spaces
One of the best ways to deal with an awkwardly shaped room is by using rugs, even if you have a carpeted room. These help anchor and define space in the room, further establishing the different zones.
Create Open Storage Spaces
If you have a uniquely shaped room, then storage might become a bit challenging. Instead of forcing a wardrobe into the room and compromising the aesthetic, invest in a few shelves, drawers, and rods from IKEA and create a nice little nook for your storage. By using open storage, you can eliminate the need for a space-taking wardrobe, and get an easy to organize, customizable storage solution.
Made of high quality linen fabrics eco-friendly, fabrics durable material, and it doesn't have any odor. The handle is made of stainless steel, Designed to match interior decor and style in any room. Never rusts!
Large mirrors are the best way to deal with small rooms and work best if your room has a unique shape. Placing a large floor-length mirror adds function in addition to making the room look less awkwardly shaped. You can browse through the IKEA collection to see one that fits your needs. Another great IKEA find is vertical storage, such as wall-mounted bookcases, which also increase the usable space that you have in the room.
When you have limited or awkward space, then maximizing functionality will work. In addition to vertical storage, you can also forgo nightstands to make room for a dresser and a desk. IKEA has small dressers that you can use as a nightstand and access more storage. It also has a larger surface to display art or meaningful items. You can use IKEA to get slim desks and matching stools so it can double as a dressing table when needed.
Light and neutral colors are known for making a room look bigger. Instead of painting it in darker hues to make the room look smaller, opt for lighter tones. Though dark tones are used to give rooms a cozier feeling and are often used for smaller spaces, lighter shades give the room a serene and open feel, rather than making it feel congested.
Small or uniquely shaped bedrooms are often a challenge for you and interior designers. The most common issue is that you can only find one spot to fit your bed and the rest of the furniture has to be arranged around it. However, with the IKEA Bedroom Planner, you can tackle just about any oddly shaped room to make it feel relaxing and serene.
This post contains affiliate links, which means we may receive a small commission, at no additional cost to you, if you make a purchase through these links.