Isle of Man is a small island having rich heritage and culture. You get wide variety of souvenirs in Isle of Man such as, Celtic souvenirs, TT souvenirs, Beauty products, accessories and many more.
All the local stores and souvenir shops in Isle of Man have varieties of souvenirs which are beautifully crafted by local artisans. Your trip to Isle of Man is incomplete without buying a souvenir. Below listed are eleven best souvenirs to buy from Isle of Man and make your trip the most memorable one by carrying these unique souvenirs.  
Get your favorites by shopping in Isle of Man goodies from Manx National Heritage. You get almost all the souvenirs from their shopping list.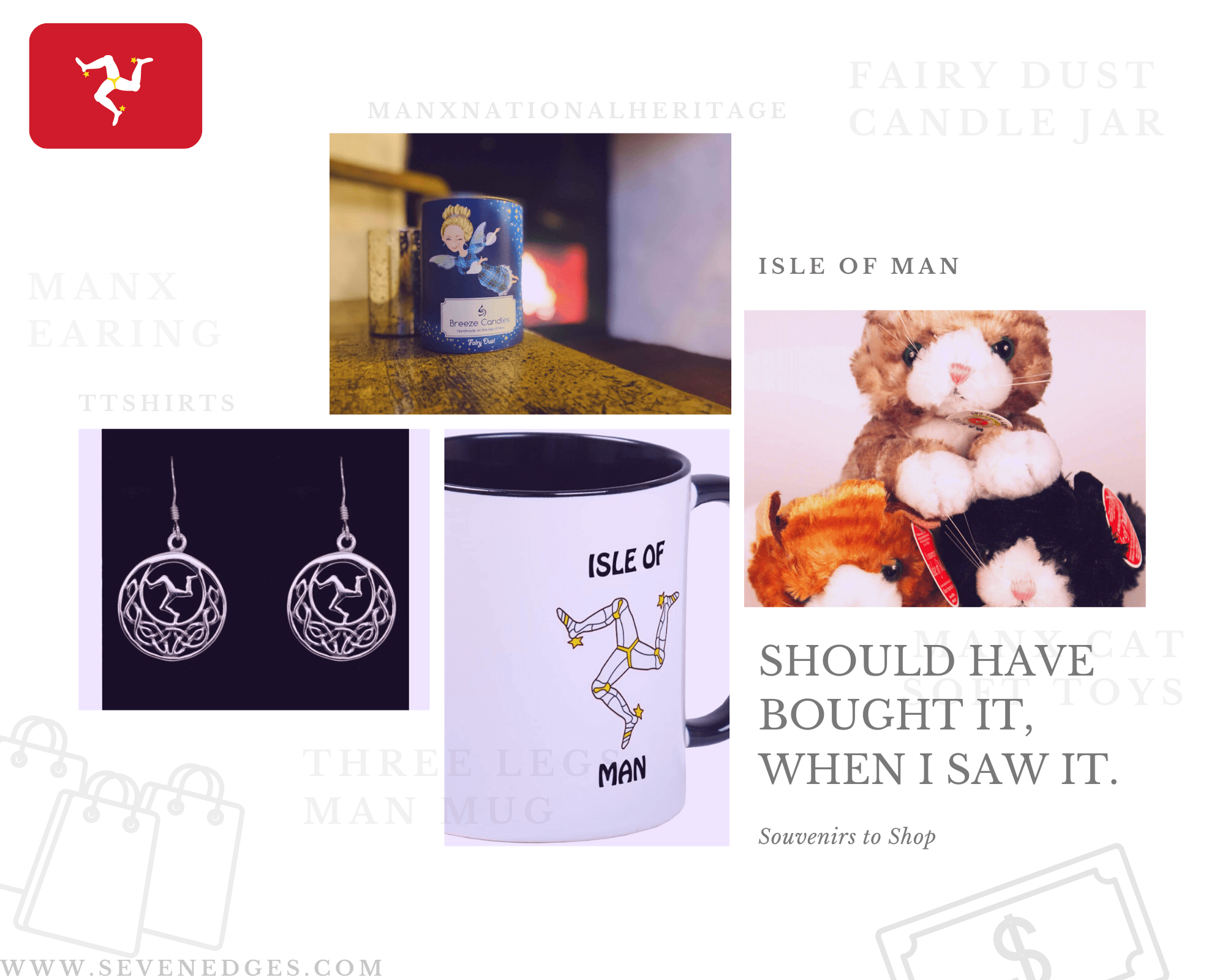 The Fairy Dust candle jar is the best aromatic souvenir for shopping in Isle of Man. Fill your room with fresh fragrance and feel relaxed by keeping this jar in your room. It is the heavy bottomed glass jar which has exclusive artwork by Kasia Mirska. This jar reminds you the fairy bridge and the fairies of Isle of Man and it makes a perfect gift for your loved ones.
Buy Fairy Dust Candle Jar online from Manx National Heritage.
One Horse Power book is an informative souvenir for you family and friends. It is written by Barry Edwards. It tells us about the heritage of Isle of Man, where horses were used for transportation and is still now in use in Douglas bay. The horse tramway in Isle of Man has long history and the author provides you the complete information of horse tramway in Douglas. This book is a must read which gives you the deeper knowledge of one of the heritage of Isle of Man.
Buy One Horse Power Book from Manx National Heritage
Shopping in Isle of man can never be complete without this artisan soap. The handmade Snaefell soap is the best souvenir to gift your loved ones. It has a sweet fragrance and is 100% natural and vegan. It is made of palm oil, olive oil, coconut oil, mango butter, and castor oil. You will get wide variety of flavors of handmade soaps in all souvenir shops of Isle of Man.
You can buy Snaefell Soap either from Makers.im or Manx National Heritage.
The beautiful earrings inspired by Manx Hunting Taran by Glonney Designs make an elegant souvenir for ladies. These earrings are beautifully handcrafted on bullseye glass. They look unique as each individuals are handcrafted. You can find these earrings in the local store and souvenir shops in Isle of Man. The silver plated earrings and make a perfect gift for girls.
Grab some beautiful jewellery online from Celtic Gold and TT Shirts.com.
Manx National Heritage and Makers.im has a very good collection of jewellry, toys, clothing you can choose from.
The fashionable scarf from Isle of Man can be the best souvenir for ladies. It is designed by one of the famous artist of Isle of Man, Nicola Dixon. It is inspired by Pagan Lady Necklace and has vibrant colours. It is made of silk chiffon and is available in souvenir shops of Isle of Man.
You can know more about Nicola Dixon from her personal page and her FB Page @nicoladixonmanxartist. Buy her product from Manx National Heritage.
As Isle of Man is filled with greenery, you can find wide variety of flora. Therefore, it is a house for many bees. You can find many small scale beekeepers throughout Isle of Man. Many natural cosmetics are made from beeswax. One such product is, lip balm. Beeswax are great for your lips and keeps them moisturized. You can find these natural beeswax lip balm in all the local stores of Isle of Man. Show your care towards your loved ones by gifting these natural souvenirs from Isle of Man.
Buy Beewax lip care from lovely Greens Handmade.
The keychain having Isle of Man TT logo will bring back the thrilling memory of TT race. The leather keychains are sturdy and are available in all local shops of Isle of Man. This leather keychain souvenir will be a great gift option for Isle of Man TT fans.  
The ceramic mug having Three Legs Man symbol is the best bring back memory from Isle of Man. You can find many epic designs of Isle of Man which are beautifully crafted on mugs. These mugs make an ideal souvenir to gift your family and friends. Shopping in Isle of Man is made easy by these souvenir shops from where you can find these mugs and other artisan products easily.
Click on the image to buy the product from amazon.
Manx cats are the unique tailless cats which are found only in Isle of Man. Due to genetic mutation, these cats are tailless. You can find wide varieties of Manx cat soft toys with different colours. These soft toys are found everywhere in Isle of Man and they make a wonderful gift for children. 
Isle of Man is famous for Loghtan wool. Laxey woolen mills produce pure loghtan wool rugs. The pure woolen rug has hard fabric and keeps you warm and cozy. You can find these pure rugs in souvenir shops throughout Isle of Man. This rug will be a great cozy souvenir to gift your loved ones.    
The rich Peggy rum of Isle of Man makes a great souvenir for your friends. This rum has 40% alcohol content and has dark and rich chocolate molasses, coffee infused with dark oat, caramel, baked apple, dried fruits with a hint of spice. Visit Manx Museum Gallery Shop to purchase a best Peggy rum.
Know more about Peggy Rum, and you can buy it from here.
Note: Photo identity card is required to purchase this rum as it is restricted for children below 18 years.
For buying Manx goodies, you can buy it from Mostly Manx and find other Artisans websites who provide variety of quality locally crafted items.
Have fun Shopping!
Please leave a comment below, if you enjoyed or find the information helpful. 
This post contains affiliate links, which means we may receive a small commission, at no additional cost to you, if you make a purchase through these links.