The picturesque French countryside is home to many picturesque towns and valleys. The beautiful countryside in France is an idyllic setting for a vacation. The towns and villages are historically significant and full of character. Many of these are listed among "Les Plus Beaux Villages de France." The French countryside borders Switzerland, Italy, and Belgium.
Located north of Toulouse, Rocamadour is one of the most beautiful places in the French countryside. It sits on the edge of a tree-covered gorge and has unique attractions including the iconic Black Madonna, the Cite Religieuse complex, and La Foret des Singes, a park where you can see more than 150 Barbary Macaque monkeys.
Rocamadour has a charming old town with cobblestone streets and a medieval citadel. It is a great place to spend the afternoon. The town is home to several cafes and shops and has an interesting medieval town center.
The town is filled with beautiful places to visit. There are several medieval settlements nearby, including Rocamadour. Other attractions include La Roque-Gageac, Sarlat-la-Caneda, Beynac, and Castelnaud. The countryside is also a great place to go hiking, biking, or canoeing.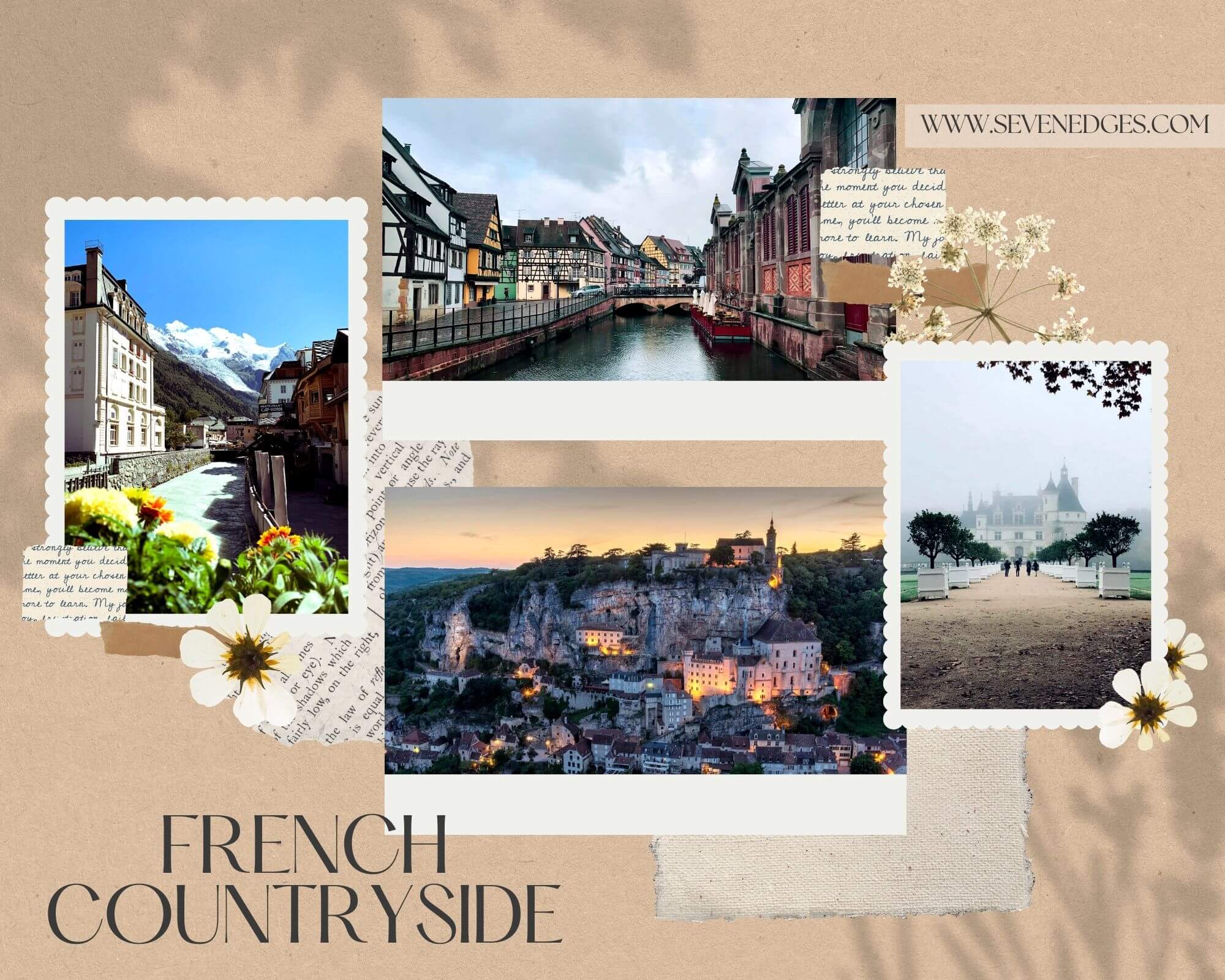 Chamonix is an alpine just one hour's drive from Marseille and is an ideal place to visit in the French countryside. It is situated at the base of Mont Blanc, the tallest mountain in Western Europe. If you are interested in skiing, hiking, or other outdoor pursuits, Chamonix is the place for you.
It is accessible from all parts of Europe, and it boasts beautiful scenery, world-class cuisine, and warm, welcoming people. There are many activities to take part in, and no matter what your budget is, you're sure to find something to suit your taste.
You can experience the beauty of the surrounding mountains and valleys by taking a trip on the Montenvers mountain railway. This 5.1 km-long line offers panoramic views of the Chamonix valley. The train was built in 1909 and was originally pulled by steam locomotives. At the upper station, you can take a gondola ride down into an ice cave. The experience is thrilling.
Colmar is one of the most beautiful places in French countryside. This fairytale-like town is with canals lined with half-timbered houses and flower boxes. It is home to lively wine bars and cafes and some of the region's best Christmas markets. There's also a lovely river that crosses through the town, the Lauch.
The town also features several notable buildings. Among them are the Ancien Corps de Garde, a 13th-century building that served as a courtroom, justice hall, and military housing. A nearby building, the Maison Adolph, is one of the oldest houses in the town and is the site of a wine shop.
The town's medieval Old Town is lined with cobblestone streets and features a maze of houses built by Alsatian burghers. The town's Gothic churches are worth a visit, and the Gothic Collegiale Saint-Martin Church is one of the most stunning structures in the town.
The beautiful countryside in France offers a tantalizing feast for the senses – from picturesque medieval villages to lush vineyards and fragrant lavender fields. Not only do the French countryside towns boast a rich national heritage, but they also attract holidaymakers, ski enthusiasts, and wine lovers. The French countryside is a great place to experience the local culture and learn about its unique customs.
The French countryside also offers a wide range of cultural attractions and festivals. For example, the Loire Valley in central France is 280 kilometers of botanical paradise with stunning chateaus and idyllic provincial towns. This area also has plenty of picnic opportunities and relax. Moreover, the area is bursting with cultural events, from music and dance to concerts and parades.
Toulouse is the fourth largest city in France and is located near the Spanish border. It is famous for its rich culinary culture! There are many places to stay in Toulouse and the surrounding areas. One of the most scenic areas in the area is the Canal du Midi, which was built in the 17th century. Taking a boat ride down the canal is an excellent way to explore the area. It is also possible to take a bike or a walk and enjoy the countryside.
Provence is a region of breathtaking beauty, with honey-colored stone cottages and terracotta roofs. Its valleys are crisscrossed with vineyards, olive groves, and lavender fields. Another region to explore is Luberon, which is known for its hilltop villages and medieval lanes. Whether you want to take a stroll along a medieval lane or explore the beauty of a medieval village, these are some of the most beautiful places in the French countryside to visit.

Please let us know if you found this post useful and what you are looking for through comments, we would love to help you out in that..
This post contains affiliate links, which means we may receive a small commission, at no additional cost to you, if you make a purchase through these links.