Laundry rooms are often overlooked and boring when it comes to home décor, but they shouldn't be. Designing your laundry room in colors of your liking can make doing laundry fun. With just a little bit of creativity and some design inspiration, your laundry room can be a beautiful space that you'll actually want to spend time in.
One color that has been gaining popularity in recent years for laundry room decor is sage green. The calming vibe of sage green décor can bring a sense of serenity to a typically utilitarian space. In this blog, we'll explore sage green laundry room ideas to help you transform your laundry room into a beautiful oasis.
Sage Green Laundry Room Walls
One of the best ways to incorporate sage green décor in your laundry room is to paint the walls. Sage green walls can create a serene and calming atmosphere that will make doing laundry feel more enjoyable. It's important to choose the right shade of sage green for your laundry room walls.
If you have a smaller laundry room, choose a lighter shade of sage green to make the room appear more spacious. If you have a larger laundry room, a darker shade of sage green can add depth and warmth to the space.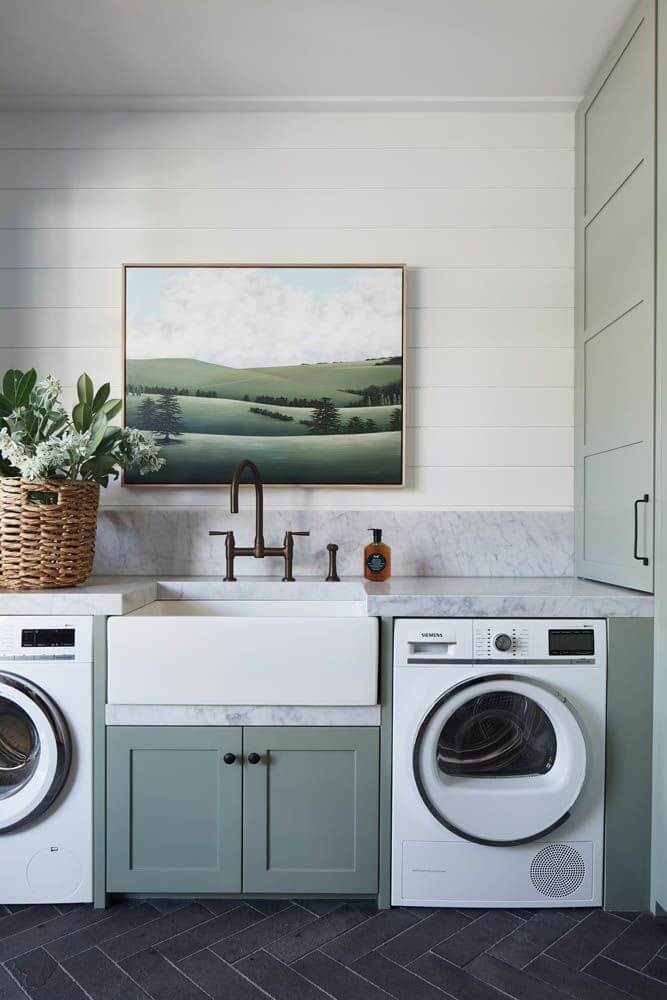 Sage Green Laundry Room Cabinets
If sage green laundry room walls don't appeal to you, consider adding sage green cabinetry. Sage green cabinets will add a pop of color in your laundry room and they will offer plenty of storage space for your laundry essentials.
For a modern look, pair sage green cabinets with white or black countertops. For a more traditional look, pair your sage green laundry room cabinets with wood countertops.
This framed flower wall art set includes 4 framed pictures. Succulent framed botanical prints are simple wall decor that provide a unique and intriguing touch by bringing the joy and calming effects of nature into any home. Plants wall decor make for a great bathroom wall art set.
Another sage green laundry room idea is adding the color through accents. This is a great option if you don't want to commit to painting the walls or installing new cabinets. You can add sage green accents through items such as curtains, rugs, towels, and even laundry baskets. These accents are an affordable option to bring some life into your laundry room.
You can use sage green into your laundry room by creating a neutral color palette. Pair sage green accents with white or gray walls, cabinets, and countertops to create a calming and cohesive design. You can also add texture to the space with items such as woven baskets and linen curtains.
Natemia's rope storage basket is the perfect organizer for all laundry and more! At 15"x15"x 14" these storage bin is extra roomy and will help you organize your daily routine!
This Storage bin is manufactured with high-quality rope that is coiled into a basket shape and stitched tightly. Handles are double stitched for extra stability and strength when moving the storage caddy from one place to another.
Lighting is an important aspect of any room design, and your laundry room is no exception. If you have a window in your laundry room, make the most of the natural light by keeping the window treatments simple and minimal.
If your laundry room doesn't have a window, consider adding a skylight or installing recessed lighting to create a bright and inviting space. Adding a statement light fixture to your sage green décor can also add a touch of personality to your laundry room design.
Your laundry room doesn't have to be a dull and boring space. By using the sage green laundry room ideas in this blog, you can create a laundry room that you can call a 'classy space'. Sage green is a great color choice for laundry room décor because it creates an open atmosphere.
It's important to remember that your laundry room should be revamped in a way that fulfills your and your family's needs. If you have a large family, you may need more storage or a larger countertop to fold clothes so you should choose sage green laundry room cabinets to incorporate sage green décor. If you live in a small space, you may need to get creative with storage solutions.
Regardless of your needs, there are sage green laundry room ideas that can work for any space and any budget. Let us know how it works out!
This post contains affiliate links, which means we may receive a small commission, at no additional cost to you, if you make a purchase through these links.