Creating a Zen Garden may not be everyone's cup of tea but sitting in especially a rooftop one is something everyone can enjoy, regardless of their opinions about Zen.
Typically, a temple garden originated in Japan, but Zen gardens are currently the hottest trend. People aren't sticking to having them in just their backyards; you'll see them everywhere from offices to hotels, and even rooftops.
A Zen Garden is a quiet, sensory space that is filled with a feeling of peace, meaning, and respect.
The designs are based on the five elements of nature: fire, earth, water, metal, and wood. The idea behind this is to harness the power of the elements to bring serenity into the area. Each element is carefully chosen concerning the meaning and symbolism behind them.
The reason for choosing each element to be represented in the Zen Garden is because each element represents an important part of nature: mountains, trees, rocks, etc. Through the use of creative design techniques, these elements match and contrast in various ways, building up a sense of mystery and uniqueness to the garden.
A typical Zen Garden, even if done on a small budget, has a way of inviting you to sit down, relax, and self-reflect.
A Zen garden kit provides a peaceful and meditative experience through the arrangement of sand, rocks, and miniature rakes.
Japanese Garden Meditation – The Purpose of Zen Garden
The primary purpose of a Zen garden is to provide monks with a place to worship Buddha's teachings. This includes keeping a calm mind and using the garden as an opportunity to encourage meditation. In essence, it should represent a meditative space with a sense of infinite emptiness. 
Zen Gardens – Green and Eco-friendly Options
In recent years, Zen rooftop gardens have gained popularity in metropolitan centers. They are becoming increasingly essential to counteract the "heat island effect", which is produced by an abundance of concrete and a lack of vegetation. There's no better place to get away from the city than a roof. Add a Zen rooftop garden, and you've got yourself a little slice of heaven.
Rooftop gardens are an ancient idea with undeniable advantages. People have always been drawn to rooftop gardens, whether they serve as a community oasis of green or a personal retreat. Zen rooftop gardens go the extra mile and improve the environment beyond your home. If you were looking for a home décor project to take on, green and eco-friendly garden is the perfect feel-good solution. 
Zen garden accessories, such as mini pagodas, Buddha statues, and bamboo trays, add a touch of tranquility and authenticity to the serene atmosphere of a Zen garden.
What Types of Zen Gardens Are There?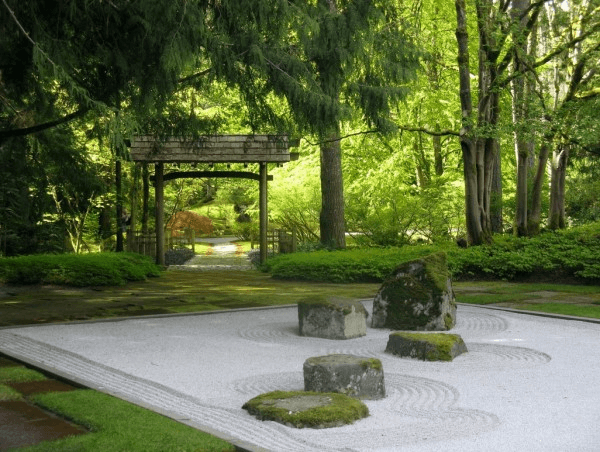 A lush and peaceful rock garden.
(
Source
)
Zen Rock Garden, Zen Sand Garden, or Waterless Zen Gardens are exceedingly popular on the internet. They're highly fashionable, especially with the current awareness of mental and physical wellness. You don't need a large outdoor space to make this divine garden; simply place some sand and rocks in your chosen space and rake the sand to represent lakes or the sea, while the rocks represent the mountains.
Types of Japanese Rock Gardens
Japanese rock gardens can come in numerous types and styles. And, despite only subtle differences, each rock garden also has its own purpose and maintenance requirements. The most popular variant is dry rock gardens or karesansui. However, other main types can also include tea gardens and courtyard garden designs.  
Shop these Zen garden statues and Zen Garden ornaments, for a relaxing rooftop Zen Garden.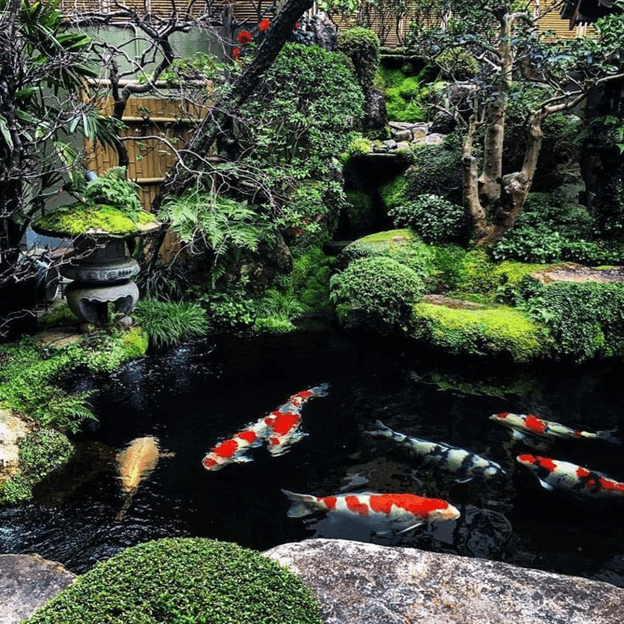 A small koi pond set in the corner of a garden.
(
Source
)
Representing lakes or the sea, as well as the colors of nature, Koi Fishponds are a beautiful addition to your rooftop Zen garden. They can be as big or as small as space allows, so you don't need to worry about anything!
If you're looking to create a calming and relaxing atmosphere for the outside of your home, a Zen Terrace may be your choice. Bringing aspects of a Zen Garden to the comfort of your balcony or roof, a Zen garden Terrace aims to encourage moments for pleasant meditation, reading, or can simply be a space to spend time with your loved ones.
Japanese Bamboo Water Feature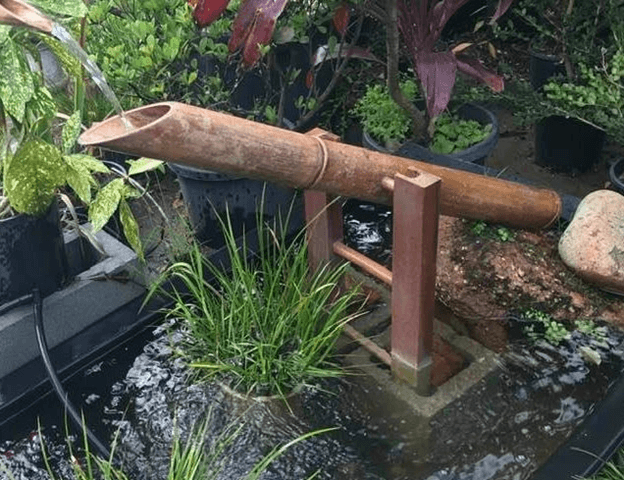 A shishi-odoshi placed in a rock pond.
(
Source
)
Shishi-odoshi, or Japanese bamboo water feature, is the quintessential element of Zen gardens. A tube of bamboo has a water source lightly trickling into it, which pushes the tube down, causing a sudden, measured noise. Though its purpose is to scare away birds, it is incredibly peaceful to watch on a rooftop garden.
No Zen Garden could really be complete without some accessories. Especially when dealing with miniature sizes, a Mini Zen Garden without accessories can be bland and uninteresting. And, in most cases, you would also want to opt for décor to relate your Zen garden to real-life proportions as much as possible.  
Despite the benefits of maintaining your own Zen Garden, it can be equally satisfying to have Zen rooftop garden designers help you with the process. With professional help, you're guaranteed an aesthetically pleasing garden for your meditative purpose.  Plus, with their years of experience, you wouldn't have to worry about any logistical problems faced during the process.
Zen garden designs can be structured around seven major guiding principles: Simplicity (Kanso), Naturalness (Shinzen), Austerity (Koko), Asymmetry (Fukinsei), Subtlety (Yugen), Stillness (Seijaku), and Magical (Datsuzoku). When coming up with Zen sand design, your garden should symbolically include most or all of these ideologies.
In traditional Japanese gardens, you can see a lot of prominent usage of flowering plants, vines, and trees. More contemporary designs can also include water-loving flowers, such as lotuses, irises, and water lilies as popular choices. However, as a word of advice, we recommend choosing flowers in Zen garden that are native to your area, as these would be more durable during the summer or winter months.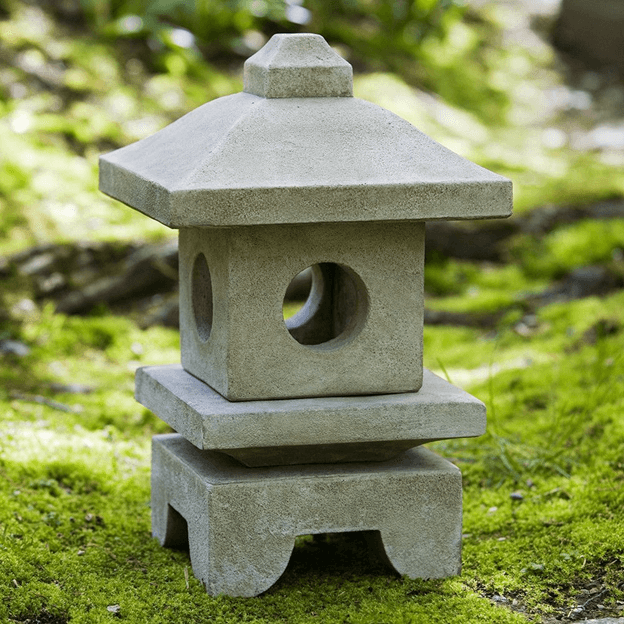 A small Japanese lantern in a Zen Garden.
(
Source
)
Typically made of stone, Japanese lanterns bring a look of their own to mini Zen Garden. They are usually placed on the ground next to seating areas or water so that they can provide both beauty and light.
Take Inspiration from the Masters
One of the best ways you can successfully create a Zen garden on your rooftop is by taking examples from experts in this field. Following the works of designers like Kohei Owatari and Shunmyo Masuno, you might be able to understand their philosophy better and apply it to your garden.
Shunmyo Masuno – The Master of Zen
Shunmyo Masuno was born in Yokohama. He sought an apprenticeship in garden design under Katsuo Sait, after graduating from Tamagawa University's Faculty of Agriculture in 1975. He has been studying Zen at Sji-Ji, one of the St school's two head temples, since 1979. He founded Japanese Landscape Consultants, a garden design firm, in 1982. In the year 2000, he was appointed top priest of Kenk-Ji.
Since the 1980s, he has given lectures at universities such as Cornell, the University of London, and Harvard. He has been a professor of Tama Art University's Department of Environmental Design since 1998, and he has also lectured at the University of British Columbia. He has developed hundreds of gardens in Japan and throughout the world through his business. He has created traditional designs, which include the Japanese garden in Berlin's Erholungspark Marzahn park, and are striking examples of modern design. He has also created the Karesansui garden at the Canadian embassy in Tokyo.
Masuno begins the process of developing a garden by meditating and creating a connection with spaces he wants to work with. This necessitates the emptying of the ego to "hear" the garden components communicate. In conversations with philosopher Koji Tanaka, he articulated his viewpoint on gardening ethics, stating that gardening creates tenderness in the designer, builder, and caregivers. He believes that all the elements of a garden have a 'suchness' or inherent value, as well as everyday's connectivity, harmony, tranquillity, and sanctity. Developing a feeling of respect for all things is a significant step toward being a good human being, both concerning other people and the environment in general.
He has become a true master of this craft and has published a book where he provides ten landscapes that are great for hotels, private landscapes, and even museums. The book articulately melds his two passions, combining both his philosophies and beliefs as a Zen Priest and as a landscape designer.
To know more about his work and aesthetic practices, click on his webpage, so you can understand his work, philosophy, and history.
Kohei Owatari – the Japanese Landscape Designer
Kohei Owatari was born and brought up in Japan, where he graduated from the Tokyo University of Agriculture.
Following graduation, he worked as an apprentice at a landscape company and the garden retreats of members of Japan's royal family. This is where he learned and implemented conventional garden design principles and talents for the first time.
After moving to San Diego in the 1980s, he became a landscape designer and licensed contractor specializing in traditional and contemporary Japanese gardens.
His Japanese garden concepts and high-quality craftsmanship have been recognized and appreciated by homeowners and business owners across Southern California and multiple other locations.
His landscape designs are heavily influenced by nature. He frequently utilizes natural stone or carves it to blend in with other elements. They may then be layered to form larger objects such as pillars, walls, or mosaics. Every stone has a unique texture and color that distinguishes his garden from the others.
In his designs, he frequently uses water and stone and they work in tandem. That is, they collaborate effectively to produce a tranquil and natural atmosphere. He thinks it's a nice reminder to put down your phone and glance around now and then.
His business webpage is a great portfolio for who he is and what his designs are like. If you need inspiration, then look no further than this award-winning designer and his unique and tranquil creations.
Add Some Zen to Your Landscape!
When it comes to Zen gardens, they aren't just a fashionable and beautiful addition to your home. If utilized correctly, your Zen garden can evoke feelings of calmness, tranquility, and peace, with the help of meditation.  Furthermore, frequent maintenance has been proven to provide numerous other psychological health benefits.
So, if this hasn't convinced you to create your very own Zen rooftop garden, there are many other types of Zen gardens you can look into for yourself! After all, their purpose is to help you find a peaceful and balanced state of mind, and a serene space to sit in.
This post contains affiliate links, which means we may receive a small commission, at no additional cost to you, if you make a purchase through these links.