The modern Bauhaus-inspired interior features clean, bold, and minimalist designs. These now-trending designs can be traced back to the Bauhaus school of Architecture in Germany, during the early twentieth century.
For the last 100 years, the Bauhaus interior style has portrayed a cool, modern, and elegant practicality. Over time, this has become one of the most valued in the world of interior design. This article will be focusing on what modern Bauhaus interior design is, the colors and styles it includes, and its timeless examples.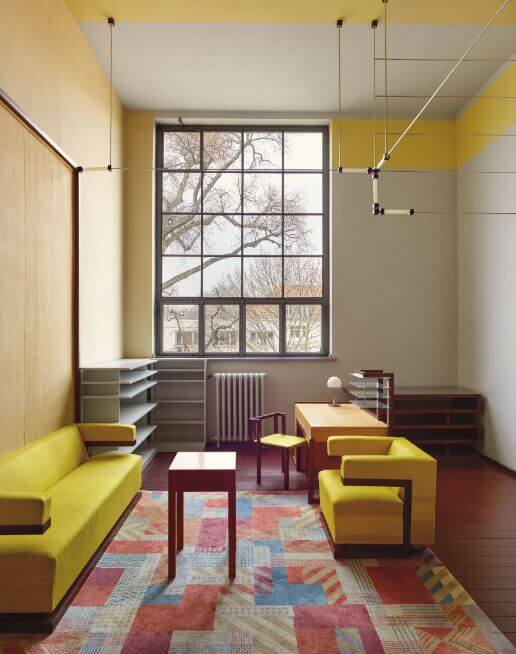 What is Bauhaus Interior Design?
The perfect description is given in three words – simple, understated, and minimalist. There is no single way to go about drafting your house or workplace interior with Bauhaus-inspired designs. With a contemporary blend of industry, art, and science, the Bauhaus interior design holds uniquely.
You have plenty of options to choose from when working with this modern form of architecture, ranging from geometrical designs to bold lines and from primary color mixes to different construction materials. The variety yet the uniform undertones in all of the Bauhaus-style interior designs make it unique.
The main characteristics of Bauhaus Interior Design
Considering the variety in these styles, we cannot expect all Bauhaus interior designs to look alike. These designs apply to buildings, graphic art, household ornaments, furniture, and typography. While many have linear and angular architecture, others may have curved or rounded features. However, there are a few common characteristics regarding all Bauhaus-inspired interiors.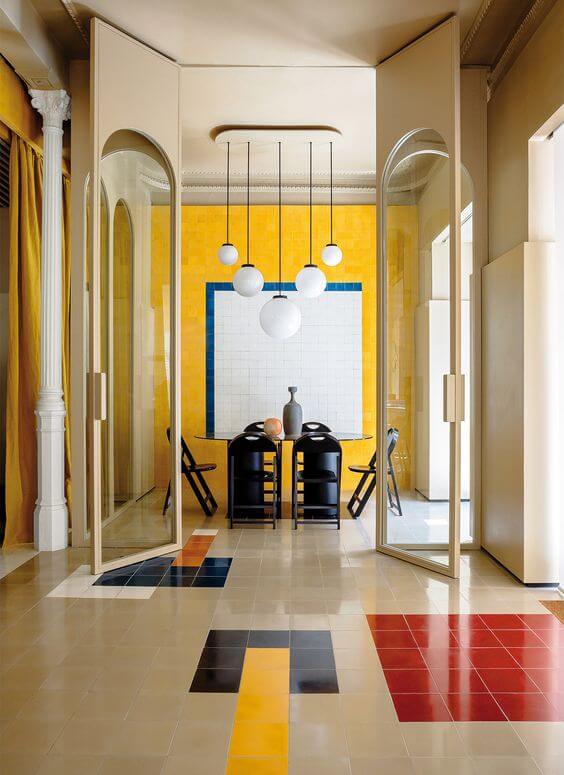 Unlike industrial architecture, Bauhaus interior designs make use of asymmetry. The asymmetry in material usage, colors, and shapes brings a balance that is not seen in old-age designs. A perfect example to explain the idea behind establishing asymmetry in your designs is the Bauhaus building in Dessau, which is a perfect blend of different angles and shapes, yet remains elegant and minimalist in its way.
Since this type of interior design revolves around simplicity and modernism, keep the ornaments in your space to a minimum. Instead of having large pieces of wall hangings or another décor, stick to geometric shapes with a few simple details to embellish one of your walls. Decorate your room(s) with sparse and only necessary furniture, adding a geometric centerpiece to add to the simplicity and elegance of the design.
Basic Construction Materials
You may include a uniform material throughout your interior design or use different ones. These include concrete for the ideal building design, glass, and steel. You may use glass for glass curtain walls and steel for chairs and tables to create minimalist designs.
Your interior design should be carried out while taking Wassily Kadinski's theories about the Bauhaus interior designs into consideration. He classified yellow as prominent and eccentric, blue as the exact opposite of yellow – receding and concentric, and red somewhere in between blue and yellow, as a medium warm.
With Bauhaus-inspired interiors, it is essential to keep these colors to a minimum. To avoid going overboard with these eccentric primary shades, consider adding a single red wall or a single yellow chair in a room painted with basic industrial colors (white, beige, or grey).
When working with holistic designs, you need to apply those to all or most elements of your interior. They could be used for furniture design, eating utensils, home appliances, and typography. By incorporating these styles throughout your interior, you would be creating a uniform Bauhaus-style interior design for your living area or workspace. Holistic designs may be defined as aesthetically pleasing yet environment-friendly styles, which are flexible to accommodate small spaces.
The Cesca Chair – an Example of Bauhaus Interior Design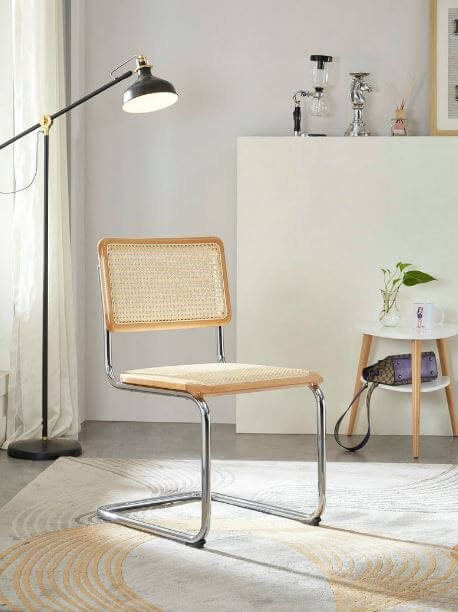 Marcel Breuer drafted one of the most renowned and commercially successful designs of Bauhaus house interior in 1927. The Cesca Chair is an evolved version of the industrial four-legged chair commonly available. The construction of this chair goes in line with the common characteristics found in Bauhaus architecture – tubular steel design with a wooden frame for the back support and seat.
Not only is the Bauhaus Interior Design a significant part of modern architecture, but also includes and is influenced by Scandinavian minimalism, the Victorian style, and the colonial style. It makes use of the same basic industrial materials and forms an evolutionary version of vintage interior designs. Tubular chairs, glass ribbon windows, and the use of bold primary colors are the most common examples of contemporary Bauhaus styles.
This post contains affiliate links, which means we may receive a small commission, at no additional cost to you, if you make a purchase through these links.