In recent years, She Sheds have become commonplace in many homes. Serving as a pleasant escape from the demanding and day-to-day responsibilities of a woman, it's no wonder why they're so popular.
Filled with everything from nifty organizational fixtures to personalized typography, a She Shed can be anything you want them to be. In essence, it is a space dedicated to you and your well-being. So, if you like having some downtime every once in a while, you're in luck. This blog is your go-to guide to make the ideal She Shed for yourself.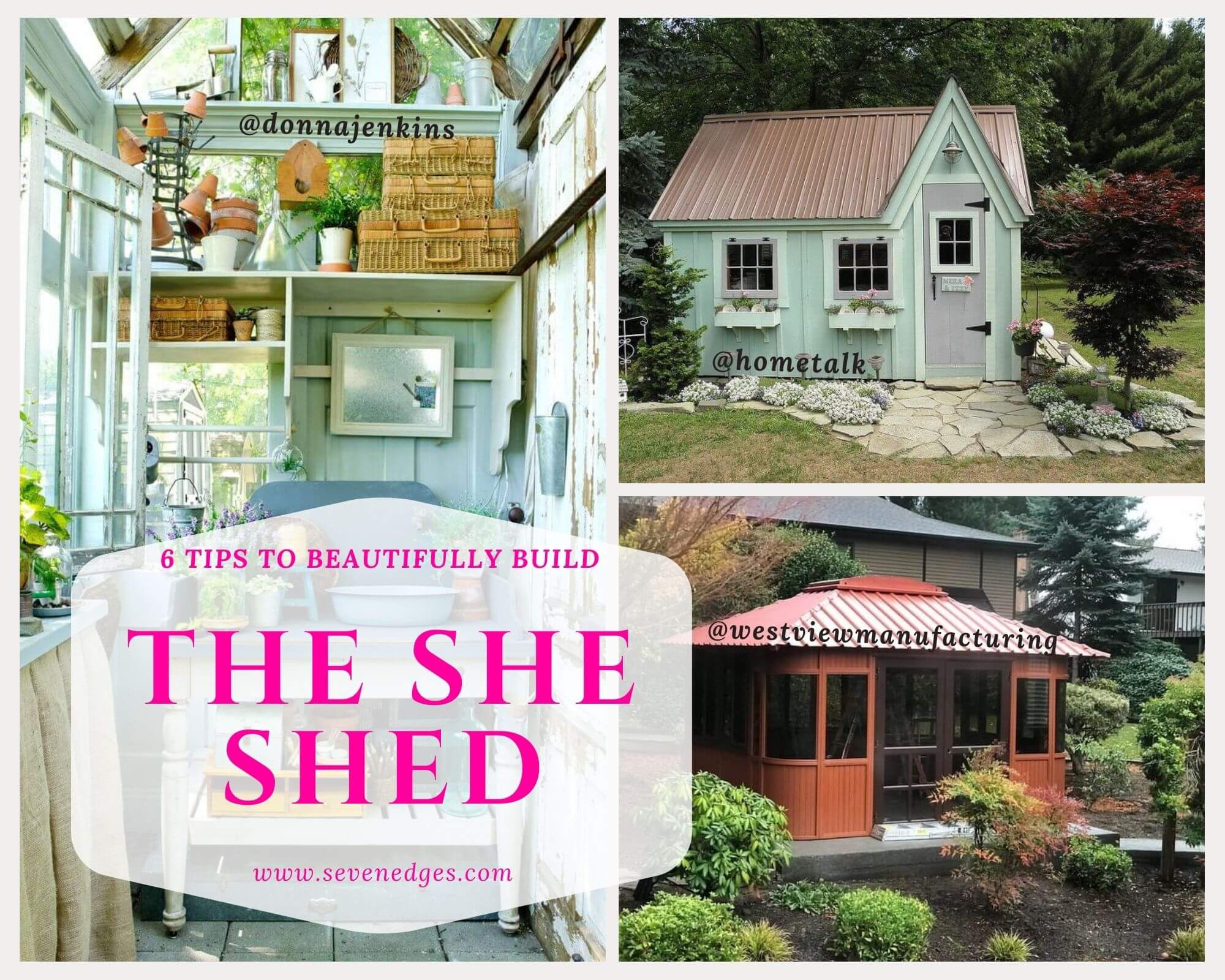 A She Shed serves as a place that women can use whenever and however they want. Often converted from tool sheds, they are located as rooms in the backyards of properties. And, to be honest, many people just kind of think of them as the female version of a Man Cave.
They can come with numerous features and functions. Some can include running water and air conditioning, whereas others are just spaces to relax or indulge in hobbies. More than anything, they are just comfy women-only spaces that are welcoming and calming.
Steps to Create Your Dream She Shed
Hearing the concept, we all know how exciting it can be to finally have a place of your own, and getting the opportunity to decorate it to reflect your personality doubles the excitement. So, if you're looking to design the perfect She Shed, or some of the she shed ideas we've compiled everything you'd need to do step-by-step.
1. Go for the Natural Authentic
Like we said earlier, many She Sheds are conveniently located in backyards or home gardens. So, if you, like many other homeowners, have a cluttered and messy backyard, it's probably time to consider sprucing up the place. And, what better motivation to beautify your backyard than with a personalized shed?
Plus, if you don't already have an old shed in your backyard, you could always just opt for the freedom of building your own.
2. Getting the Right Blend of Colors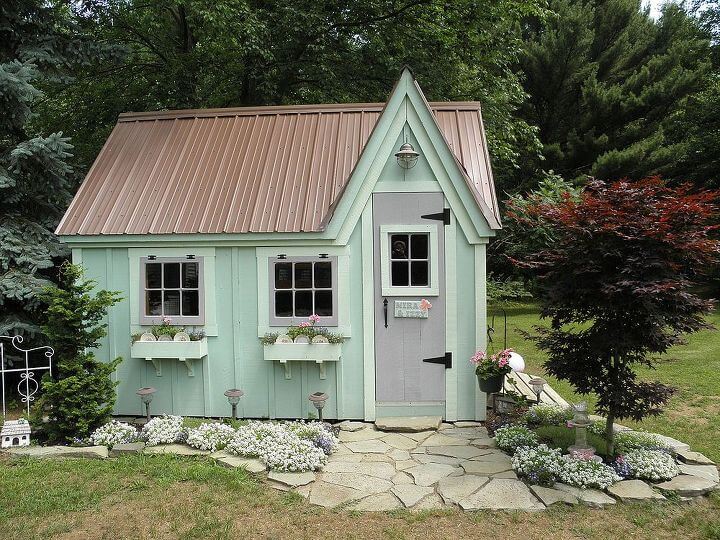 Before we start working on the inside, we should first make sure the exterior is just as cute and feminine. And, to ensure this, a fresh coat of paint might be just what you need.
To get the feel of a comfy and welcoming environment, we suggest calming colors, such as light blue, teal, or soft pink. A good example of this would be Hometalk bloggers Mirabella and Isadora's shed shown below. With their cute blend of teal and grey, they give a cottage-core aesthetic, which is great for a homely and comforting atmosphere.
Likewise, lively colors like bright yellow or purple could instantly make your home stand out, indicating a fun and energetic atmosphere.
3. Give Your Shed a Purpose
There's no point in having a quiet place to yourself if you can't indulge in your favorite hobbies and pastimes.
To get the most out of your She Shed, we recommend choosing something you love and resort to whenever you need a break. After doing so, you can then start searching for utilities that would help you to accomplish these pastimes.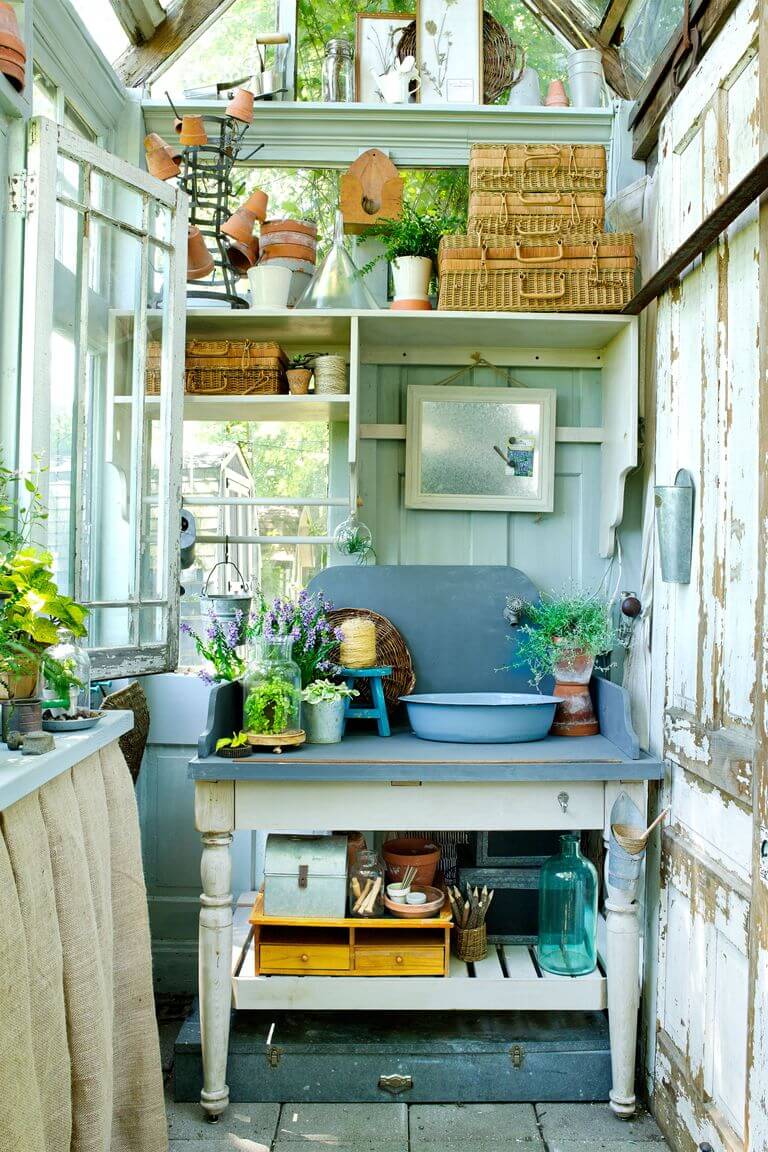 It could be something simple like a shelf for all your favorite reads, or you could even convert the entire place into a personalized art studio. Whatever you choose, you should just remember to make it your own and something you love.  A good example of this would be the Stylist Donna Jenkin's shed shown below. Over here, she used her personal space as a potting shed that she could spend time gardening in.
Building and decorating a She Shed doesn't have to be a drastic expense. In most cases, creating your ideal environment can be done by exploring antique shops or flea markets. By following the principles of eco-friendly designing, you can find a whole array of second-hand decorative pieces.
As an added bonus, rustic flea market objects often have a vintage aesthetic in them. This can contribute to any natural and comforting environment you're trying to create.
Shop She Shed Decoration and essential kit to make your small happy place and have a she time.
5. Create a Space Everyone can Enjoy
Besides being a getaway to your favorite hobbies and tasks, a She Shed can serve as a great place to spend a girl's night or enjoy other peoples' company. So, you should also look for accessories that can help keep your guests and girlfriends entertained.
These could include regular household furniture items, such as coffee tables, sofas, or bean bag chairs. Likewise, if you're willing to splurge a bit more, you can even opt for a mini-fridge or a big-screen television. Another way to create a versatile feminine space is to name it She Shack, instead of Shed.
6. A Reflection of You and Your Loved Ones
Keep in mind that hobbies and interests would always come and go. Your She Shed could always be adjusted to fit your views. For, at the end of the day, it would always be your space!
So, the most crucial tip would be that you shouldn't restrict yourself. Whether you want a private corner to read in or a mini-bar for your backyard shed, more than anything, a She Shed should just be a space you can be yourself.
Similarly, it doesn't have to be just about you. There could be other girls in your house, such as your kids or extended family. So, why not consider the input and opinions of other women in your women-only space? Maybe the She Shed could be a playtime hangout for your little girls or a fun place to spend the weekend together. Needless to say, it should be something that would be loved by the whole family.
How Much Would It All Cost?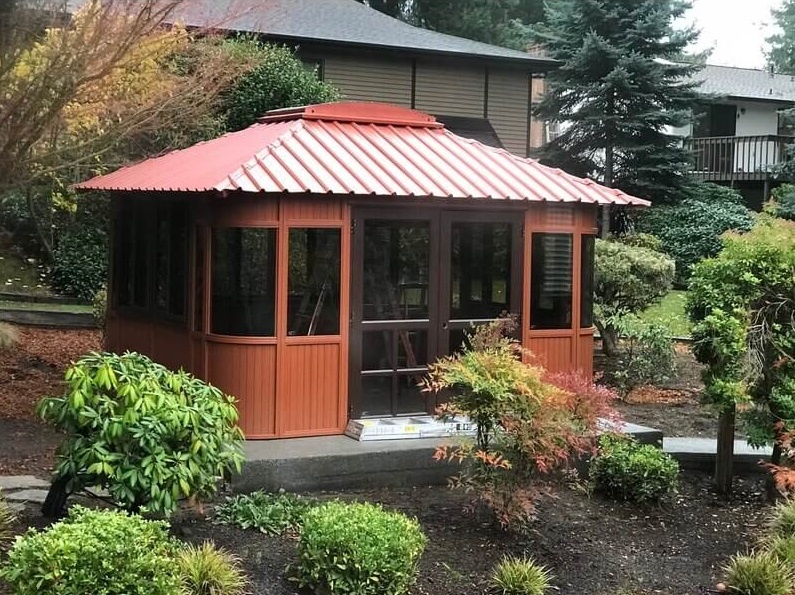 Considering all the benefits a She Shed could bring, you might be wondering if this is something you can even afford.
Well, for starters, it doesn't have to be built from scratch. These sheds can come into two varieties: DIY or custom builds. And, there's an immense difference between prices, depending on factors such as functional kitchens, plumbing, and general home décor. And, if you don't already have a shed in your backyard, you could pay for construction and permits. In general, it's impossible for us to give an accurate estimate of how much your personalized shed could cost without knowing what you want.
On the other hand, ready-made builds are much easier to get at a good price. In general, you could expect them to come as shed kits that cost anywhere from $5,000 to $30,000. Our personal recommendation would be this Aspen Ultrawood 13.5 x 11 ft Wood Shed by Westview Manufacturing (shown above). But, if you're looking for cheaper alternatives, we recommend clicking here for a detailed guide to building a cost-effective shed or shack.
This post contains affiliate links, which means we may receive a small commission, at no additional cost to you, if you make a purchase through these links.