Everyone wishes for a well-decorated house with a beautiful kitchen, but redecorating an entire house or even just your kitchen can be very expensive. If you are someone who wishes to transform their kitchen and make it more glamorous then a copper backsplash is your answer. Metallic wall décor has been in the interior decoration trend for several years, but now copper has taken that over completely. We are here with a list of some unique ideas that can transform your kitchen to make it look modern.
A unique backsplash can help you turn your kitchen chic and modern, in addition to giving it a fashionable look. Here are three unique trends that you can incorporate in your kitchen to make it glamorous.
Copper Penny Tile Backsplash
A copper backsplash with tiny copper penny tiles gives a bold look to your kitchen. It not only looks great with white countertops and cabinets but compliments black countertops as well. This Copper Tile Backsplash style works well with transitional, modern, as well as traditional kitchens. And if you have other metallic or neutral hues in your kitchen such as grey, then it will look even better as it will act as a bold pop of color.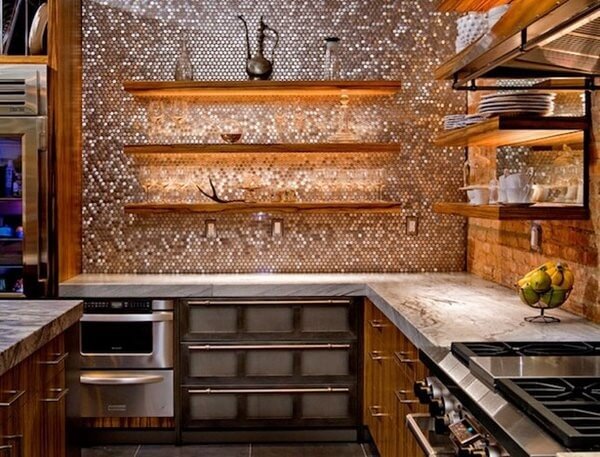 If you are planning to add copper penny tiles backsplash in your kitchen then you can choose from either small hexagonal tiles or large hexagonal pieces if you want a conventional look. Moreover, if your kitchen consists of wooden shelves then these tiny copper penny backsplash will give it a chic look.
This can also serve as a good DIY project for you and your family as you can even make your backsplash with real pennies. This design from Deavita is everything that we aspire to see in our kitchens to make them look unique.
Shop Copper Backsplash Panels Peel and stick which can be easily cut with utility knife or sharp scissor. Simple for home renovation, or for decorating your rooms.
If you want to give your home a high-end and modern-looking kitchen then you don't need to make too much effort, as copperbacksplash behind stove is the easy way to go. There are various copper backsplash trends that you can incorporate but the simplest one out of all is a smooth and flat copper backsplash sheet. And even though it is very simple and plain, it can make your kitchen look very elegant.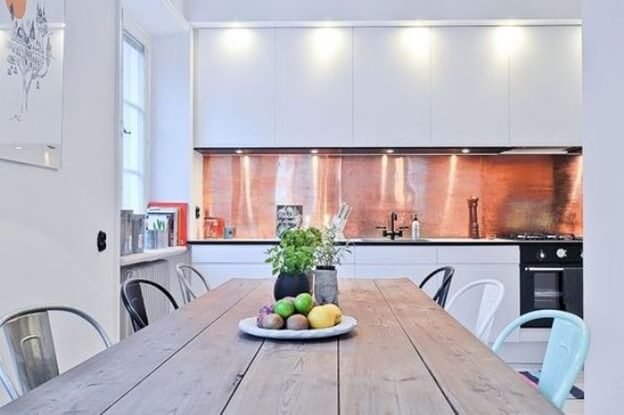 You can choose from different available colors such as light brown copper, dark brown copper, etc. depending on the style and colors of your cabinets and any other kitchen décor. A flat light brown copper backsplash would look great with white cabinets and white countertops. Not only that, but it will also complement any woody textures, furniture pieces, or hues that are in your kitchen.
If you have an industrial design kitchen then a simple smooth copper backsplash sheet would make a great difference and will enhance the overall look. You also don't need to cover your entire kitchen or install copper sheets on every wall. Even if you add it to one front wall it will give your kitchen a luxurious look that you've been wishing for as we can see in the design by DigsDigs. Besides being elegant and stylish, this look can also hold a place in budget-friendly backsplash ideas.
Copper Brick Tiles Backsplash
Just like copper penny tiles other types of tiles are also famous for copper backsplashes and one of them is the brick-style tile backsplash. These types of subway style backsplash with copper shade can give your kitchen a rich and posh look. Moreover, they are also long-lasting and can withstand different high temperatures.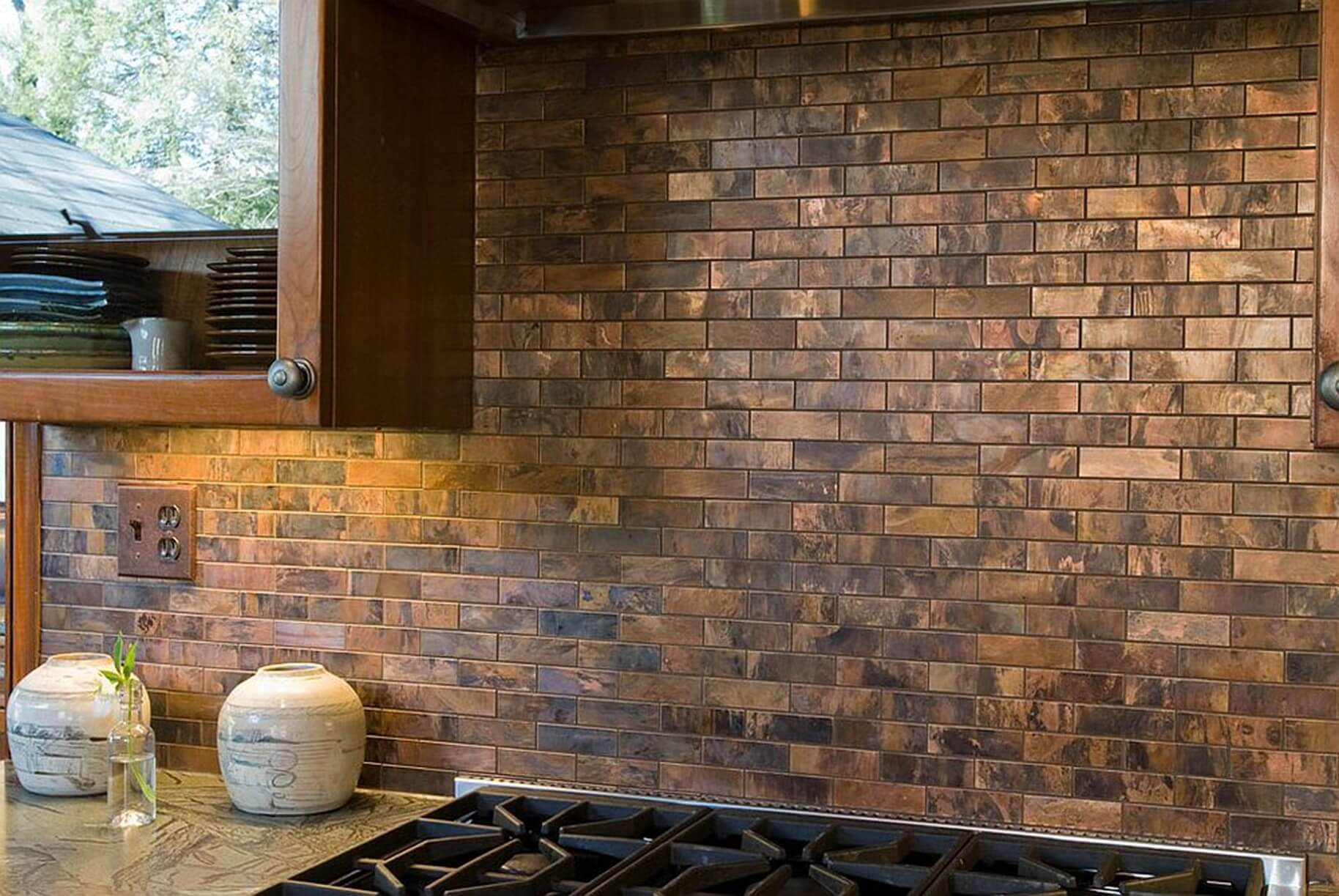 To get the brick-like texture and structure all you need is small rectangular or square copper pieces and arrange them how you would usually arrange bricks for a wall. This backsplash styles will help in highlighting industrial or art deco-style kitchens. You can cover your simple small kitchen wall colors to earthy shade with copper bricks to give it a Mediterranean look or you can just cover the area behind your stove and above your counters.
This design by decoist gives a Mediterranean touch that will transform your kitchen on a budget completely.
Now that you have some unique ideas about how to make your kitchen look bold, posh, and chic it's time to turn your old kitchen and old kitchen cabinets into a modern and glamorous one. Compared to old wooden or porcelain tile styles, copper backsplashes are not only new and trendy but they are super easy to install. And you can even do it yourself and make it a DIY project that you can do with your family or friends while only having to spend a little amount of money.
This post contains affiliate links, which means we may receive a small commission, at no additional cost to you, if you make a purchase through these links.