What's the one place in your house where you spend most of your time? That's right! It is undoubtedly your living room! Be it hosting guests, spending time with family, or just relaxing after a long day at work, one always somehow ends up in the living room.
Hence, owing to the use of a living room for an array of purposes, the design should be such that it complements every occasion. You wouldn't want to relax in a room with blinding bright lights flashing across your face all the time, nor would you want to host your guests in a dark and dingy room. In addition, you would agree that tweaking up your living room every time is a job next to impossible. Now, look at the picture below. Doesn't it feel cozy and stylish at the same time?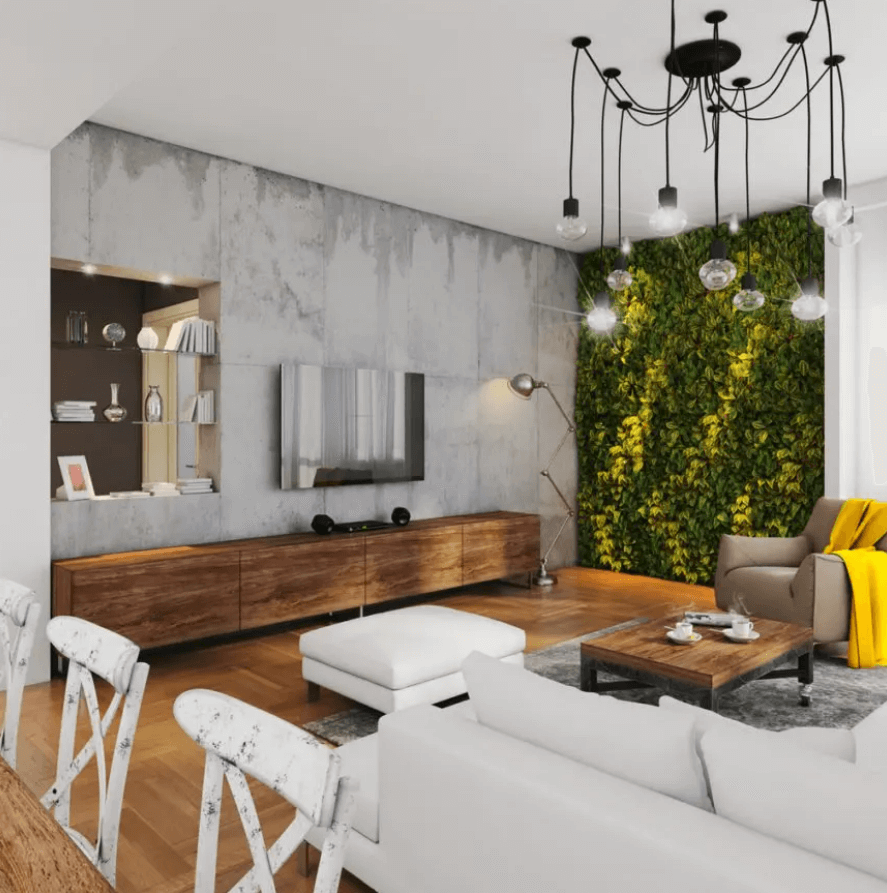 This is exactly where nature comes into play. Therefore, switching to a biophilic living room design is the key.
We as human beings are inherently nature-loving. Before the world developed into this massive jungle of bricks and concrete, nature was our home. Therefore, infusing nature with the interior not only improves the aesthetics but also imparts a sense of peace and calm, improving your mood and allowing you to feel instantly refreshed.
What Are the Components of Biophilic Design?
Nobody can deny the importance of going out, breathing in the fresh air, and experiencing nature more closely than a population forced to stay indoors because of the brutal pandemic. Anything that allows you to feel closer and more connected to nature can be a part of your new biophilic living room design.
Here are 5 ideas to help you set up your new biophilic living room
Allow the light to shine indoors
Making use of daylight is the best way to help you get started for the day. Large windows maximize the amount of sunlight illuminating the room, exposure to which improves circadian rhythms, your sleep cycle, and enables you to optimize your working capacity. Along with this, you can open the windows and let the gentle evening breeze destress you at the end of an exhausting day.
Having plants around helps reduce stress and anxiety, in addition to providing you with clean air to breathe. Set small pots around the room and place tiny cacti on the tables. Having ferns and mosses along with hanging creepers is also a good idea.
Go for a more natural color scheme.
Use a combination of natural tones like earthy brown, sky blue, and grassy green for your new living room. These colors mimic the effect of nature and create a happier, more productive environment.
Give a classic touch to your new living room with wooden flooring and furniture. Add more style to the room with other natural materials like marble, cork, or granite to enhance the aesthetics. Natural material is more hypoallergic and can come with a lot of benefits for people suffering from several allergies.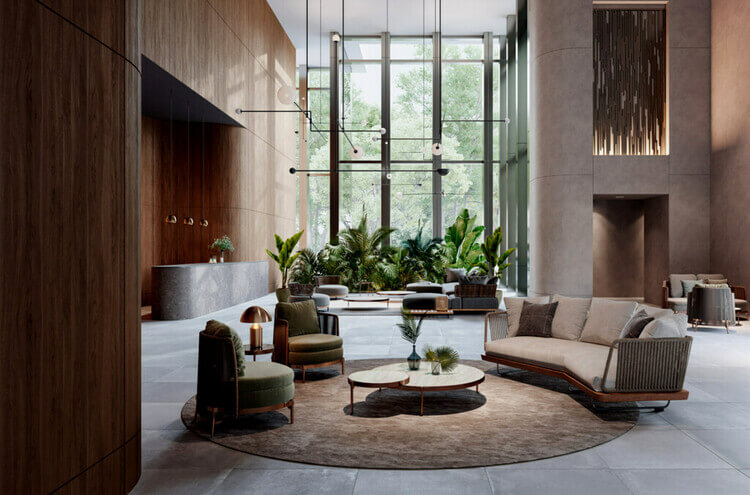 A tabletop fountain can serve as an alluring decor accessory for a biophilic living room. The sight of the fountain and the sound of water trickling helps in boosting your mood, as water is well-known for its therapeutic effects.
The new trend revolves around the need for sustainability. Hence, biophilic l designs are fast gaining popularity and are commonly adopted by famous architects and hotels. An example is 1 Hotels, New York and Miami, where the interior is adorned with potted plants and reclaimed materials which emanate warmth and hospitality. Not only are biophilic designs elegant and make one feel closer to nature, but they also offer numerous health benefits.
This post contains affiliate links, which means we may receive a small commission, at no additional cost to you, if you make a purchase through these links.