Iceland is known as "The Land of Fire and Ice". The nature is at its best in Iceland. It has epic landscape features having massive glaciers, breathtaking mountains, amazing geothermal areas, stunning lava caves, captivating rock pinnacles, magical northern lights and many more. Iceland is a paradise for nature lovers. This picturesque country attracts tourists worldwide. Below mentioned are ultimate 7 Iceland natural wonders for nature lovers.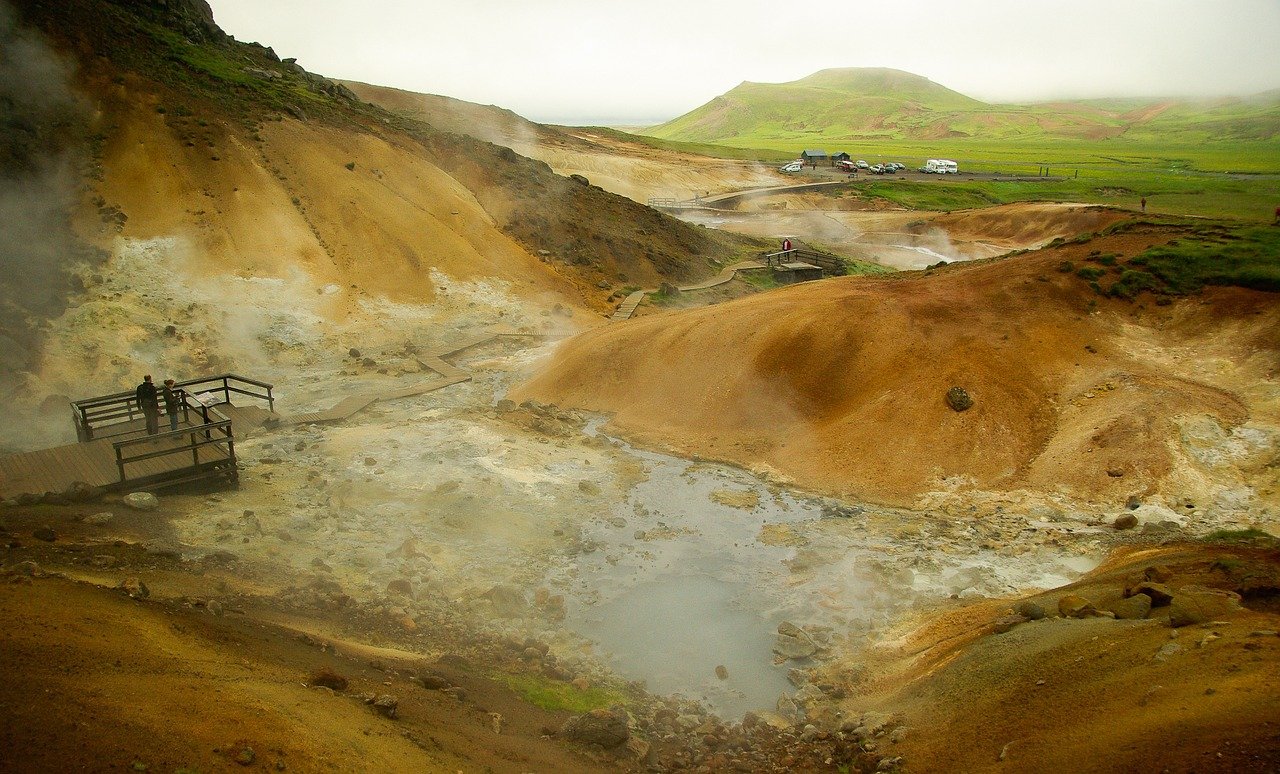 Krysuvik, the geothermal area is located on the Reykjanes Peninsula in the South West of Iceland. This area consists of many captivating geothermal fields such as, Seltun, Hverahlid and Hverahvammur. It has a beautiful landscape of yellow, red and green colour. You will be enthralled by witnessing the columns of steam rising upwards, bubbling mud pools and Sulphur deposits.
There are many informative sign boards in this area which explains the geology of the geothermal area. Lake Graenavatn, Lake Augun and Lake Gestsstadavatn are explosion crates which are formed by volcanic eruptions. Among which, the Lake Graenavatn is the largest lake having 150 feet deep and shines with deep green colour because of the presence of thermal algae and crystals that absorbs sunlight.
Seltun has become popular destination for tourists. The wooden pathways are attractive where you can walk safety between many mud pots and fumaroles.
You can go far a short hike in this geothermal area and can go further to reach the top of the massive steam vent to have the picturesque view of geothermal fields, ocean and lakes.
Krysuvik geothermal area is just 40 minute drive from Reykjavik. From Reykjavik, drive South West on the Road 41 towards Reykjanes and take left onto Road 42 to reach the parking area of Krysuvik. This geothermal area can be accessed year round.   
Important Information: As the boiling geothermal vents are dangerous, it is strictly recommended to always stay on the marked path.
Image Credit: Image by jacqueline macou from Pixabay
Raufarholshellir, the lava tunnel is located in the South West of Iceland. This lava tunnel is the fourth largest lava tunnel in Iceland which was formed by the Leitahraun volcanic eruption on the Blafjoll Mountains about 5,200 years ago. The lava flow due to the volcanic eruption created a hard crust which resulted in a cave. The overall length of the tunnel is 1,360 m and the main tunnel length is 900 m long. It is 30 m wide and 10 m in height.
Exploring this tunnel gives you the informative tour by witnessing one of the nature's wonder. Footbridge and many marked paths provide you to easily explore this lava tunnel. The inner workings of the cave due to volcanic eruption is spectacular. The lightning in the tunnel clearly shows the changes in the colour and the volcanic activity that had resulted in the tunnel. The tunnel is branched into three smaller tunnels at the end of Raufarholshellir.
Raufarholshellir lava tunnel is just 40 km from Reykjavik. It is located right off Prengslavegur Road or Route 39 which is close to Route 1 of Ring Road. 
Visiting this tunnel in winter is mind-blowing. Ice sculptures are formed inside the tunnel which makes the tour adventurous and spectacular. This lava tunnel can be visited year round.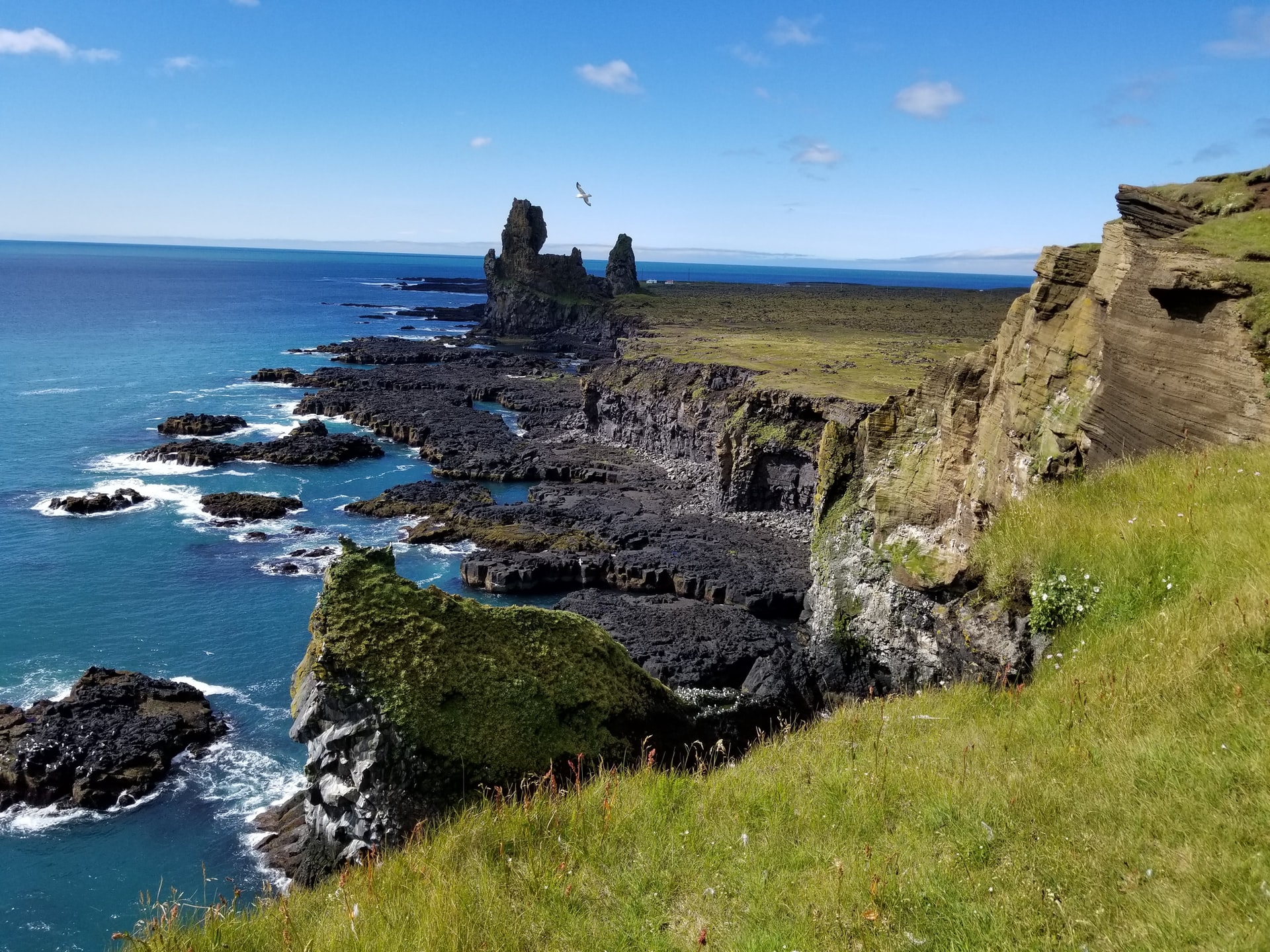 Londrangar are unique pair of rock pinnacles which are the volcanic plugs of basalt protruding from the ocean on the South of Snaefellsnes Peninsula in West Iceland. Londrangar and the Svalthufa hill are the remnants of crater which has been eroded by the sea to its present form. They are surrounded by the lava fields with spectacular green soft moss. The higher pillar is 75 m height and was climbed in the year 1735 and the smaller pillar is 61 m height and was climbed in the year 1938.    
Go for a short hike from the parking area to reach the magnificent rocks. When you look down from the cliff, you can witness the wild waves hitting the rocks. Puffins and Fulmars have their nests on these cliffs.
It is believed by the local farmers that elves live on the hill. Therefore, they have not made an attempt to go to the hill.
When you are in the Snaefellsnes Peninsula, never miss to visit this majestic Londrangar pillars.
Image Credit:  Tanner Crockett on Unsplash
Langjokull is the second largest glacier in Iceland which is located in Southern Iceland near Reykjavik. This iconic glacier is 50 km long, 20 km wide and covers 935 square km of area. The highest point at Langjokull glacier is Baldjokull, which is 1,450 m above the sea level.
When driving from Reykjavik, take Road 1 towards Selfoss and take Road 35 just before Selfoss to reach Langjokull glacier. Depending on the weather condition, it takes around 2 to 5 hours to reach Langjokull glacier from Reykjavik.
Some of the interesting facts about this glacier are, Langjokull glacier feeds waterfalls such as, Gulfoss, Hraunfossar, Barnafoss and many more and even water to the Silfra fissure comes from this melted glacier water.
It is a unique experience for adventurers to visit this glacier. Jeep and snowmobile tours are most popular activities that you can enjoy in Langjokull glacier. Having endless snowy peaks and slopes, hiking and cross-country skiing are best performed here. During winter, witnessing Northern Lights gives you the magical experience in Langjokull glacier.
Manmade ice cave is the most attractive place in Langjokull glacier. The vivid blue colour in the cave attracts the tourists. You can walk around the cave to get the clear insight of how the glacier works.
This glacier is open throughout the year. Do not visit this glacier by your own. For safety purpose, it is recommended to visit this glacier with an experienced guide or through well organized tours.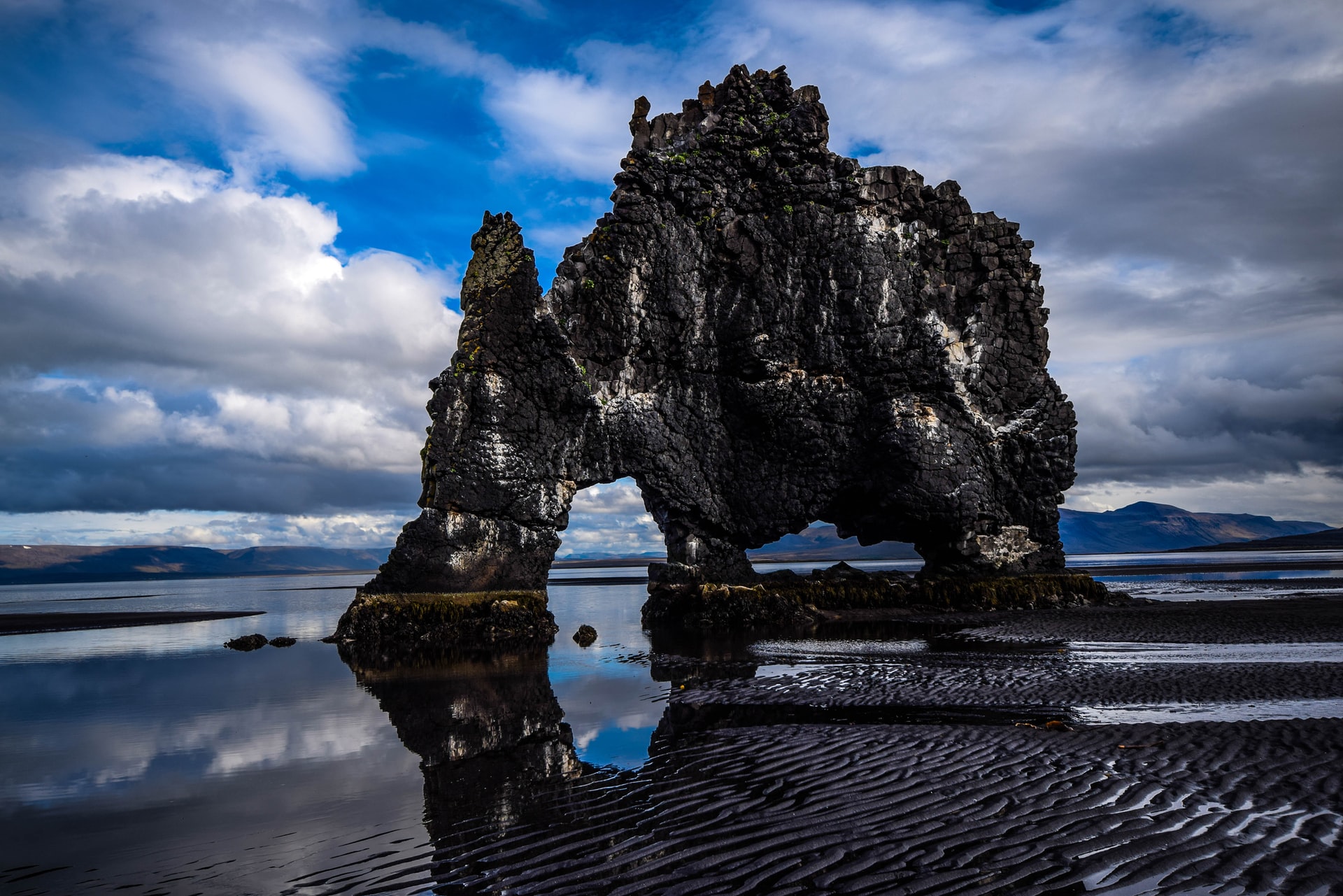 Hvitserkur is a unique sea stack protruding from Hunafloi Bay on Vatnsnes Peninsula in North West Iceland. This monolithic rock is eroded by sea in its present form. It looks like a huge rhino drinking water. It has become a major tourist attraction due to its natural wonder. It is 15 m height, 1 to 2 m thick and just 50 m from the sea shore. In the year 1955, the stack was unstable and thus locals strengthened the base with concrete.
You can witness Fulmar, Seagulls and Shag nesting on it when you are visiting Hvitserkur in summer. Their guano deposits creates white patches on the rock, hence the name Hvitserkur, which means White Shirt.  In winter you will get chance to see the beautiful Northern Lights from this place. It is truly magical experience to watch Northern Lights. The green light of auroras creates a beautiful reflection on the shallow water around Hvitserkur.
Hvitserkur is just 30 minute drive from Ring Road. It is located next to the Road 711 on the Eastern side of Vatnsnes Peninsula. The road 711 is a gravel road but, it is in good condition. You can easily visit Hvitserkur by regular car.
Hvitserkur can be seen by two ways, one is from the above and the other is from the below. There is a trail from the parking area which leads to the viewing platform. You can walk down from the viewing platform through the steep path which leads to the beach. It is recommended to wear hiking boots if hiking through steep path. At low tide, you can go near the rock.
You need to be careful about the Arctic Terns which live here. They are very annoying in summer. To protect their offspring, they might attack you and try to peck you. Therefore, take a stick with you to chase them away. On the opposite side of peninsula, you can witness numerous seals resting on the beach. Get your binoculars to have a better look of seals.
Image Credit: Glen Hooper on Unsplash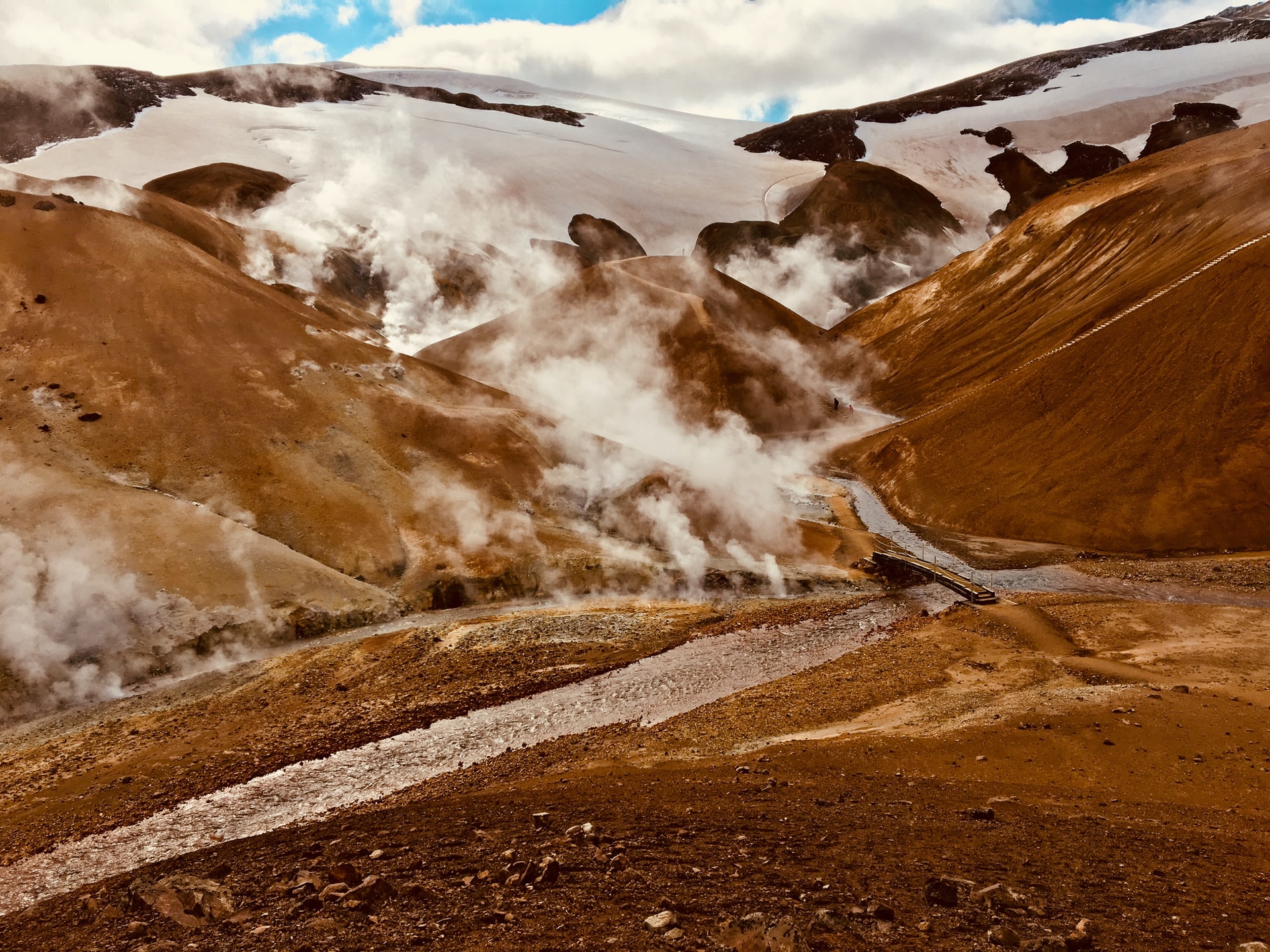 Kerlingarfjoll is a captivating mountain range, a natural attraction of Iceland, located in the centre of Icelandic Highlands. It is known as "Old Lady Mountain". It is believed that a female troll named Kerling was walking in this area when the sun rays hit her and she turned into a stone. This mountain range is 10,000 years old that was formed from volcanic activity and covers about 40,000 square km of area. Due to the presence of numerous hot springs, minerals emerging from the hot springs colour the ground with red, green and yellow.
There are many geothermal areas in Kerlingarfjoll, out of which, Hveradalir is the most famous geothermal area. You can witness bubbling hot springs, boiling mud pools and steaming vents.   
Kerlingarfjoll is a paradise for hikers and skiers. Hiking is best performed here in summer. You can hike to Hveradalir geothermal area through a marked hiking trail or hike to the Snaekollur peak, which is the highest peak of Kerlingarfjoll at 1,482 m above the sea level. 
Super jeep ride, snowmobiling, cross-country skies and snowshoeing are best performed in winter. It is a unique experience to watch Northern Lights from Kerlingarfjoll during winter. You can just relax in the thermal pool which is located 1.3 km from Kerlingarfjoll Mountain Resort. You can even hike during winter with the recommended experienced guide, a walking stick and a crampons. For your safety purpose, it is always recommended to hike with an experienced guide or join a tour.
Kerlingarfjoll is just 3 to 4 hour drive from Reykjavik. It is highly recommended to travel through 4WD vehicle to reach Kerlingarfjoll in winter. There is a hotel having chalets or campsites facilities for visitors. You can stay there and enjoy the nature's beauty with the delicious Icelandic food offered by the restaurant.
Image Credit: Agnieszka M on Unsplash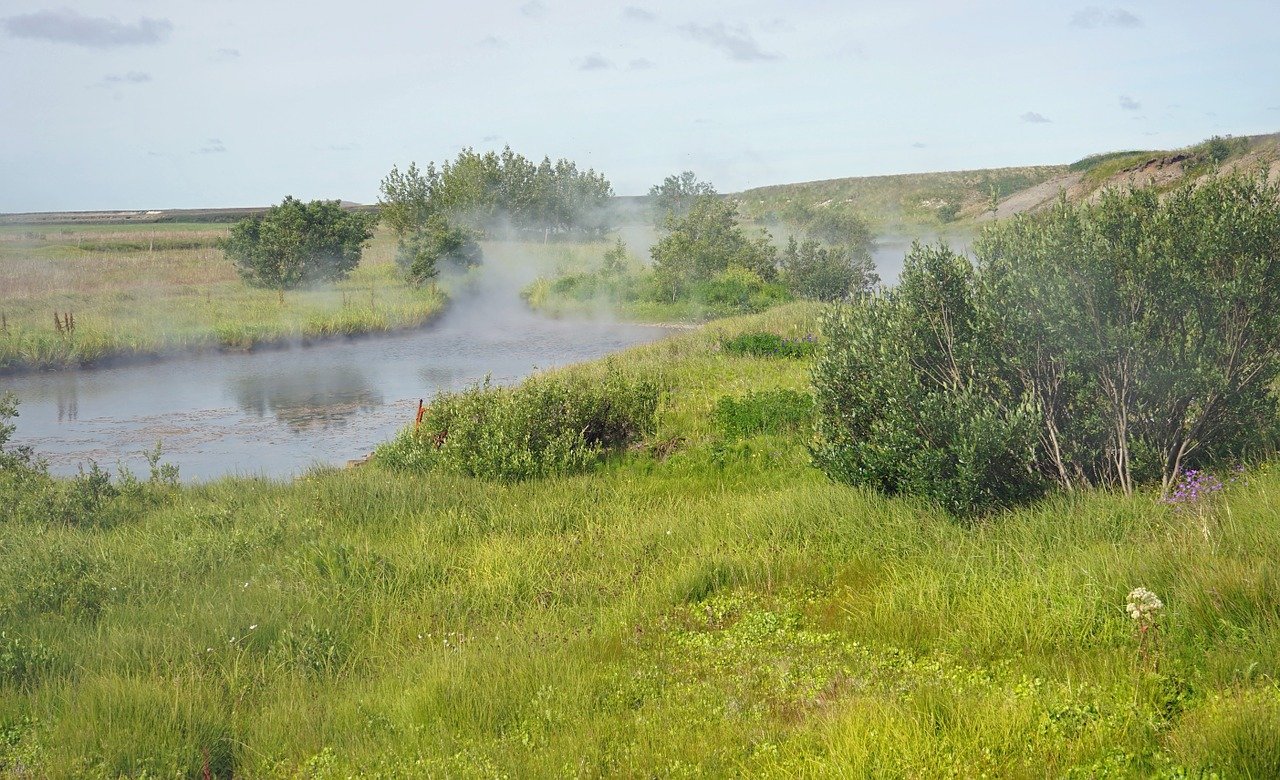 Deildartunguhver is the most powerful and largest hot spring in Europe. It is located in Reykholtsdalur in West Iceland. This hot spring provides 180 liters of 100 degree Celsius water per second, which is partially used for central heating in the towns of Akranes and Borgarnes. The hot water pipe from Deildartunguhver to Akranes is 64 km long, which is the longest hot water pipe in Iceland. The water will be around 70 to 80 degree Celsius when it reaches Akranes. 
Before reaching Deildartunguhver, you can spot rising steam pillars miles away and once you are there, you can witness the stunning bubbling hot pool. Fence is built around the hot water spring for safety purpose.
Next to the hot water spring, you can find the green house, where fruits and vegetables are grown and the water is used to heat the garden. Visitors can purchase organic fruits and vegetables from this garden. A fern named, "Deer Fern" or "Hard Fern" is grown here. This fern is seen only in Deildartunguhver and nowhere in the world. You can take a thermal bath and relax in Krauma, which is a geothermal bath located 70 km north from the Deildartunguhver.
Deildartunguhver is around 100 km from north of Reykjavik, right off the road 50. It takes just 1 to 2 hour drive from Reykjavik. This hot spring is a must visit place in Iceland to enjoy the miracle of nature's beauty.
Image Credit: Bernd Hildebrandt from Pixabay
So here are the seven Iceland Natural wonders for nature lovers, if you are planning a trip never miss these spots and create memories with beautiful clicks as well.

Please let us know if you found this post useful and what you are looking for through comments, we would love to help you out in that..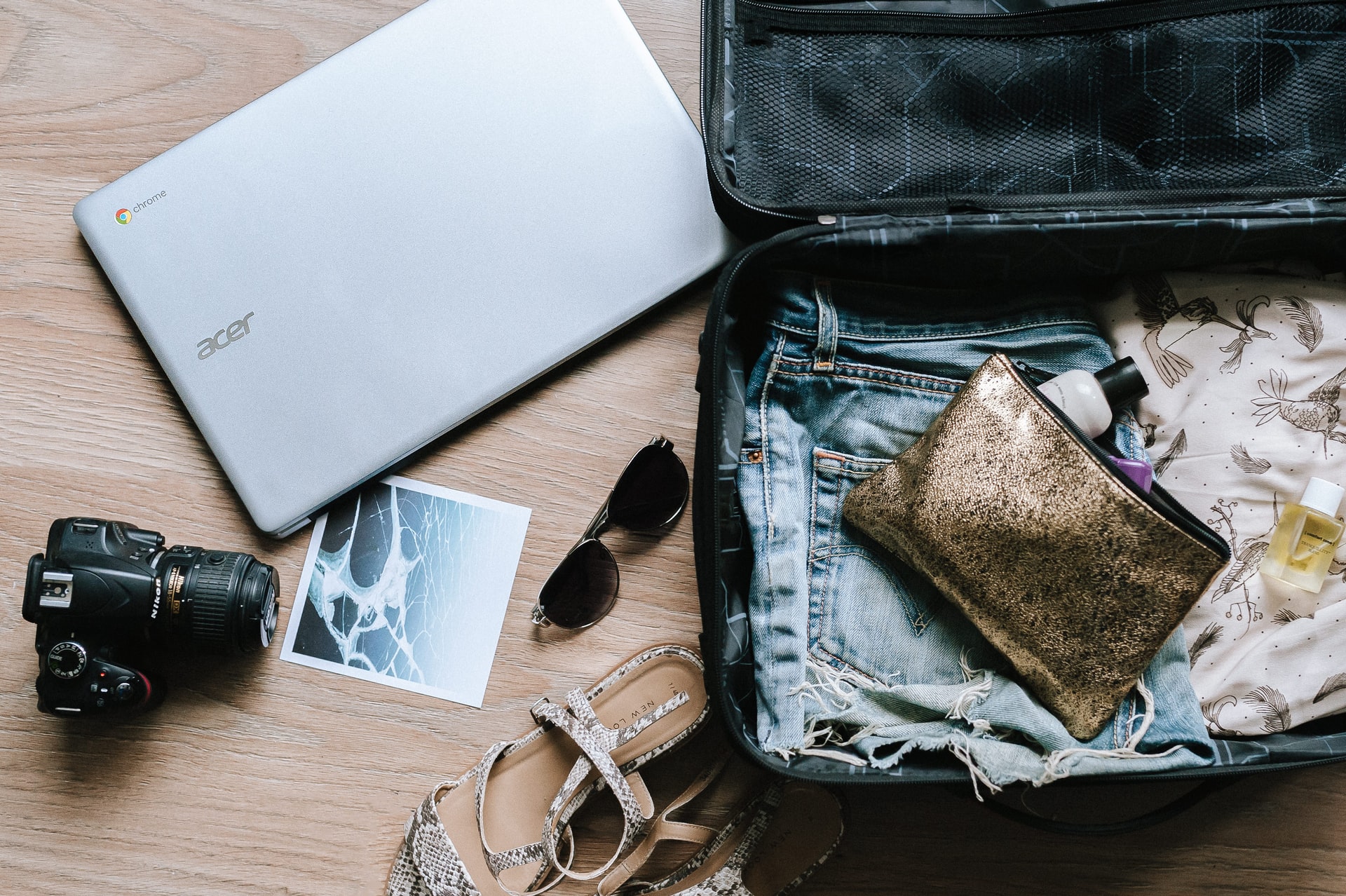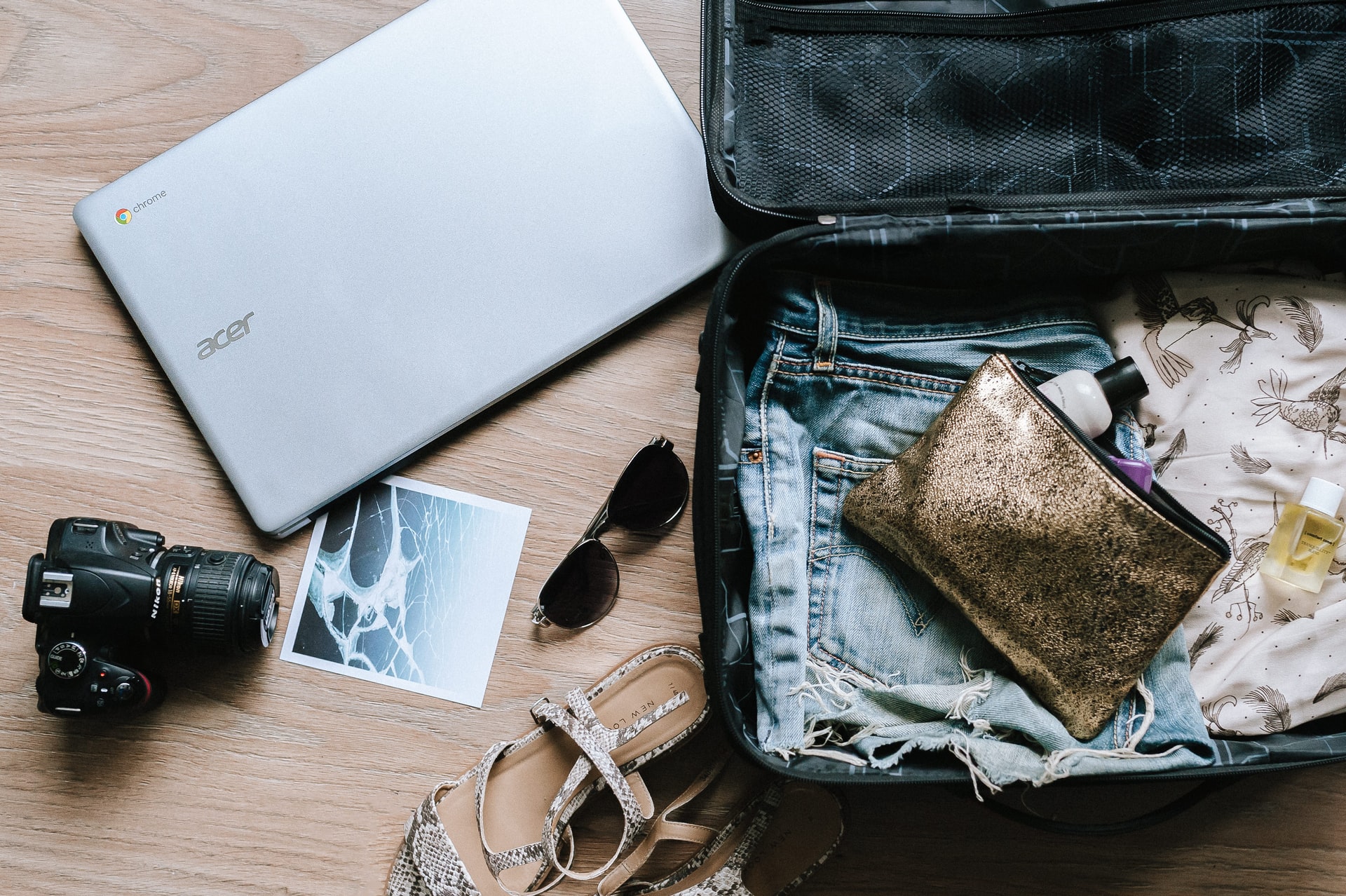 We are with you, here are the essential gadgets to get you covered before you start one. Globetrot untroubled!