Biophilia is the inherent love humans possess for nature due to the genetic connection humankind has shared with nature for millions of years. Having lived in the wilderness for almost an eternity, it is virtually impossible to live inside concrete forests now, completely cut off from the natural world.
Recently, the biophilia hypothesis has been gaining recognition as it directly incorporates nature into architecture, interior design, and even daily use products. Biophilic products and designs improve psychological and physiological health, which is particularly essential as people spend an average of 90% of the day indoors.
Since biophilic interior designing and architecture may not be accessible to all, this blog will give you ideas about biophilic products that you can buy and keep in your home or office to stay connected to nature.
What is Nature if not Greenery?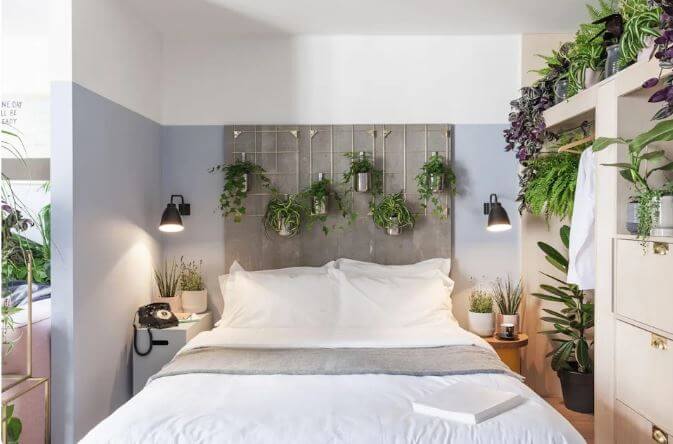 This is an example of plants in a bedroom, employed by biophilic designer Oliver Heath in his London Hotel Project (Source:YahooNews)
Introducing plants into your home and office can have a lot of benefits for your physical and mental health. A study found that plants in your home can make you feel more comfortable, calm, and natural, all of which may help in reducing stress levels, lowering heart rate and blood pressure. Being surrounded by plants also increases attention span and boosts concentration and productivity.
Research showed that plants also help you recover from illness faster and post-operative patients who were around greenery required less pain medication. Plants produce oxygen and absorb carbon dioxide and airborne volatile organic compounds. This purifies the air around and makes it clean to breathe and also reduces the greenhouse effect which keeps the temperature low and cuts down on air-conditioning costs, providing economic benefits.
Some plants that you can keep include Braided money tree, snake plant, Alocasia Elephant Ear plant, and rubber tree. You can also place plants with edible leaves that you can pick and add to your food in the kitchen, such as mint, basil, and other herbs.
Other biophilic products that can provide greenery include moss walls. These are low-maintenance items that only require water after every 14-21 days. Moss wall panels can be customized according to your liking and you can add different colors of mosses like yellow, red, brown, and lush green. Uber Offices in London have a brilliant moss wall installed as shown in the picture here. (Source: UberOffice,London)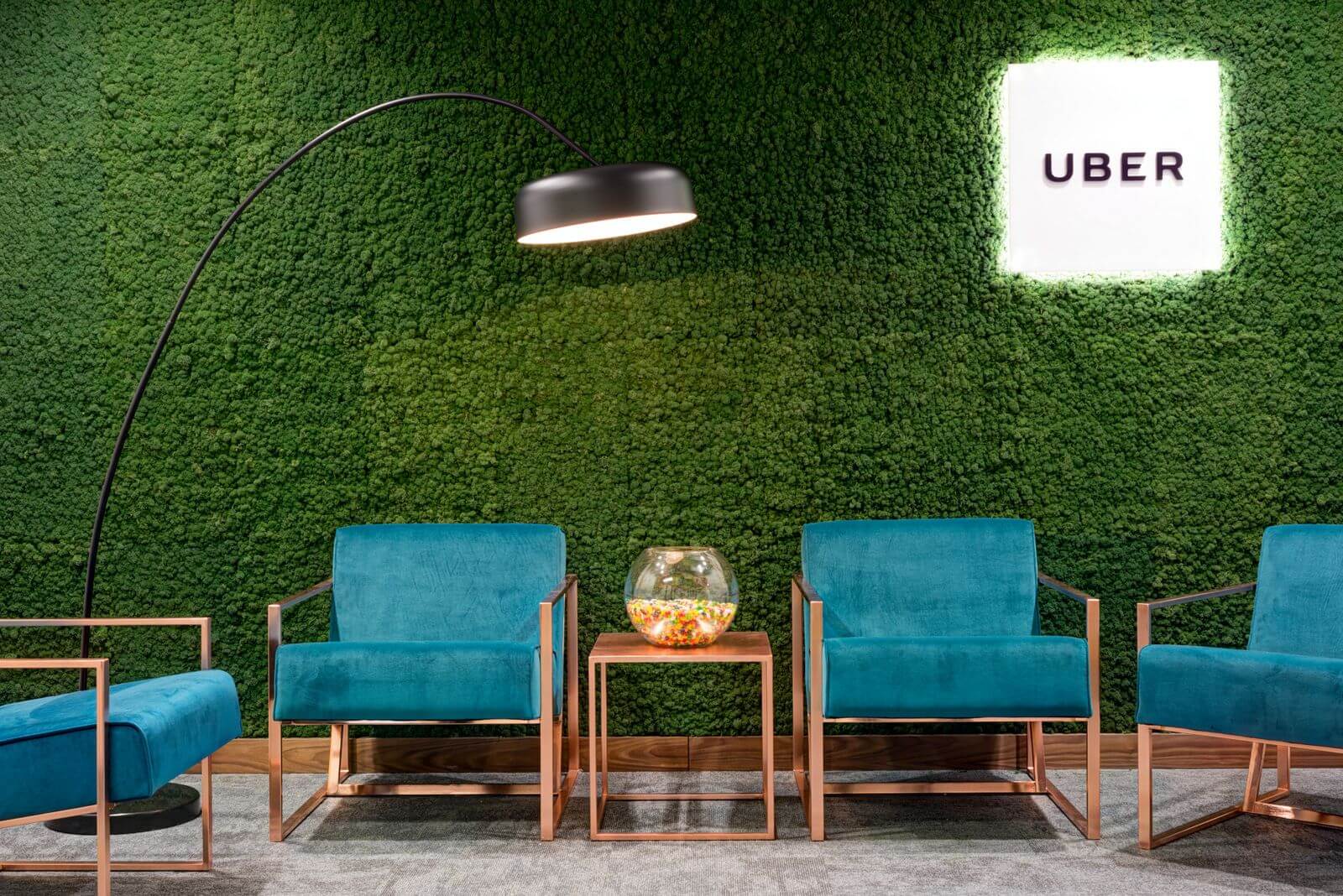 A great biophilic product for your office can be a living-wall series that can house up to 120 live plants on one side and a dry-erase surface on the other. This was an award-winning collaboration, and you can get it from sagegreenlife.com.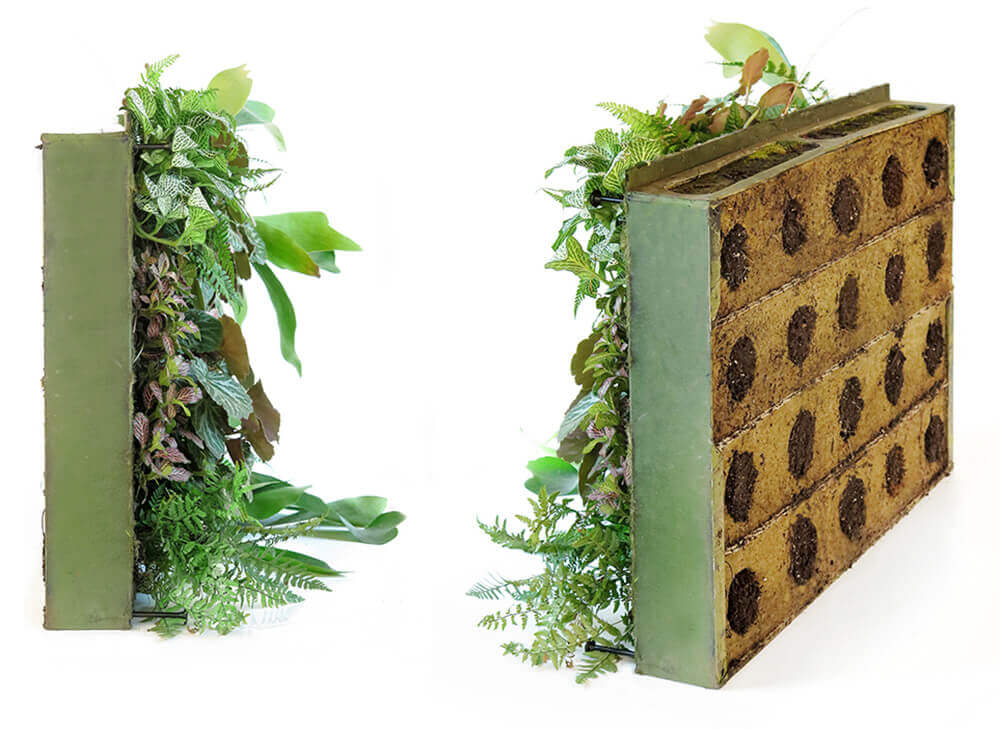 Natural Lighting Stimulates Happiness and Positivity
Natural light has been proven to help people be happier, calmer, healthier, and more productive. But getting natural light when you are enclosed within four walls is hard. Lighting developer Philips has created LEDs that simulate the physiological effects of daylight by playing with its color, temperature, and intensity. The Czech energy company, Innogy, has installed these lights in their headquarters, and the tweakable white lights shown here are regulated to boost energy levels and productivity throughout the day.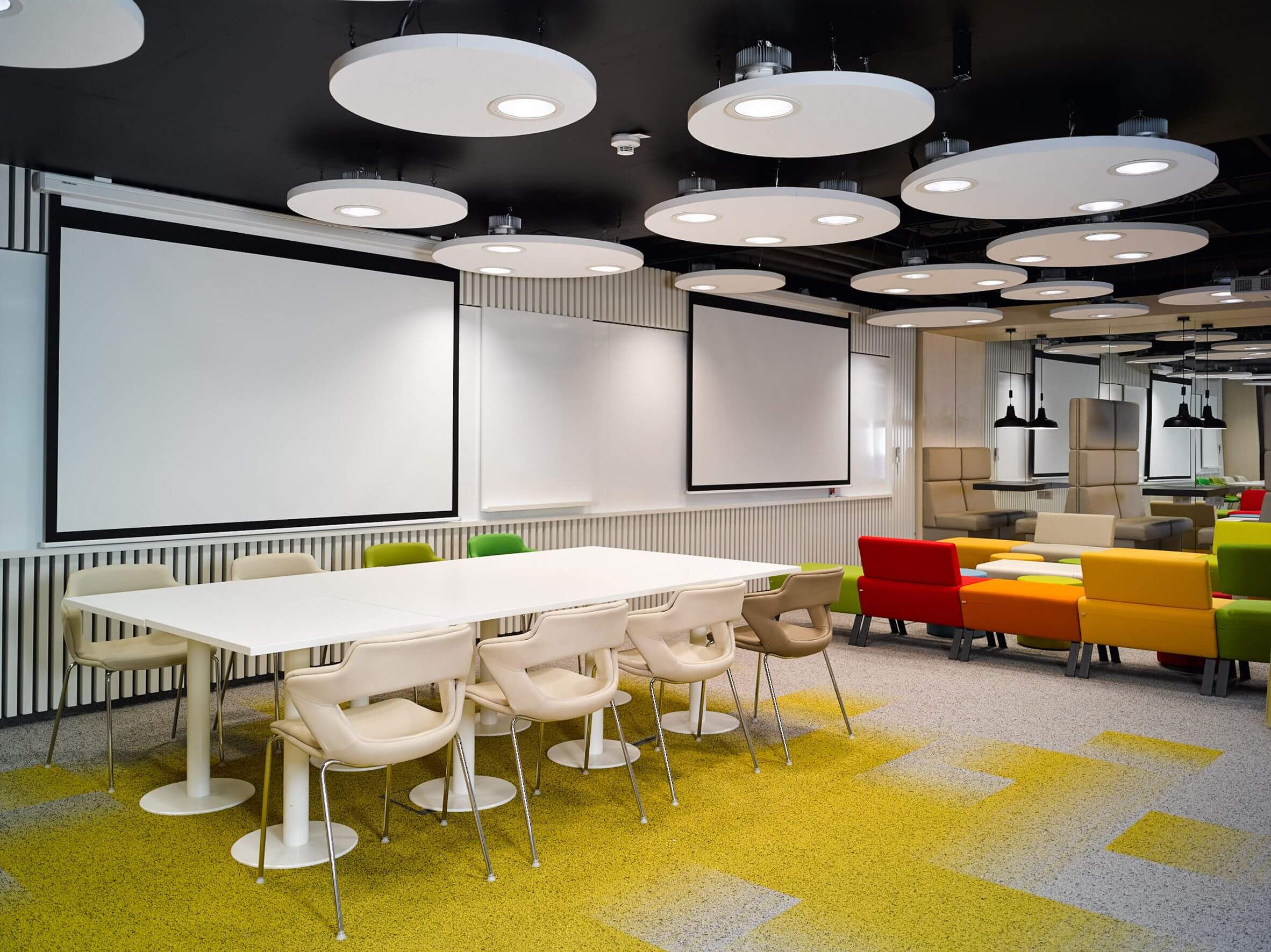 Natural Materials Have a Feel of Their Own
Biophilic products include a large variety of objects that are made from natural materials. Reclaimed wood products, rattan and bamboo wood furniture, cork, ceramic, marble, and woollen rugs are just some more ideas that are very cheap and can be a great way to step into the world of biophilic products usage and design incorporation.
Biophilic products are a must-have in everyone's house. It is practical and beneficial and is becoming the new talk of the town. You should also start your biophilic journey very soon!
This post contains affiliate links, which means we may receive a small commission, at no additional cost to you, if you make a purchase through these links.