When implemented carefully, biophilic design can be infused onto walls, ceilings, and flooring to provide the same physical, mental, performance, and behavioral advantages that human-to-nature connections provide. These benefits include a reduction in stress, an increase in creativity, and better overall health.
Biophilic design is a design philosophy that integrates the principles of nature into our interior environments. This concept can be applied to a variety of surfaces in a building, both prominently and subtly. For example, biophilic ceilings can feature hanging vegetation to encourage human-to-nature connections without taking up valuable floor space. Biophilic design is a multifaceted concept.
There are several ways to achieve this, including incorporating plants in the ceiling and walls and integrating fractal patterns and fragrant herbs in other parts of the interior. Several studies have shown that buildings that use natural materials in their design are more sustainable, and a more diverse workspace is more efficient. Biophilic ceiling designs can also help increase energy efficiency and overall productivity.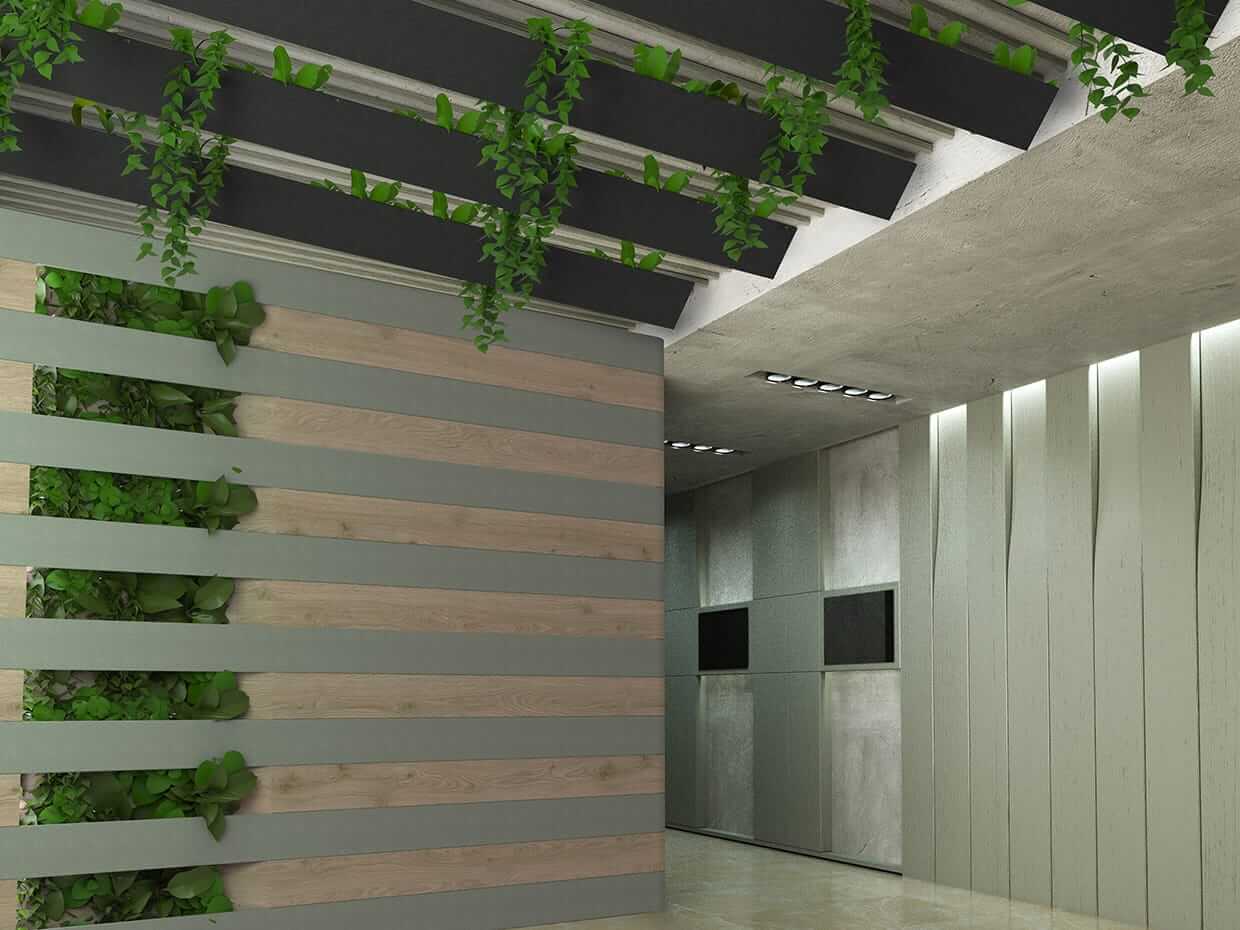 Biophilic Ceiling Designs
The benefits of biophilic ceiling designs are numerous, from improving the acoustics of a room to reducing the risk of sick building syndrome. A biophilic design pattern can be applied to a micro space, a building, a campus, or an entire city. The size and scale of biophilic design patterns depend on the type of architecture, programming, user dynamics, and physical parameters. Apart from homes, biophilic ceiling designs are especially useful in homes, hospitals, schools, and workplaces.
Use this book to not only help you think about decoration and furnishings but also lighting, indoor plants, natural light, air flow, materials, views, sounds, textures and heating.
 If you're planning on renovating or building your own home, you could also weave elements of biophilic design into your plans.
Biophilic Ceiling Designs for Home
Biophilic design emphasizes visual connections with nature. In a New York City apartment, capturing this element can be difficult, but you can try a DIY project by hanging green walls. Green walls and ceiling beams will bring the outdoors inside.
Play with Textures and Materials
The beauty of nature is that its patterns are random and free. By incorporating varying textures into your space, you'll be able to replicate nature's diversity. The textures that make up nature's beauty are both tactile and visual. Using varying textures in your interior design can draw in biophilic designs while keeping your space visually appealing and comfortable. For instance, woven upholstery with rough and smooth materials can be paired with smooth, natural materials.
Using biophilic design can also reduce stress, improve mental health, and boost community cohesion. But to determine whether biophilic designs are beneficial, you need to know exactly what the intended users of your space expect. Using biophilic design in your home can enhance the performance metrics your clients look for. The design principles behind biophilic designs aren't complicated, and they are easy to apply.
Biophilic Ceiling Designs for Hospitals
Creating a healthy environment for patients is important, and biophilic design is one way to do that. This type of design is known to reduce stress and promote healing. Hospitals should incorporate views of nature and natural light into their design scheme. Although biophilic design is not free from up-front costs, the benefits to patients and staff are quantifiable.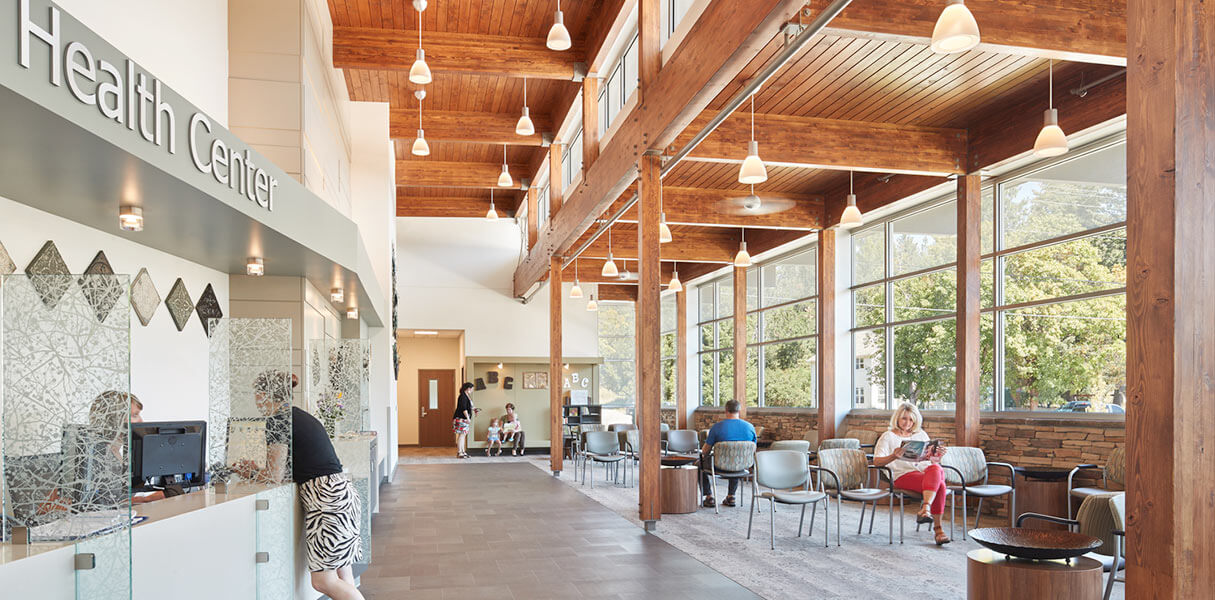 One of the most popular biophilic ceiling design ideas is to use LED lights just like the one used by NAC in the photo given above. By improving the lighting system, hospitals and other spaces can reduce absenceeism and improve employee wellbeing. Smart lighting systems using LED bulbs offer different light intensities and tones throughout the day. Gone are the days of harsh, blue-white overhead lighting. A combination of task lights, uplights, and natural daylight can create an interior designed for well-being. Hospitals that use biophilic lighting can increase patients' comfort and improve their health.
Using warm woods is a great way to bring nature inside. This design style brings the outdoors inside, which makes the space feel more comfortable and inviting. An ideal way to incorporate biophilic ceiling design is to use wood. Wood ceilings can be beautiful and functional, and they are gaining popularity. CertainTeed's wood collection includes familiar forms, as well as customizable solutions.
Biophilic Ceiling Designs for Schools
If you're looking for innovative ideas for a school's ceiling, consider adding a biophilic design to your space. Biophilic designs can help you foster a positive and healthy school environment by enhancing the natural beauty of the space. Consider using graphics of trees and other plants that mimic natural environments. This will help counteract the stresses that students may experience in a sedentary classroom. If you're worried about damaging the ceiling, consider biophilic designs to protect it.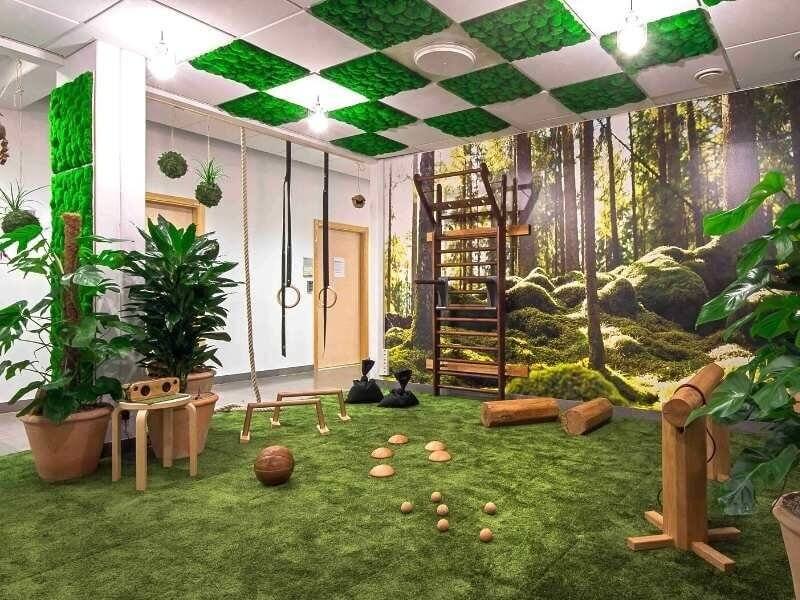 The lack of nature can affect a student's attention span, focus, and overall health. It can also trigger behaviors such as ADHD. Because children spend less time outdoors than ever before, biophilic design can help increase test scores and attendance. It can also reduce stress and improve the overall health of the students. Adding a biophilic design to a classroom or playing area as done by Wellness Real Estate Consultants shown above can also help reduce stress and improve mental alertness.
A great example of a biophilic design is found in the Lisle Elementary School in the Chicago suburb of Lisle. The school uses a wood-look ceiling system with a circle shape and acoustic panels to create a natural acoustic buffer between the classroom and the outside world. The wood-look ceilings extend into the learning resource center, a double-story structure that is connected to the outdoors via floor-to-ceiling windows.
Biophilic design practice has gained popularity with an increasing body of research demonstrating its health benefits and improved quality of life. While biophilic designs may not replace potted plants and artwork, it enhances a building's ambiance and encourages people to be happier. The biophilic effect is proof that humans need a connection with nature and are happier when they are surrounded by natural elements.
This post contains affiliate links, which means we may receive a small commission, at no additional cost to you, if you make a purchase through these links.