Now-a-days, Eco travelling is seeing a positive trend and attracting many people towards sustainable tourism especially, women. Sustainable travel has changed the focus of travelling into a meaningful travel to explore the globe without harming it. You can find many enthusiastic women travelling around the world and travelling is indeed a stressbuster for women.
As nurturing and caring qualities are inbuilt in women, it helps to travel eco and protect the environment. Now, travel eco and explore the offbeat places throughout the world in a new way and save the planet. 
Why you need to Travel Eco
Your travel becomes budget friendly. You save money when you travel eco, as it encourages you to travel in a group or to use public transport which are budget friendly.
Mindfulness travel improves your health and is the best stressbuster as you completely get disconnected from daily routine and involve in protecting the environment.
You get to know the local culture and shop the original products made by locals. It boosts the local economy.
When you travel in a group, you will reduce the carbon footprint.
Many animals become extinct due to human intervention. Therefore, when you travel eco, you can save the endangered animals.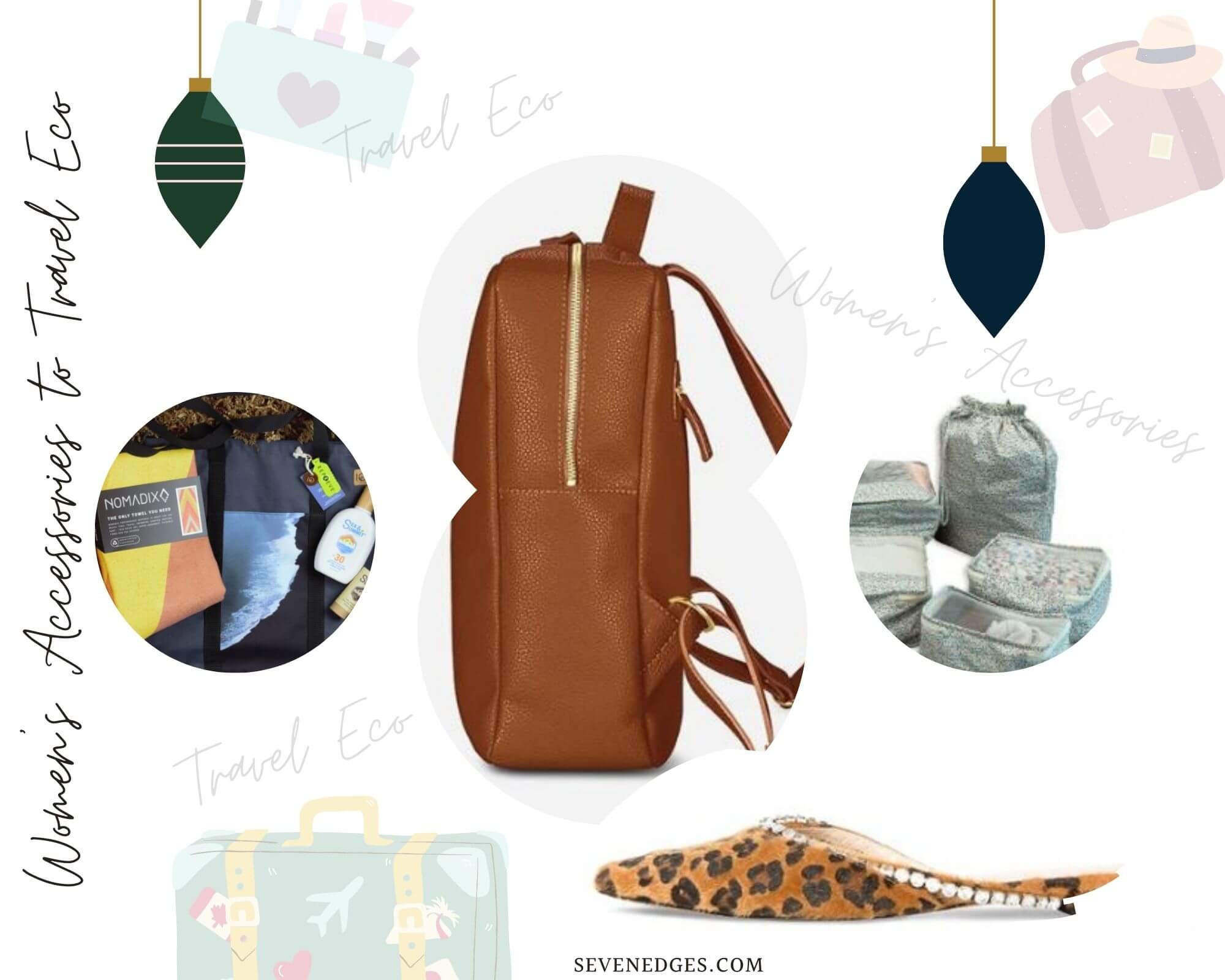 It's time to switch from unsustainable products to sustainable products when you wish to travel eco. Being a responsible traveler, you need to save the earth. You can explore the beautiful places and equally save the planet and travel eco by carrying eco-friendly travel gear. Here are 7 best women eco products that you should never miss to take along with you for your next travel destination.
Take this travel kit with you to get rid of messy and unhygienic toilets. The female urination device kit is compact and can be kept in your purse or pocket. If the toilet is unhygienic, then you need not use the toilet seat as this device allows you to urinate while standing up and does not create any mess or spillage. It is completely hygienic and sustainable. The kit includes reusable paper towels and sanitizer. If you are planning a trip, then never forget to take this kit along with you.
Now you can enjoy your travel leaving nothing behind. This travel backpack contains bamboo utensils set, stainless steel water bottle and quick dry hand towel. Take this backpack to your next trip to fulfill all your basic needs and travel eco. This backpack can also be an ideal gift for a travel buddy.
If you are planning for a beach, then Water's Edge Gift Box is a must because, it protects your skin in a hot sunny day. It contains a quick dry beach towel which is ultra-soft and durable, non-greasy paraben free sunscreen face stick and a sunscreen lotion in recycled bottle. You can fill all these in a beautiful tote and carry conveniently to a beach.     
Organize all your travel gadgets in this organizer set and make your travel hassle free. Now you can go for zero waste travel because, this product is made from upcycled materials and is biodegradable. You can get your things in finger tips when you keep in this organizer set. It will easily fit in your suitcase. Travel eco with this organizer set and make your travel easier.
Say goodbye to unhygienic toilet seat with this eco-friendly toilet seat cover. When you are using public toilets, the seat cover helps you to get rid of germs on the toilet seat. You can conveniently carry these disposable toilet seat covers as it fits easily in your purse. Do not worry about disposing the cover as it is biodegradable. It helps you a lot during your travel and keeps you healthy.
If you are a stylish woman, then this backpack is for you. Whatever might be the reason for travel, the backpack servers the need. You can take it to business tour, gym or park, it will be elegant to all occasions. It is made of upcycled materials and is the best fashionable eco-friendly travel bag if you wish to travel eco.
Being vegan is also the best method to be eco conscious. You can find vegan shoes and bags which equally looks elegant and modern. These shoes and bags are the best alternative for leather products. Be different from others and travel eco with these beautiful ultra-modern vegan shoes and bags.