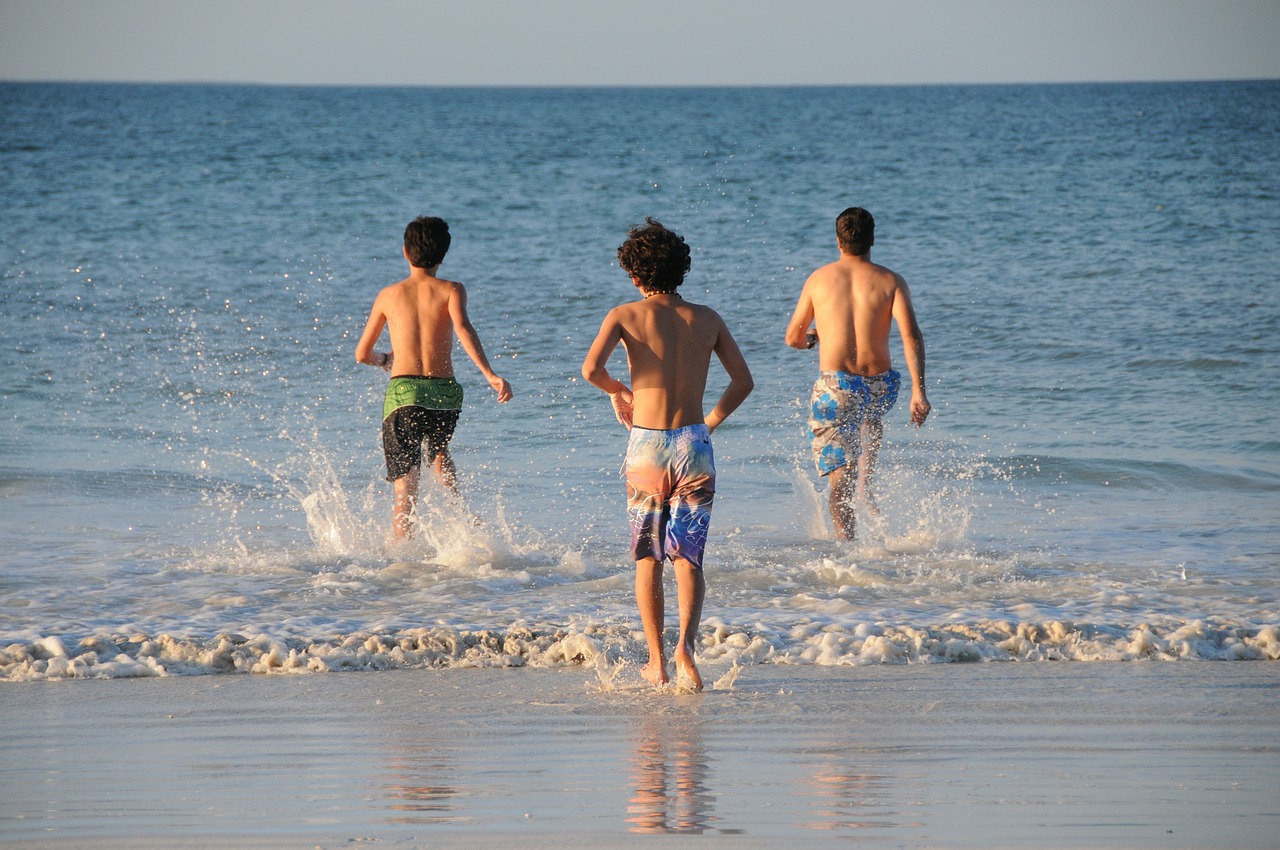 Men usually do not prepare checklist when they travel and always end up packing things at the last moment. They do not plan their travel well advance and will be stressed out during packing. If you over pack things which are not much necessary, you might pay heavy baggage fees.
On the other hand, if you pack fewer items, you might miss some important essential gadgets and do not enjoy your trip due to disappointment. Therefore, here are most last minute packing useful beach accessories for men.
You can relax on this blanket and take sun bath at the beach. This blanket is multipurpose and can be used as car seat protector, camping cover, pet blanket and even can be used as a rain fly. It can be easily folded and comes with a case for storage. It has stakes and buckle for easy carry. It is ideal for outdoor camping and a perfect beach accessories.
Features
It is made of nylon.
It has thin design and is sand proof and waterproof. Dirt and sand can be easily washed.
It will be cool even in hot sun.
It comes with vibrant colours.
Pocket folds are provided on each edge, which can be used to keep personal belongings and travel gadgets.
Pros
It is sturdy.
It is compact and can be easily carried.
It is easy to clean.
Now, enjoy your beach view with this canopy. This tent protects you from UV rays and is water resistant. It can also be used in camping on the hills. It comes in different vibrant colors and designs. A bag is provided to keep the folded tent and can be easily carried. You can just relax in this tent by watching the waves and enjoying the beauty of beach.
Features
It is made of SPF 50+ Nylon Lycra material.
The rods are made of aluminium which is rust proof.
It can be anchored using sand and rocks.
Patented corners provide more durability.
Pros
It is light weight and portable.
It can be folded and kept in the travel bag easily.
You can stay safe under the hot sun.
This towel is very helpful for last minute packing. The ultra-absorbent feature absorbs the water 5 times more than its weight and dries quickly. You can repeat use in very short time. It is soft and skin friendly. It is perfect for your beach vacation, gym, yoga, camping and swimming.
Features
It is made of high quality microfiber.
It comes in 6 different sizes with vibrant colours.
Loop is provided to hang the towel.
Reusable carry bag is provided.
Pocket in one of the edge is provided for XXL towel.
Pros
It dries quickly.
It is super absorbent.
It is compact and easy to carry.
Now, enjoy your beach vacation with this foldable table. You can keep your food, drinks, and personal belongings on this large surface table. It can be adjusted to two different positions. It comes with a carry bag to easily fold the table and carry on your back. It is ideal for picnic and vacations on the beachside.
Pros
It is easy to fold and unfold.
It is compact and can be conveniently carried.
It is lightweight.
It can perfectly fit in standard cars.
Waterproof Waist Strap Pouch
Enjoy going into beach by not worrying your valuable belongings with this waterproof pouch. You can even keep your phone in this zip lock pouch. This pouch is screen friendly; it enables you to text and talk while enjoying in water. You can keep your money, camera, sun glasses or earphones in this pouch. It protects your belongings from water, dust, sand, dirt and snow. It is ideal and designed for scuba divers, swimmers, surfers, kayaking and other water sports.
Features
Three zip lock seal gives double protection from water.
The strap is adjustable and can be worn comfortably as waist bag, shoulder bag or cross body bag as required.
It is lightweight and floats on water.
It is made up of polymer material which is durable.
This multipurpose waterproof bag is ideal backpack for men and must have for your beach vacation. It has spacious multiple compartments and has a modern look. It can be converted to a handy pouch by folding into inner zip pocket. All the travel items are well organised in this bag. It is best suited for hiking, camping and even can be used as a beach bag.
Features
It is made of polyester fabric which is durable.
It has the big main compartment to fill everything you want from clothing to electronic gadgets for your travel.
Front side is made up of mesh and has two side pockets to keep water bottle.
The lightweight feature does not strain your back.
Pros
It is waterproof and tear resistant.
It is compact and easy to carry.
It is easy to unfold.
It is sturdy.
This tote bag holds everything you need for a beach. You can fill towels, beach footwear, water bottle, sun glasses and many travel gear items in this bag. All your required items for beach will be well organised in this extra-large bag. It is ideal for your beach vacation and one of the must have beach accessories.
Features
It has huge storage main compartment which is zippered.
It has 4 extra outside mesh pockets for more storage.
Waterproof internal pocket is provided which is zippered to keep the valuables.
It is provided with long straps for easy carry.
Pros
It is lightweight and can be folded easily.
It is sturdy and durable.
These breathable shoes are made of Lycra elastic fabric and mesh cloth which are very much comfortable to wear. As it dries quickly, it is highly recommended to carry with you during your beach vacation. It is also ideal for other occasions such as, walking, jogging, cycling, swimming pool, kayaking, gym and many more.
Features
The rubble sole gives firm grip and it is anti-slip.
The shoes are waterproof and quickly dry which makes it easy to put or remove.
Pros
It is safe to use.
As it is light weight, it can be carried easily.
It protects your feet from hard surfaces.
It comes in varieties of colours and designs.
The polarized sunglasses protect you from harmful UVA/UVB and UVC rays. It is lightweight; the golden frame is elegant and perfect for your beach vacation. It comes with cleaning cloth, mini screw driver and graceful bag to hold the glasses.
Features
The polarized lens gives high definition vision and true colour.
The frame is made of aluminium and magnesium metal which is skin friendly.
The nose pad is made of silicone which is harmless to skin.
The pad arm is easily adjustable for maximum comfort.
Pros
It is comfortable to wear.
It gives clear vision.
It is light weight and sturdy.
This trunk style men's swimsuit dries quickly and your backpack will not complete without this beach accessories. It is made of high quality nylon fabric. It has elastic waistband which provides flexible and secure fit. It contains two side pockets and one rare pocket with a hook and loop closure. It can be machine washed. It gives you more comfort while enjoying in beach.
This stylish hat is best suitable for beach trip. It protects you from hot sun. A tape is built inside the sweatband which is adjustable. It can easily be folded and kept in your travel bag. The hat will regain its shape if steamed with iron. The unique design and attractive style comes in three adjustable sizes ranging from 55 to 60 cm with various colours.  It is ideal for outdoor activities.
Beach Accessories cannot be complete without this chiller. When you are heading for fun lets make sure you do not miss the important one. Beer chiller keeps the beer bottle and beer can chill for many hours. It also has a beer bottle opener. It can be easily carried in your travel bag. It can hold any beer bottle or beer can. It is ideal for beach parties. It is also a best gift option for beer lovers.
Features
It is made of insulated stainless steel.
The lid is made of silicone and is leak proof.
Insulated liner keeps the beer chilled.
Bottom can be easily removed to store beer can.
The above mentioned gadgets are the last minute checklist for men. You can well organize your travel gadgets with this checklist. You neither miss some items nor pack more items. Get these useful beach accessories for men for your next beach vacation, and make your trip the most memorable one.

This post contains affiliate links, which means we may receive a small commission, at no additional cost to you, if you make a purchase through these links.
Did we miss anything, Please let us know through comments below. Let us know your needs, we would be happy to review and list it for you.
Image by Valéria Rodrigues Valéria from Pixabay