Most people know that Dubai is very kid-friendly, that it is chock-full of kiddie attractions. However, does everyone know that Dubai has created the most spectacular destination just for kids? Take Green Planet, the huge indoor rainforest, for example. Take KidZania, IMG Worlds of Adventure – we could go on. Bring your kids to Dubai and you'll be busy carting them from one delight to another, and forget all about yourself!
Dubai has two grand fountains, the biggest (in the world) being the Palm Fountain, near the Palm Islands. Two floating platforms cover 14,000 square meters over the sea, shooting water up to 105 meters, beautifully choreographed to hit songs while 3,000 LEDs light up the sky. The Dubai Fountains, located on the Burj Lake, creates a stunning vista with powerful water jets that shoot water 140m in the air in time to world music.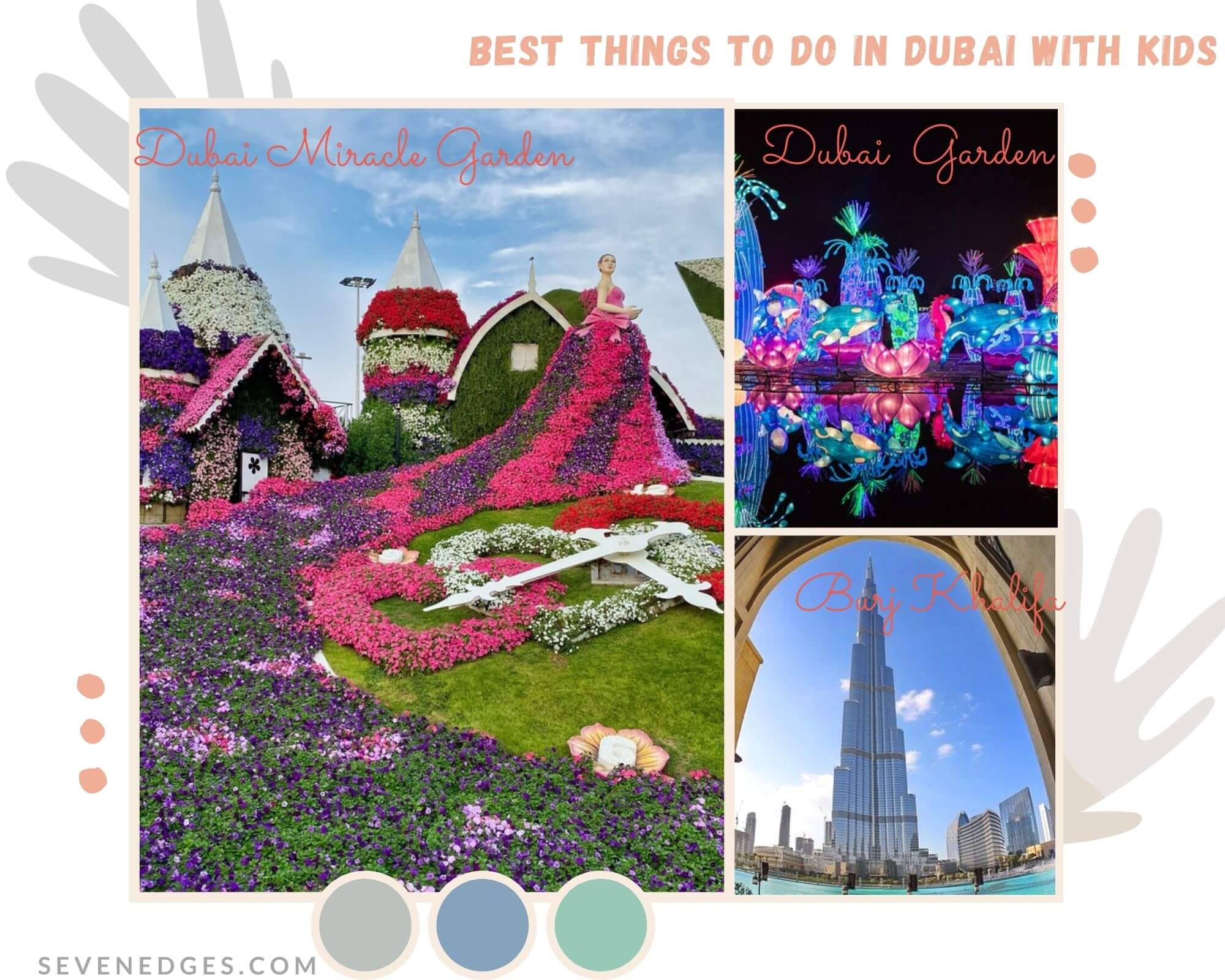 Metro Ride and Hop-on-Hop-off Bus Tour.
The Dubai Metro trains are driverless and your kids will love the views from the high windows on the elevated line. Choose between the Red Line (Al Rashidiya to UAE Exchange) and the Green Line. (Etisalat to Dubai Creek). Between them, the two trains traverse all of Dubai.
There are several routes of the hop-on-hop-off tour buses in Dubai. On a given route, you can hop-off at any attraction, spend time there and hop-on to the next bus in the same route. You can spend as much time checking out attractions, before hopping back on the next bus.
Open during the cooler months, the magnificent Dubai Miracle Garden is a mass of flowering plants shaped into heart arches, cartoon characters, cottages and even an Airbus! There's a fabulous butterfly garden as well. Dubai's parks are also great fun, with picnic areas, impromptu plays, pools, playgrounds and eateries. Take them to Zabeel Park and Dubai Creek Park which has the Dubai Dolphinarium, a 2.3 kilometer cable car ride, go-karting circuit, botanical garden and Children's City with its interactive programs. Of all the spectacular things to do in Dubai with kids, this one has got to be the best.
City Walk is a very kind-friendly district with shopping malls, virtual gaming centers (Hub Zero), and Green Planet, an indoor tropical rainforest with more than 3,000 flora and fauna. The entire forest is a bio-dome, with four forest levels –The Canopy, The Flooded Rainforest, The Mid Story, and The Forest Floor.
Here your kids will see everything from sloths to piranhas. They'll enjoy various activities – Sugar Glider Encounter, Reptile Encounter, Australian Walkabout, Piranhas, Sloth Encounter, Bird Encounter, Bat Cave and more.
Dubai's beaches are pristine and beautiful. The hot climate makes a dip in the sea feel like heaven. HTake your kids and ead to Kite Beach, which has several outdoor trampolines, adventure gym, play areas, a skate park, and barbecue areas. The food trucks Wanna Banana and Salt offer a range of delicious snacks. Take them surfing, banana boating, swimming and enjoy the fabulous views of the Burj Al Arab.
Madinat Jumeirah, Dubai's own Venice, is full of enchanting, winding waterways, reminiscent of an ancient Arabic marketplace. Here you'll find many souqs, Arabian cafes, art galleries, boutiques and more. Some of Dubai's top boutique hotels can be found here. 5.4 kilometers of waterways link all the shops and recreation areas, reachable by abra boats. These waterways are home to a turtle sanctuary as well!
What kid will not be thrilled to get to the topmost point of the tallest building in the world? Experience a magnificent sunrise from the At The Top observatory early in the morning. One of the coolest Dubai things to do with kids – checking out Dubai's landmarks closely using the telescopes on the observatory's deck!
Take them on the trolley bus to ride around the Burj Khalifa for a close look. A walk on the Burj Khalifa Boulevard and many selfies are part of the deal.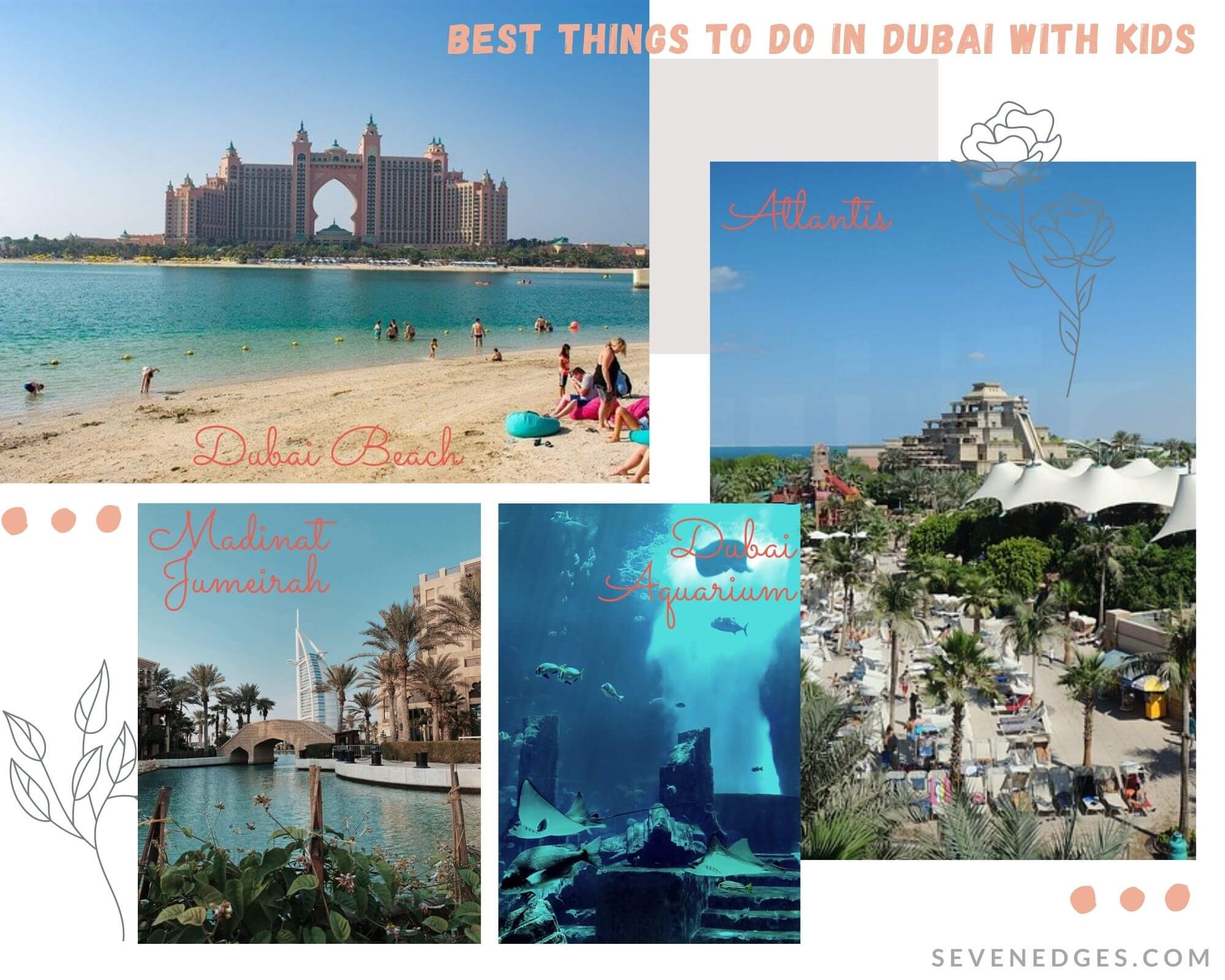 Consider this – a huge theme park with multiple themed zones, with enough action and fun to last a lifetime. Motiongate Dubai is a hive of immersive fun for the Hollywood movie fan, combining action from Columbia Pictures, DreamWorks Animation and Lionsgate. Bollywood Parks Dubai offers great rides and shows based on Bollywood movies.
Rustic Ravine, Royal Plaza and Mumbai Chowk are the other themed zones, offering 4D stunt simulations, and six huge stages staging 30 live shows. There's LEGOLAND Dubai and LEGOLAND Water Park with custom-built LEGO® rafts and 20 waterslides as well!
If your kids love Marvel Comics, they're going to love the immersive rides and action thrills of the Hulk, Iron Man, Spiderman, Thor, The Avengers and others. Lost Valley is dino world come to life, where your kids can become part of the Flintstone family – Fred, Dino, Wilma and Pebbles.
Fabulous animatronic dinos roam in this zone. The Cartoon Network zone brings all your favorite Cartoon Network characters to life. There are plenty of activities for grownups too – shopping outlets, food outlets, gaming centers and so on!
As far as waterparks go, Atlantis Aquaventure Water Park is a major one. There's even a shark diving area where your kids can get close to deadly sharks. 700 meters of sun-kissed sandy beaches, fabulous water slides and lazy rivers, and an aquarium right on site.
Be sure to take them to the Lost Chambers Aquarium, underneath which the simulated lost city of Atlantis lies buried, amidst a flurry of colorful fish, humongous sharks and submerged wrecks. While you're at Atlantis The Palm, be sure to visit Dolphin Bay, so your kids can play with the friendliest dolphins in the world.
Shop your essentials before packing to Dubai
The Dubai desert offers real-life adventure and excitement that your kids won't forget in a hurry. Take them dune bashing, sand boarding, camel riding and quad biking. Take them exploring into the desert at night and introduce them to desert fauna and flora. Let them photograph the amazing red dune landscape and play on the dunes. Both the evening and overnight safaris have in-tent entertainment – belly dancing, fire dancing, tanura dancing, and fabulous buffet dinners – a sure hit with kids.
Dubai Aquarium and Underwater Zoo.
Walk your kids through the world's longest acrylic tunnel under the sea, with deadly sharks, manta rays and piranhas surrounding them. Watch their faces as more than 140 species of marine creatures swim around them, including 400 Sharks and Manta Rays. The underground seawater tank holds 10 million liters of water filled with hammer head sharks, tiger sharks giant groupers and more.
Here's a great chance for your kid to actually live a grownup life, not just pretend. KidZania is an interactive kiddie city where kids can be doctors and engineers, wear uniforms, work at factories, earn and spend money. All of this in a scaled-down indoor city of spanning 7,000 square meters. To make things as real as possible, KidZania includes kid-sized buildings, vehicles, planes, helicopters and everything else that's present in a grownup world.
Bonus Point: The Palm Jumeirah Island.
Dubai's manmade islands are a marvel in themselves, especially the palm-shaped Palm Jumeirah. Take your kids to experience the true grandeur of its island from an extraordinary height, without taking off in a helicopter or plane! Head over to the Nakheel Group's latest project, The View at The Palm Jumeirah, a 240-meter high observation deck situated on the 52nd floor of the Palm Tower.
From there, you can check out all beautiful 16 fronds of the island, along with its crescent and the trunk. You can also see all the way across to the Arabian Gulf and the Dubai skyline.  Before you get to the observation deck, enjoy the museum and gallery on the Nakheel Mall's roof plaza. From here you take the elevator with the floor-to-ceiling glass windows flashing digital views of the Palm. At the observatory, you get to enjoy 360 degree views of the Palm Jumeirah. You can relax at the lounge and nurse a cup of Joe at the café as you take in one of the world's greatest marvels.
There's more fun for kids to have in Dubai!
Ski Dubai is one such – a humungous indoor ski resort where you can kids can ski, toboggan, build snowmen, and play with live penguins. What fun! You can see now why Dubai is an absolute paradise for kiddies. So the next time you start thinking of where to vacation, just head to Dubai – by default.

Please let us know if you found this post useful and what you are looking for through comments, we would love to help you out in that..
This post contains affiliate links, which means we may receive a small commission, at no additional cost to you, if you make a purchase through these links.