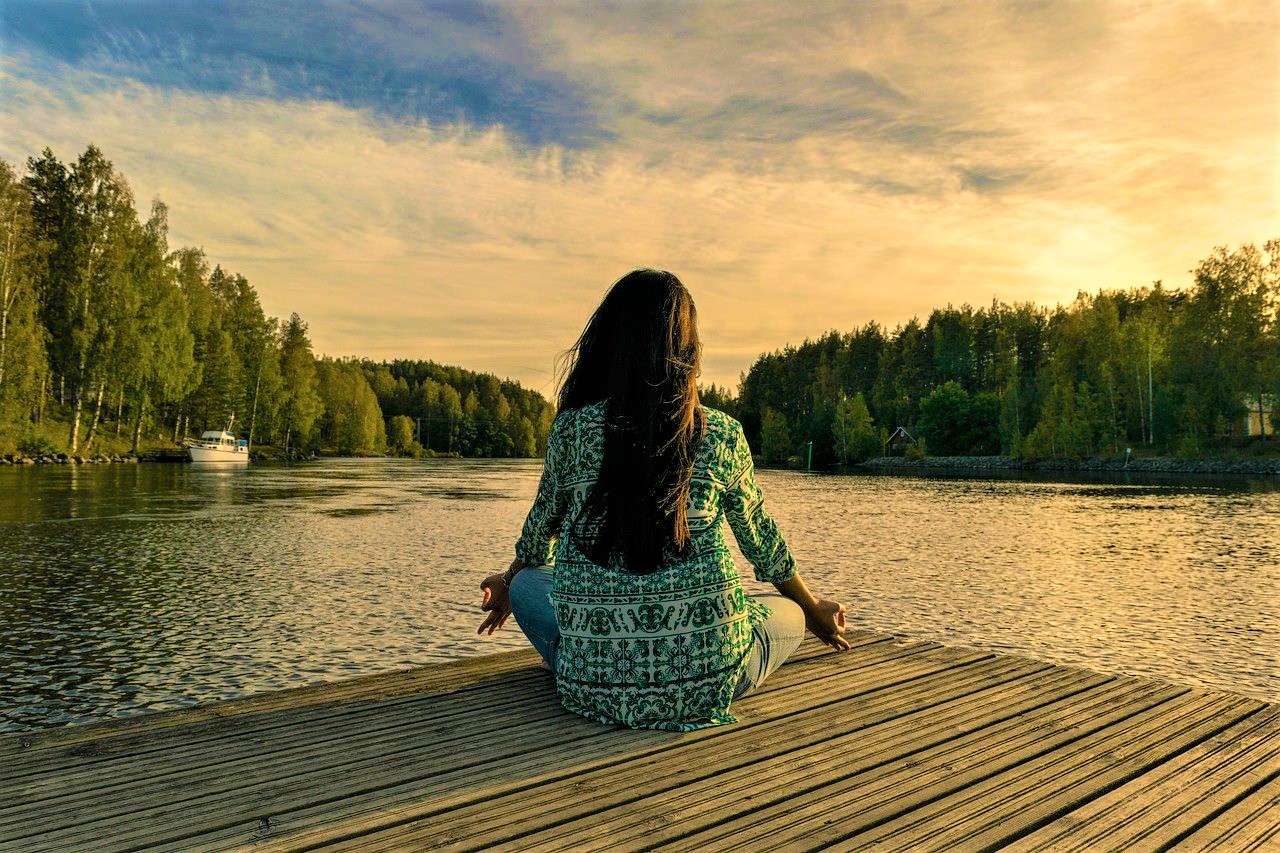 People travel for different reason, one reason being to relieve the stress from their daily schedules. Meditation is the best way to heal your both mental and physical illness. It gives you enlightenment in life. India is the place where yoga was originated. People from all over the world come to meditation and yoga centers in India to seek inner peace. Here we have made a detailed guide about 5 best Meditation centers in South India where you can also calm your inner mind as well as your eyes with natural beauty of the location as well.
Travel to these meditation Center and spend few of your days here or keep few days apart from sight seeing to get an inner peace from these attractive places.
Isha Yoga Center
The Isha Meditation centre is located on the foot hills of Villiangiri, Coimbatore. Isha Foundation was established by Indian Yogi, Sadguru. This yoga center is the headquarters of Isha Foundation. The ambience of the centre creates most powerful space for self-transformation.  Four major paths of yoga such as, Bhakti (devotion), Kriya (energy), Karma (action) and Gnana (knowledge) is offered by this yoga centre. There are many volunteers who work in Isha Yoga Centre. People from different countries visit here to get a healthier lifestyle and inner peace.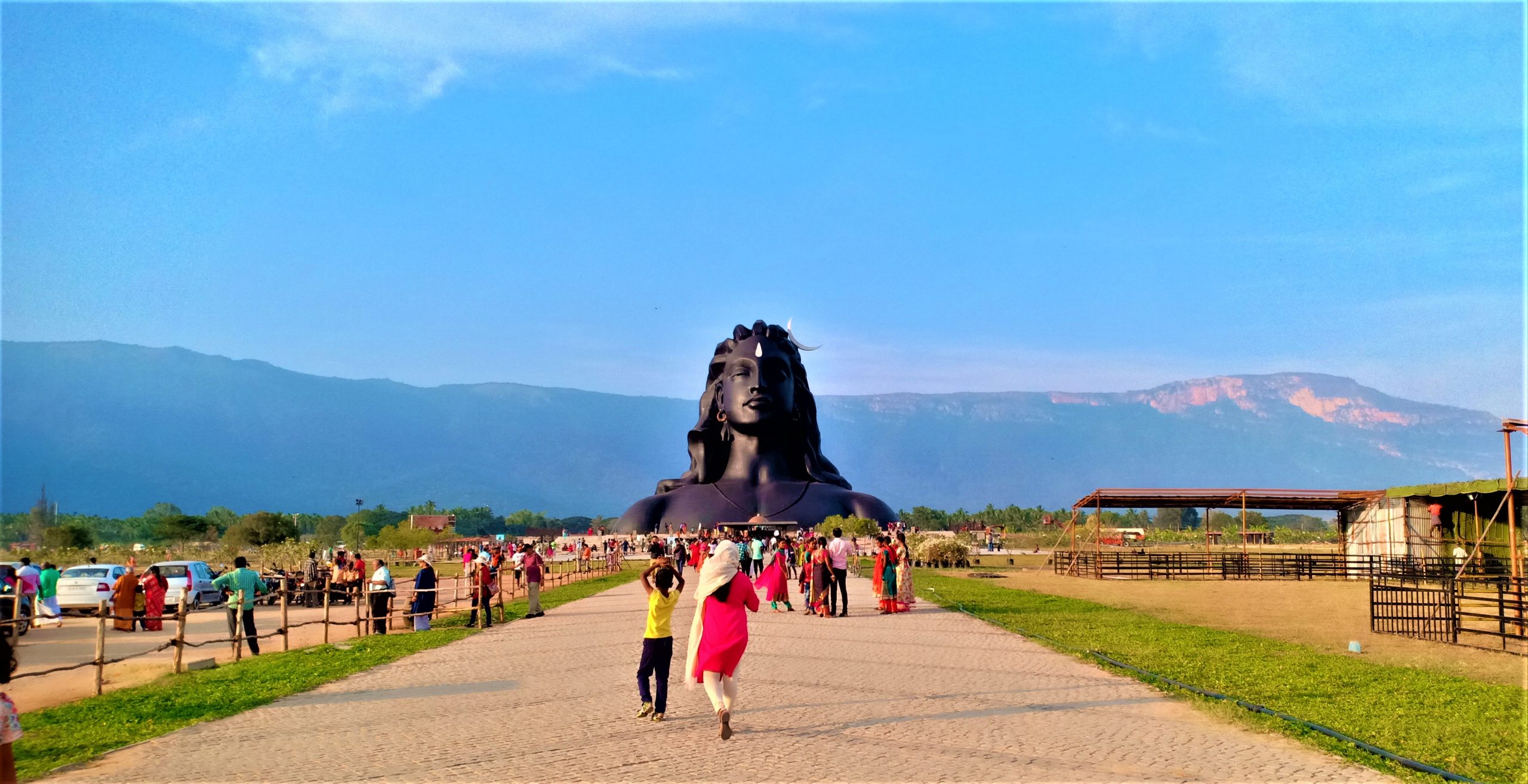 Attractive Places in Isha Yoga Centre
This statue is 112 feet in height and recognized by Guinness Book of Records as the largest bust sculpture. Adiyogi means Lord Shiva. It is named as Adiyogi because Lord Shiva is the originator of yoga. This iconic statue is in open space which can accommodate numerous people to perform yoga. Sadguru says that Adiyogi is here to liberate people from illness and discomfort. Several programs such as Isha Kriya and Aumkar Initiation are conducted here daily. It opens from 8 AM to 8 PM every day.
This hall has a Linga made of solidified mercury. Hatha Yoga teacher training program is conducted here; this is a 21 week program, held annually. Samyam, 8 days silence program is conducted here to experience highest level of meditation.
In Sanskrit, Dhyana means meditation and Linga means a form. Huge Linga is present in this sphere. Sit in this hall and meditate for just few minutes to experience the enlightenment. Prayer or worship is not required. Just the energy in the sphere is enough to gain liberalism and inner transformation. It opens from 6 AM to 8 PM every day and on auspicious Shivaratri, it opens from 6 AM to 4 PM and 6:15 PM to 8 PM. Nada Aradhana and Isha Kriya meditations are conducted here every day.
Linga Bhairavi is the devine goddess. It is 8 feet tall made of solidified mercury. It is considered as most powerful goddess where devotees seek for material aspects of life. Many offerings are made here by the devotees. It is opened from 6:30 AM to 8:20 PM every day and closed from 1:20 PM to 4:20 PM every day.
This meditation hall can acquire large gathering. It has an attached garden. Isha Yoga programs and Bhava Spandana are conducted here. It has captivating paintings on the wall which are made from vegetable dyes and earth extracts.
There are two energy pools known as Suryakund and Chandrakund. Suryakund is for men. It is 20 feet below the ground level and has many steps to access. It contains three rasalingas and above there is a 20 feet brass and copper sculpture of the sun. Chandrakund is from women. It is 30 feet below the ground level and has huge steps to access. It is surrounded by huge granite stones and a colorful art depicting mahakumbha mela.  People take a dip in these energy pools to enhance physiological and psychological wellbeing.
How to Reach
It is located 30 km from Coimbatore, Tamilnadu. Coimbatore is well connected to busses, trains and flights from other metropolitan cities of India. Direct busses ply from Coimbatore to Isha Yoga Centre. You can even book a taxi from Coimbatore airport or railway station.
Food
Nutritious vegetarian South Indian meals are provided twice a day at 10 AM and 7 PM. For special yoga programs, meals are chosen suitable for particular session.
Accommodation
Accommodations are available only by prior booking. You need to book at least two weeks in advance for accommodation. Three categories of rooms such as, Nidhi cottages, Nalanda Conference Centre and Volunteer accommodation are available and you can select based on your requirement.
Things to Carry
Comfortable clothing which covers shoulders and knees.
Photocopy of passport and visa for foreigners.
Mosquito repellent
Towel
Comfortable footwear
Art of Living Ashram
The Art of Living foundation is established by a spiritual leader, Sri Sri Ravi Shankar. The Art of Living Ashram is located in the outskirts of Bangalore. This ashram has 250 acres of land where it consists of many beautiful buildings and farm lands. Many meditation and yoga programs such as, happiness program, Sahaj Samadhi program, Silence Retreat program and wellness program are conducted in the ashram daily. There are even programs for children to build their confidence and enhance concentration. There is a bus tour provided by the ashram for visitors.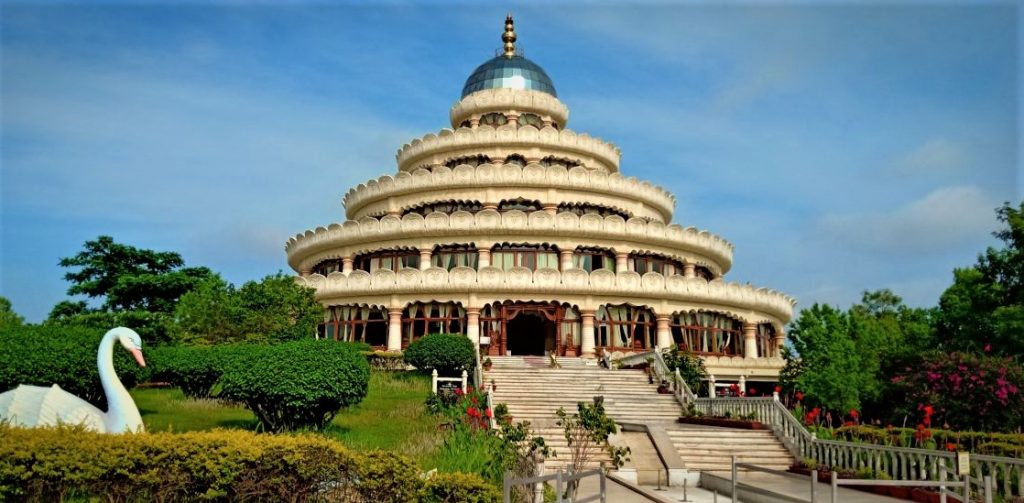 Visiting hours to this ashram is 9 AM to 7 PM.
Attractive Places in Ravi Shankar Ashram
It is named after Sri Sri Ravi Shankar's mother, Vishalakshi. It is the must visit place in the ashram. It has beautifully engraved stunning architecture with huge glass dome. The dome is Asia's tallest dome. Daily Satsang is conducted in front of this hall which is a huge gathering for meditation, singing and dancing. Satsang is conducted at 6:30 PM to 8 PM every day, on Sundays it is from 4:30 PM to 6 PM.
This gurukul is in the premises of ashram. This unique education system depicts old Indian Vedic learning. It teaches Veda, Sanskrit, Siddhantha, Yoga, Vedic Mathematics and many more.
This huge dairy farming houses hundreds of cows with 15 various breeds. This was started to give importance to agriculture and dairy farming. The main aim of this gaushala is to preserve native cattle breeds.
This blissful garden is an attractive place in the ashram. It has varieties of flora, ponds, waterfall, lake and complete greenery. It is the must visit place in the ashram for evening walks.
This open space auditorium is designed like lotus. It has 12 pillars which depicts zodiac signs and has a balcony for breath taking view of the ashram. It is located on the highest point of ashram. It is designed in such a way that, the first rays of sun fall on the zodiac signs which is carved on the pillars. The beautiful structure attracts the visitors.
Sri Sri Ayurveda Hospital
This hospital provides best treatments against physical and mental health through Ayurveda. You can stay here for naturopathy treatment in the ambiance of nature. You feel relaxed with the ayurvedic treatment enjoying the beauty of nature.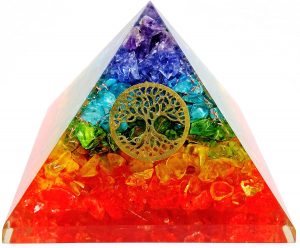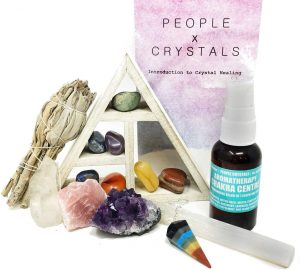 15 Piece Chakra Crystal Healing Kit
Aside from being aesthetically beautiful this unique kit aids in mindfulness and manifestation. As a result, you will feel more relaxed and recharged in Body, Mind, & Spirit.
How to Reach
It is located 21 km from Bangalore. It is well connected to buses from Bangalore. Nearest airport is Bangalore International Airport. Nearest railway station is Bangalore railway station. You can even book a taxi to head towards ashram from Bangalore.
Food
The ashram has Annapoorna, the mega kitchen which serves more than 20,000 meals daily. Full time volunteers prepare food and many visitors and volunteers serve food. Breakfast is provided from 7:30 AM to 8:30 AM, lunch is from 12:30 PM to 1:30 PM and dinner from 6:30 PM to 7:30 PM.
Café Vishala is a canteen which serves vegetarian snacks, sandwiches, fast food, fruit juices and many more.
Accommodation
There are different types of accommodation in this ashram. Rooms are available on subject to availability. Therefore, prior booking is required.
Things to Carry
If you are planning to stay and join courses, below mentioned things to be carried to this ashram:
Printout of course registration form
Passport photocopy
Confirmation mail ID
Photocopy of valid Indian visa
Loose and light clothes should cover shoulders and knees
Yoga mats
Toiletries such as, soap, toothbrush, paste and shampoo
Lock and keys for your baggage
Torchlight
Mosquito repellents
Kanha Shanti Vanam Ashram
Kanha Ashram is a place for spiritual seekers all over the world. It is the best meditation centre which follows Sahaj Marg Yoga. It is located 50 km from Hyderabad. It was established by a spiritual leader, Sri Ram Chandra. Currently this huge area is under construction. When completely developed, it can host spiritual gatherings of around 50,000 people. 50,000 plants have been planted here to have complete greenery. This ashram township has 1400 acres of land filled with beautiful green serene. It is also known as Green Kanha. There are many spiritual events conducted by Kanha such as, A Spiritual Retreat, Preceptor Refresher Program, Heart Fullness 75 Years Celebrations, Wellness Yoga Teacher Training Course and many more.

Visiting hours to this ashram is from 7 AM to 7 PM every day.
Attractive Places which are Under Construction
Monument Building
Mega Kitchen
Dormitory
Dining Hall
Once it is completely developed, the dormitories can accommodate 4000 people, the mega kitchen can serve for over 50,000 people and dining hall will have 1000 seating capacity.
How to Reach
It is located 50 km from Hyderabad. When you travel by air, nearest airport is Rajiv Gandhi International Airport, Hyderabad, which is 31 km from ashram. Nearest railway station is Secundarabad railway station, which is 54 km from ashram. When travelling by road, nearest bus stand is Shamshabad bus stand. You can book a taxi to head towards ashram from airport, railway station and bus stand.
Food
The ashram has moderate facility to serve people. It is serving breakfast, lunch, tea and dinner. Once the canteen is operational, it will serve food from 7 AM to 9 PM.
Accommodation
Accommodations are provided only for members on prior booking.
Things to Carry
As this place is far from city, below mentioned things need to be carried to this ashram:
Medical kit
Comfortable clothes
Yoga mats
Toiletries such as, soap, toothbrush, paste and shampoo
Torchlight
Mosquito repellents
Auroville
It is the township built to realize human unity in diversity. One can have the transformation of consciousness, sustainable living and sense of spirituality by visiting here.  It is located 10 km north of Pondicherry. It was started by The Mother, Mirra Alfassa, who was the follower of Sri Aurobindo. Auroville is the cultural and international zone and witness different cultural plays and arts performed by artists across the world. People can even purchase sculptures, paintings, pottery form the cultural center. Regular workshops are also conducted here. It also has a daycare facility for children of guests between the age group of 2 to 8 years. Centers such as, quiet healing centre, arka and pitanga are the places to meditate and find peace. Many workshops and seminars are conducted to spread the message of harmony.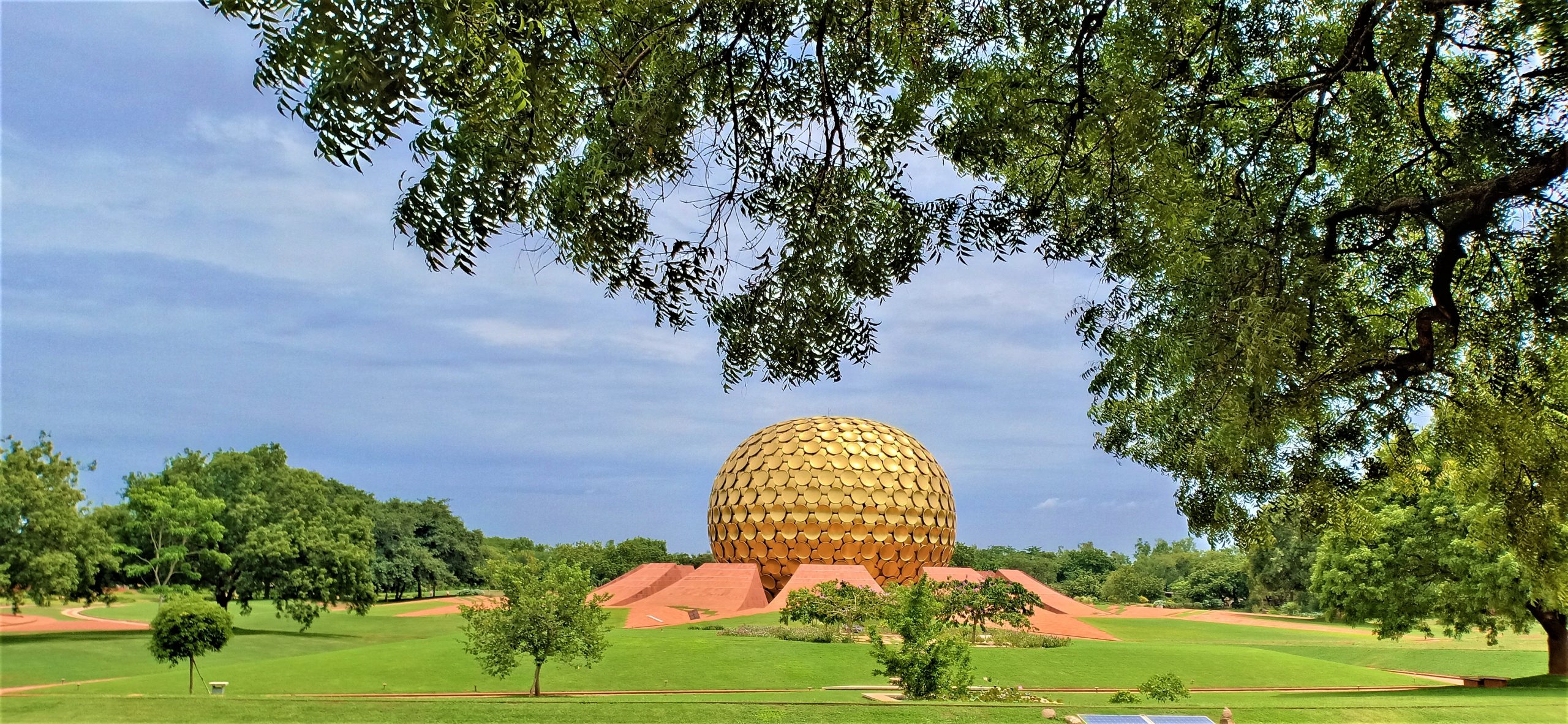 Visiting hours of Auroville is from 9:30 AM to 12:30 PM and 1 PM to 4 PM on Monday to Saturday and on Sunday, it opens from 9 AM to 1 PM.
Attractive Places in Auroville
It is the stunning large sphere surrounded by twelve petals, located in the huge area called as Peace. The area is very quiet and attractive with the gardens around. The dome has golden discs which reflects sunlight and gives the stunning look. Meditation hall is present inside the optical glass central dome, known as Inner Chamber. It is a place to seek peace and meditation. Meditation is also allowed in the petals. To meditate inside the matrimandir, you need to book your appointment two days prior. Only individual bookings can be made. Group bookings are not allowed. Bookings are allowed on all days between 10 AM to 11 AM and 2 PM to 3 PM, except on Tuesday. Timings to meditate in the inner chamber are 9:35 AM to 10:05 AM. To meditate in one of the petals, it is from 9:30 AM to 10:45 AM.
There is a separate view point on the raised garden, Park of Unity. The beautiful Matrimandir can be viewed by sitting in this garden. Free passes are available to this viewing point from Visitor's Centre. It is 10 minute walk from the Visitor's Centre. Free electric shuttle and bus services are available form Visitor's Centre to Matrimandir.
Auroville Botanical Garden
The 50 acre botanical garden houses 250 different species of trees. It has 13 gardens and named as, Existence, Harmony, Peace, Consciousness, Power, Light, Bliss, Utility, Wealth, Life, Progress, Perfection and Youth. The garden was built to preserve the nature. Walking through this green zone gives you the blissful view of nature. You can even purchase plants and can voluntarily help to maintain the garden.
Auroville Bakery and Boulangerie
It is one of the popular food joint in Auroville. You can have the fresh baked breads, cheese cakes and many more. Everything in the menu is from the Auro farms. It has an outdoor seating arrangement to sit in amidst of greenery.
It is the center for spiritual education and houses collection of books of Aurobindo and The Mother. It has digital library and picture gallery. Many workshops are conducted here. It even has guest houses for volunteers.
This is the place of unity in diversity. People all over the world showcase their cultural heritage. Many cultural exchange events take place in this pavilion.
Important Guidelines Regarding Matrimandir
Prior booking in two days in advance is required.
Matrimandir and its bookings are closed on Tuesdays.
Children below 10 years are not allowed in the meditation rooms.
Complete silence has to be maintained in the meditation rooms.
Cameras, bags and phones and other valuables are not allowed.
How to Reach
Auroville is located 10 km from Pondicherry. Pondicherry has well access to buses and trains. When travelling through air, nearest airport is Chennai International Airport. Many buses ply from Pondicherry to Auroville daily. You can even book taxi from Pondicherry to reach Auroville.
Food
Auroville has many restaurants, cafeterias and eateries. Solar kitchen is the famous community kitchen with dining hall. It serves breakfast and lunch. Food has to be booked in advance. It serves homely food and everything in the menu is directly from the auro farms.
Auroville Accommodation
Accommodations are budget friendly and need to be booked two days in advance. Guesthouses will be fully booked very early in the peak season from December to February.
Things to Carry
Get an Auro card from the guest house and go cashless.
Torch
Comfortable and modest clothes
Toiletries
Keep all your valuables in the guest house
Sivananda Yoga Vedanta Dhanwantari Ashram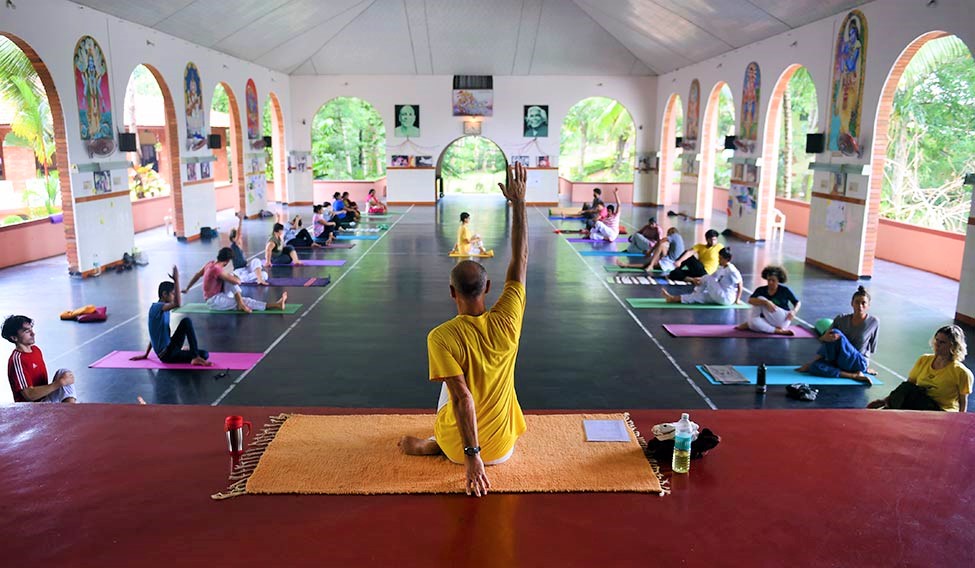 This yoga and Vedanta ashram is located on the foothills of Western Ghats of Trivandrum, Kerala which is spread over 12 acres of land. The mesmerizing Neyyar Dam Lake and captivating forest surroundings with coconut grooves and vibrant flora creates an ideal ambiance to perform yoga and meditation. It was established by Swami Vishnudevananda, follower of Sri Swami Sivananda Saraswati. This ashram teaches four paths of yoga and Vedanta to promote physical, mental health and spiritual health. People from different countries come here to seek spirituality and practice yoga and meditation.
Courses such as Teachers training course, Advanced teacher's training course, Kids camp and Teens camp are provided by this ashram. Programs such as Fasting and detoxification program, Yoga Ayurveda cultural program and many more are conducted here.
Yoga classes, meditation and workshops of spirituality will be scheduled daily. This ashram is opened from 8 AM to 8 PM every day.
Attractive Places in Sivananda Yoga Vedanta Dhanwantri Ashram
The ashram boutique contains everything for daily needs such as, clothing, snacks, post cards, yoga mats, stationery items and many more. It also contains spiritual CDs and books.
This hall has collection of books on yoga, meditation and spirituality.
This eatery provides delicious healthy salads, fresh fruits, juices and snacks.
How to Reach
It is located in Trivandrum. If travelling by air, nearest airport is Trivandrum airport. You can book a cab or auto to reach ashram. Local busses ply from airport to Neyyar Dam. If travelling through bus, nearest bus stand is Trivandrum bus stand, which is just 5 km from ashram. If travelling through train, Trivandrum central railway station is the nearest railway station.
Food
Nutritious vegetarian South Indian meals are served daily.  Brunch is served at 10 AM, herbal tea with snacks is served at 1:30 PM and dinner is served at 6 PM.
Health hut provides fresh fruit juices, snacks and fresh fruits.
Accommodation
Accommodations are available in 5 types such as, vaikuntam rooms, kailash rooms, vishnu rooms, dormitory and tent space. You can choose according to your requirement. Bed sheets, pillows and mosquito net are provided on all types of accommodations.
Things to Carry
Comfortable clothing which covers shoulders and knees.
Toiletries
Yoga mat
Torch
Valid photo ID and visa for foreigners.
Towel
Comfortable footwear
Travel to South India, visit and stay in one of these meditation centers to relax your body and mind and be free from all the stress and anxiety.

This post contains affiliate links, which means we may receive a small commission, at no additional cost to you, if you make a purchase through these links.