Throughout early human history, people spent most of their time outdoors surrounded by the elements of nature; hence the ties that human beings share with nature cannot be easily forgotten. Therefore, the concept of biophilic interior has evolved out of the innate human desire to connect with and grow alongside nature, as a result of which biophilic designs have been fast gaining popularity.
Biophilic interior designs perfectly encompass the notions of nature and sustainability. Biophilia aims to draw human beings closer to nature and promote a sense of comfort and well-being by bringing nature inside their homes using plants, colors, textiles, and more. While these components collectively provide a multisensory approach, the flooring and walls are one of the first components to be felt directly by touch as one enters a room; and biophilic tiles are one of the best ways to achieve that.
Ceramic Tiles – a Popular Choice!
Biophilic tile trends include tiles that remind you of nature, regardless of the connection being subtle or direct. Owing to their versatility, sustainability, and availability in a multitude of options, ceramic tiles serve as a vanguard for biophilic interior designs. Furthermore, ceramic tiles can be manufactured into any look, texture, or color, making them ideal to achieve the perfect biophilic effect.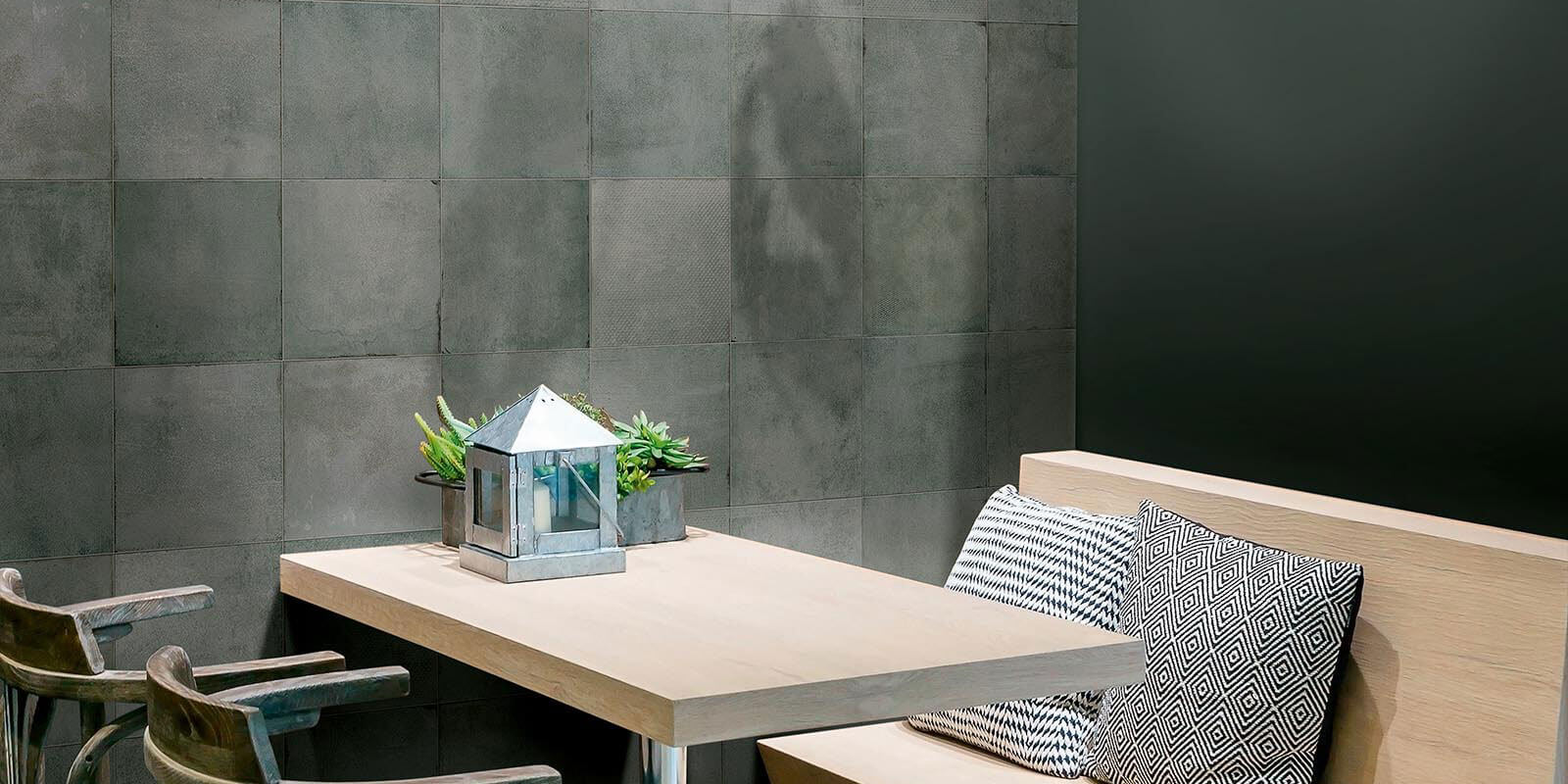 Ideas to Incorporate Biophilic Tiles with Interior 
Go Simple with Green Biophilic Tiles
Green is the perfect color that symbolizes nature, growth, and wellness. It is known to have healing properties and is understood to be the most soothing color. Moreover, the color green is responsible for several psychological benefits that include improving mental agility and reducing levels of stress, anxiety, and fatigue.
Owing to a variety of options ranging from soft pastels to dark greens, one can always find a perfect fit in different shades of color for any setting.
Fusing Different Materials with Ceramic
Ceramic tiles are made up of naturally occurring materials and are globally lauded as being a green building component as unlike bricks, heating ceramic tiles to higher temperatures does not release pollutants that adversely impact the air quality. Chips such as those of marble, granite, quartz, or even glass can be incorporated within ceramic to come up with a sleek terrazzo look for your space.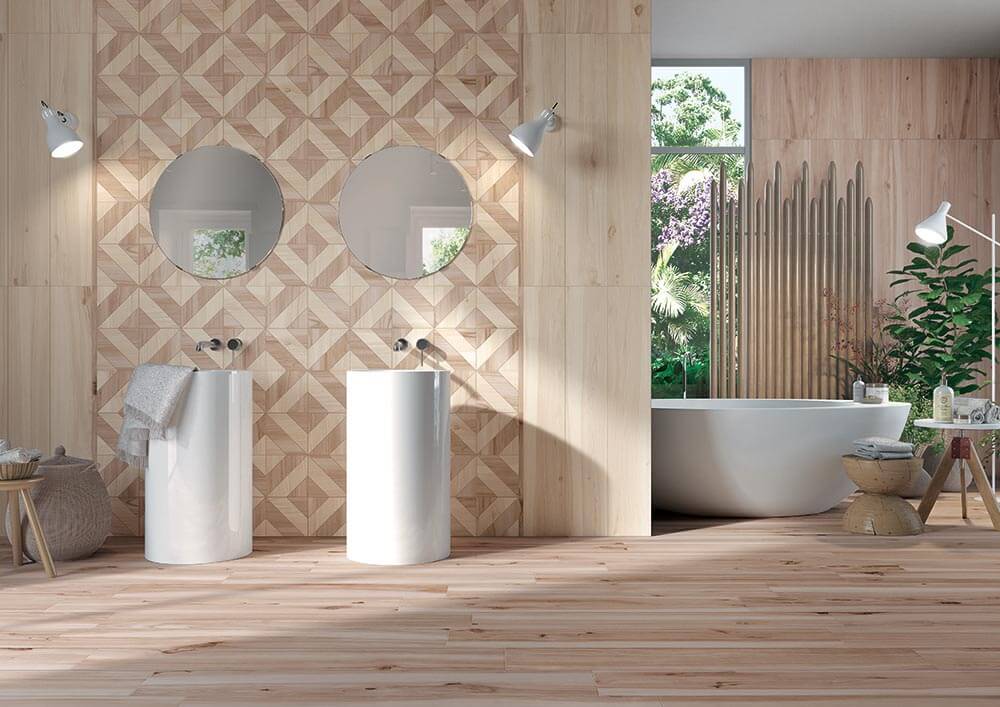 Wood-look tiles impart a classic finesse to the space and are a biophilic must-have. The sight of wood is known to reduce blood pressure and provides an immediate connection with nature. It also enables people to be more productive socially.
Wooden designs blend well with the surroundings and accentuate the aesthetics of a place. The added benefit of using wooden ceramic tiles over natural wood is that the tiles are cheaper and resistant to the effects of changing weather and humidity.
Variegated Tile is made up of subtle colors that produce a more natural effect, like that of handmade tiles and stone-look tiles. These biophilic tiles will give you the authentic biophilic look that you want.
Tiles in Natural Textures
Textures like those of pebbles and rocks emulate those found naturally and impart an earthy touch to the interior. The Mazanka Apartment and the Japanese restaurant Fujiwara Yoshi by Makhno Associates have natural materials like wood, concrete, copper, and clay, left untouched to preserve the texture.
Furthermore, you might want to opt for three-dimensional structures that might resemble your favorite landscape like the texture of hills, mountains, and sand.
Tiles in Natural Patterns 
The look of natural materials such as stone, brick, glass, and wood improve one's perception of space, providing all the more reason to architects to incorporate such designs into architectural plans.
Italian companies make use of digital printing to offer a variety of plant-like tile designs that include grassy motifs and palm designs as well as pixelated florals, based on several patterns and geometries found naturally. Other patterns might include those of honeycombs and waves in the ocean.
Additionally, the ROCKS porcelain series by Gres Aragón is ideal for those who are looking for biophilic design. Digital print technology plays a good part here.
Tiles should not just be confined to flooring, particularly in kitchens. Kitchen backsplashes with tiles running from the floor to as high as the ceiling create a natural and well-integrated look.
The biophilic tile trend is fast becoming popular across workplaces, recreational spots, and houses. Many experts consider biophilic interior the future of the designing industry and owing to the numerous benefits to health and the environment that biophilia provides, it's easy to say why.
This post contains affiliate links, which means we may receive a small commission, at no additional cost to you, if you make a purchase through these links.