Most houses have a personal space for guys. When the boys are over, whether it is for playing games or talking about cars, they head straight to that man cave. It is generally located in the attic or sometimes basement of a house and provides men with all the space they need to do whatever they want to do. But what do women do? Where do they go when they need some time out and a small escape from the routine? Well, the answer to that is a "She Shack"!
Now, most of you must have already come across this relatively new trend that has taken off pretty quickly. But for those of you who don't know, a She Shack is a separate space for all the things you love but never have the time for because of your exhausting routines. With time, modern women have started to realize that they can have a small quiet space of their own and they have started calling this small little space, a she shack.
Now, imagine having such a place, a place where you can do whatever you want. You could finish the books that have been on your list for so long. You could finish that painting or complete knitting the sweater that you have been delaying for some time now.
Creating such a space is not much of a hassle; a perfect get-away. You might already have the base set up for it too; that old rusty, dusty cabin in your backyard. That small space will be in your home yet away from the worries of everyday life.
Shop She Shed Decoration and essential kit to make your small happy place and have a she time.
While what happens inside the she shack is important; it is also very important to keep Mother Nature in mind when you opt for creating one. Whether it's a she shack or a man cave, there are a few general ways to make your space nature friendly. Making an eco-friendly she shack, that is also energy efficient, is easier than you think.
To make things simple for you, we have gathered some information and tips on how you can turn your she shack into a green powerhouse. Whether you are going to convert that old shed in your backyard into a she shack or get a new one built, keep these small tips in mind and play your part in having a positive impact on the environment.
Eco-Friendly Construction
First things first, the fundamental of going green is to be mindful of how you use the available resources. You shouldn't be wasting materials. We know that your primary goal isn't making an eco-friendly she shack structure but it is to build a she shack for your own good. Use your old space if you have one and if you are building one make sure to use simple and sustainable materials that are not very heavy on the pocket.
You should also consider using reclaimed materials. Many builders have leftover stuff and you can try looking for it or asking around. It will help in decreasing wastage. You can even build a complete structure from these materials such as timber frames or unwanted insulation boards. This will help you a lot in keeping the cost low.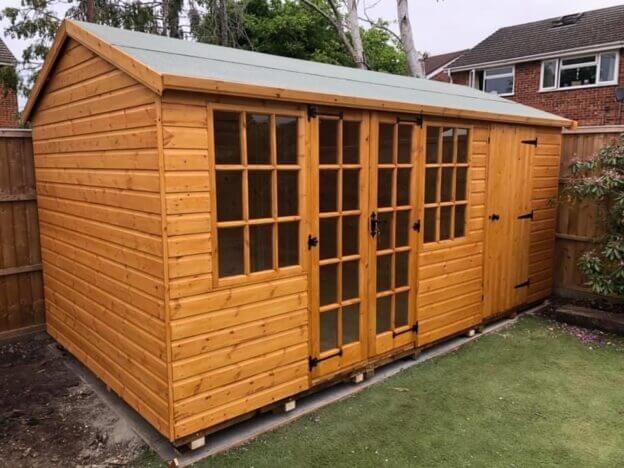 When installing windows make sure you have them on two opposing walls, for cross ventilation. Don't forget that you will be using your she shack for some relaxation and it is important that the environment inside is easy for your health. Having operable skylights is a very good option too. It will help get rid of all that extra air when needed.
You can make sure to have a shed ventilation fan or a solar exhaust fan for your shed.
Never underestimate the power of good insulation. Why use an electric heater and go through the hassle of turning it on and off when you can install cheap insulation that is also energy-efficient. It will keep your eco-friendly she shack warm in the winters making an electric heater unnecessary.
You can either get a ready-made insulation board or even get a new one built according to your custom needs. It is one of the most efficient ways of keeping your she shack nature friendly so that you can spend your 'me time' without any guilt.
Who doesn't love some natural sunlight? Whether it's for sitting, reading, doing your chores, or capturing some sun-kissed photos!
All you have to do is to make sure that there are enough windows that allow the sunlight to enter. Doing this will not only help keep your space warm and well-lit throughout the day but will also help you cut down on that extra electricity.
If you are using your old space and it doesn't have windows, you should consider installing some. Getting in natural light is the most environmentally friendly way to go about it.
You can invest a little and install solar panels to make your she shack nature friendly. It will help you produce the electricity at home, saving you tons in case you are using your she shack for hobbies or work that requires electricity throughout the day and night. If you have a large space, consider getting bigger ones, that might help you produce electricity for the main supply.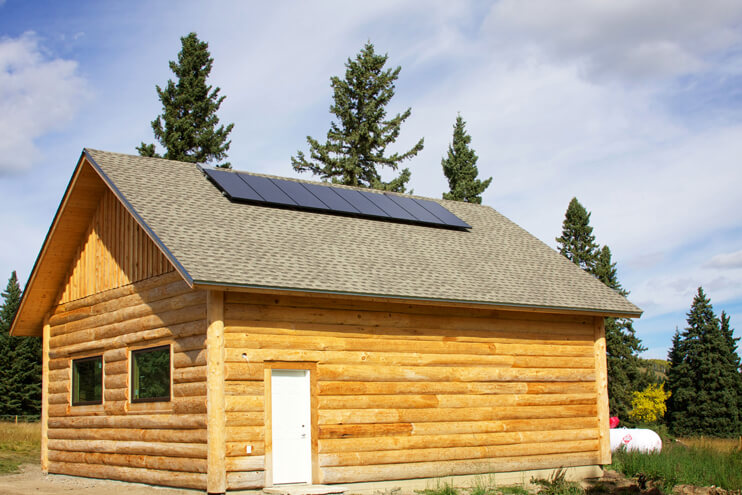 Now let's talk about the finishes. Since we have decided to go green so why not go all out? Try going for paints that have a low content of VOCs while deciding to paint the walls. When it comes to flooring, you can try to limit your use of PVC. Timber boards are a very good option. If not, bamboo flooring or cork tiles are also durable; hence they are a good option.
Are You Ready To Build Your She Shack?
Keeping all the above in mind, making sure you are causing no harm to nature; you can start getting your personal eco-friendly she shack build! You can start making a list of all the things that you want inside. It could be all the gear you need to do your favorite hobbies. If you are a people person, you can also use it to create a small space for your girlfriends for gossip sessions over a cup of coffee!
This post contains affiliate links, which means we may receive a small commission, at no additional cost to you, if you make a purchase through these links.