If you're looking for the ultimate tropical getaway, Bora Bora island holiday is your answer. Located in the South Pacific, Bora Bora is a small island that is famous for its crystal-clear waters and white sandy beaches. The overwater bungalows in Bora Bora are among traveler's favorites. In this blog, we'll explore the reasons why a vacation in paradise that is Bora Bora should be at the top of your travel bucket list.
From the moment you arrive on this French Polynesian island, you'll be struck by its natural beauty and the warm hospitality of the local people. The island's stunning scenery is dominated by the towering Mount Otemanu, a dormant volcano that looms over the island and provides a stunning backdrop for photos and memories that will last a lifetime.
Bora Bora is widely known for its stunning natural beauty, and it is not hard to see why. The island is surrounded by a lagoon that is teeming with marine life like colorful fish, sharks, and stingrays. The lagoon is also home to the iconic overwater bungalows, which offers a unique experience of the island's beauty.
Bora Bora has a number of breathtaking beaches. The most famous of these is Matira Beach, which is widely regarded as one of the most beautiful beaches in the world. With its white sand, turquoise water, and palm trees, Matira Beach is the perfect spot to relax and soak up the sun.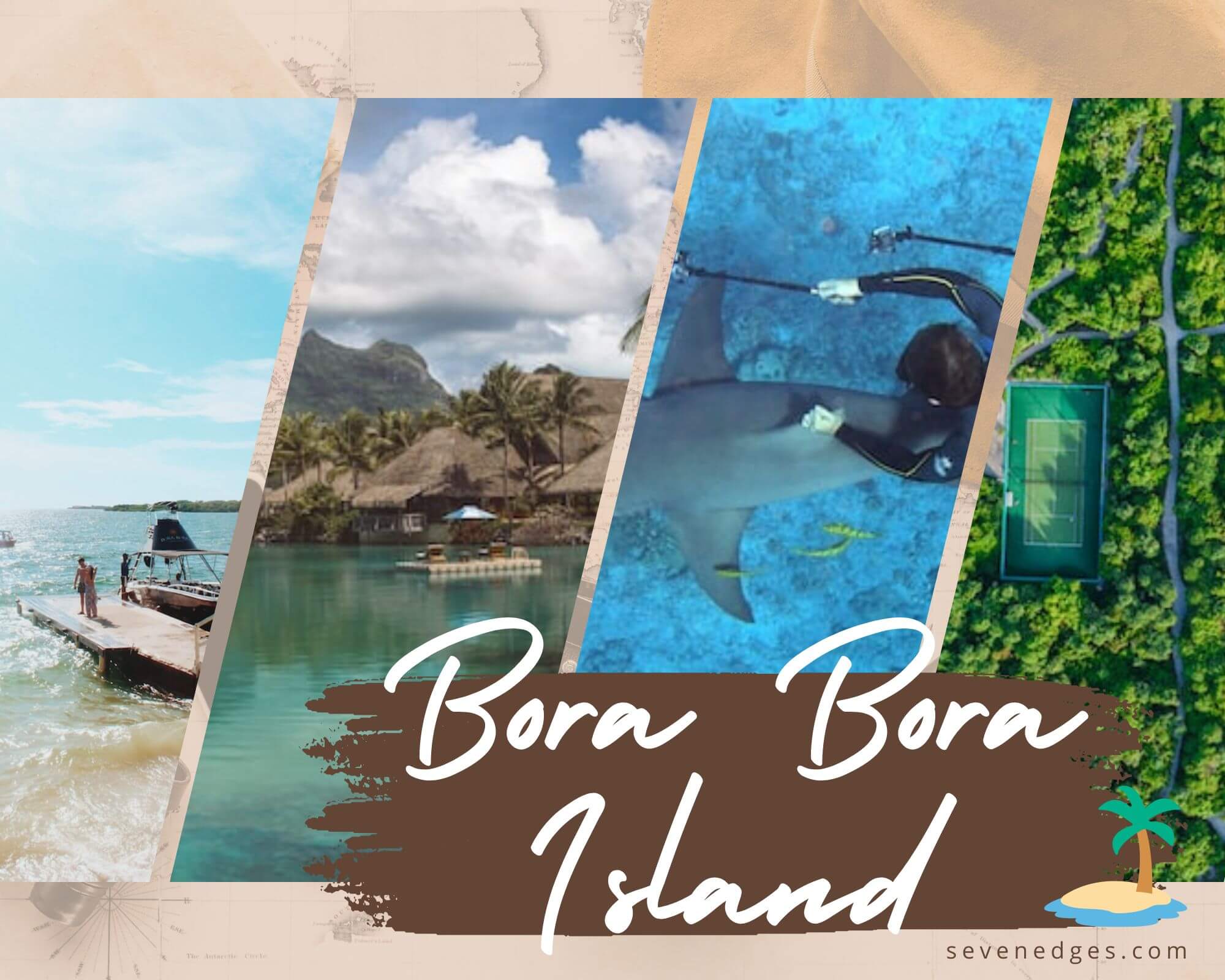 While Bora Bora is the perfect place to relax and unwind, there are also plenty of activities to keep the adventurer in you busy and satisfied. One of the most popular activities on the island is snorkeling. With its clear waters and abundant marine life, the lagoon offers an unforgettable underwater experience. Visitors can also take a boat tour of the lagoon, which allows them to see the island from a different perspective.
Hiking

in Bora Bora Island
Another popular activity in Bora Bora is hiking. The island has several trails that wind through the lush jungle, offering visitors a chance to see some of the island's wildlife and natural beauty up close. The most famous of these trails is the Mount Pahia hike, which offers stunning views of the lagoon and the island's surrounding mountains.
Of course, Bora Bora Island holiday would be complete without some relaxation time. Visitors can take advantage of the island's many spas that offer a range of treatments, including massages, facials, and body wraps. With its tranquil surroundings and stunning views, Bora Bora is the perfect place to unwind and rejuvenate.
Bora Bora's rich cultural heritage is another reason to visit the island. The island is home to the Polynesian Cultural Center, which showcases the unique culture and traditions of the Polynesian people. Visitors can learn about the history of the region and watch traditional dance performances, among other activities. The island's many temples and sacred sites are also a testament to its rich cultural heritage.
Accommodations in Bora Bora Island
The overwater bungalows in Bora Bora are one of the main attractions. These unique accommodations are built on stilts over the lagoon, offering guests a one-of-a-kind experience. Most overwater bungalows have a private deck with direct access to the lagoon, allowing guests to swim or snorkel right from their room.
Bora Bora has a range of other accommodations, such as beachfront villas and luxury resorts. Whether you're looking for a romantic getaway or a family vacation, there's an accommodation option in Bora Bora for everyone.
Bora Bora has a diverse culinary scene, with a range of restaurants and cafes to choose from. Many of the island's restaurants specialize in fresh seafood. You can find local delicacies such as poisson cru, a traditional Polynesian dish made with raw fish and coconut milk.
Visitors can also enjoy international cuisine, including French, Italian, and Asian dishes. Many of the island's restaurants offer stunning views of the lagoon, making for a memorable dining experience.
The best time to visit Bora Bora is during the dry season, which runs from May to October. During this time, the weather is sunny and warm, with little to no rainfall. The high season for tourism is from June to August, so visitors should plan to book their accommodations and activities in advance to ensure availability.
The low season is from November to April, which is the rainy season. While the weather can be unpredictable during this time, visitors can take advantage of lower prices and fewer crowds.
Tips for Traveling to Bora Bora
If you're planning a Bora Bora island vacation, here are a few tips to keep in mind:
Bora Bora is a popular tourist destination, so it's important to book accommodations and activities in advance to ensure availability.

Bora Bora is a tropical destination, so be sure to pack light, breathable clothing and plenty of sunscreen.

While English is spoken on the island, many locals also speak French. Learning a few basic French phrases can be helpful for navigating the island and interacting with locals.

Bora Bora has a rich cultural heritage, and it's important to be respectful of local customs and traditions.

Bora Bora is known for its laid-back, relaxed atmosphere. Embrace this pace of life and take the time to unwind and enjoy the island's beauty.
Vacation in Paradise awaits!
Bora Bora island vacation is a truly magical destination, offering visitors a chance to experience some of the world's most stunning natural beauty. Whether you're looking to relax and unwind or explore the island's many activities, Bora Bora has something for everyone. So why not book your Bora Bora island vacation today and experience the magic of this tropical paradise for yourself?

Please let us know if you found this post useful and what you are looking for through comments, we would love to help you out in that..
This post contains affiliate links, which means we may receive a small commission, at no additional cost to you, if you make a purchase through these links.