Don't we all want to have one of the best gardens in the neighbourhood? There are many ways to brighten up your outdoors. Be it a garden or a parking space, with a bit of creativity, a significant yet delightful transformation can happen. Planting many colorful flowers and keeping the shrubbery groomed might not be enough to give your garden a facelift. This is where buried ground lights come in; these lights can be the perfect new addition to improve your outdoors. Plus, it will help to convert an eerie environment into a pleasant one.
You might think, 'what are buried ground lights?' Well, as the name suggests, these lights are the type that can be buried in the ground to illuminate in a way that complements your outdoors.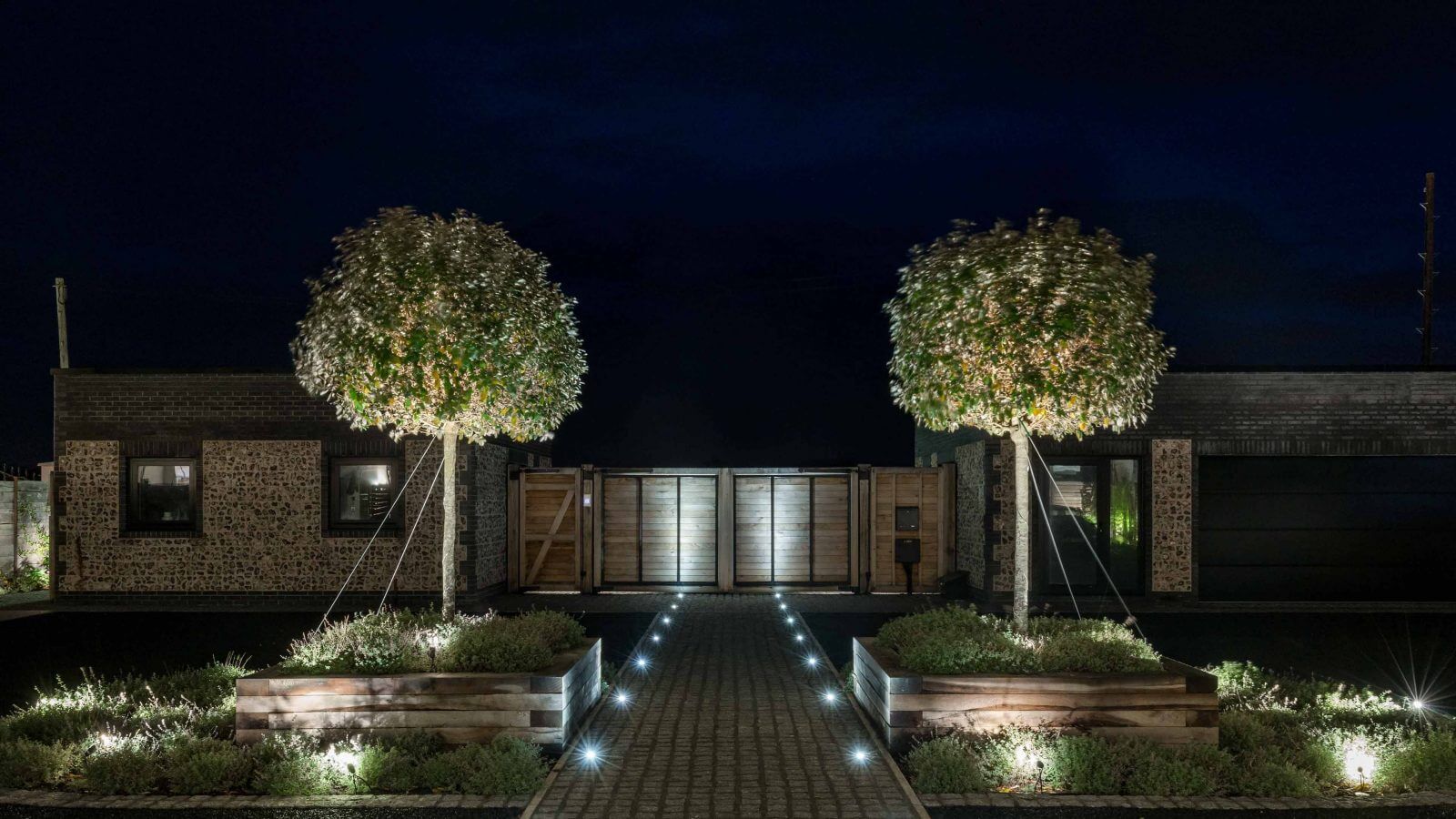 One of the problems of walking in the garden or out at night is low visibility. But with buried ground lights, you can easily brighten up the pathways that require lights during the night time as you can see in the photo below by
studiolighting
. You will find it easier to take a stroll in the garden regardless of the time of the day.
Highlight Your Garden's Focal Points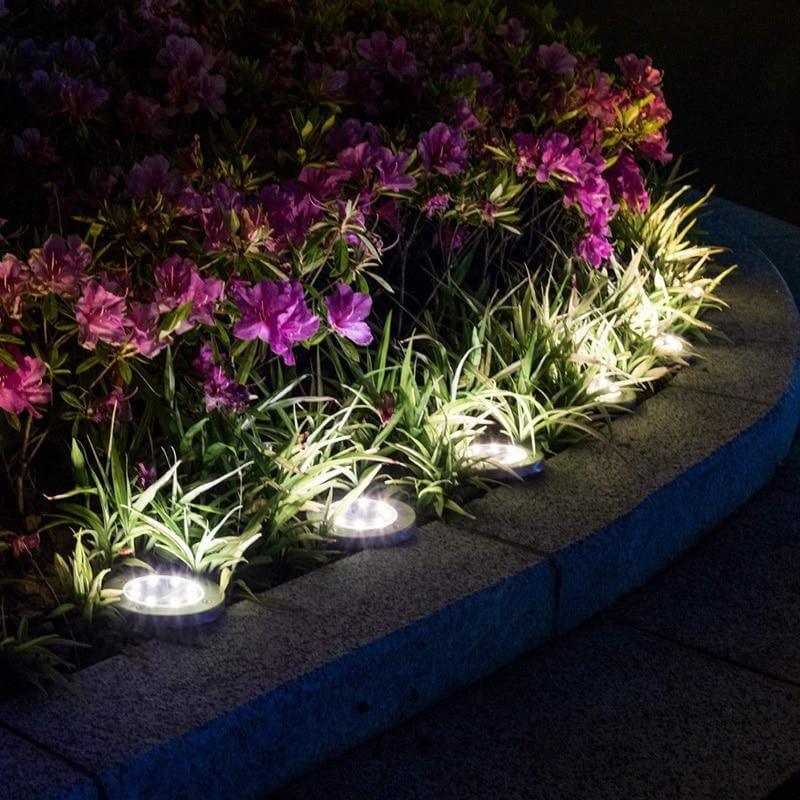 Daytime provides us visibility to admire the well-trimmed plants and trees that we have worked hard to maintain. But at night, we only see shadows that take away from the beauty of the garden. By strategically adding buried ground lights, you can bring attention to the landscape, like in the photo below by
alternativejungle
. Other features that are part of the architecture of our home, like the space around the patio, or swimming pool can also be better displayed.
These features add more definition to a house, specifically to a garden, which you'd want to show off to your friends and family.
Illumination to create illusions
Smaller gardens can look bigger with some strategy. With the help of buried ground lights, you can create a balance between light and dark spaces, which gives the illusion of a bigger space. Similar to how we apply our makeup, the areas we want to hide are dark, and the parts we want to highlight are bright.
These lights work in the same way; when installing, make sure to place the lights next to an object as the light needs to reflect off from something to enhance its effect. Another way to use these lights creatively is to illuminate some spaces to form silhouettes. Creative placement of buried ground lights will form soft shadows, which work well around large trees and also suitable for driveway lights on ground and for inground pool lights.
Bright Right Solar outdoor buried lights harnesses the sun's energy using its super-efficient solar panels during the day. Then when night comes it automatically turns on using dusk-to-dawn technology.
Whenever we think of making any new changes to the interior or exterior of our homes, the first thing that pops into our minds is affordability. Buried outdoor ground lights are also said to be cost-effective because they are weather-proof. Therefore you don't have to worry about the rain or sun causing any damage that could lead to frequent replacement.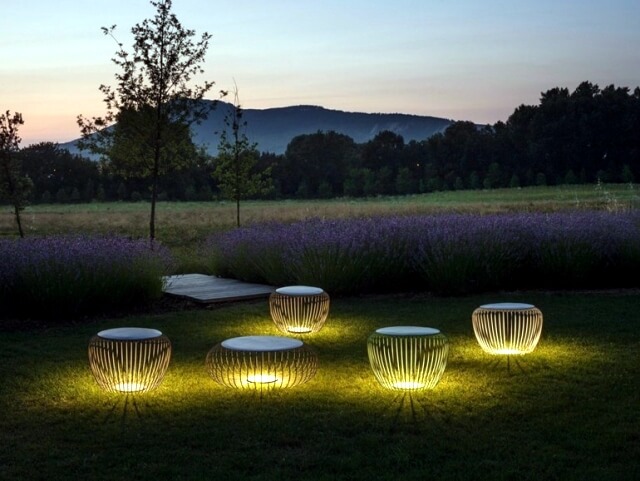 Working day after day negatively affects our positivity and creativity, which puts us in an agitated state. To unwind and relax from the daily stress, we can create a space that can revive the stalled creativity.
Ofdesign's
display in the photo below has creatively depicted a twist in the typical buried ground lights. The best place to utilize as a positive space is the garden, where we feel safe and comfortable. Install some buried ground lights outdoors, sit back, breathe in the fresh air and elevate your mood.
Match Your Décor to Each Occasion
If you want to change the color of lights to match an event you're hosting in your garden, buried in ground lights are the ideal choice. Whether it's Christmas, St Patrick's Day, or a summer party, these lights can make all the difference as you can select the color to your preference. Not only will this feature enhance your décor, but it will also save you time and money that you would have otherwise utilized for other means of lighting.
Outdoor Ground lights are not just any ordinary lights; some versions also include state-of-the-art features like Wi-Fi, Alexa, Bluetooth, and dimmer option. It also has a music sync feature that creates effects to go with the beats of your choice. You can even customize the color display. Let's not forget the timer option that automatically turns the lights on and off. Also, you can keep changing them according to your mood.
The exterior of our homes is as important as the interior. The exterior areas can be made more useful and beautiful by putting a little effort into planning and designing. The right type of lights at the right places can turn spaces that might seem 'meh' to 'wow'. Therefore don't waste your time thinking too much and get your hands on upgraded versions of buried garden ground lights.
This post contains affiliate links, which means we may receive a small commission, at no additional cost to you, if you make a purchase through these links.