Most folks pay a lot more attention to the lighting inside their home than they give to their property's outdoor lighting.
It's understandable.  For much of the year, you do all your living indoors.  Even during the balmy summer months, when you do spend time enjoying your outdoor living space, things like pests, wind, and weather can drive you inside more than you might like.
You need good lighting to do your reading, to wash your dishes, and to do all the things you do inside.
But there are at least three good reasons to make sure your home's outdoor lighting is up to par, too.  Your qualified professional electrician can suggest (and install and maintain) just the right lighting system to meet the outdoor living needs of you and your family.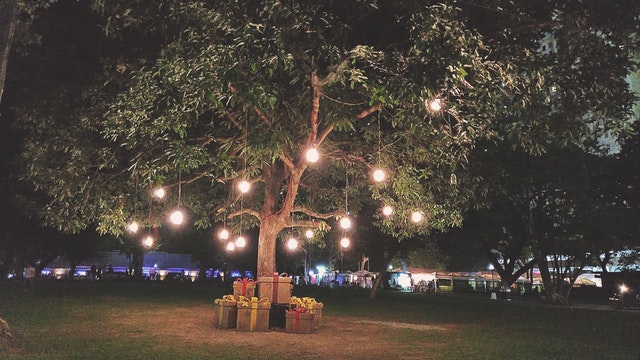 Outdoor Lighting For Safety
Did you know you might be liable for damages if someone trips and falls on your property?
That dark walkway in front of your home could become a problem.
Whether for protection for the pizza delivery person who'll bring dinner to the front door, or for peace-of-mind when the kids want to play outside on those warm summer nights, you'll thank yourself for making sure your outdoor paths, driveway and play space are well-lit.
Even during the warm months, the slightest unevenness in a sidewalk or footpath can present a tripping hazard.  Add snow and ice during the winter months, and the danger increases exponentially.
The best way to avoid an accident is to make sure anyone traversing your outdoor property can clearly see their way.
It only takes one bad fall – by anyone – to cost you far more than you'd pay to invest in clearly-visible, safe, well-lit outdoor areas.
Outdoor Lighting For Security
Property crime – theft, vandalism, criminal trespassing, and the like – has always been a worry for homeowners.  But with these crimes on the rise in step with the growth in population, home security is more of a concern than ever before.
Good outdoor lighting is a great deterrent to crimes of this type.
Put yourself in the bad guy's shoes: when you're cruising down the block, looking for a "target" for your nefarious plans, do you choose the well-lit home?
You'd probably go for the darkest house on the block.
Criminals don't want to be identified, of course… and they are smart enough to know that if the neighbors can't get a good look at them, they're more likely to get away with it.
Make sure everyone can clearly see anyone who's approaching your property by putting light on the area… and plenty of it.
A great choice for crime-deterring outdoor lighting might be motion-sensing flood lights.  Check with your electrician for help in identifying the right type and location of outdoor lighting to keep your property (and family) safer.
Outdoor Lighting For Beauty
Spotlights on trees and decorative plants… pool and spa lighting… smartly-placed path lights… get creative with your outdoor lighting, and you'll notice a dramatic improvement in the night-time attractiveness of your home.
Adding great outdoor lighting can really make your exterior additions stand out. The right lighting can create a great ambiance for your eco-friendly decking and make it a great space for late-night dinner parties or outdoor movie nights. 
Sometimes, inspired by the beauty Christmas lights bring to a property, homeowners are using decorative lights year-round to enhance the look of the place.
Trees and shrubs you might decorate with multi-colored lights at the holidays could be adorned with white lights all year long.
Hedges, gazebos, patio boundaries, and even fences make great places to let your inner artist out to "play" with a creative lighting scheme.
Outdoor lighting makes your home more safe and secure… but it also makes your place more beautiful!
And there's a fourth reason: property value.  Your electrician will confirm that a well-connected, well-lit home is more valuable (and more attractive to potential buyers)… and that value is amplified by attractive, intelligent outdoor lighting.  You don't have to be visible from space… but a few well-placed outdoor lights will undoubtedly represent an investment you'll be glad you made.